Stand-up paddle boarding, also called SUP, has become a massively popular outdoor activity over the years. It's a perfect activity to share with your dog, so we've rounded up some of the best places to paddle board with your dog near Salt Lake City.
What (exactly) is SUP?
Stand-up Paddle Boarding is kind of a mix between surfing and kayaking. It's way less intense than surfing because it's done on standing or calm water rather than the ocean and it's a little more challenging than kayaking in some cases.
A stand-up paddle board is a large board, similar to a surfboard but much bigger, and it comes with a single paddle. You just stand up and paddle yourself around a body of water. It's common for people to sit or kneel when they are first getting a feel for the sport.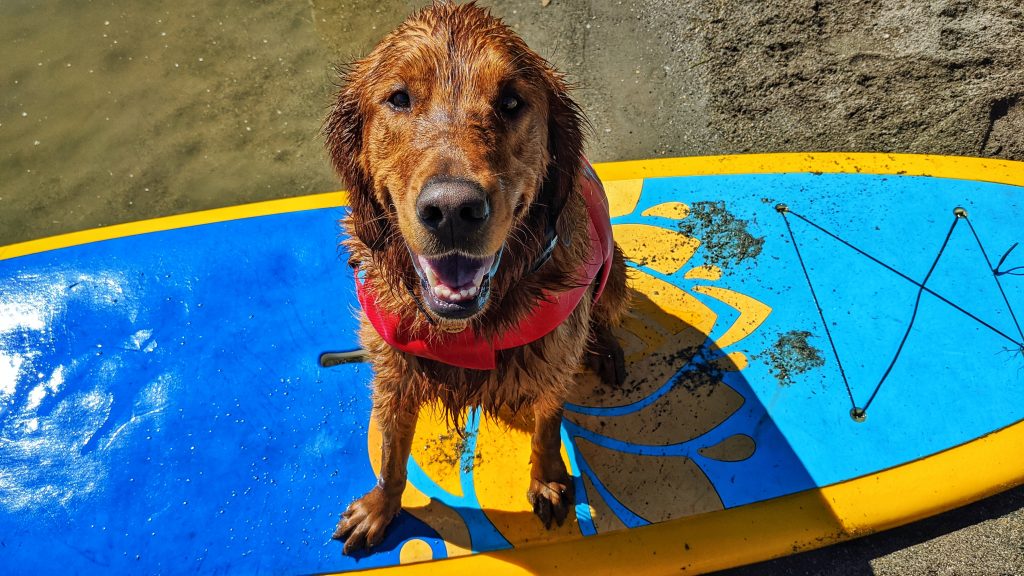 Before Paddle Boarding With Your Dog
Before you consider taking your dog on a paddle board adventure, it's probably best to get out by yourself once or twice to make sure you have the hang of it, adding a dog may add a little extra challenge when it comes to balance and movement on the water.
You'll also want to make sure your dog is comfortable in the water and can swim. There is a chance you or your dog will fall into the water, but hey, it's a nice way to cool off on a hot day. If you aren't sure about your dog's swimming ability or would like to get them lessons, check out Barley's Canine Recreation or Dogmode to get some practice before heading out.
Dog life jackets are another great safety measure to offer you peace of mind. We are big fans of Ruffwear's durable life vests that offer a handle for ease of getting your dog on and off the board.
Before heading out to your spot, make sure to familiarize yourself with the rules of each specific place. Many bodies of water around Utah require your dog to be on a 6-foot leash and dogs are not allowed on any established beaches in Utah.
Make sure to pack some snacks, water and a doggie first aid kit, just in case. You can find all our favorite picks in on our Summer Must-Haves List!
SUP With Your Pup
Every summer we try to host "SUP with your Pup" classes in partnership with Park City SUP at Deer Valley Resort. Their calm, quiet pond is the perfect safe place to try this sport for the first time.
This class is a great introduction to get you started paddle boarding with your dog. The fee includes a paddle board rental, human life vest and professional instruction on the best way to paddle with your pup on board. Want to be first to know when we add a class? Sign up for our email newsletter!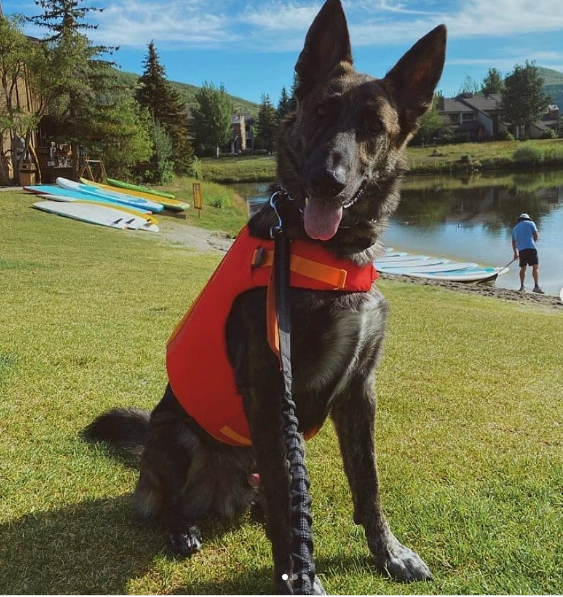 Places To Paddle Board With Your Dog Near Salt Lake City
Causey Reservoir
With no motorized craft allowed, Causey is a perfectly calm spot to paddle board with your dog and it's GORGEOUS.
Causey Reservoir, outside of Huntsville, Utah, sits in a gorgeous canyon surrounded by pine trees and cliffs, making it a picturesque spot for you and your dog to spend some time learning to paddle. Driving distance from Salt Lake is about one hour, making it the perfect day escape for you and your dog.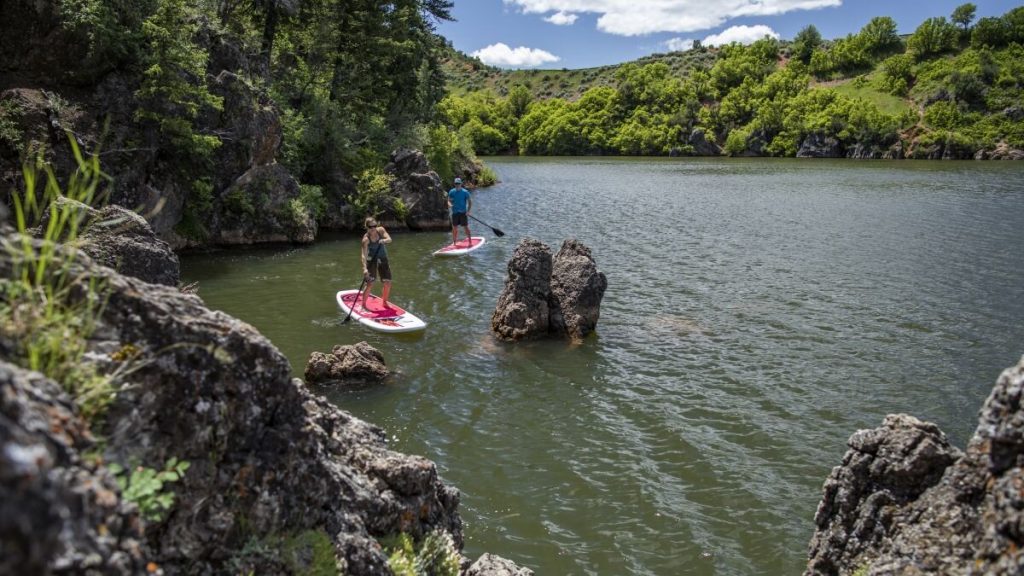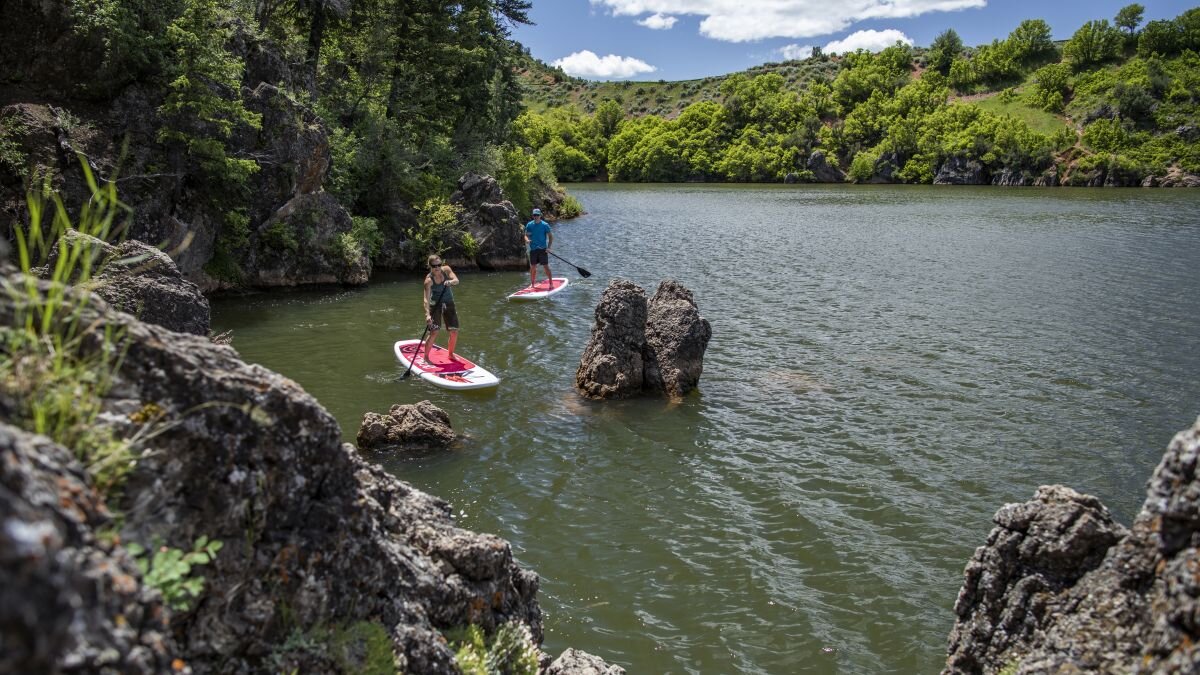 Deer Valley Ponds
The Deer Valley ponds, host of SUP with your pup, is a great spot for beginners and advanced paddle boarders looking to do some laps. With the incredible backdrop of Deer Valley's mountains, it's a beautiful spot to spend the day.
Located in Park City, it's only a 30-minute drive from Salt Lake City. There is a grassy lawn and sandy shore if you and your dog want to relax and have a snack after your big adventure. You can rent paddle boards from PCSUP right on the beach.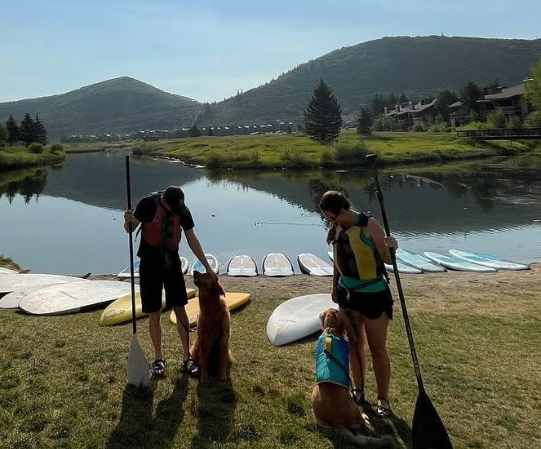 Stansbury Park Lake
Located about 30 minutes West of Salt Lake City, Stansbury Park Lake is a man-made water feature. Many types of boats, including motorized ones, are allowed on the lake. If you're looking for somewhere to fish while you paddle board, catch-and-release fishing is allowed on the lake.
Dogs are allowed at Stansbury Park Lake, but must be kept on a leash and cleaned up after.

Oquirrh Lake at Daybreak
Oquirrh Lake is located in one of Utah's newest developments, Daybreak. Only residents of Daybreak and their guests are allowed to use the lake so be sure that you know someone in the area who can host you.
You can't swim in the lake, but paddle boarding and kayaking with your dog is allowed. You can rent paddleboards at the lake. There are no motorized boats allowed on the lake, making it a calm spot to SUP.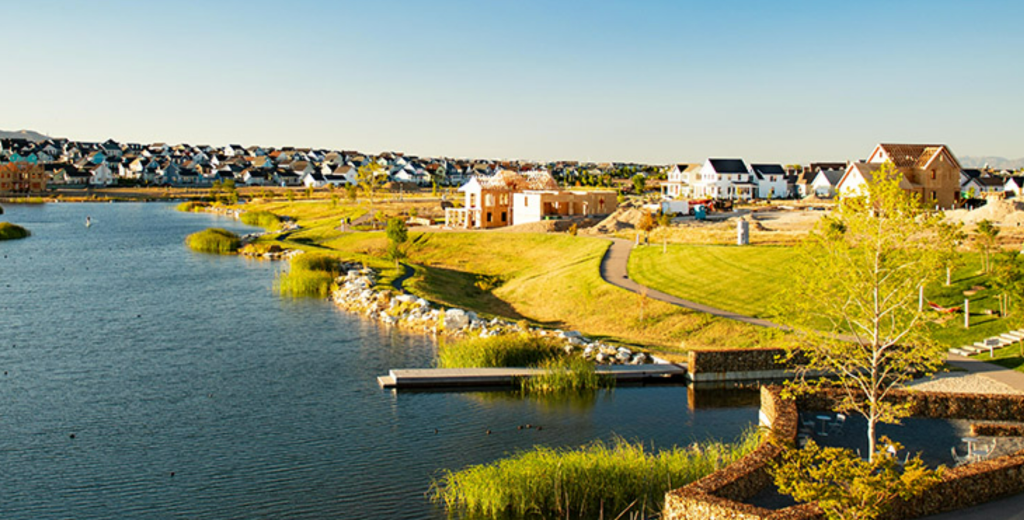 Jordanelle Reservoir
Jordanelle, located about 30 minutes from Salt Lake City between Park City and Heber, is another good spot for paddle boarding. Motorized boats are allowed, but there are no wake zones for paddle boarders to enjoy. It is large, so there is typically plenty of space to practice.
There is plenty of shoreline for dogs to enjoy, but dogs are not allowed at the main established beach.
You can rent paddleboards at the Jordanelle Marina.
Rockport Reservoir
Rockport is one of Utah's State Parks and all of Utah's state parks are dog-friendly. You can learn all about the best State Parks in Utah to take your dog here.
Now, back to paddle boarding. Rockport is about 40 minutes from Salt Lake, outside of Wanship. It will likely be less busy than places like Jordanelle and Causey, especially on weekends. It's a larger lake and motorized boats are allowed, but there are no wake zones to keep paddle boarders safe.
You can also camp at Rockport if you're looking for a lakeside weekend getaway.
Tibble Fork Reservoir
Tibble Fork is located in American Fork Canyon and it's a Utah gem, the water is SO BLUE.
This is a popular swimming and paddle boarding area for families and the beach area fills quickly. Dogs are allowed on the beach but as a courtesy to others should remain leashed when not actively swimming or on a paddle board. For more freedom away from other beachgoers, consider taking your dog to the west end of the lake near the dam.
No motorized craft are allowed on Tibble Fork. Bonus? Your America the Beautiful national parks pass can be used for the $6 use fee.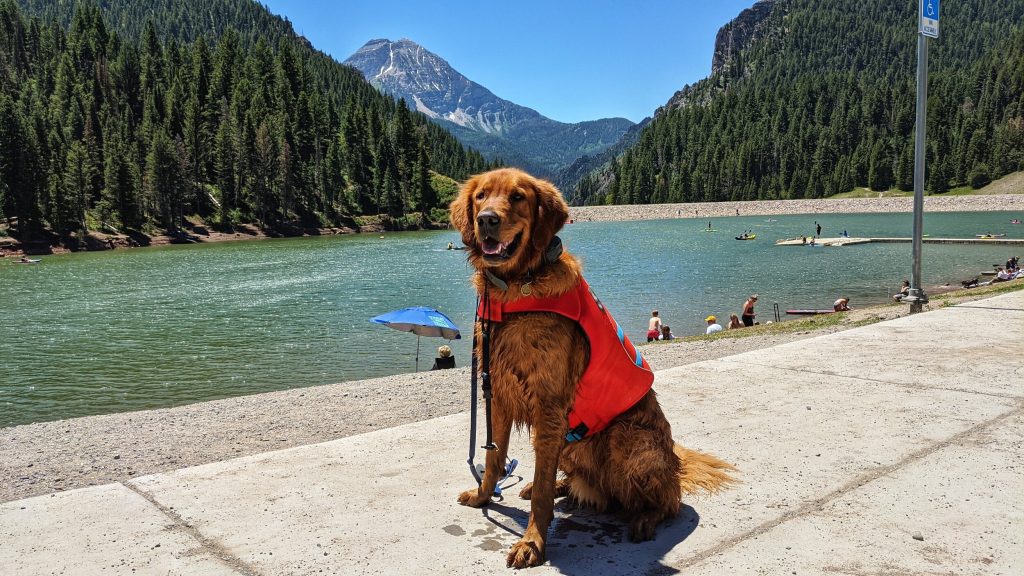 Silver Lake Flat
If Tibble Fork is a little too crowded for your taste, try Silver Lake Flat, just a few minutes up a dirt road from Tibble Fork. It is smaller and more suited for beginner paddle boarders with no motorized boats allowed.
The water may be slightly colder at this reservoir, but the alpine views are so worth it and your dog will enjoy cooling off. The road up to the reservoir can be fairly rough, but most vehicles should be able to make it just fine.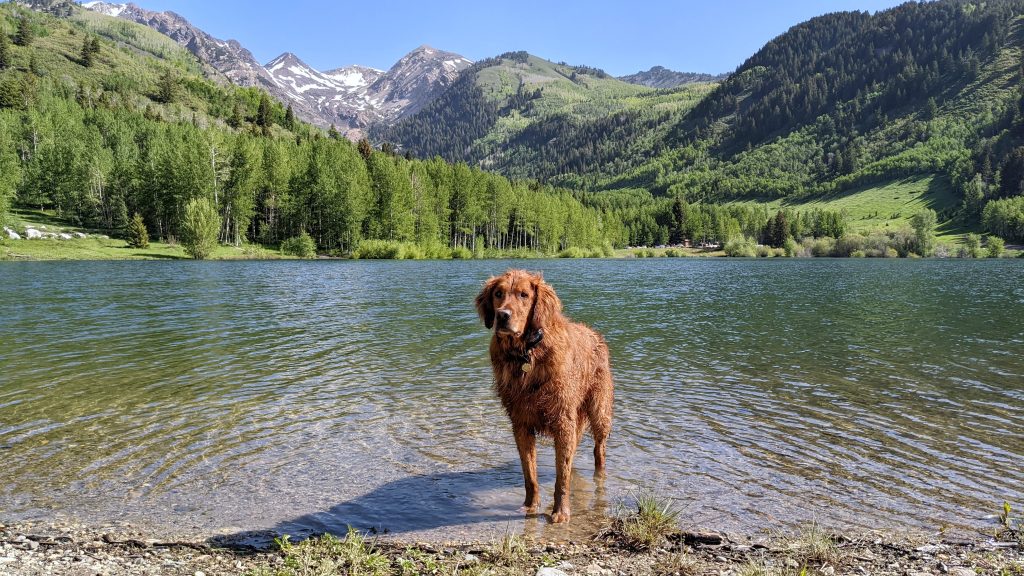 SeaDogz Pool
SeaDogz, in Ogden offers SUP classes for you and your dog. You can find a schedule of the classes here.
Taking a class in a controlled environment is a great idea to give your piece of mind for when you head out to a local lake or reservoir.
Happy SUPPING!
Did we miss one of your favorite dog-friendly paddle board sports? Send us a DM on Instagram.