Do you feel that change in the air? A chill? A spice? Maybe even a pumpkin spice? It's finally fall in Utah and with the changing of the seasons comes a whole new slate of dog-friendly activities for you and your pup to enjoy together.
The perfectly warm days and cool evenings of autumn in Salt Lake City make it an ideal time to spend time outdoors. In addition to your traditional walks, consider including your dog in other seasonal activities like picking out the perfect pumpkin. Not only will your dog will benefit from the opportunity to take in some new smells, but you'll likely get some great bonding time and cute photos!
What to consider before visiting a dog friendly pumpkin patch
While planning fall activities for your dog to take part in, it's important to ensure that you set your pup up for success during a public outing. Pumpkin patches are often busy with families, photographers, and other dogs.
Here are some tips to success for your trip to one of Salt Lake City's dog friendly pumpkin patches:
Make sure your dog has used the restroom. Not only does a dog peeing on a pumpkin ruin the experience for others, it increases the risk the patch will discontinue allowing dogs.
Keep in mind there will be children. Pumpkin picking a very popular fall activity among families. If your dog is not comfortable around children it is best to leave your pup at home.

Make sure your dog is prepared to be around farm animals

. Several dog friendly pumpkin patches in Utah are also working farms. Farm animals are likely to be present and it is important your dog does not bark at them.
Bring a brush and a towel.

There is a lot of dry straw at pumpkin patches and it's likely your dog may leave covered in it, despite your watchful eye. It's a good idea to bring a slicker brush to clean them off, as well as a blanket or

car cover to save your seats
Your dog must stay on a 6ft leash. Not only is a leash required by law, it is also required by every pumpkin patch. Keeping your dog on a short leash is safest for everyone.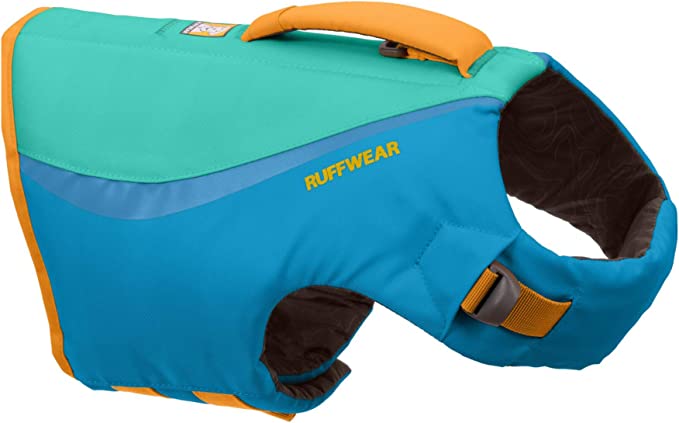 Stay safe in the water
Ruffwear life vests are known for their durability. We believe it's the best life jacket for your buck!
8 dog friendly pumpkin patches near SLC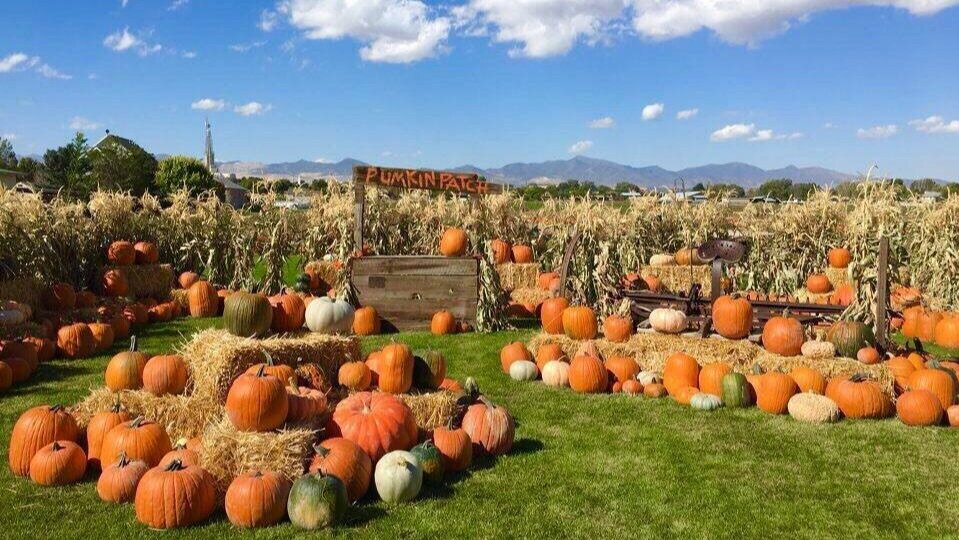 Mabey Farms
Farmily owned and operated Mabey Farms, located in South Jordan, in one of Utah's oldest farms. Establised in 1884, Mabey Farm boasts 16+ acres and more than 45 varieties of Utah-grown pumpkins. Leashed dogs are welcome to tag along as you search for the perfect pumpkin. Take advantage of their pre-picked pumpkins and photo opps near the house or wander through the fields to harvest your own. Mabey Farms dog friendly pumpkin patch is open from September 23 to October 31. Best of all? Admission is FREE.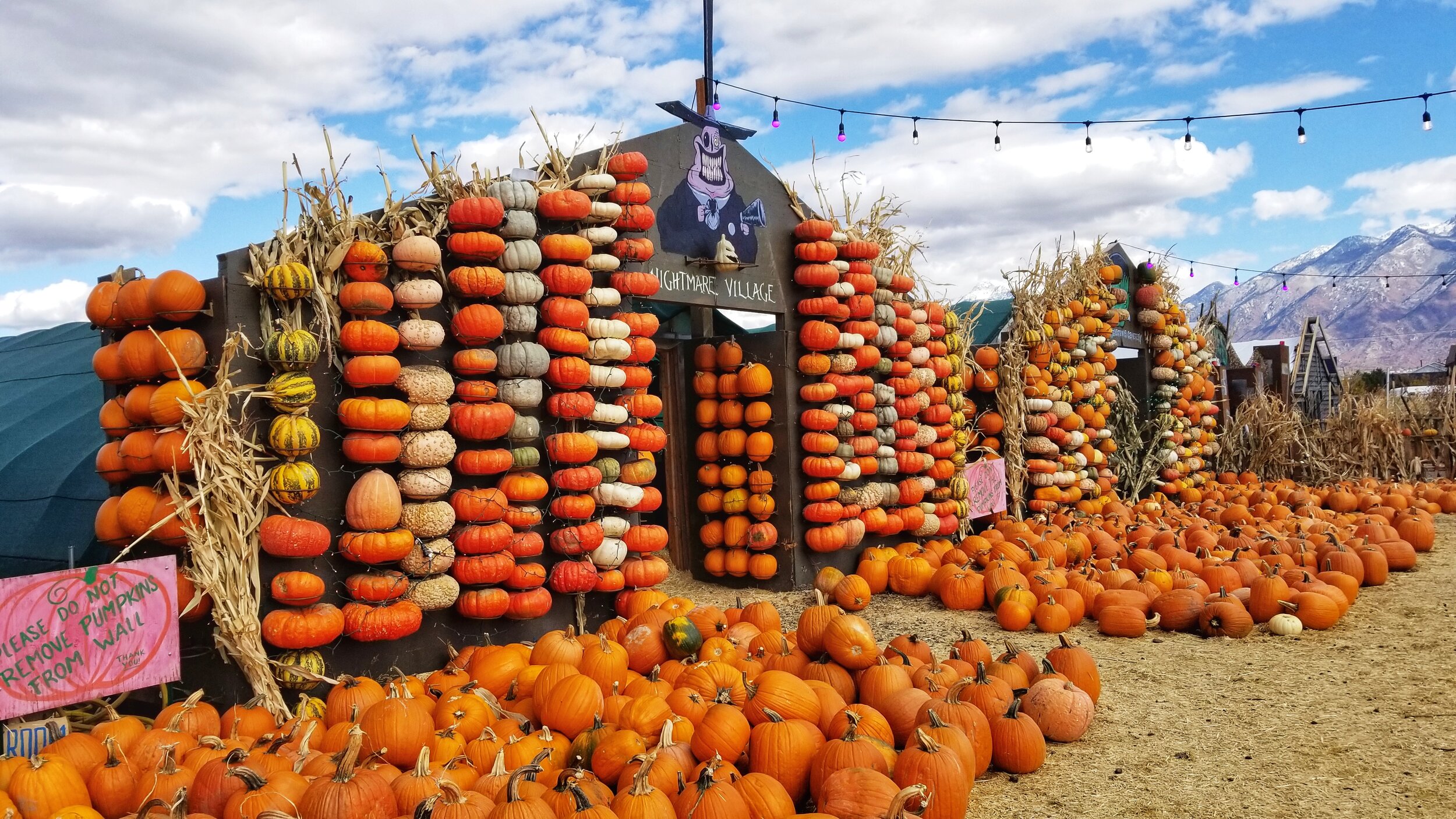 Kuwahara Pumpkin Patch
Known for their pumpkin walls (which make great photo backdrops), Kuwahara Pumpkin Patch & Thriller Park is located in Draper. The dog-friendly pumpkin patch opens on September 22 and runs through October 30. Pumpkin patch tickets are $5 per person, but if you visit Mon-Thurs, that fee goes toward your pumpkin purchase. Dogs are also welcome to join in activities at Thriller Park, but be considerate of others if your dog does not react well to costumed characters. Round out your perfect fall day at one of the many food trucks you'll find on-site!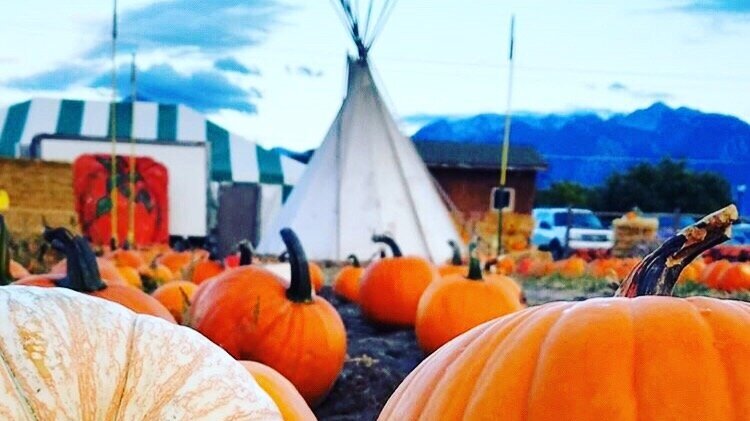 Schmidt's Farm Market & Pumpkin Patch
Schmidt's Pumpkin Patch will give you and your dog that real, down-home farm experience in West Jordan. You won't need to pay for admission at Schmidt's but you can buy more than just pumpkins, as they have all sorts of local produce and plants. They probably even have some dog-friendly fruits so you and your pup can enjoy a treat. Schmidt's usually also has a large selection of fall activities like a straw mountain slide, apple launcher, farm animals and much more. Schmidt's usually opens their pumpkin patch in late September and runs it through Halloween.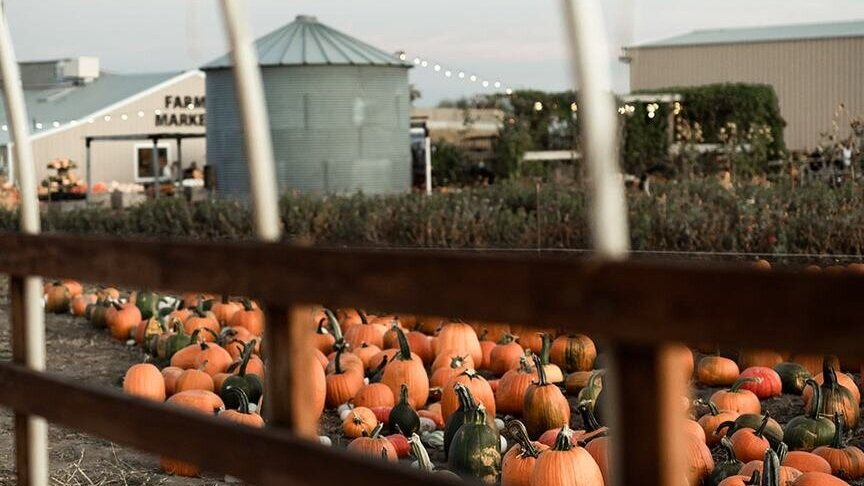 The Kinlands
Picture-perfect Utah fall comes to life for you and your dog at The Kinlands in Riverton. The Kinlands is open year-round, with no fee to enter. Pumpkins will be available beginning September 23rd. In addition to their pumpkin patch, The Kinlands Farm Market has a selection of kitchen supplies, linens/leathers and other gift items to puruse. Expect that you will run into some farm animals as you soak in the season.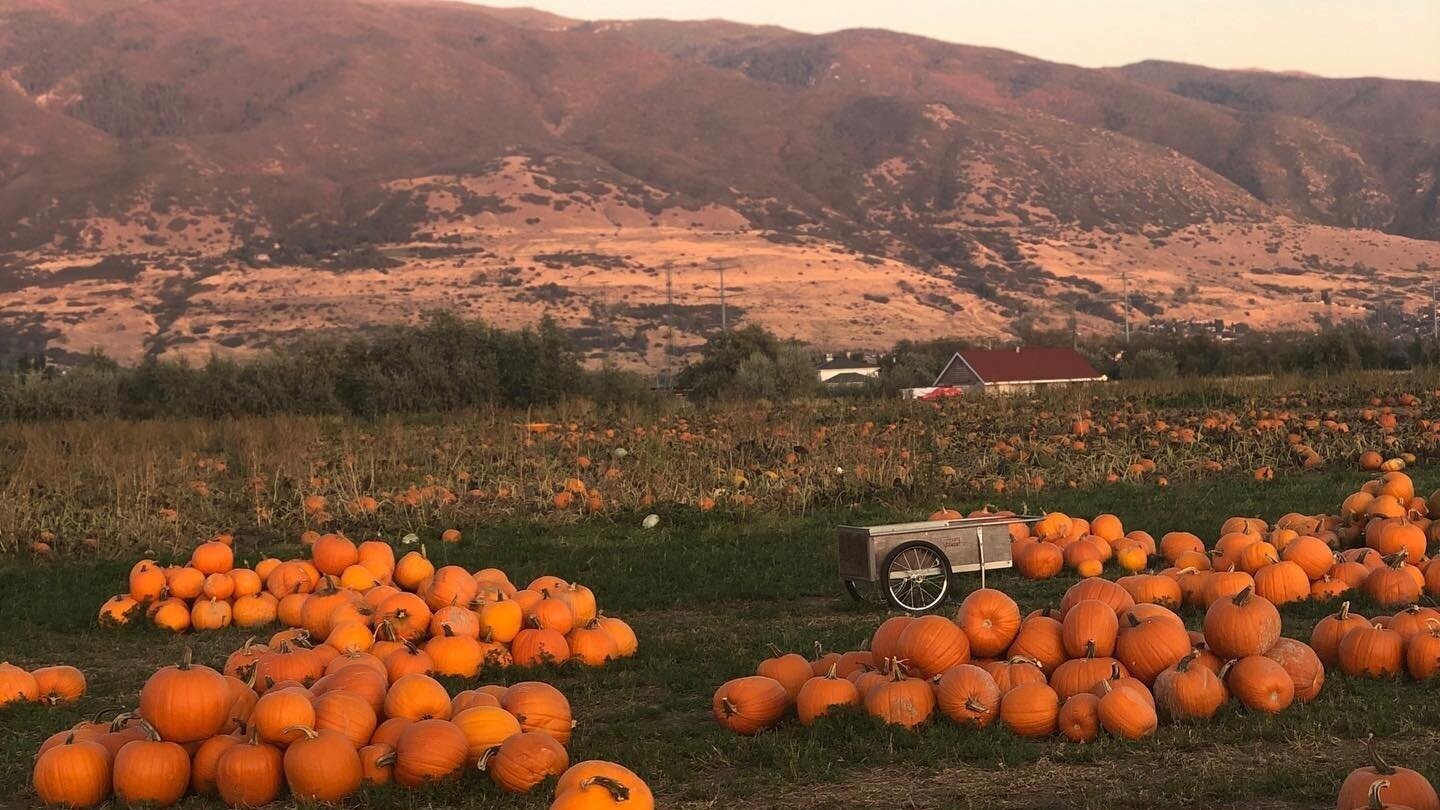 Pack Farms
Pack Farms is a dog-friendly pumpkin patch located in Farmington, just north of Salt Lake City. A family run farm since 1950, they specialize in Utah-grown pumpkins. They want to help you and your pet find the perfect annual Jack-O-Lantern, but they also have a big variety of squashes, pumpkins and gourds. Each visitor is able to choose a pre-picked pumpkin or venture out into the field to seek the perfect one. Admission is free.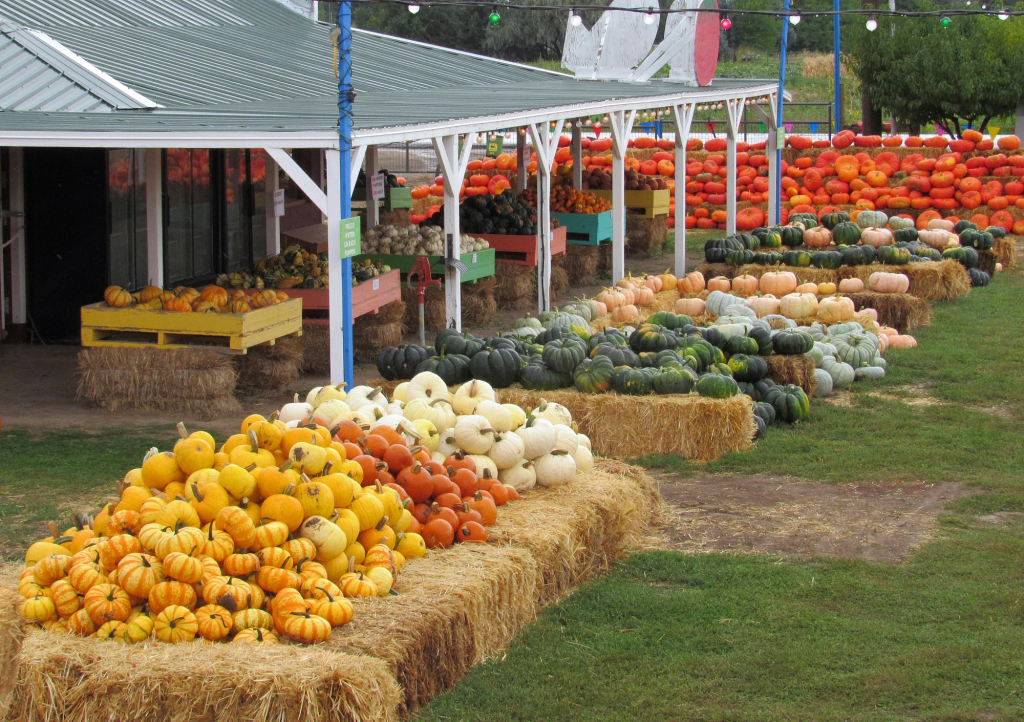 Wilkerson Farm
Wilkerson Farm is an all-organic farm and fall fair in Orem, but only the pumpkin patch and food truck area are dog-friendly. You'll find an impressive array of pumpkin types available to choose from at Wilkerson's pumpkin market. Pumpkins are priced at a flat rate based on the variety and are restocked daily. The pumpkin patch is free admission and will open for the season on September 15th.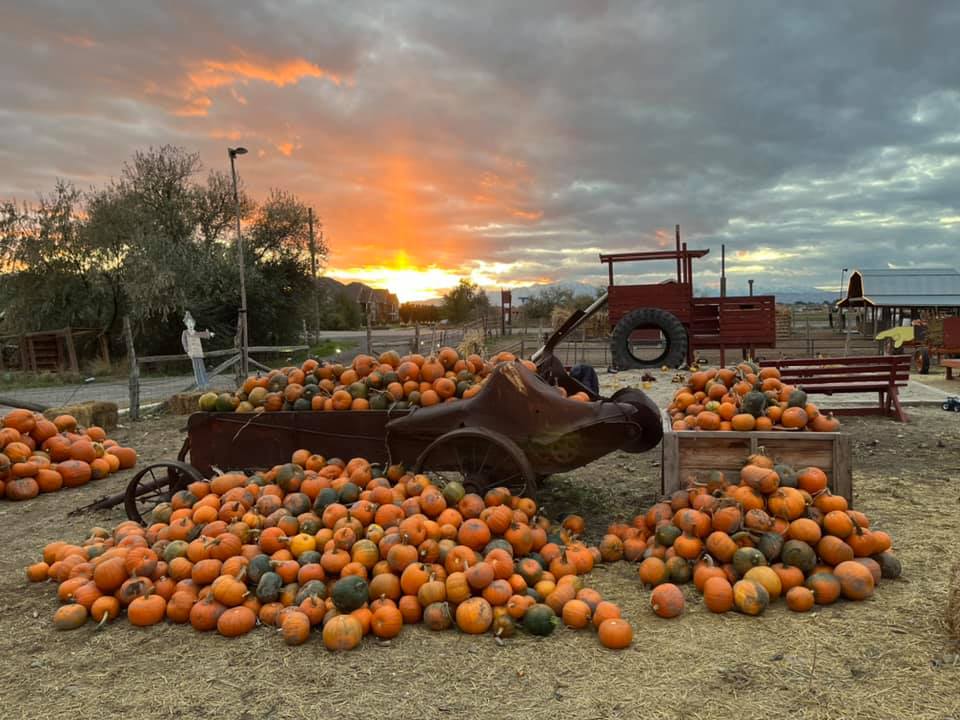 Hee Haw Farms at Oliver's Place
Located in Pleasant Grove, Hee Haw Farms is the ultimate pumpkin destination. Pumpkins large and small await at this working farm, part of the community since 2001. Leashed dogs are welcome to join as you select the perfect gourd for your fall fesitivities. Families can expect activities like a corn play box, hayrides, farm animals, slides, and more. All the fall fun runs from September 29th to November 4th.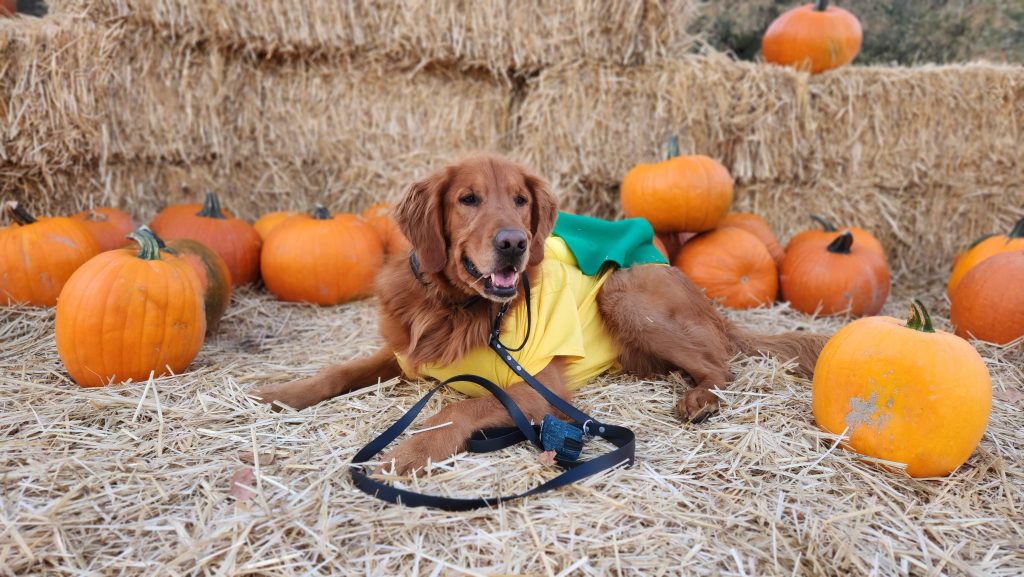 Wheeler Historic Farm
One of our favorite local dog friendly destinations, Wheeler Historic Farm, brings a pumpkin patch to their park each autumn. Located in the north parking lot, traditional jack o'lantern style pumpkins start at only $3 based on size. You and your pup can also enjoy a walk around the farm or bring the whole family for Wheeler's Pumpkin Days activities!