One of the closest and most accessible dog friendly canyons near Salt Lake City is Millcreek Canyon. Located along the Wasatch front between Parley's Canyon and Big Cottonwood Canyon, it's great for hiking, sightseeing and simply enjoying the great outdoors with your dog. With mountains, trees and a stream, the sights and sounds are sure to please.
There's a lot to know, see and do when you take your dog to Millcreek Canyon, we'll go over it all in this handy guide.
What makes Millcreek Canyon great for dog owners is that it's NOT a watershed, unlike the other two major canyons close to Salt Lake City, Big and Little Cottonwood, where dogs are not allowed. Because it's not a watershed, dogs are free to use Millcreek Canyon- with some rules of course!
There are lots of great dog friendly hikes in Millcreek Canyon for all different skill levels and at varying lengths. We will go over the different trails in detail later in this post.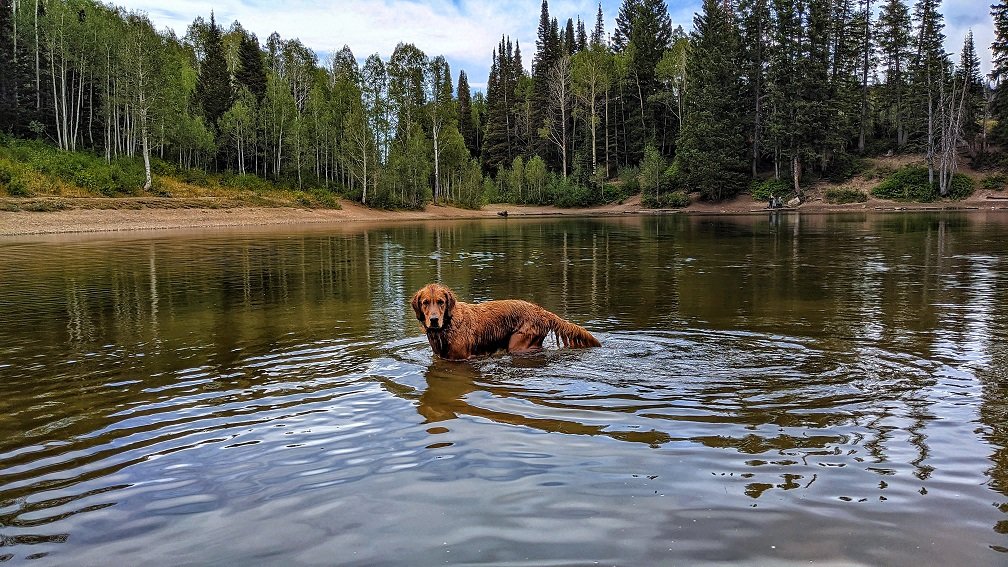 Is there a fee to use Millcreek Canyon?
Yes, there is a $5 per car fee to use Millcreek Canyon. Dog owners can expect to pay the daily fee at the manned fee station on the way out of the canyon. Cash has not been accepted since 2019 so make sure you have a card with you. Annual passes can be purchased for $50 at the fee station.
Salt Lake County collects the payment and donates the proceeds back to Forest Service Management for upkeep and management of the recreation area. The Forest Service owns 81% of the land in the canyon, but the unique partnership for joint management with Salt Lake County was formed in the 1990s.
Millcreek Canyon Dog Rules
Though sometimes it seems to be a point of confusion, dogs are allowed to utilize Millcreek Canyon every day.
Dogs are allowed to be off-leash only on odd-numbered days of the month.
This rule began in 2001 and so far this year has been noted at most trailheads. But keep in mind, even if you don't see a sign the rule still applies. Dogs should remain on leash on even-numbered days of the month, in parking lots, camping areas, and at trailheads.
Some other rules you and your dog must follow in Millcreek Canyon include the following.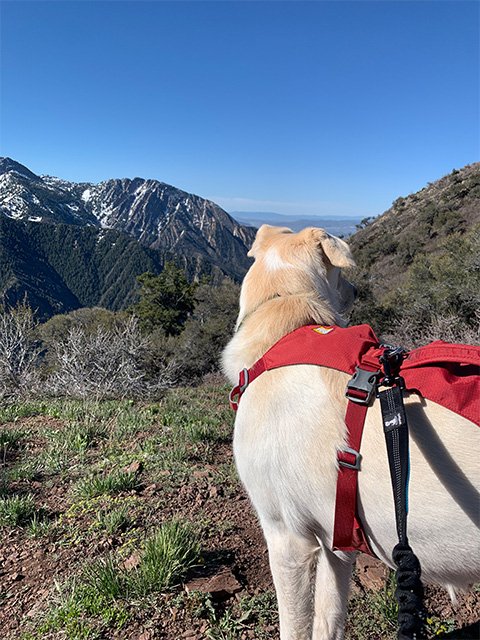 Tips For Using Millcreek Canyon
Parking
Parking can be challenging in Millcreek Canyon, as it's very busy, especially on weekends. Though over the past few years extra parking has been added toward the bottom of the canyon at the Rattlesnake Gulch trailhead.
It's best to get there early, especially on weekends, to find a parking spot and to carpool whenever possible. There is a carpool lot just off Wasatch Drive before you turn up the road to head into the canyon.
Purchasing an annual pass will help speed things up when you exit the canyon, especially if you are a frequent visitor to Millcreek Canyon!
Winter Gate
During winter months, a gate 4 miles up the Millcreek Canyon is closed off due to weather. The road becomes snow-packed and acts as another trail to enjoy during the winter. Dog owners should be especially vigilant for hikers, sledders, skiers, and bikes using the road for recreation. Keeping your pup close can prevent collisions and assist in keeping all parties safe.
The gate closes annually on November 1 and opens on July 1, depending on weather conditions.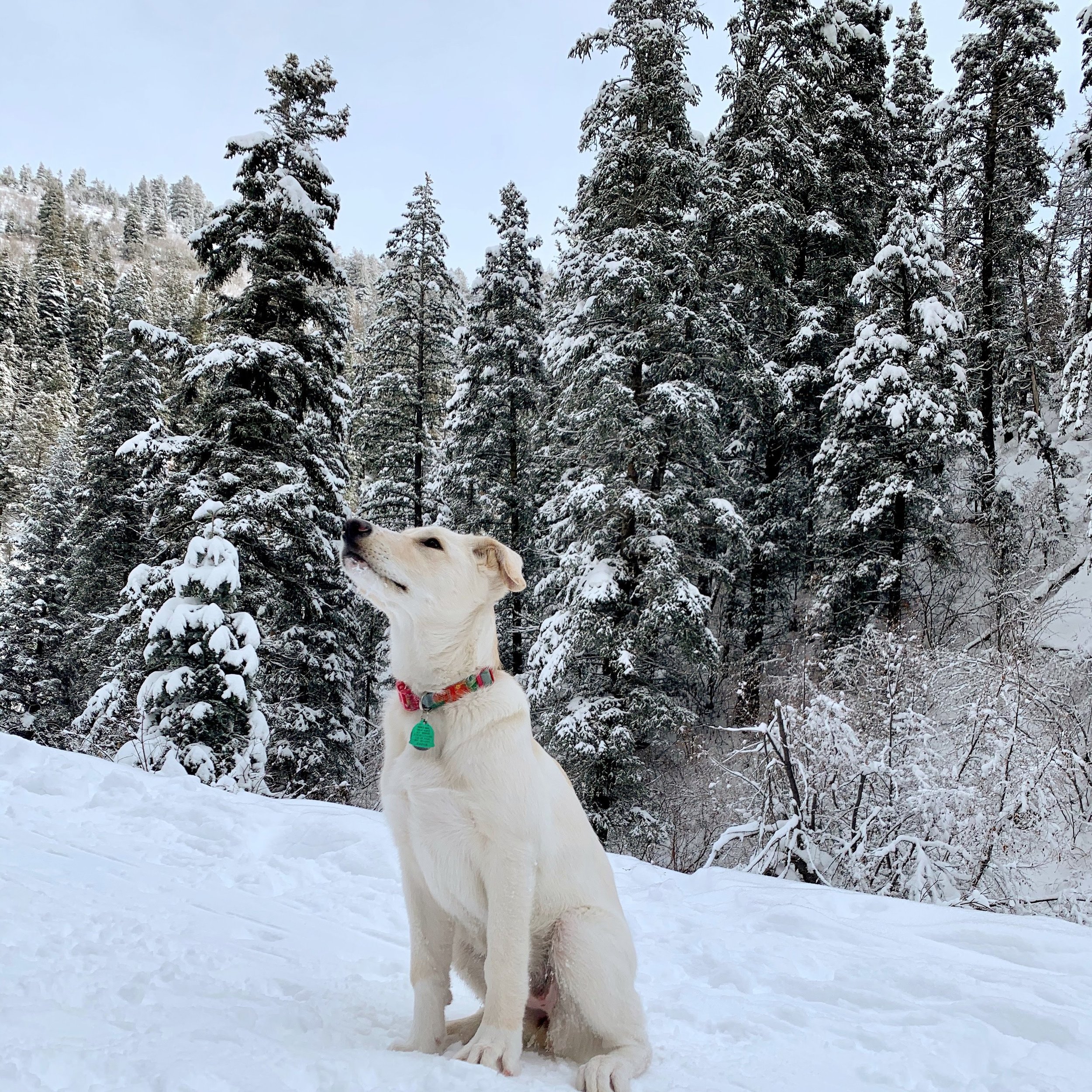 Canyon Usage For Everyone
Millcreek Canyon is popular for residents of the Salt Lake valley. You'll find hikers, skiers and mountain bikers nearly every day of the week. It's highly important to keep a close eye on your dog the entire time you're enjoying the outdoors. Mountain bikers are especially important to look out for, because they can be going very fast, making it hard for them to stop quickly.
The best way to respect others when playing outdoors is to keep your dog within eye sight and ear shot (about 25 yards). It's best practice to yield to other trail users by calling your dog and moving both of you off the trail to allow others to pass.
Keep in mind, the trails are meant for everyone (including dogs) to enjoy!
Wildlife
It's possible you and your dog could run into wildlife while playing in Millcreek Canyon, including rattlesnakes, moose, deer and rabbits. While deer and rabbits are pretty skittish and harmless, it's important to not allow your dog to chase any wildlife.
If you are concerned about rattlesnakes, you might want to consider rattlesnake aversion training. Here are some options and information on rattlesnake aversion training in Salt Lake City.
If you see a rattlesnake you should remain calm and call your dog to put them on a leash immediately. Then you should either wait until the snake moves or turn back the other way.
If you see a moose, do the same and stay as far away as possible. You can try to hide behind a tree until the moose moves or get away calmly and quickly. Try to keep your dog calm and quiet if possible, as not to startle the moose.
Avalanche Danger
During the winter there can be avalanche danger in Millcreek Canyon on certain trails. Before heading out on your adventure make sure to check avalanche forecasts and asses the danger.
Here's an article on what to do if you you and your dog end up caught in an avalanche.
Log Haven's Dog Friendly Patio
Log Haven is a popular restaurant located in Millcreek Canyon. Featuring upscale dishes highlighting locally sourced ingredients, dogs are welcome to dine with their owners in the amphitheater area on Tuesday and Wednesday evenings throughout the summer. Reservations are recommended and can be made by calling (801) 272-8255.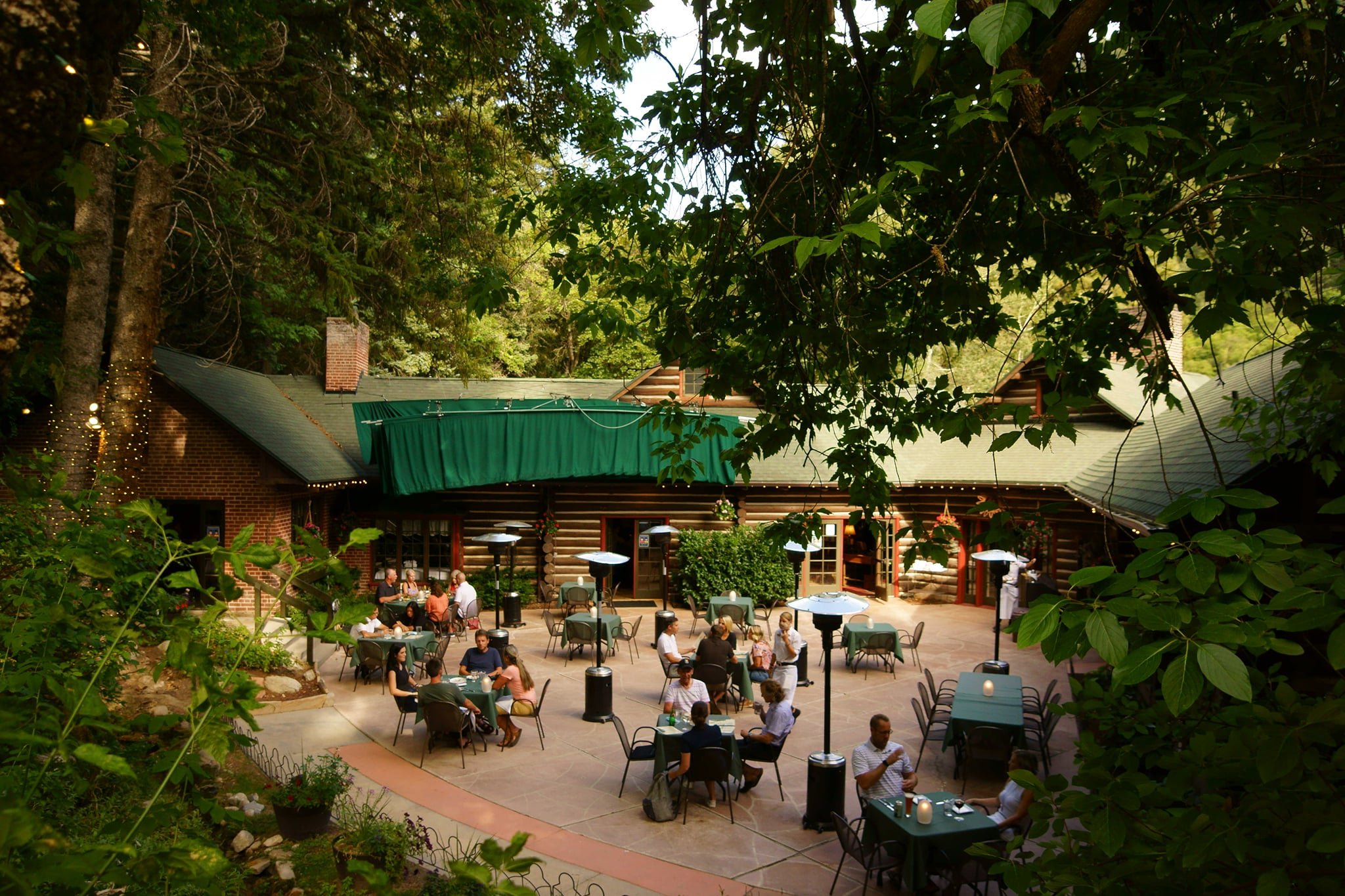 Best Dog Friendly Hikes In Millcreek Canyon
Shorter & Steep: Rattlesnake Gulch Trail
Distance: 3.3 miles (out and back)Skill Level: ModerateShade: Partially shaded
Rattlesnake Gulch trailhead is the first trailhead you'll come across when driving into Millcreek Canyon. With a large parking lot, shorter distance and shaded during the more strenuous sections, it's great for beginners. The top half of the hike is not shaded, but it is flat and leads to a wonderful view of Salt Lake City.
Longer & Flat: Millcreek Pipeline Trail
Distance: 13.3 miles (out and back, easily broken up into shorter sections)Skill Level: ModerateShade: Partly shaded
The Millcreek Pipeline trail runs across the entirety of Millcreek Canyon, so it is accessible from many trail heads and parking areas. It's a long flat trail that is partially shaded, making sections of the trail great for beginners. Signage along the trail makes it easy to follow the Pipeline Trail and not get off track.
Most Popular: Dog Lake
Distance: 5.2 or 5.3 miles (out and back)Skill Level: ModerateShade: Mostly shaded
There are two trails to get to Dog Lake- the Big Water route and the Little Water route. We highly recommend making a loop by taking the less steep Big Water trail up and the rockier Little Water trail on descent. Dog Lake is very popular for our four-legged friends. Dogs are rewarded with a swim in the small lake at the end of the hike, making it Millcreek's most popular destination and well worth the hike.
Note: dogs are NOT allowed to use the Mill D North Fork trail to Dog Lake, originating out of Big Cottonwood Canyon, due to watershed rules.
Most Extreme: Grandeur Peak
Distance: 5.9 miles Skill Level: HardShade: Partially shaded
Grandeur Peak is not for the faint of heart, it's a mountain peak clocking in at nearly 8300 ft elevation, so it requires some technical skill and there are sections that may not be suitable for all dogs. The hike is steep and partially shaded. If this hike makes sense for you and your dog, the payoff is wonderful with an amazing 360 view.
---
This post may contain affiliate links which result in Dog Friendly SLC making a small commission. By shopping products we recommend, you ensure that we can keep finding dog friendly places in Salt Lake City and Utah. We appreciate your support!