There's a chill in the air (sometimes) and the grocery store shelves are beginning to fill with pumpkin-flavored things and that can only mean one thing – autumn is near. The cooler temps might have you itching to get out and do some fall activities with your dog, so we've rounded up the best dog friendly fall activities in and around Salt Lake City.
It's always a relief when fall comes, because we all know the summer heat can be exhausting and even dangerous for dogs. During the summer in Salt Lake City you pretty much have to keep your hikes to the early morning to avoid the heat of the day, but when fall comes, you can hike/walk your dog any time of day without worrying about the intense heat.
If you're more into pumpkin patches and cozy fall vibes over those hikes and walks, don't worry, we've got plenty of activities for you on this list as well.
And how could we forget Utah's incredible fall foliage? With the abundance of aspen groves, cottonwood trees and maple varieties near Salt Lake City and the surrounding canyons, we get an array of beautiful colors from deep red to nearly neon yellow. We will give you a few of the best dog-friendly spots for fall color viewing and photos of your pooch below.
Dog Friendly Fall Activities In Utah
Just a note before we get started, all of the activities listed below, barring a few hikes, require that your dog stays on a 6-foot leash and is under your control the entire time. Keep in mind that there will be crowds and other dogs at a lot of these places, so plan accordingly.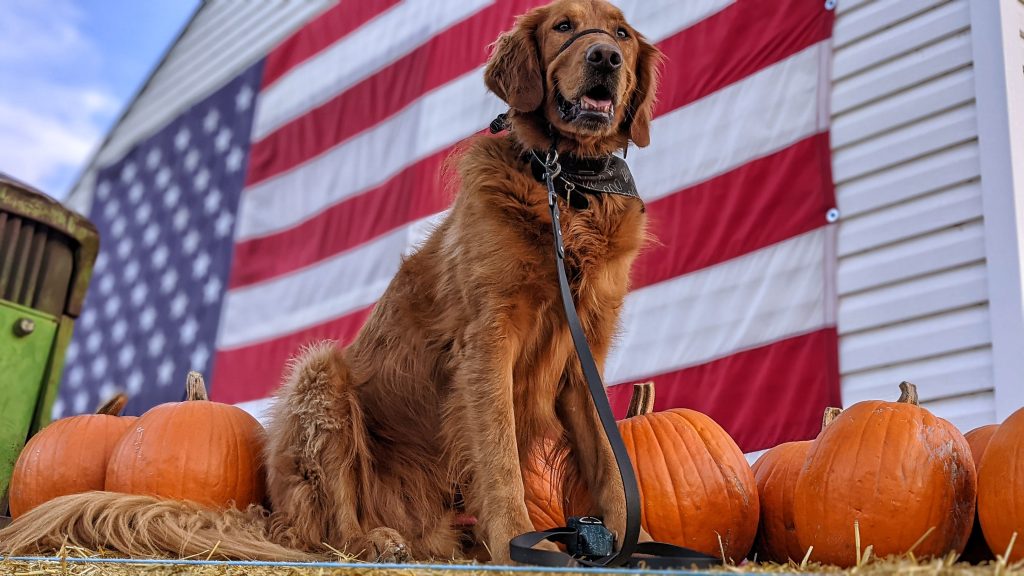 Fall Festival At Cross E Ranch
September 22-October 30
If you're really looking to get in the autumn spirit and you've already rewatched Gilmore Girls while snuggling your dog, you need to spend a day or evening at the Cross-E-Ranch Fall Festival. The ranch is located North West of downtown Salt Lake City.
At the festival, you'll find a corn maze, farm animals (keep your dog a safe distance away), a pumpkin patch, games for kiddos, adorable photo ops and so much more. And don't miss their donuts, caramel apples and apple cider slushies. If you're looking for more than a snack, they also have a grill with typical fair eats.
You can purchase tickets online, prices vary based on day and when you purchase your tickets. We recommend buying your tickets ahead of time to take advantage of pre-sale pricing. They also offer a season pass.
Cross-E-Ranch is also known for their annual sunflower festival which they've now combined with the Fall Festival so you can enjoy both pumpkins and flowers at the same time. You can pick giant, gorgeous sunflowers to take home and it's a favorite spot for family photos.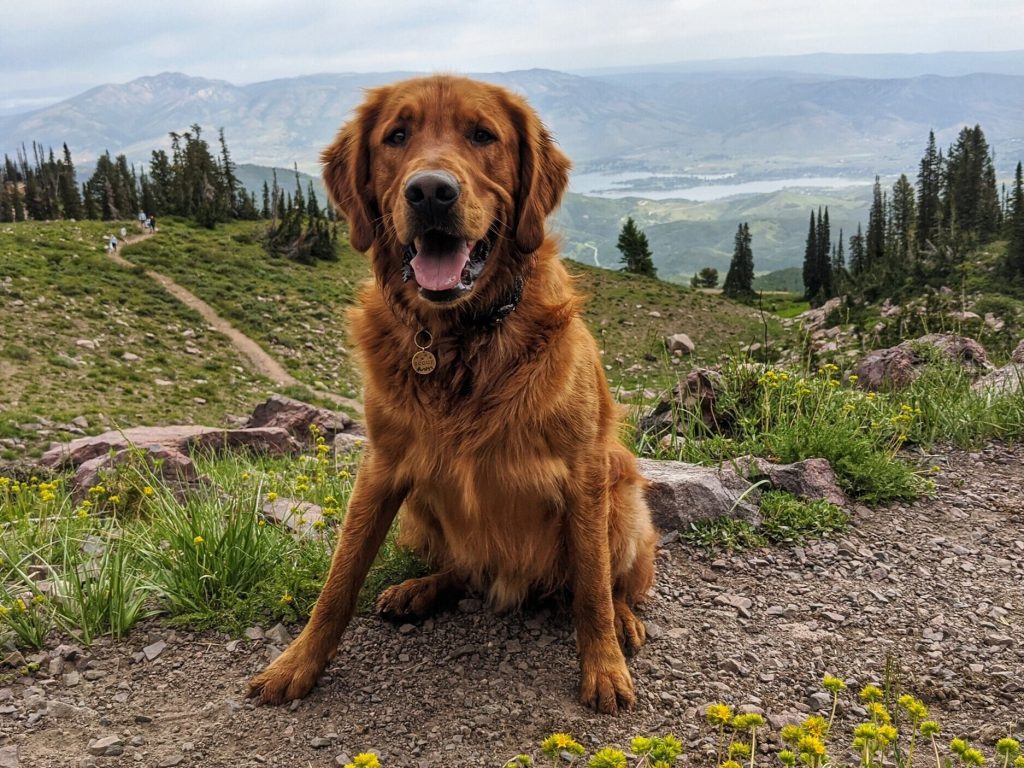 SnowWeisn At Snowbasin
Labor Day-Early October
Utah's only dog friendly Oktoberfest is SnowWeisn at Snowbasin. Yes, you heard that right, you can take your dog to the mountains, drink amazing beer and snack on some German-inspired snacks. Snowbasin is also home to the only dog friendly gondola in the state of Utah, you'll need a special pass to ride which is $29. A single-day SnowWeisn ticket is $10.
In addition to the beer and food, the festival also features live music, activities for kids and a vendor market. Yes, there are dog treat vendors at the market.
Snowbasin is also home to incredible hiking (hello fall colors) and mountain biking. Check out our guide on mountain biking with your dog here.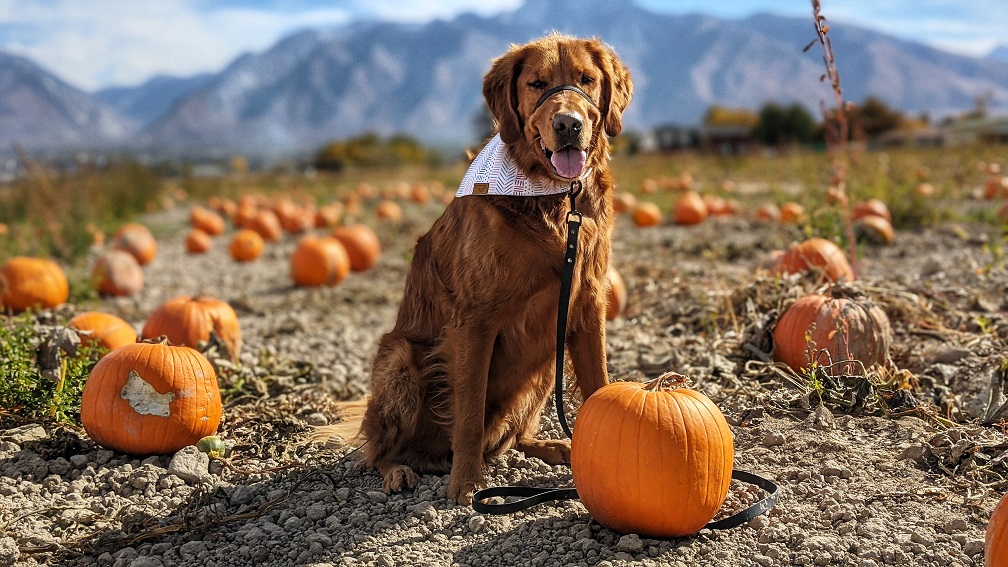 Visit A Pumpkin Patch
There is no shortage of spectacular, dog friendly pumpkin patches in and near Salt Lake City. Whether you're looking for a laid back farm or a spooky night out, we've got you covered here in our list of dog friendly pumpkin patches.
A few highlights from the list include The Kinlands in Riverton – this place is your laid back, classic farm experience with fresh produce and a farm store and Kuwahara Pumpkin Patch which is a little more lively and perfect for families because they have activities and food trucks. Pictured above is our personal favorite, Mabey Farms!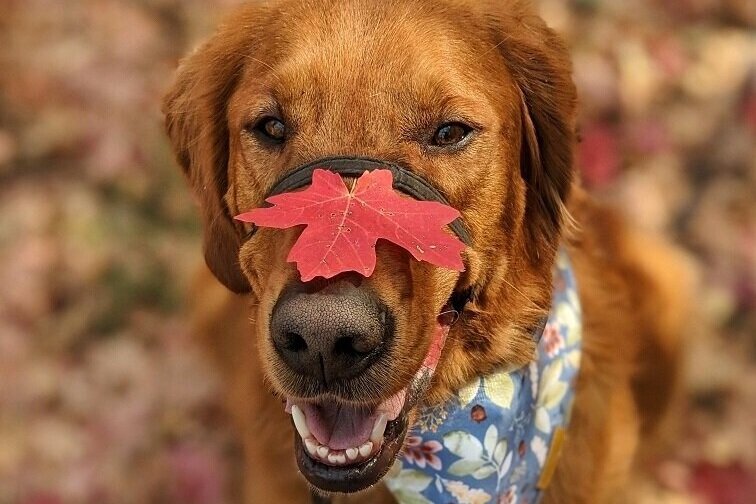 Drive/Hike Alpine Loop
Late May- Late October
The Alpine Loop, located in American Fork Canyon and Provo Canyon, has some of the most spectacular views in the Wasatch Mountains. You can see waterfalls, changing leaves and even Utah's famous Mount Timpanogos. You can drive the entire thing, but if you're feeling a little more adventurous you can stop and do some hiking with your dog.
Cascade Springs is a short detour and super easy hike. You can also check out the hiking at Sundance Resort if you're looking for a little more vert. Sundance Resort is dog friendly and has some gorgeous photo ops.
The loop is 20 miles and you'll have to buy a recreation pass for $6, but it is good for three days of play. You can also use your America the Beautiful National Park Pass. The road is entirely paved but only open from late May to late October before the snow hits.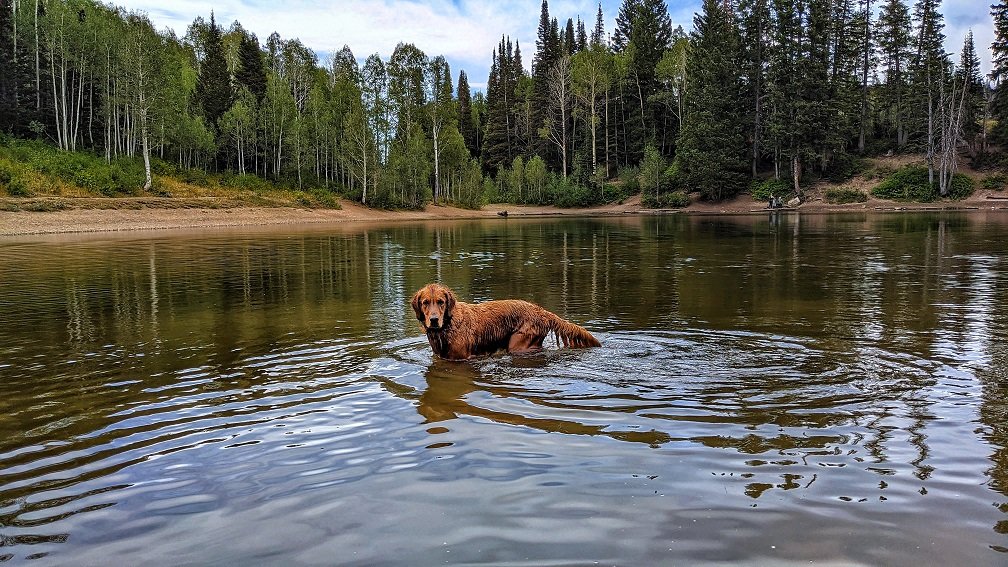 Hike In Millcreek Canyon
Millcreek Canyon is so close to Salt Lake City and a dog-owner's dream for outdoor recreation. Though sometimes it seems to be a point of confusion, dogs are allowed to utilize Millcreek Canyon every day. Dogs are allowed to be off-leash only on odd-numbered days of the month.
If you take a hike in this canyon during the Fall season, you're sure to find incredible fall colors, even just on the drive up. Make sure to bring a jacket, the air gets a little chilly after September and keep in mind the Millcreek gate, which blocks the entrance about halfway up the canyon, closes on November 1.
If you're looking for an easier hike try the Pipeline Trail, it runs along the whole canyon and is mostly flat so you can just hike until you're ready to turn back. For a little more challenge and a big payoff, check out Dog Lake.
Check out our complete guide to exploring Millcreek Canyon with your dog here.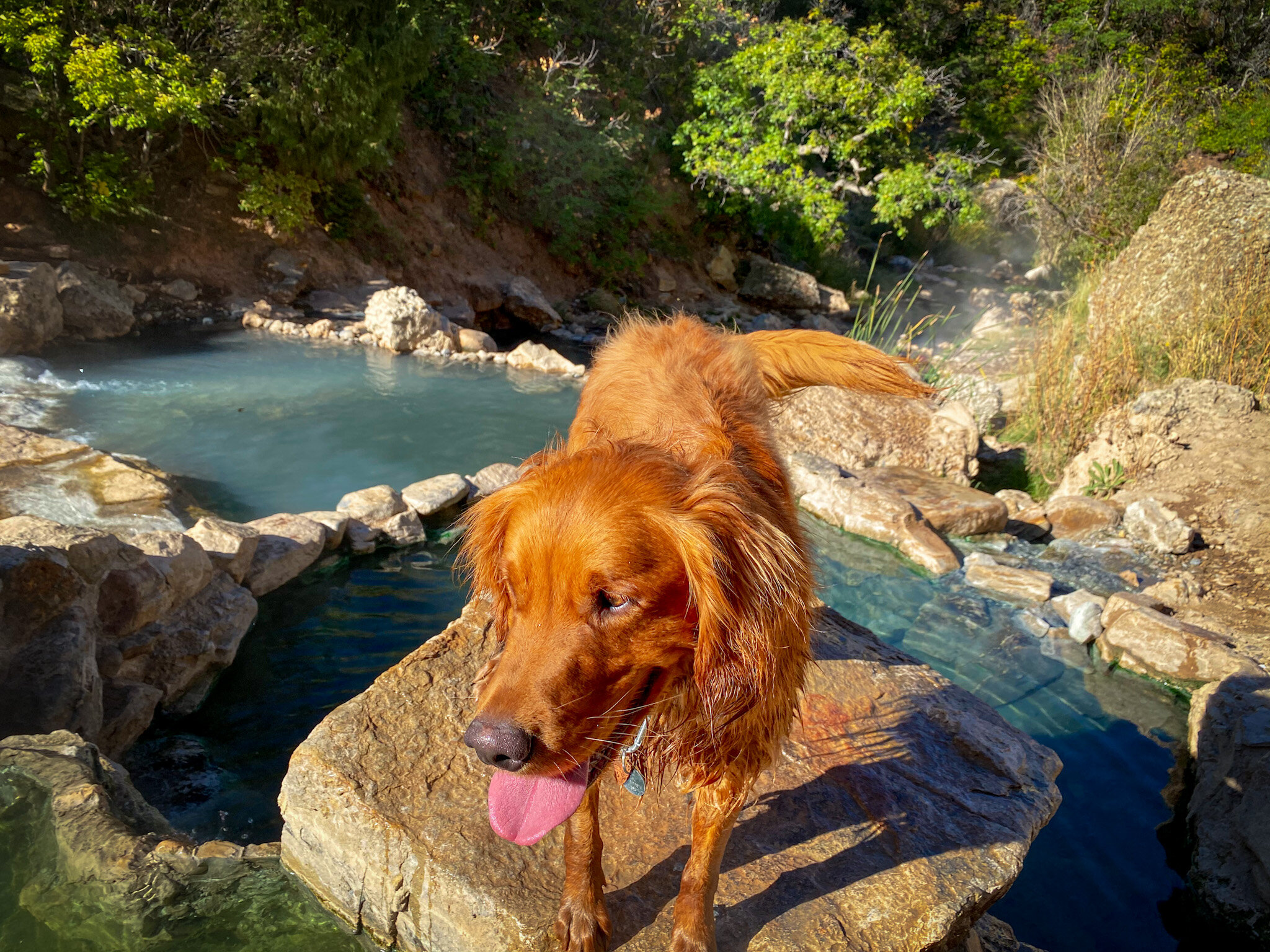 Soak in a Dog Friendly Hot Spring
Fall in the perfect time to soak in one of Utah's many hot springs! The crisp fall air makes the soak feel great without the likelihood of having to trek through mountain snow. While your pup should probably not get in a hot spring, to avoid burns and hypothermia once out, it's still a great adventure opportunity for you both. Several hot springs around Utah will let your dog chill out on the side of the spring. One of the most notable is Fifth Water Hot Springs (also known as Diamond Fork Hot Springs), a 4.5 mile out and back trail located about an hour from Salt Lake City. Check out our list of 5 dog friendly hot springs for this fall and winter!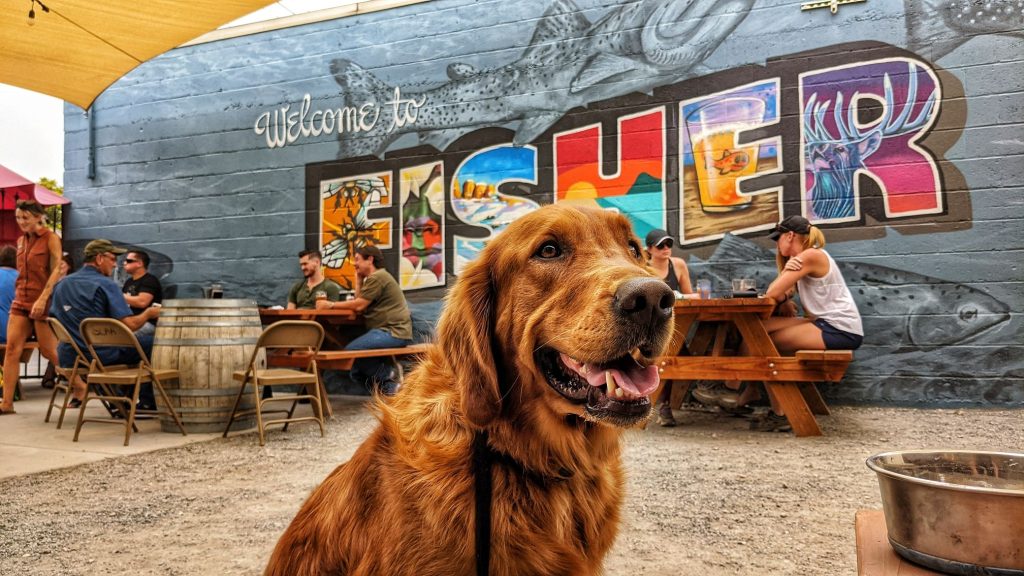 Hang Out At A Local Brewery or Restaurant Patio
Great news, the weather in Utah stays nice enough through the fall that you can still visit all of your favorite dog-friendly patios for brunch, dinner or a drink. Some of our favorites in Park City, where you'll find amazing fall colors, are Blind Dog, Cena Ristorante, and Deer Valley Cafe. If you're looking to stay in Salt Lake City check out Wasatch Brewing, Emigration Cafe, or Tea Zaanti
There are also quite a few dog friendly patios at breweries in Salt Lake, so throw on your flannel and beanie and go grab a beer with your best friend. Many local breweries also feature autumn specials like pumpkin beer and apple cider variations. Pumpkin beer might sound a bit odd, but don't judge until you try it.
Some of our favorite dog friendly breweries in Salt Lake are Grid City, Fisher Brewing, and TF Brewing. You can find a full list of dog friendly breweries here.
Attend A Dog Friendly Event
The social calendar is stacked with dog friendly events this autumn, so get you and your dog out of the house and meet some new human and pup friends. Whether you're into shopping or philanthropy, there is something for you. Be sure to visit the Events page to check out what is coming up!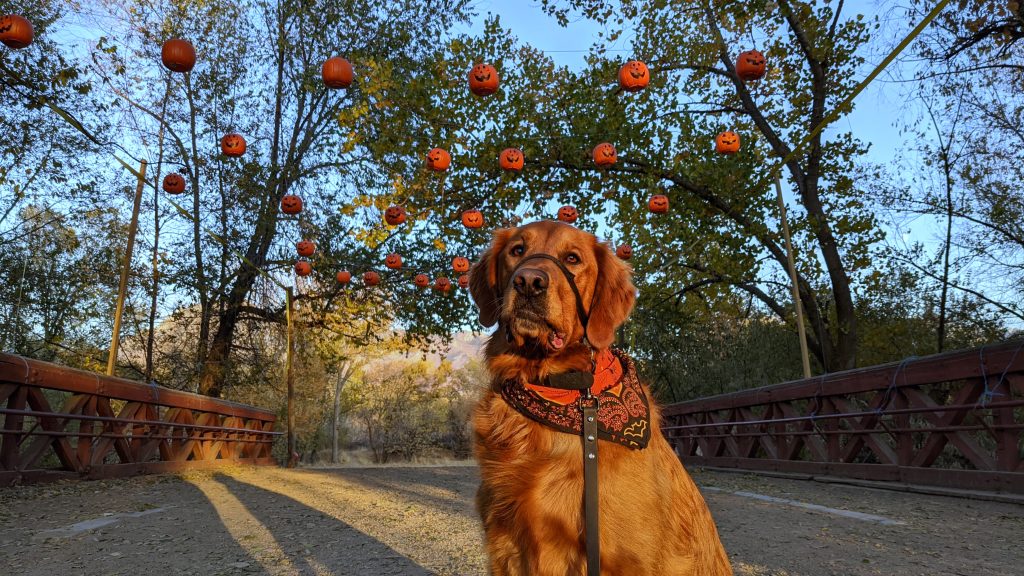 Wheeler Farm Dog Days in the Maze
Wheeler Historic Farm's annual Dog Days in the Maze event is great for Halloween lovers. Dress your pup up and head to the farm for a Halloween themed celebration on October 23rd. Trick or treat along vendor alley, take a scenic wagon ride, or find your way through the straw maze to get in the spirit of the season. There are two time slots for you to choose from- 4pm to 6pm or 6pm to 8pm.
Tickets are $17 per dog+human, with additional human tickets available for purchase for $12. Tickets go on sale Friday, September 22nd at 9am.
This event is pre-registration only and tickets will sell out quickly.
Utah Humane Society BarktoberFest
Join the Utah Humane Society for their inaugural Barktoberfest on Sunday, October 8th from 10am-2pm. The event features carnival games, a costume contest (for dogs and people), food trucks, and local craft beer.
There will also be photo sessions available with The Photo Box Photography. Family and dog friendly. Tickets are $5 per adult + dog. Kids under 18 are free.
Strut Your Mutt
On October 21st, join Best Friends Animal Society for the annual Strut Your Mutt event. From 10am-2pm they will host a charity walk, have activities for dogs and feature vendors at Liberty Park in Salt Lake City.
This event also gives you the opportunity to become a volunteer with Best Friends.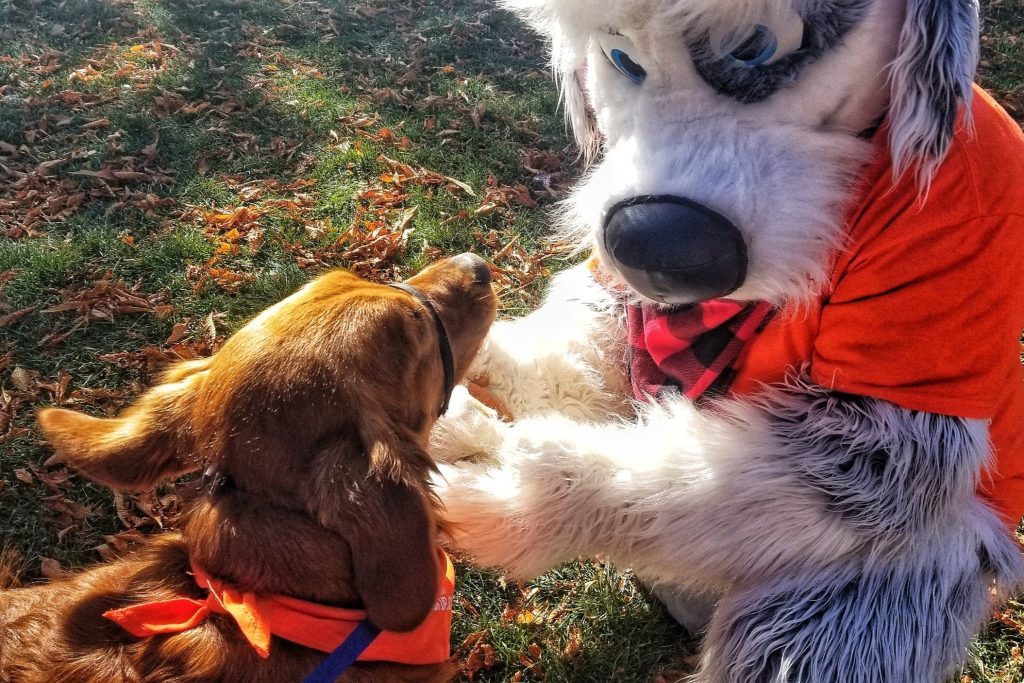 ---
Autumn is such a great season to get out and explore Salt Lake City and all of Utah, so get out there and have fun. 
We want to see ALL the autumn color/dog photos, so tag us @dogfriendlyslc on Instagram.
Happy Fall, Ya'll!