You won't find it on any national or state parks lists, but Flaming Gorge is one of Utah's most dog-friendly, outdoor activity-filled spots.
Located slightly South and East of Salt Lake City, in the corner of the state where Utah, Wyoming and Colorado meet, Flaming Gorge National Recreation Area has everything an outdoor lover could dream of. The centerpiece of the area is the Flaming Gorge Reservoir, but there is also a river, high-alpine hiking, mountain biking and incredible sightseeing.
Flaming Gorge is classified as a National Recreation Area and much of the surrounding area is a National Forest, Ashley National Forest. Dogs are welcome in both places, as long as you follow a few rules. The main rule is that dogs must be kept on a 6-foot leash and under the control of their owner the entire time. Outside of that, the rules are pretty much the same as everywhere you take your dog, clean up after them and be responsible and respectful of the area and others using the area. No matter where you are traveling, always follow the "Leave No Trace" guidelines.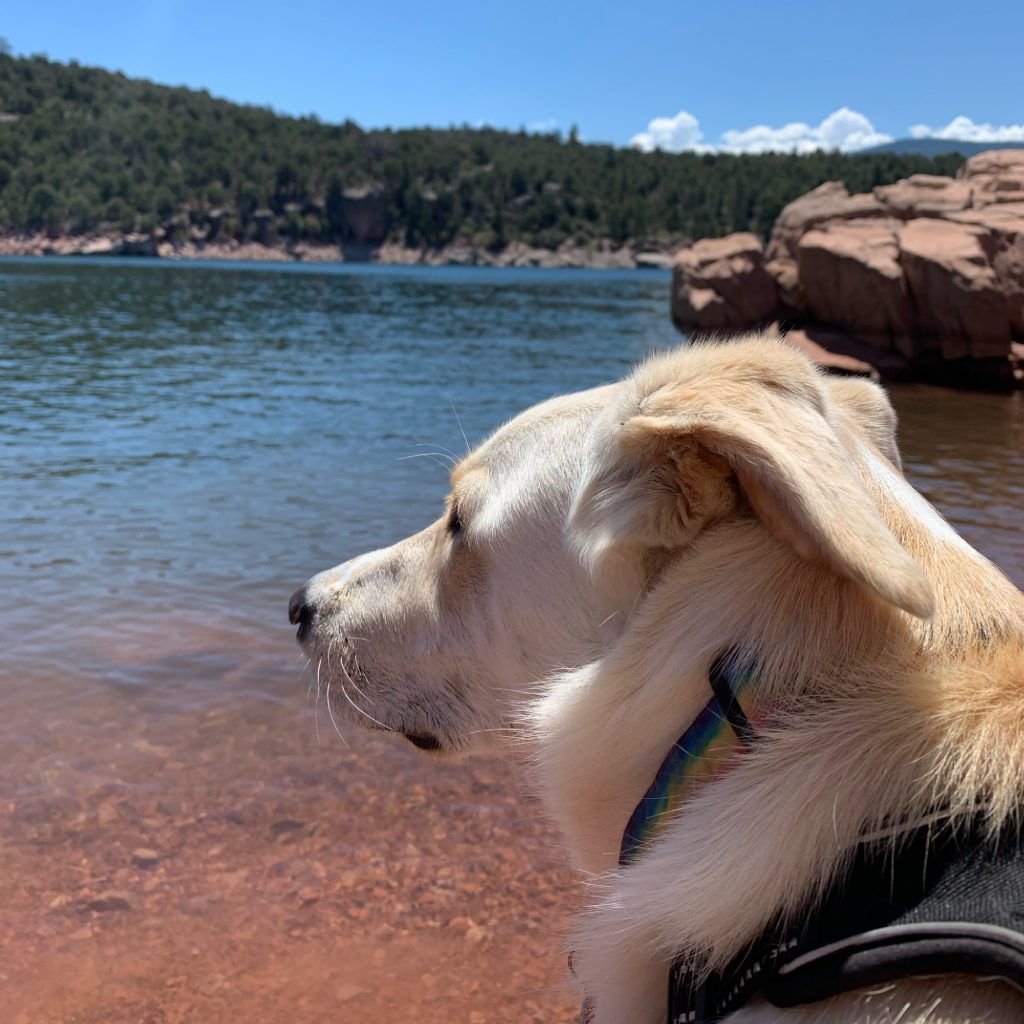 Dog-Friendly Activities In Flaming Gorge
Flaming Gorge Reservoir
The lake is massive. You can pretty much divide Flaming Gorge Reservoir into two sections based on the nearest towns – the Manila side and the Dutch John side. The Manila side is much flatter and has more of a desert landscape.
The Dutch John side is more mountainous with gorgeous red cliffs. On this side, you'll find one of the most famous viewpoints, the Red Canyon overlook. Don't miss this, it's incredibly gorgeous.
There are tons of places to swim, paddleboard, kayak and boat on the lake. Mustang Ridge is the most popular area for water activities. There is also a campground at Mustang Ridge, making it super easy for you and your dog to enjoy the lake. In Dutch John, you can rent kayaks, paddle boards and more at the Dutch John Resort or Trout Creek Flies.
If you'd like to get out on the water, you can rent motorized boats at Lucerne Marina and Cedar Springs Marina, depending on which side of the lake you are on.
Dogs are welcome at any part of the lake, as long as they are kept on a leash.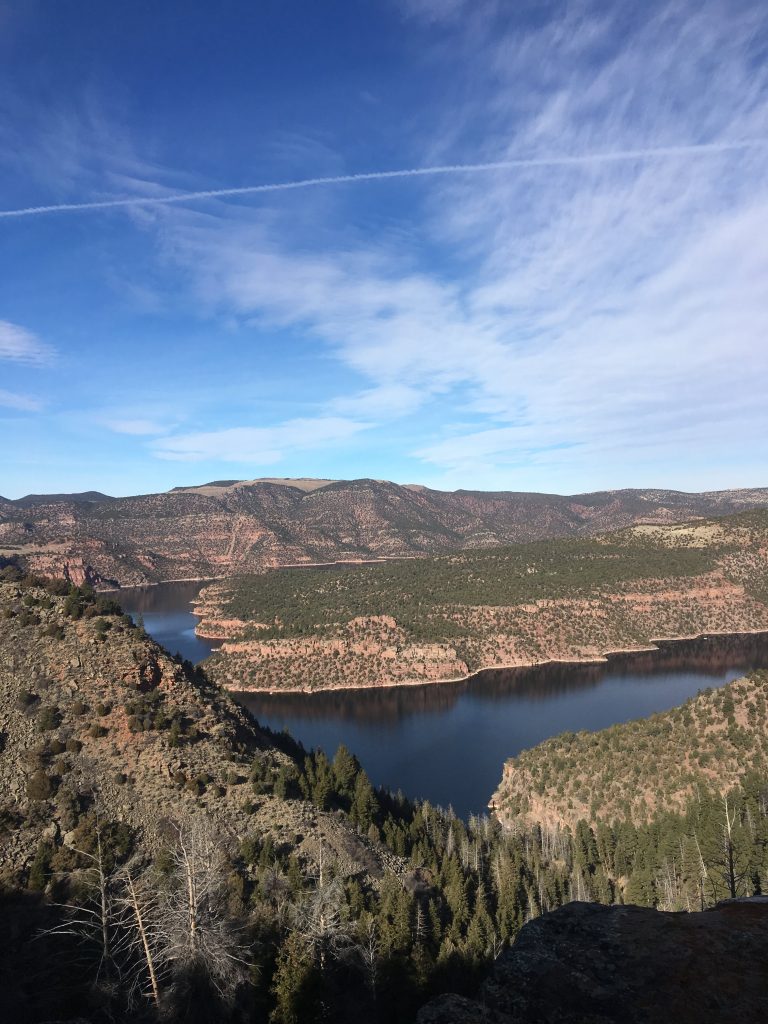 The Green River
The beginning of the Green River is located on the Dutch John side of the lake. The Green River is one of the best places to fly fish in the world… yes THE WORLD, it's globally ranked. You can bring your dog to walk along the river or on a boat with you to float.
If fishing isn't your thing, you can take a raft trip or hike along the 7-mile trail that follows the river. Rafting on the green river is very mellow and suited for beginners and dogs. You can rent rafts at the places linked above.
The hiking trail is gorgeous and pretty easy, but it is 14 miles if you plan to go out and back. Many people choose to just walk a few miles out and then back.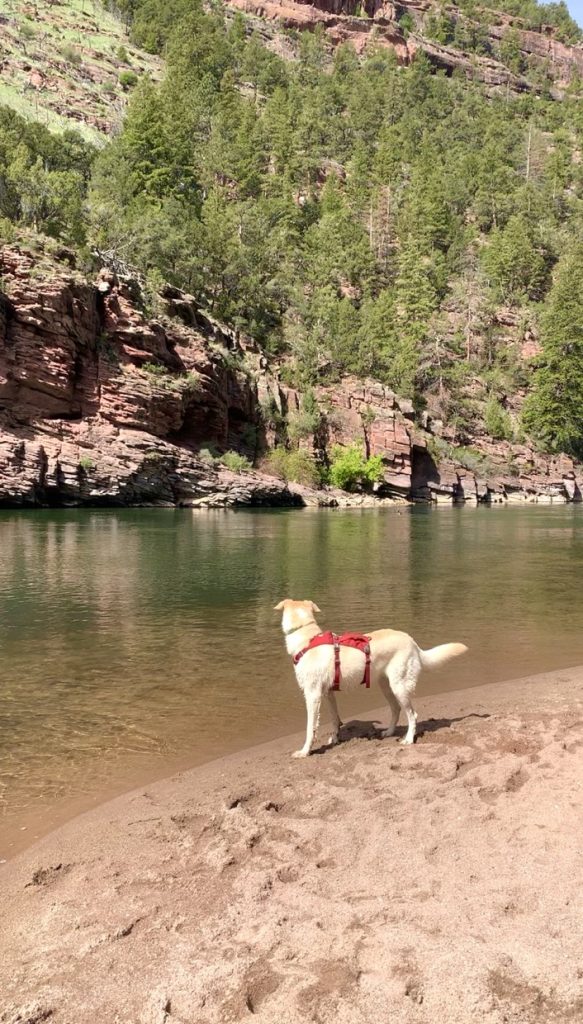 Dog-Friendly Hiking In Flaming Gorge
All of the hiking trails in the area are dog-friendly, as long as your dog is on a leash.
You can't miss the Red Canyon Rim trail, it's a bunch of paths to see the overlook, so you can make it as long or as short as you'd like. It's got the most bang for your buck when it comes to views.
Another hike with a spectacular view of the lake is the Bear Canyon trail. It's about 2-miles, out and back. It's suitable for beginners and has some shaded areas to keep you cool.
And finally, if you're looking for something a little longer check out the Greendale overlook/Sweat Ranch loop. It's 5.8 miles and does not offer very much shade, make sure to bring plenty of water to keep you and your pup hydrated in the heat.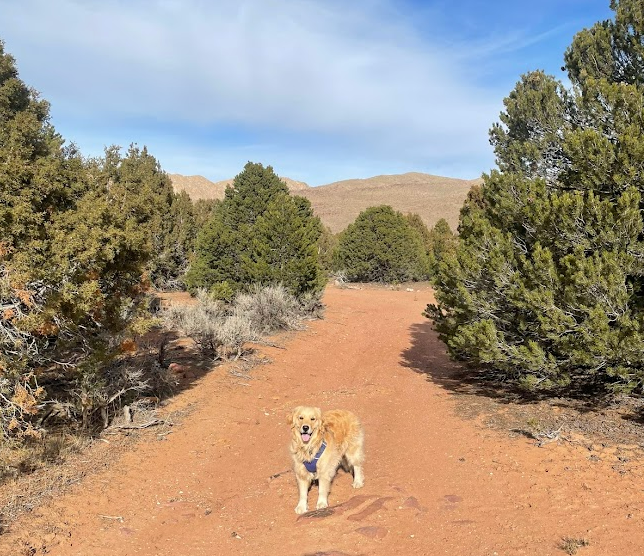 Dog-Friendly Camping In Flaming Gorge
There are tons of great campgrounds in the Flaming Gorge area, it just depends on your preferred landscape and activities. Make sure to make reservations in advance on Recreation.gov, camp spots fill up fast.
The most scenic campground is the Canyon Rim Campground, located near the Red Canyon overlook. It features massive pine trees and a high alpine setting. It is about a ten-minute drive from places to access the lake. Firefighters Memorial Campground is another great option if you're looking for something really scenic and more high-alpine.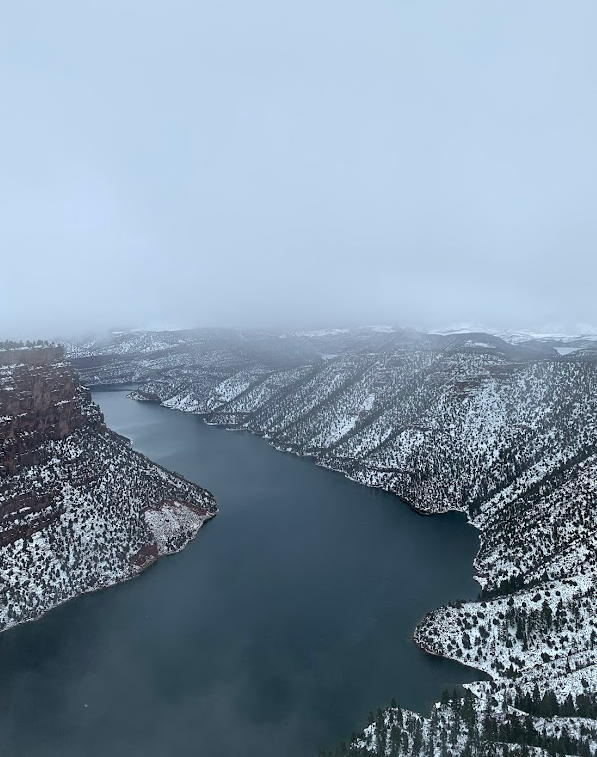 The best campground for lake access is Mustang Ridge, we talked about that one above.
If you plan to spend a lot of time boating (or want easy access to a really fun bar, more on that below) Cedar Spring Campground is perfect. It's located within walking distance of a marina where you can rent boats and buy supplies.
If you want to stay closer to the Manila side of the lake, Sheep Creek campground is perfect. It's located in a gorgeous canyon with Aspen trees and access to the lake. You'll also be right next to the Sheep Creek Geological Loop, an amazing scenic drive.
Dog-Friendly Hotels Near Flaming Gorge
Red Canyon Lodge
Red Canyon Lodge is the most dog-friendly lodging in the area. Their cabins all welcome dogs and dogs are allowed on the patio of the restaurant.
Red Canyon Lodge has a few sizes of gorgeous log cabins, a private lake and a few hiking trails easily accessible from the cabins. Reserve quickly, they often book out a year in advance. It's about a 20-minute drive to access the Flaming Gorge Reservoir from this lodge.
Flaming Gorge Resort
Flaming Gorge Resort has a select number of hotel rooms that are dog-friendly. Flaming Gorge Resort has a restaurant and a place to rent rafts and the patio connected to the restaurant is dog-friendly.
This resort is about a ten-minute drive from both lake and river access.
Dog-Friendly Food Options In Flaming Gorge
The Flaming Gorge National Recreation area is very rural, so there aren't a ton of options when it comes to restaurants and bars. If you plan to camp or stay for the weekend with your dog, you should probably plan to pack some food and picnic for at least a few of your meals.
With that being said, there are a few restaurants and patios you can enjoy with your dog.
I mentioned this briefly above, but if you're looking for a super fun night out, The Snag is a great marina bar that sits right on the water at Cedar Springs Marina. They have a full drink menu and a selection of food and snacks every weekend. They are only open Friday, Saturday and Sunday from Memorial Day to Labor Day. Your dog can join you on the dock as long as they are on a leash and well-behaved.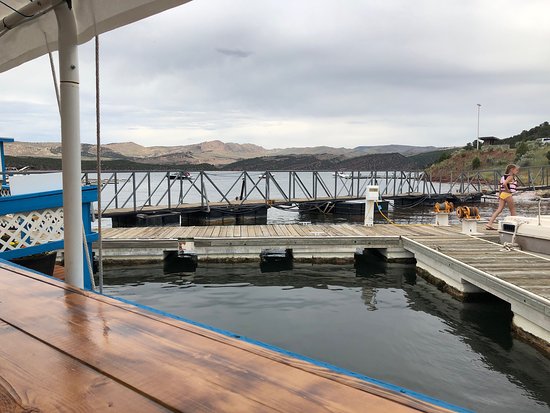 Red Canyon Lodge also has a restaurant where dogs are welcome on the patio. They serve lunch and dinner from the beginning of Spring until the end of Fall. Their menu is slightly more upscale and the views of the private lake from the dog-friendly deck are amazing. Your dog needs to be kept on leash the entire time.
Your dog can join you on the patio at the Flaming Gorge Resort as well as long as they are on a leash and not disturbing other guests. This spot serves breakfast, lunch and dinner. They also have a soda shop, ice cream parlor and espresso bar.
We would love to see photos of your adventure to Flaming Gorge with your dog. Tag us @dogfriendlyslc on Instagram.