Indoor dog swimming pools are amazing, but do you want to know about something even cooler? Dog swimming lessons. And you can find swimming lessons for your dog right here in Salt Lake City. We'll give you the details.
You may think indoor dog pools sound a little weird, but there are a lot of reasons we love them. First off, they are a great way to get your dog some exercise on cold and stormy winter days. They are also a great way to avoid water affected by toxic algae blooms (more on that here). And finally, they are perfect for teaching your dog to swim.
There are a few places in Salt Lake City that offer dog swimming lessons for both individuals and groups, but you can also teach your dog to swim (or let other pups do it for you) at local swimming holes.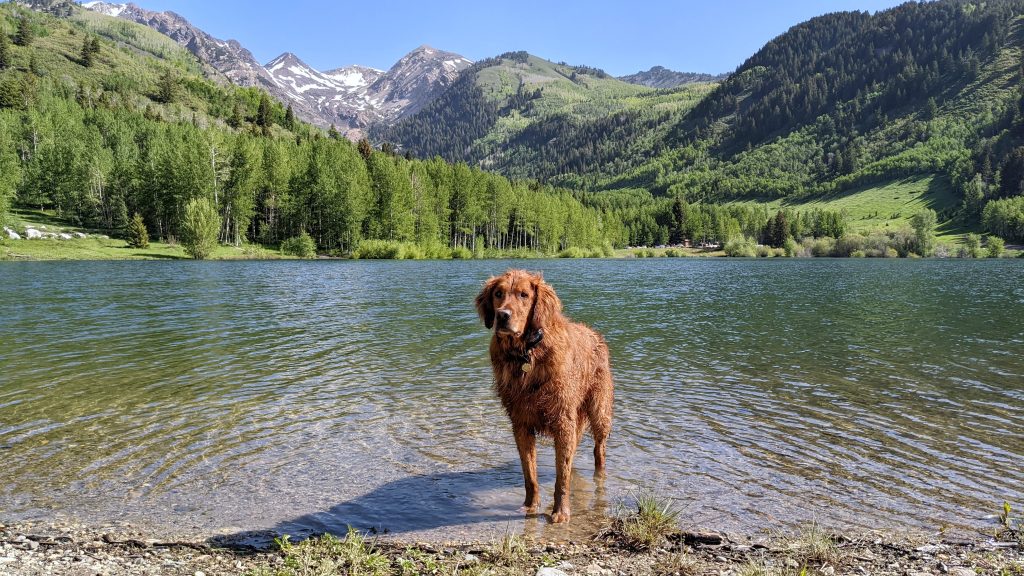 Benefits of dog swim lessons
Safety is the biggest reason to get your dog into swimming lessons. They are a great way to give you peace of mind that if your dog ever needs to swim, they'll be able to. And who knows, maybe your dog will unlock their love for water, structured lessons can really help some dogs get past nervousness about water.
Learning to swim can also give your dog a foundation for exercising in the water if they ever get injured and need some rehab to get back out there. It's also a great way for overweight dogs to shed a few pounds.
Things to consider before teaching your dog to swim
Dogs can learn to swim at any age, but it is good to get them comfortable with water at a young age but not before they are fully vaccinated. In fact, puppies can't swim at indoor pools or start lessons until they are fully vaccinated and you must bring proof to your first lesson at all of the places we list below. It's recommended that you don't take your dog to lakes or parks where other dogs play until they are fully vaccinated.
Keep in mind, 15 minutes of swimming is about equivalent to a two-mile walk for dogs. So take it easy at first, and if your dog shows signs of exhaustion remove them from the water immediately. Your dog's swim teacher will know how long is appropriate for your pup to be in the water.
Dog Swimming Gear
Here are a few things to make your experience with swimming and swimming lessons more enjoyable. We included some things for safety and some just for fun.
First off, a life jacket is always recommended especially if you aren't totally sure about your dog's swimming abilities. We love this one below from Ruffwear. It's also a good idea for your dog to wear a lifejacket if you're doing water activities like paddle boarding or kayaking.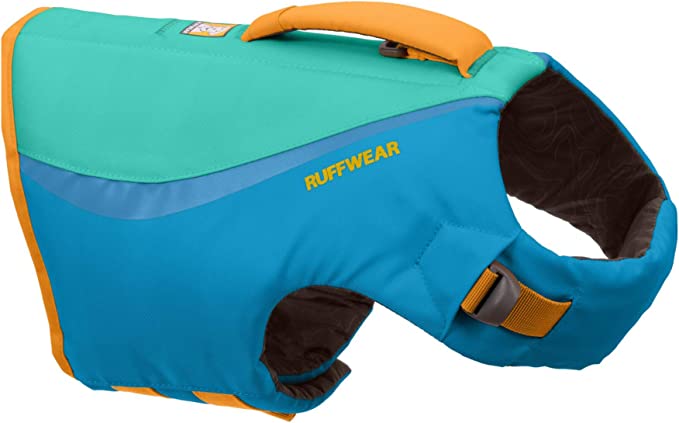 Stay safe in the water
Ruffwear life vests are known for their durability. We believe it's the best life jacket for your buck!
Make sure you bring a towel, because we all know what dogs do when they're wet and it might be best to avoid having them shake off in your car while they are soaking wet on the way home.
And just for fun, we love this Chuckit Bumper toy for water play.
Salt Lake City Indoor Dog Pools With Swimming Lessons
Here is a handy guide on Salt Lake's indoor pools for dogs, but we will get into more detail on what they offer in terms of lessons and rentals below. We will also include a few outdoor spots to get your pup in the water when the weather allows.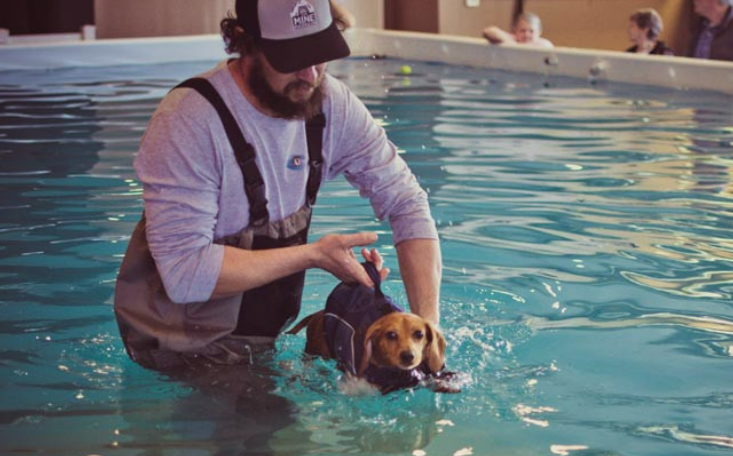 Barley's Canine Recreation Center
2827 S 2300 E, Salt Lake City, UT 84109
Hours: Mon-Fri. 7 am to 7 pm, Sat. 9 am to 5 pm Sun. 10 am to 4 pm
Phone: (801) 467-6069
Located right around the corner from Tanner Dog Park, the very first place in the state to offer indoor swimming for dogs was Barley's Recreation Center. Along with a great place for our four-legged best friends to take a swim, Barley's also offers daycare, specialized training classes, in-home dog sitting and specialty retail to the Wasatch Front.
Barley's pool is 21′ x 41′ and kept to high standards of hygiene. Their water management system filters, heats, and sanitizes the water through a circulation pump, a specially designed in-line electric heater and a high-rate sand filtration system — all to say the pool is clean and if anyone were to have an accident (because we all know it happens) then they'd be able to clean things properly.
Your dog's first time at Barley's will be a swim test and orientation ($25 for up to two dogs) with a staff member to ensure your pup is comfortable in the pool and can swim with everyone else during open swim hours. This is a great way to know if your dog needs more individual support when it comes to swimming.
Don't worry if your dog needs more practice. They offer follow-up swim lessons for $25 each, but you'll need to make an appointment. Once your dog gets the hang of it, they offer open swims ($17), semi-private ($17) and private pool ($25) time in 30-minute sessions.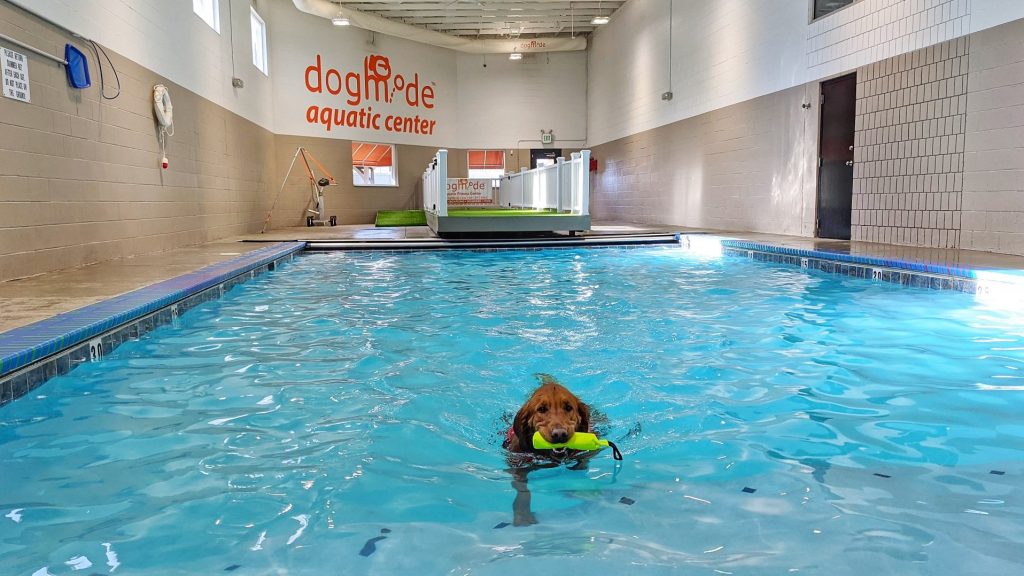 DogMode
4030 Howick St, Millcreek, UT 84107
Hours: Mon-Sun. 7 am to 7 pm
Phone: (801) 467-6069
Dog Mode is Salt Lake City's only in-ground dog pool- a multi-purpose salt water pool that provides a beautiful and safe space for our pups to go wild. The pool is 45 feet by 20 feet and 4.5 feet deep at its deepest, allowing lots of room for playtime, dock diving, and exercise.
We love Dog Mode not just for their swimming pool but also for their great 40-foot dock. It was built to the specifications of the North American Diving Dogs Organization so that dogs can train year-round to participate in diving competitions. If you're interested in training your dog in some dock diving, ask the staff how you can get started.
Before hitting the pool, you'll need to schedule an initial swim orientation and possibly subsequent private swim time to show the staff at Dog Mode that your dog is comfortable in the water.
The initial orientation is $25, if your dog is ready to swim on their own with other dogs, you can choose their WeSwim option for $10. If your dog needs extra support DogMode offers private, staff-assisted swim time for $35, but you'll need to make a reservation ahead of time.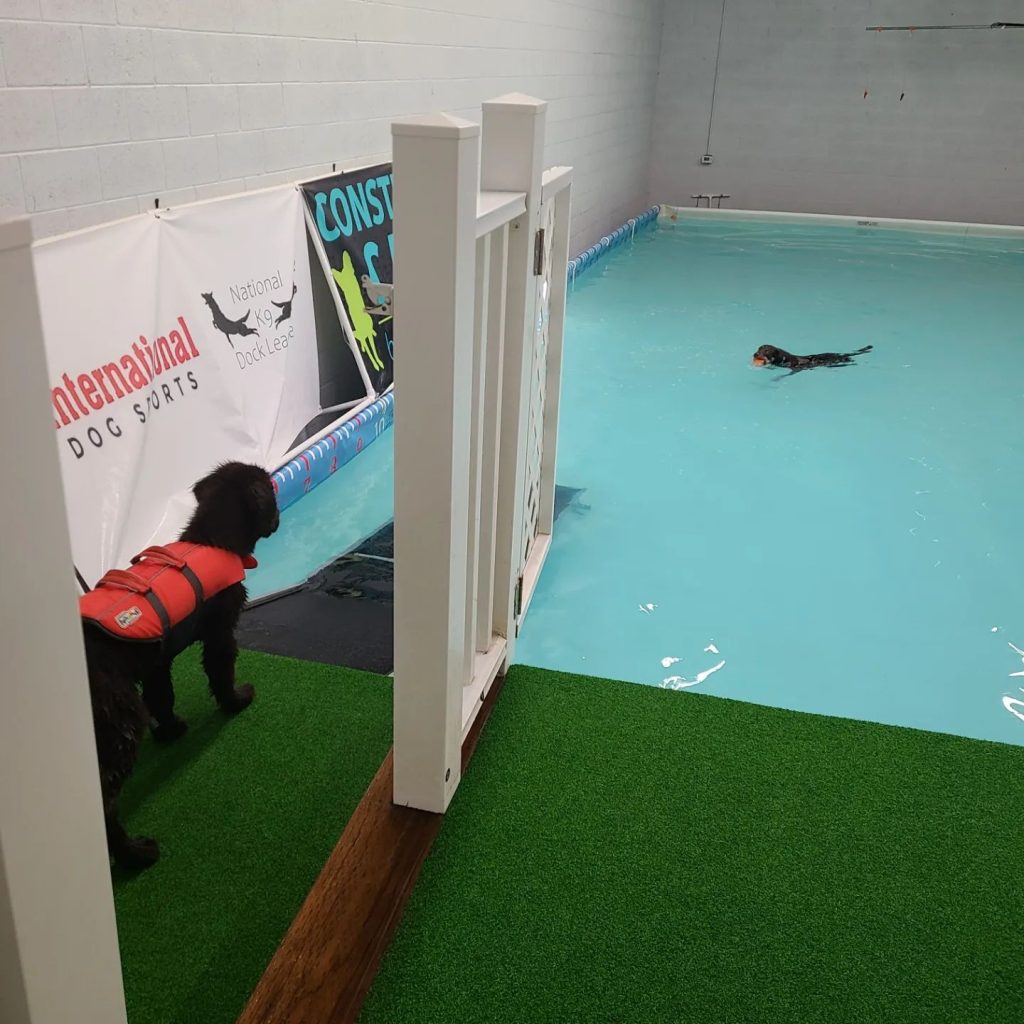 Sea Dogz
840 W 24th St, Ogden, UT 84401
Hours: Mon 9am-8pm, Tues 6-8pm, Wed/Thurs 9am-8pm, Fri/Sat 9am-7pm, Sun 12-6pm
Phone: (801) 513-3209
Sea Dogz in Ogden is perfect for our friends who live a little further North. Their 40ft by 17ft pool is made for dock diving, but also offers a safe space for your dog to exercise by swimming.
Before heading out for a swim, make sure you create an online profile of your dog's information. This will allow you to communicate with the team, request appointments, and upload current vaccines for your pup.
While not required, Sea Dogz recommends a private assisted swim session for your first time at their facility. Staff will ensure all dogs are comfortable entering and exiting the pool safely, as well as provide general guidance to keep your pup safe in the water. Private assisted swim sessions start at $55. They also offer private puppy swim classes to get your little friend comfortable in the water, the puppy swim package is four sessions for $120.
Teach Your Dog To Swim Outdoors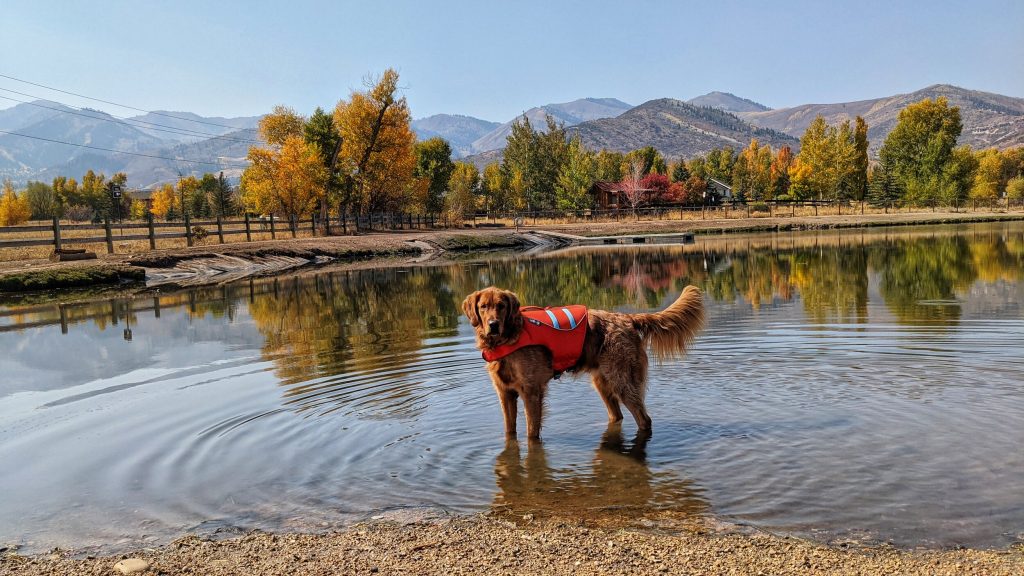 Willow Creek Dog Pond
Willow Creek Dog pond is a gem in Park City, Utah. It is also a great spot for dogs to learn how to swim (with a lifejacket of course) by watching other dogs swim. It's an outdoor, fenced area (think dog park with a swimming hole) right off Highway 224 between Kimball Junction and Park City proper.
It is only open in the summertime, for obvious reasons, but it is one of our favorite places to hang out in the summer. The pond has entry points all around and dock, so whether your dog is more timid and wants to wade in slowly or is ready to jump in and chase frisbees they are guaranteed to have a great time.
Here's our guide to Willow Park and other dog parks in Park City.
Swimply – Rent A Pool
If you're dying to get in the pool with your dog, check out Swimply. It's like Airbnb for pool rentals. You can search for folks renting out pool time at private pools in your area. 
If you decide to use Swimply to get some pool time with your pup, make sure to check the "pets allowed" filter for your search and make sure the owner is cool with your pup getting in the water.
On Swimply, people rent more than just pools. You'll find hot tubs, hot springs and even backyard rentals, so maybe you'll find a gorgeous backyard for your pooch to play in if swimming isn't really their thing.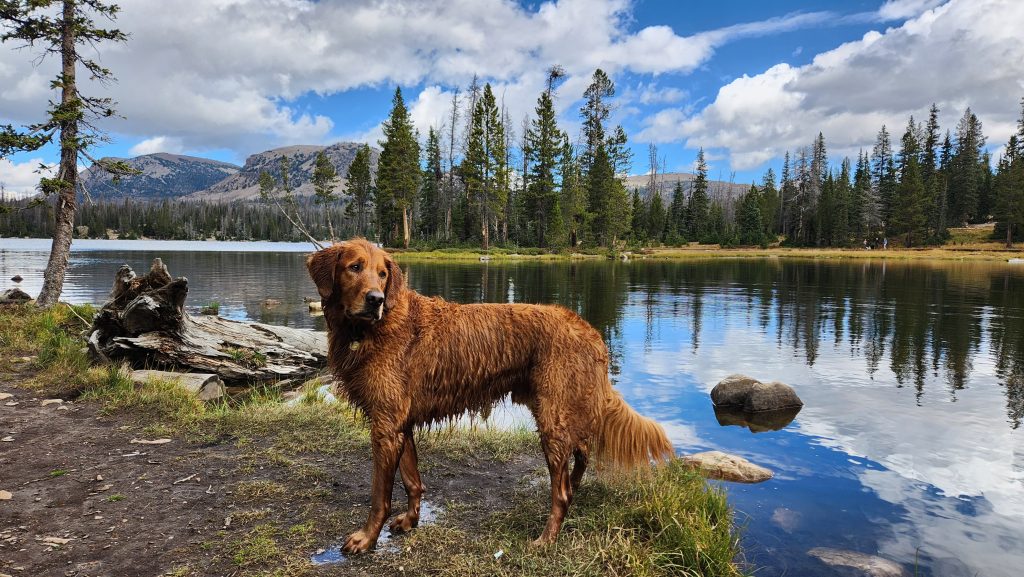 Utah has plenty of great dog friendly lakes and reservoirs for your dog to learn how to swim, here's a guide to dog-friendly lakes near Salt Lake City.
Swimming lessons are a great way to get your dog comfortable in the water so they can enjoy the wonders of water exercise and to give you peace of mind that if you and your dog are ever faced with a situation where they have to swim – they'll be able to.
Happy splashing, shaking (remember the towel), and paddling!