Dubbed Bark City for it's dog-friendly culture, Park City is the outdoor lover's paradise with an abundance of parks, hiking trails, and natural spaces for you and your pup to explore. That's not to mention the great patios and brunch spots you'll want to bring them to after a long day of hiking and adventuring.
As much as the city loves pups, you'll need to keep your dog on-leash or controlled by e-collar at all times unless in designated parks and off-leash areas. So when you're ready to let your dog run wild while still having the protection of a fence, here's a list of all the dog parks in Park City for you to visit.
Run-a-Muk Dog Park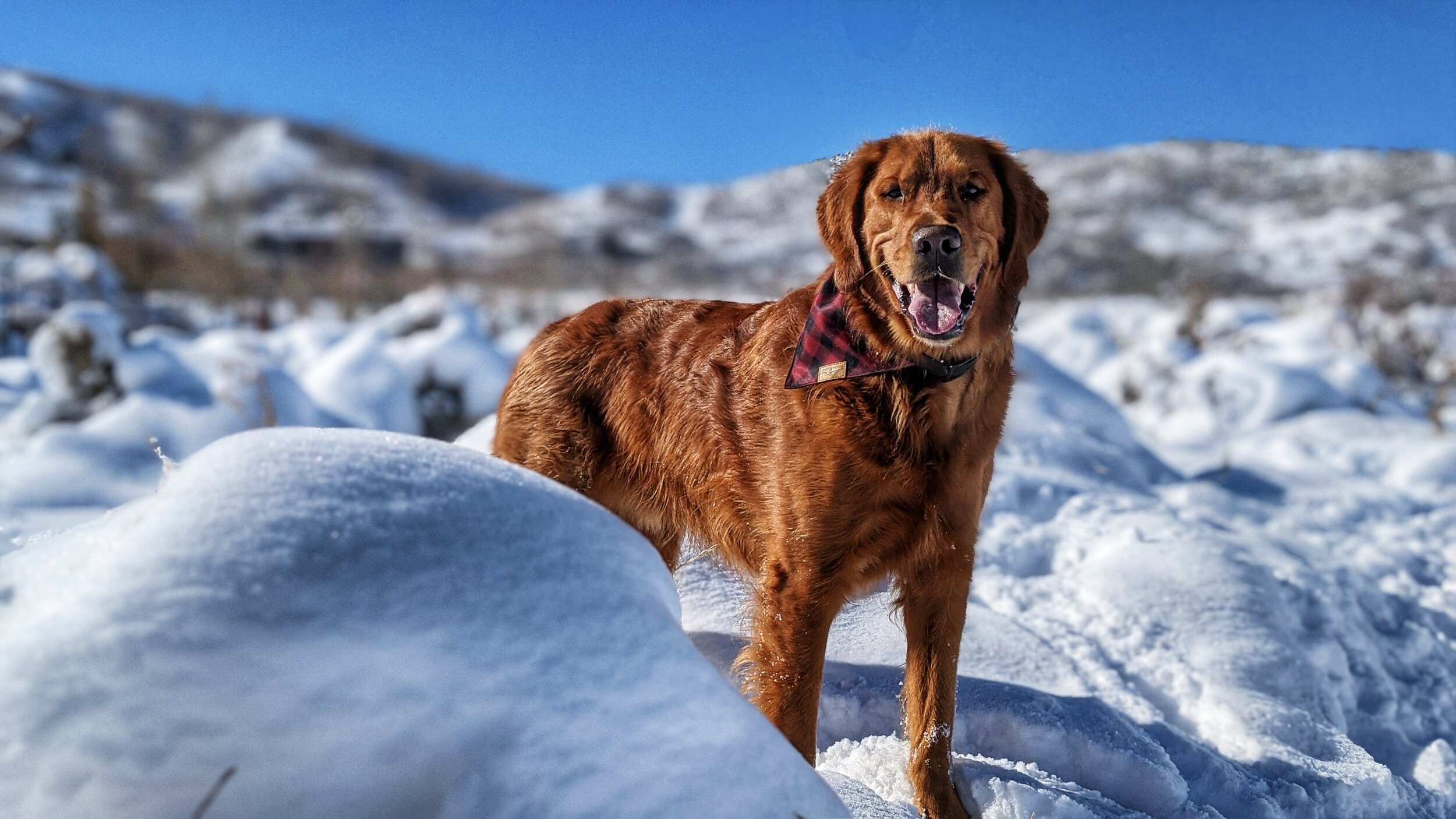 3399 Olympic Pkwy #1759, Park City, UT 84098
Run-a-Muk Dog Park is any dog's dream! Located below the Olympic Park (and around the corner from SkullCandy), this park offers you and your pup over 40 acres and 2 miles of trails and park land for you to walk, hike, or run. The park is fenced, though it does have some weak spots, and is a great place to practice off-leash recall prior to hiking. The trails here go over and around aspen groves and open shrubs so there is plenty for your dog to sniff and get into. Keep an eye out for wildlife though- moose have been seen on occasion.
Run-a-Muk is an awesome place for your dog to run amuck and you'll definitely want to come back over and over. This park is open year round, you'll just want to dress accordingly. In winter expect fairly deep snow and sometimes icy trails (consider bringing traction for your shoes!). Spring brings muddy conditions as the snow melts so be sure to bring a towel for your car!
Willow Creek Dog Park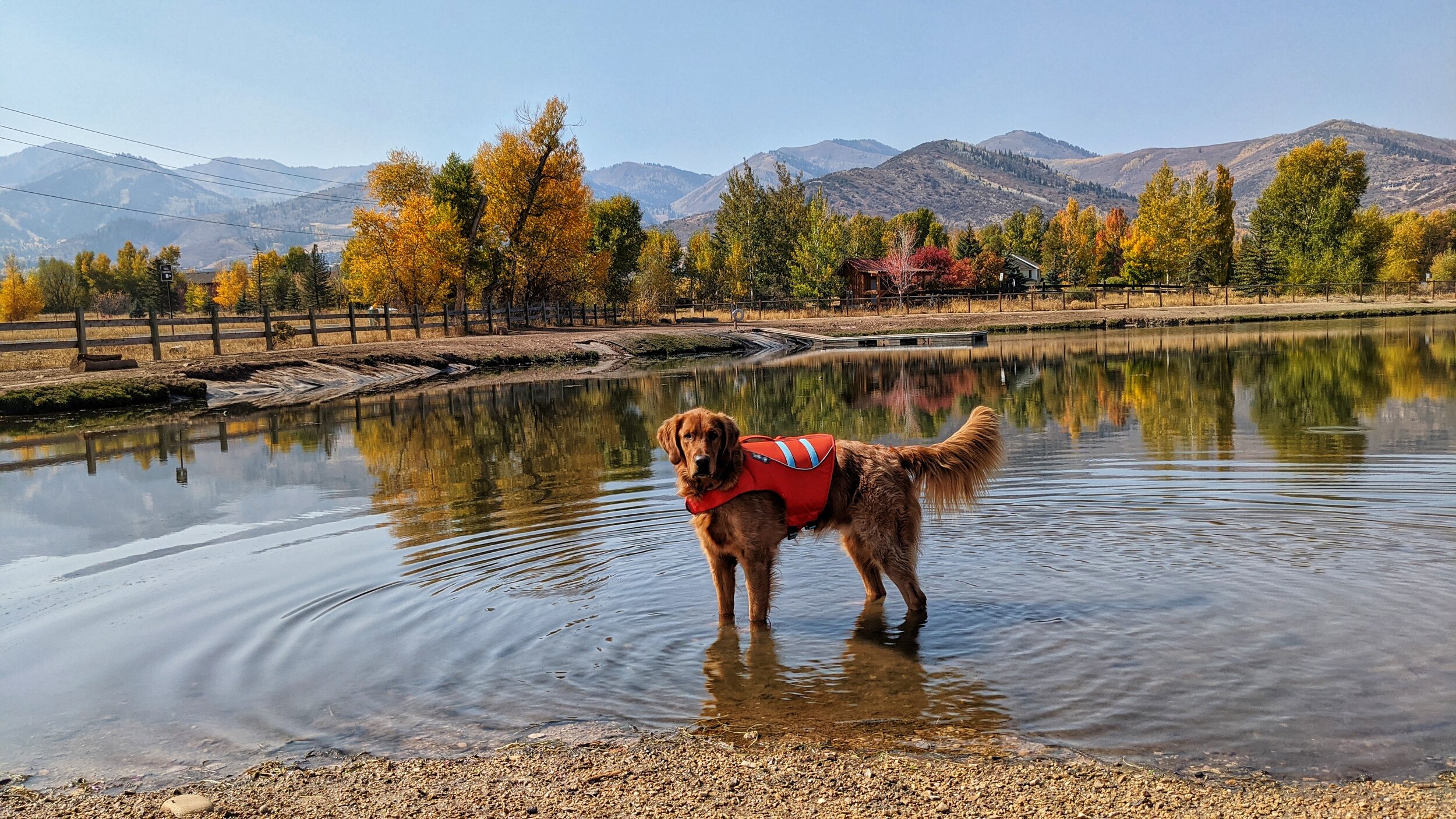 4460 Split Rail Ln, Park City, UT 84098
Willow Creek Dog Pond is a fully fenced swimming and park area located off Old Ranch Road within greater Willow Creek Park, a large family park with a playground and multiple recreation fields.
Willow Creek Dog Park consists of a pond for your pup to take a dive in and a soft grassy side for them to roll around in after their swim. The pond features many entry points for your pup including a floating dock for the more adventurous pups wanting to jump for frisbees and balls. On the grassy side you'll find a ⅓ mile trail surrounding approximately 24,000 square feet of running area plus an agility course for those looking to train and practice.
Dogs love coming here in the summer months and hopping from side to side to take advantage of refreshing swims, warm sunny spots, and nice breezy grass.
Quinn's Junction Dog Park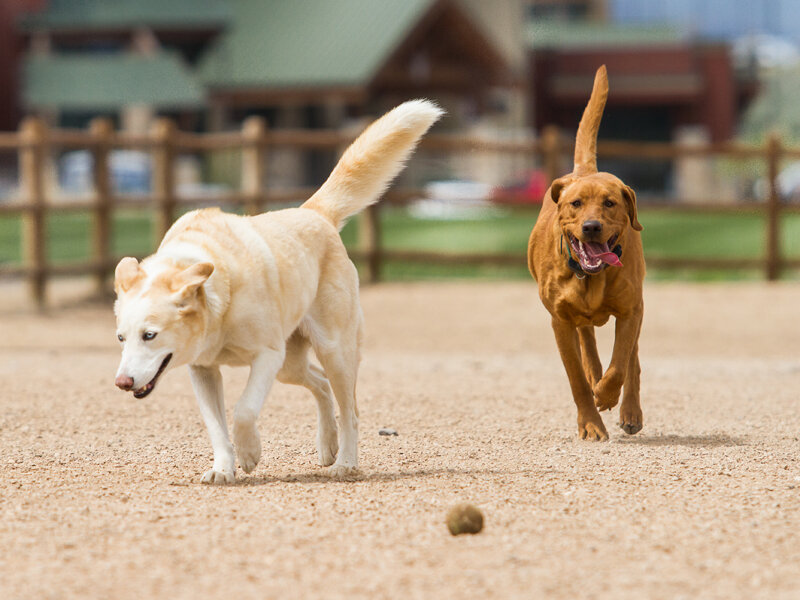 600 Gillmor Way, Park City, UT 84060
Quinn's Junction Dog Park, also known as Park City Dog Park or "the dog park by the hospital" is located next to Quinn's Junction Trailhead, the ice arena, and the Park City hospital, only a few minutes from downtown.
This park is a cute little place for you and your pup to hang out at. It offers a medium-sized enclosed area and if you like gravel ground parks then this is where you'll want to visit — no more worrying about muddy feet on your drive home. If you want to take an open range romp after visiting the park and making new friends, you can explore trails around nearby Round Valley.
Trailside Dog Park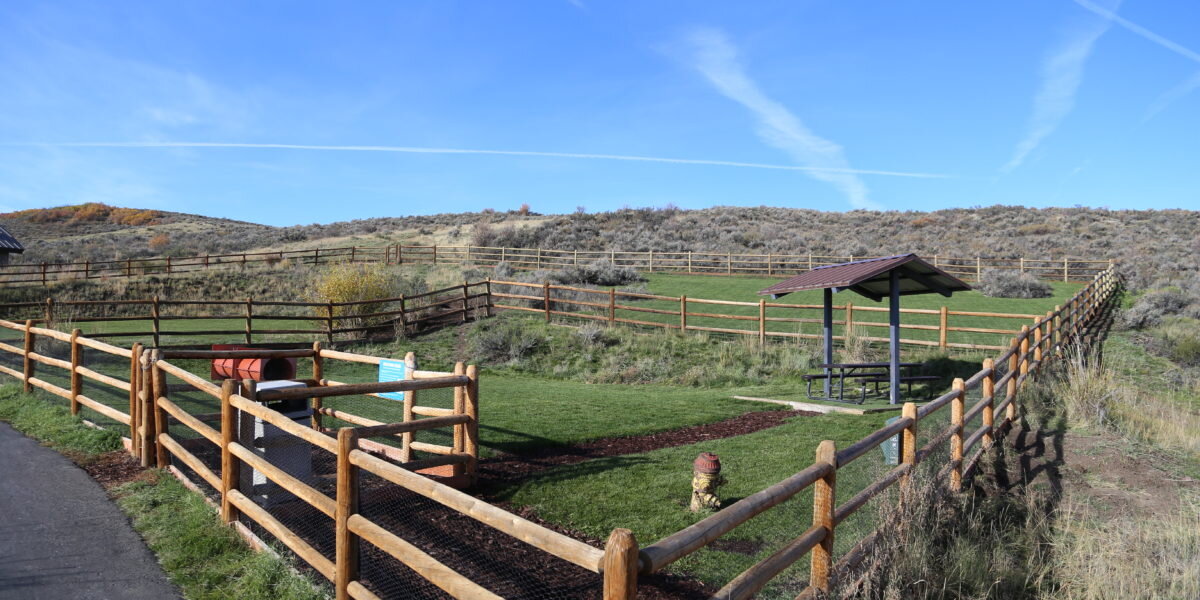 5715 Trailside Dr, Park City, UT 84098
Trailside Dog Park is a beautiful area to take your dog for some playtime. It's located within a community park of the same name and offers two separate areas for small and large dogs to hang out in.
No matter which side of the park your dog plays in, they'll have plenty of area to run around. The park has both sodded and natural surfaces for pups to explore and it offers benches and shade shelters for owners to be able to supervise their pups without being blinded by the sun on bright days.
This park also has a 1-mile off-leash trail where dogs can run free while taking a lap with you. You'll want to be sure to watch out for signs that tell you where dogs must be back on-leash.
The Woods At Parley's Lane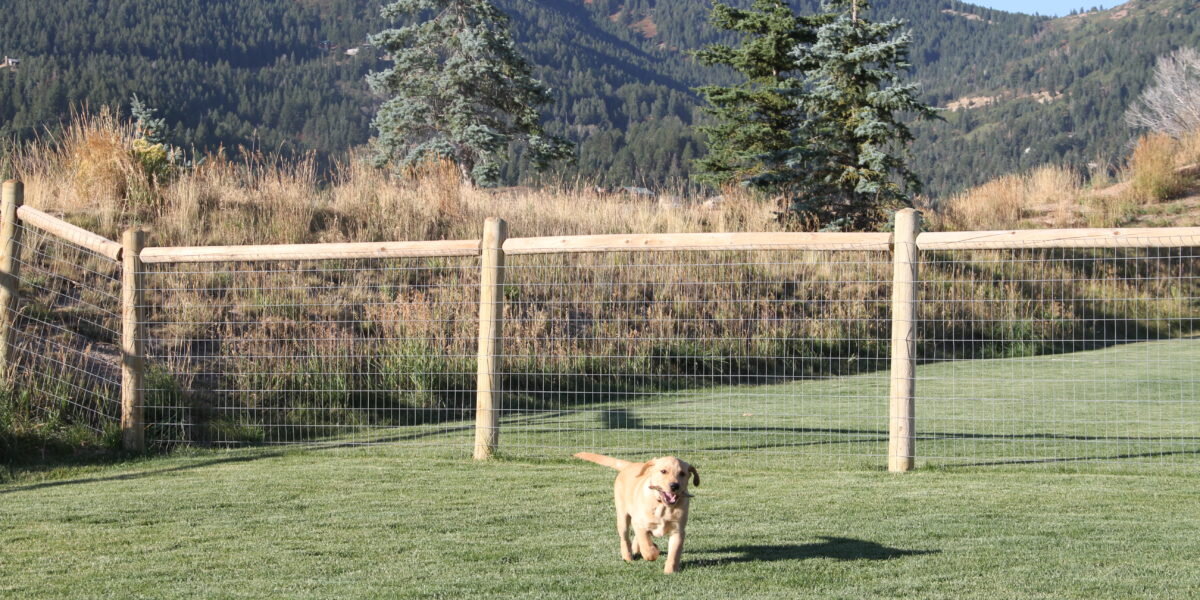 5715 Trailside Dr, Park City, UT 84098
The Woods At Parley's Lane is a small but beautiful and well-maintained dog park located right next to The Woods Trailhead. This park is a half acre of grassy field for your pup to run around and play in. There's an agility course for training and exercise and covered benches for pet owners to relax at while supervising their dogs.
Just like most parks in the area, The Woods At Parley's Lane has some longer walking options for you to venture into after a game of fetch. Starting from the dog park you can either walk a 1.3 mile loop or a .5 mil walk that allows your dog to be off leash. Both are fun and will let your pup get some more of that energy out of them.
Designated Off Leash Areas
Round Valley
The Round Valley area, just northeast of the heart of Park City, offers over 700 acres of open space and trails where you and your pup can run, walk, bike, or nordic ski. Dogs are welcome to use the majority of the trails but must remain on leash at trailheads. Be sure your pup has good recall to avoid any encounters with bikers, skiers, and wildlife.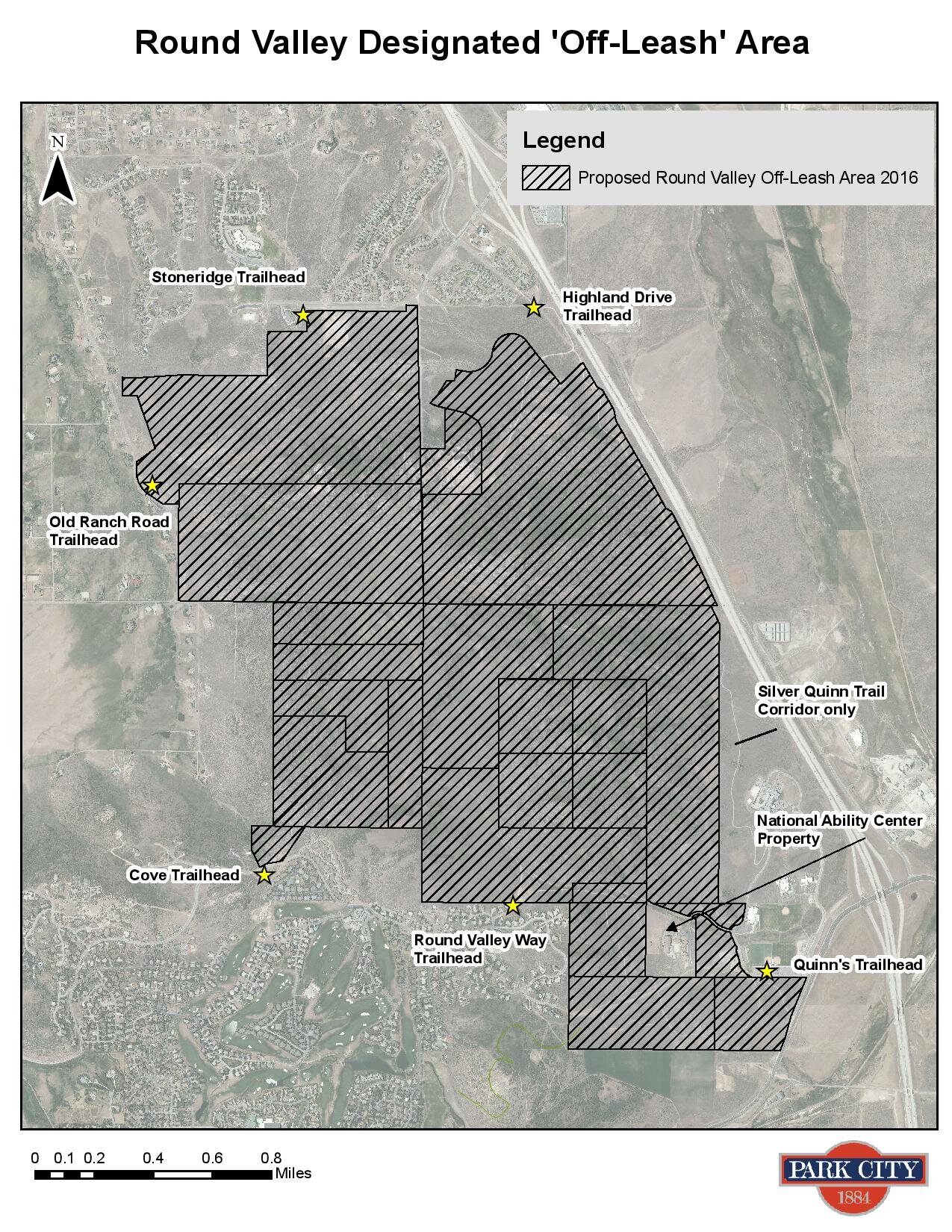 Library Field
In the heart of Park City, adjacent to the Park City Library, is the aptly named Library Field. Your dog can sniff and mingle with locals while enjoying this wide open green space. As a bonus, you can enjoy coffee from local favorite Lucky Ones Coffee as their patio opens right up onto the field. Lucky Ones employs those with disabilities and their awesome team will give your pup all the love in the world!