If you're looking to get some work done, catch up with a friend, or simply enjoy some time with your pup, you've probably wondered about dog friendly coffee shops in Salt Lake City. We've all envisioned sipping a latte while we dive into a good book with our furry best friend at our feet, right?!
Unfortunately because of health codes, welcoming dogs into coffee shops isn't quite as easy as the owner saying yes. For the health and safety of everyone, Salt Lake County Health Department prohibits dogs inside dining establishments of all kinds. So if you're craving caffeine and need a dog friendly coffee shop in SLC, what can you do? Thankfully there are still a few options!
Things to consider in a dog friendly coffee shop
Coffee shops are a great place to bring your dog for some socialization in a fairly low stimulation environment. The quieter nature, lack of focus on food, and comfortable seating options provide a great ambiance for dogs, especially those newer to public socialization.
There are several considerations to make when choosing the best coffee shop experience for your dog:
Will you be able to sit inside or outside?
Where is the nearest area your dog could relieve itself?
Can your dog sit quietly in a busy environment?
What is the space like in between patrons?
Setting your dog up for success is always key to a great public outing. Ensure you have dog essentials like your 6ft (or shorter) leash, waste bags, a travel water bottle, and high value treats. Have your dog practice laying on leash beneath your table- or in a public place with some distractions- to focus on settling down.
Keep in mind that other patrons may want space while others may want to engage with your dog. Practice setting boundaries that are appropriate for your pup to help ensure Salt Lake City remains a dog friendly place to live!
Dog friendly coffee shops in SLC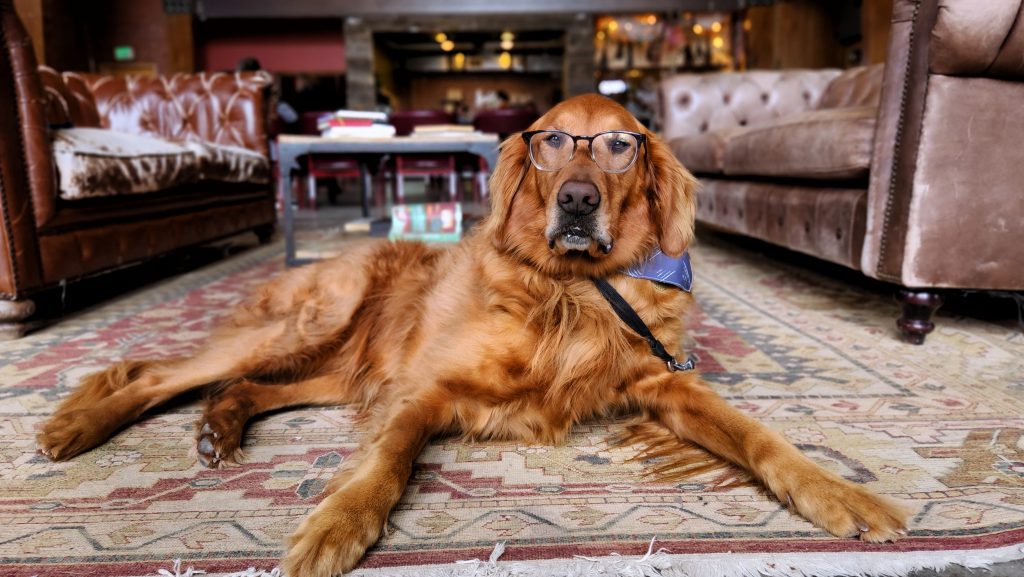 Cafe Juniper inside Church & State
Located at the corner of 300 E and 400 S in downtown Salt Lake City, Church & State is a business incubator and coworking space. Housed in a former church, the inner sanctuary has new meaning as people gather around leather couches, rustic tables, and long tables. Cafe Juniper, sitting opposite of the focal stained glass window, serves up handcrafted drinks and toast.
Because the coworking space is dog friendly, you get to take advantage of the coffee shop without being in a coffee shop. We love a good loophole! Church & State's coworking space is free for all community members to use so pop in with your dog to get some serious coffee shop vibes.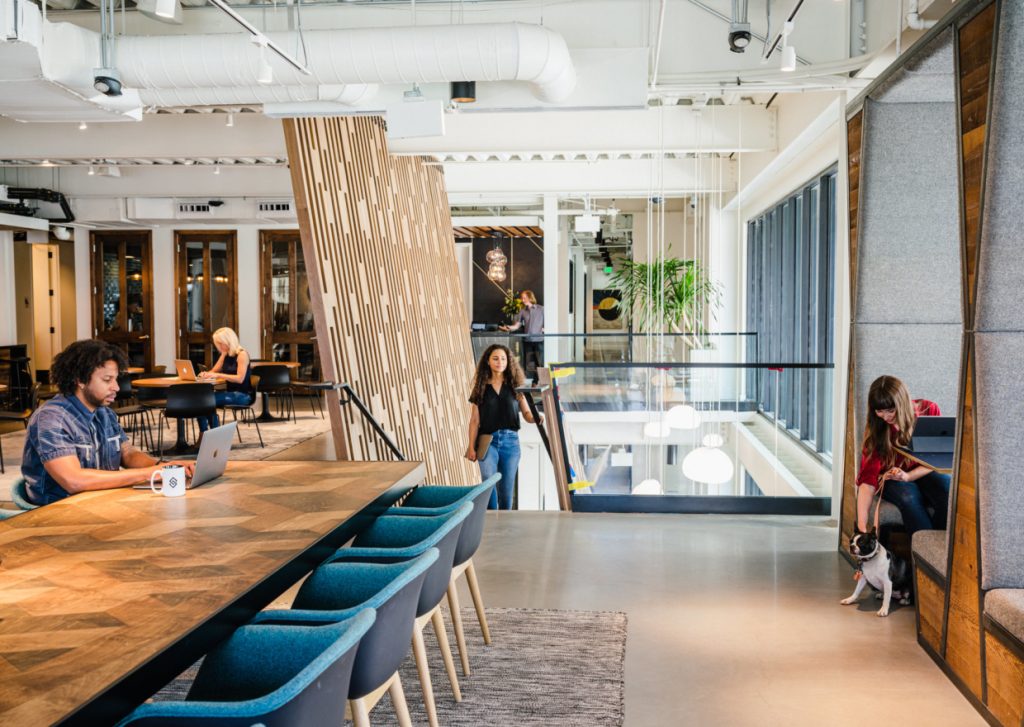 The Shop
Another loophole if you're looking for a dog friendly coffee shop is the elevated coworking space of The Shop. Located on 400 S near downtown Salt Lake, there's no doubt that The Shop is a great place to get some work done with your pup by your side. Enjoy a variety of seating options, complimentary beverages, and a rooftop patio overlooking the city. If you're not a member a day pass will only set you back $35 (again, it includes access to a coffee machine!).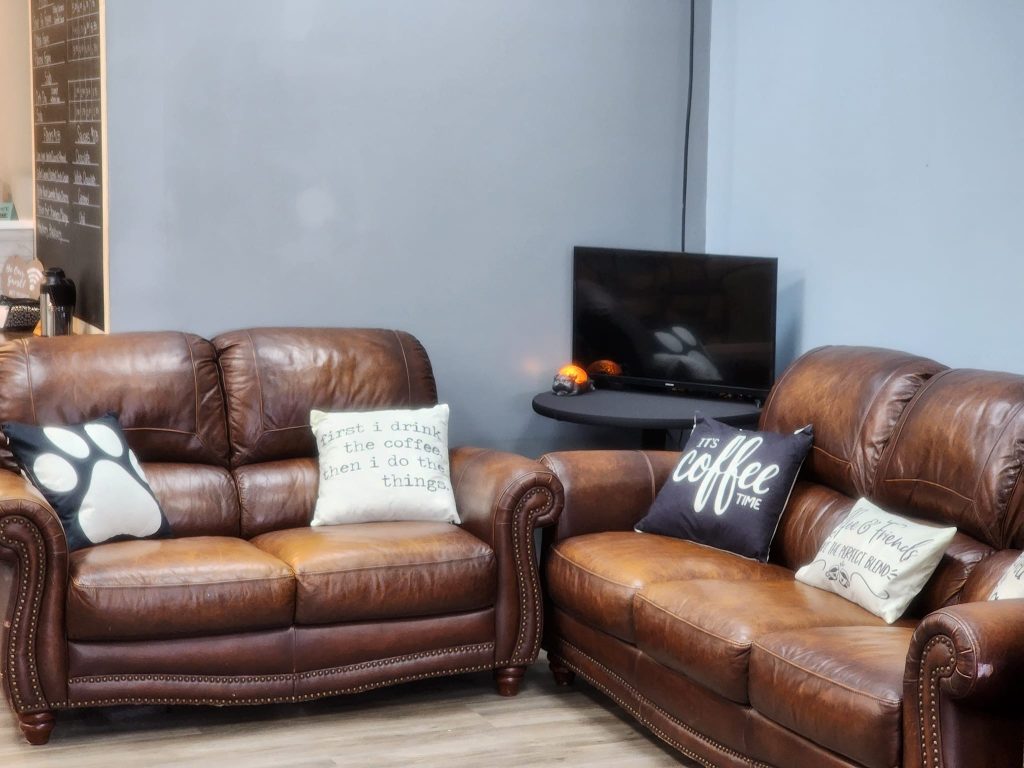 Pup Cups Coffee
If you are into thrifting and dogs, Pup Cups Coffee in West Jordan has you covered. Their coffee shop is nestled inside the thrift store and dogs are welcome to join their owners for both shopping and sipping. Pup Cups aims to help Utah rescues by featuring dogs looking for their forever homes, as well as hosting adoption events on site.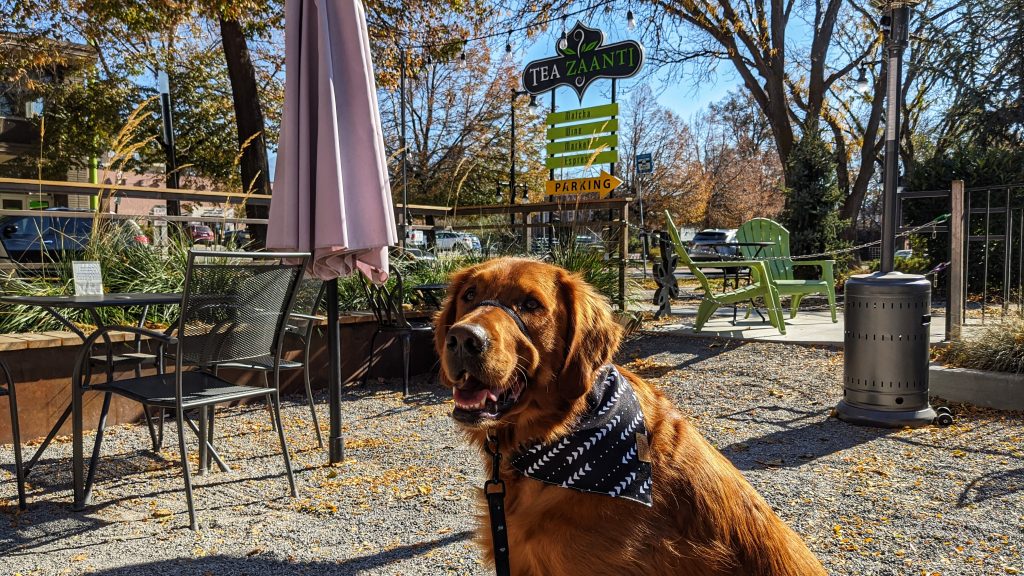 Tea Zaanti
While they may specialize in tea (over 85 varieties!), you can also indulge in wine or coffee on Tea Zaanti's dog friendly patio in Sugarhouse. Pups are not allowed inside, but their cozy patio and porch are a great spot to caffeinate while getting some work done. They also offer a menu of simple eats to ward off any hunger. Tea Zaanti has taken the extra step to get their patio approved to officially allow dogs through the health department so you know they are serious about welcoming your 4-legged best friend.
Other dog friendly coffee options
While local health code has pretty strict rules about dogs both inside and out of eateries, the general consensus seems to be that coffee shop patios that don't offer wait service aren't going to cause any issues. Coffee shop patios to keep on your radar:
Roots Coffee & Co
Alchemy Coffee
Coffee Noir
Salt Lake Coffee Break
Publik Coffee Avenues
And probably tons more that we're missing!
Dog Friendly Coffee Shops in Park City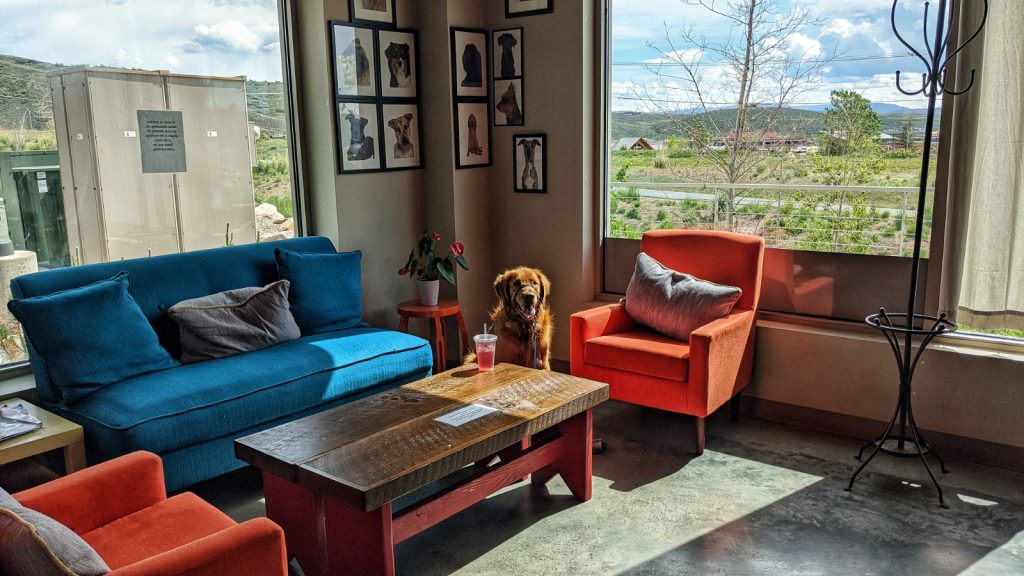 Hugo Coffee
Hugo Coffee has made dogs their entire brand from their packaging to their community support. While the beans are sourced from around the world, Hugo Coffee roasts their coffee right in Park City. Their tagline "Drink coffee, save animals" sums up the heart of their mission. A portion of all proceeds supports animal rescues. Located inside the Park City Visitor Center, the coffee shop can be a bit tricky to find if you're not looking for the right thing. The telltale flag featuring Hugo's face is the sign you're in the right space. Hugo Coffee Shop offers a variety of handcrafted beverages and small bites as part of their menu. Your pup is welcome to join you inside for a drink and snack at one of their many tables or comfortable couch options.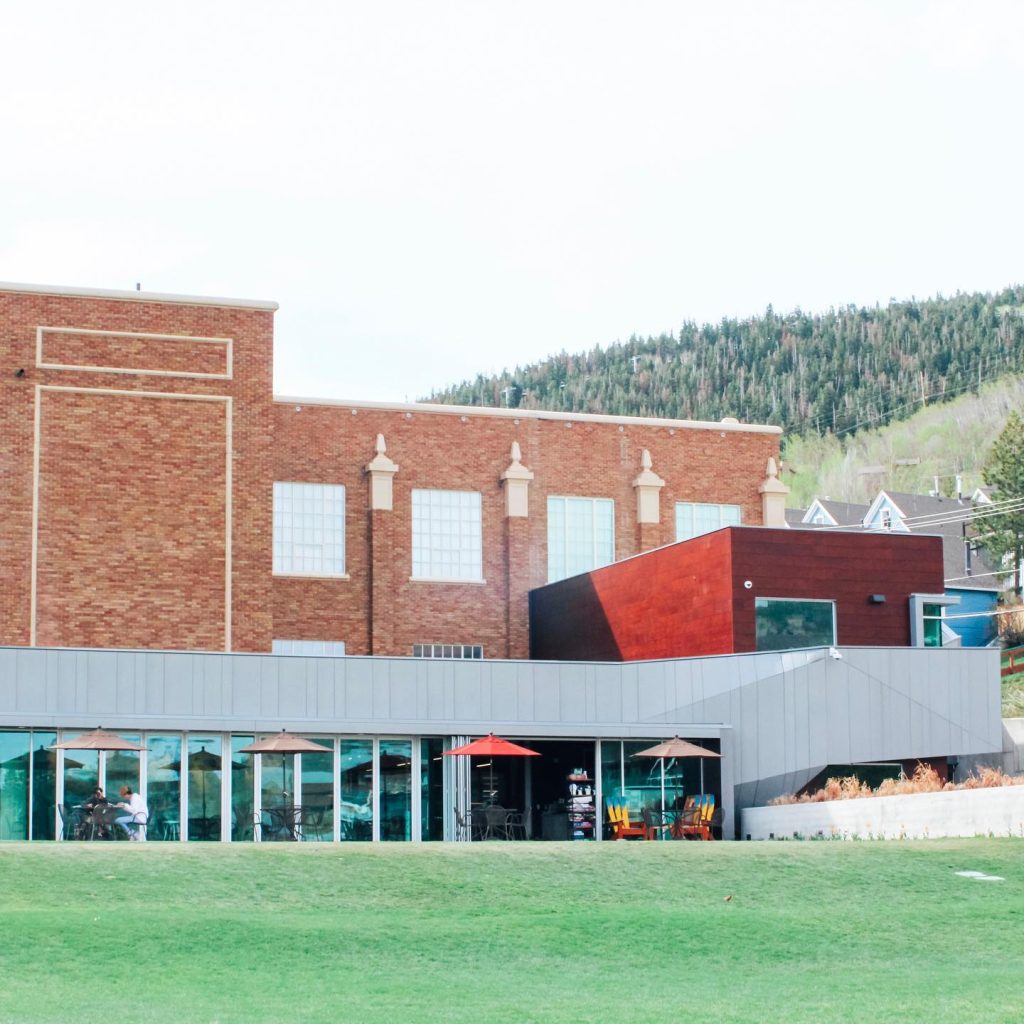 Lucky Ones Coffee
If you're looking for the overall best vibes and biggest space, Lucky Ones Coffee's dog friendly patio in Park City may fit the bill nicely. Lucky Ones is conveniently located in Park City's library, but the real gem for dog lovers is the fact that the patio overlooks Library Field- an off leash play space in the middle of town. Your dog will be more than happy to burn off some energy while you sip on a caffeinated beverage made by Lucky Ones' incredible staff. "Inclusion is brewing" is the theme of this coffee shop that employs baristas with disabilities. In addition to coffee, you'll be impressed with their wide variety of teas, kombuchas, pastries, toast, and paninis.
Additional resources for dog lovers
Looking for additional dog friendly places in Salt Lake and the surrounding areas? Check out our many resources on things to do with your dog around SLC. Supporting local businesses that make the extra effort to allow our furry friends is the best way to show appreciation and continue to make Salt Lake City a dog friendly place to live! 
Need recommendations? Send us a DM on Instagram! As always, we'd love to see and hear about your dog friendly adventures in Utah. Tag us and use #dogfriendlyslc.