Fall is upon us and there is no better time to soak in a local hot spring than as temperatures continue to drop. Fortunately, Utah is home to several FREE natural hot springs that are dog friendly and accessible year round! 
Dogs in Hot Springs 
While it is not recommended to let your dog soak with you in hot springs, as dogs are prone to burns as well as hypothermia due to their inability to regulate their internal temperatures, we recommend consulting with your vet to determine the best course of action for your pup. Dogs are still welcome to join you at the hot springs spots listed below. Depending on your dog, consider bringing a long line to tie them up to a nearby spot or feel free to let them hang out at the edge of the pool while you soak. It is important to ensure your dog stays close to you and doesn't ruin the relaxing soaking experience for others.
What to Bring 
Depending on the time of day and year, you will want to bring a towel, change of clothes and layers for pre and post-soaking. Many of these hot springs require some amount of walking or hiking from the parking lot so you will want to bundle up during the colder temperatures. Please make sure to bring plenty of drinking water to keep yourself and your dog well hydrated during your hot springs visit, as the high temperatures can contribute to dehydration. We also recommend bringing some form of water shoes as the hot springs can be muddy, rocky or slick when trying to navigate them. If you plan on tying up your dog while you soak, make sure to bring a longer leash for this. Lastly, bring a thermal of your favorite beverage and some snacks to enjoy while you soak. 
---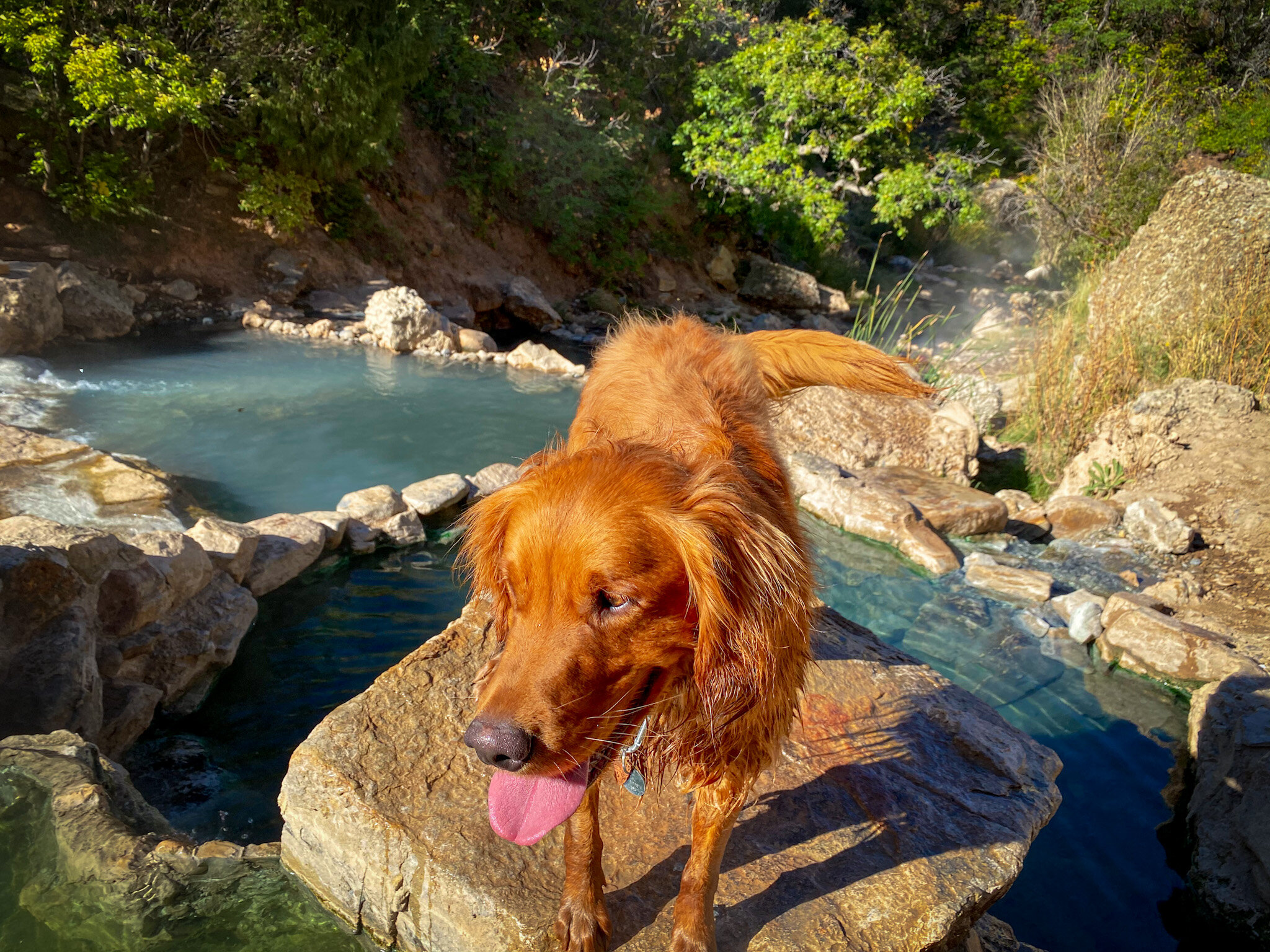 Fifth Water Hot Springs/Diamond Fork Hot Springs 
One of the most beautiful and dog friendly hot springs in Utah is only a little over an hour south of Salt Lake City. Requiring more of a trek to reach the springs, this 4.5 mile out and back trail with 630 ft of elevation is an enjoyable pre-soak workout for you and your dog!
The trail itself is well maintained with picturesque views of red rock and flowing rivers. For the majority of the hike, there are many access points to the cool waters of the river for your dog to sip and swim in. Towards the end of the trail you will start to smell sulfur and will soon come across several soaking pools of various temperatures, with the hottest pools at a little over 100 degrees. Some pools here have trees nearby to tie your dog to, but you can also hold on to the leash while you're soaking if that is not an option.
For those looking for a secluded soaking experience, we recommend getting to this trailhead by 8am at the latest as the parking lots will be full by mid-morning. Make sure to use the location from Alltrails as some users have noted that Google Maps does not provide accurate directions to the trailhead.
Winter Hike to Fifth Water/Diamond Fork Hot Springs
During the wintertime, there is a seasonal gate closure (weather dependent) making this a 13 mile trek through the snow. Still a popular excursion in the winter time, the path is generally packed down and easy to use with microspikes. Snowshoes are recommended when there has been recent and heavy snowfall.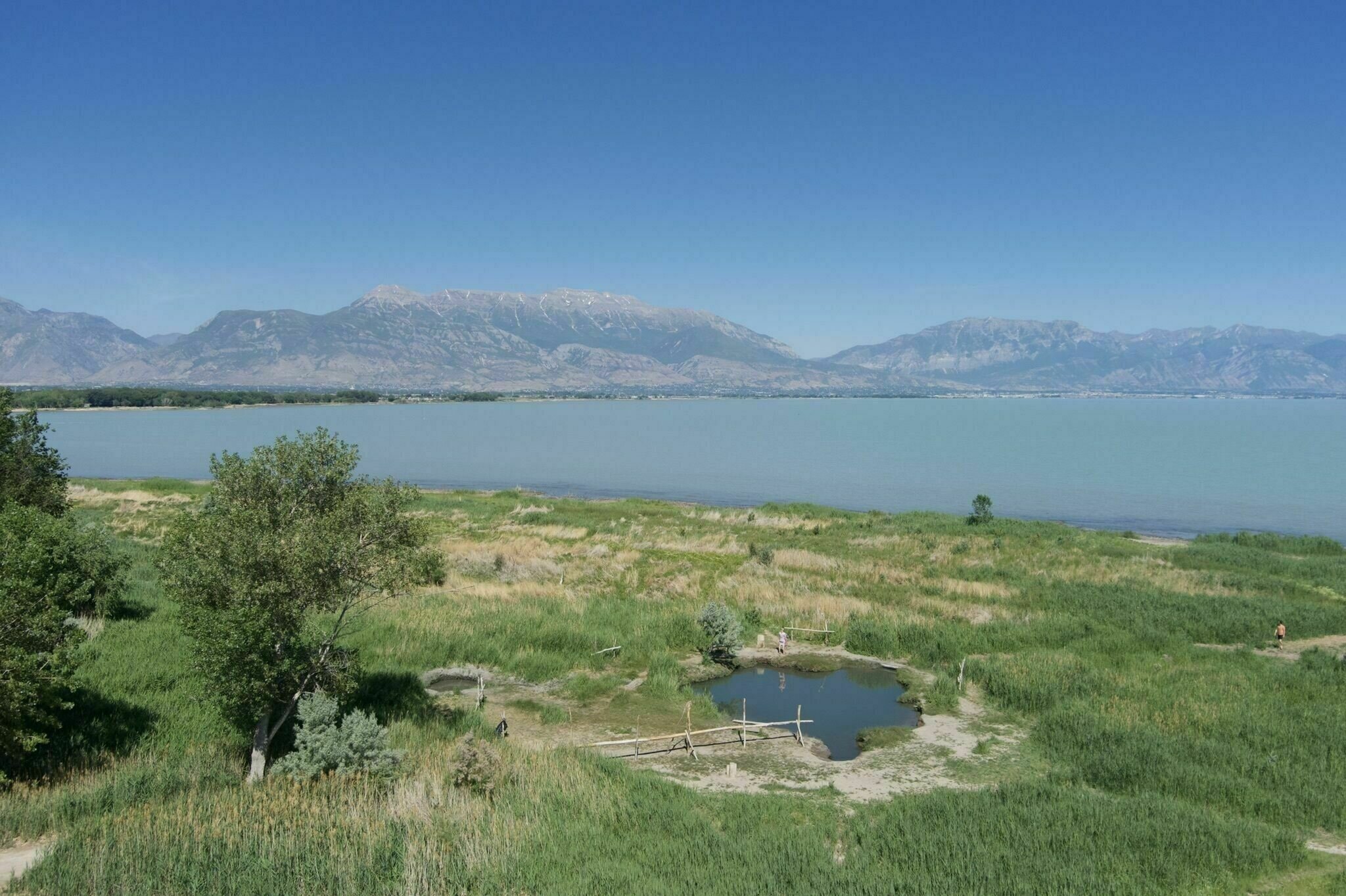 Saratoga Springs 
Located on the north end of Utah lake and just a 40 minute drive from the heart of Salt Lake City, Saratoga Springs (also known as Inlet Hot Spring) is the closest dog friendly hot spring. The majority of people use the parking lot at Inlet Park, so we recommend following Google Maps there instead of searching specifically for Saratoga Hot Springs. From the parking lot you can access the trail that takes you on a short stroll to reach the springs.
This location has a large soaking pool which can get quite crowded, so be prepared to go during the early morning hours. There is a small nearby bench that you can secure your dog to while you soak. Please note that this site is officially open between 6am and 10pm.
Utah Lake
While nearby Utah Lake can be a good place to take your dog for a cooler swim, toxic algal blooms have often been reported. Toxic blooms like these make swimming harmful for humans and their dogs. Be sure to check Utah Recreational Water Monitoring if you are considering taking your dog swimming in Utah Lake.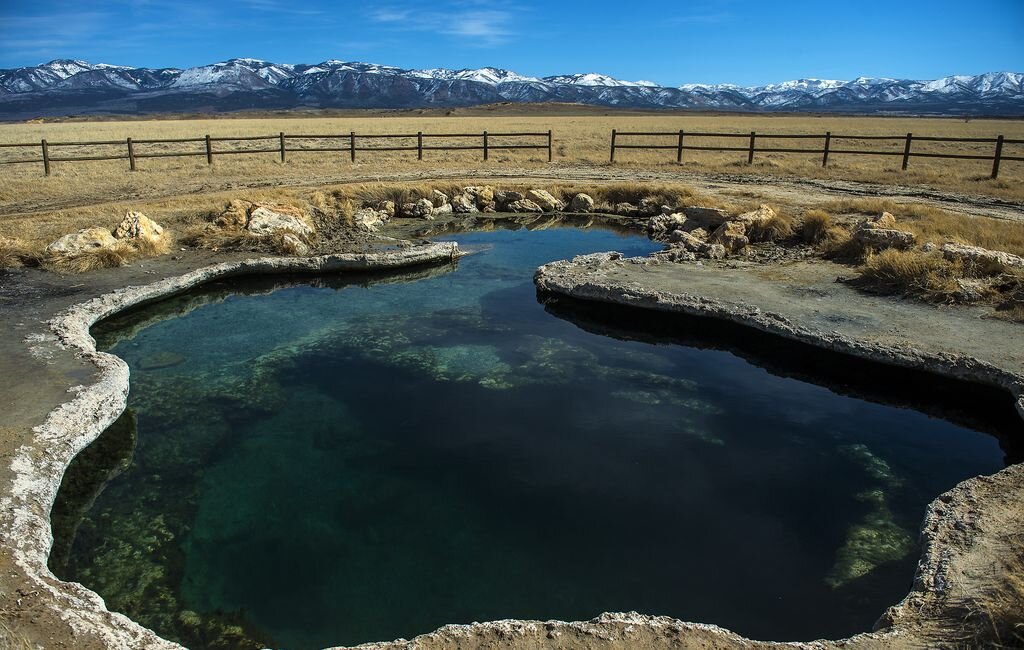 Meadow Hot Springs 
In a meadow by the mountains, these less visited, clear blue pools reaching 100 degrees are worth the 2.5 hr drive south of Salt Lake City. If you're not wanting a long day trip here, Meadow Hot Springs is just a short detour for those traveling down I-15. Upon arrival, expect to hike about a half mile from the parking area where you will come across three different soaking pools, with the main pool being deep enough for scuba divers! Dogs can be tied up to the nearby fence.
Accessible year round, this dog friendly Utah hot spring is located on private property. As the owners graciously allow public use of their land, please make sure to respect the signs posted and pack out whatever you pack in.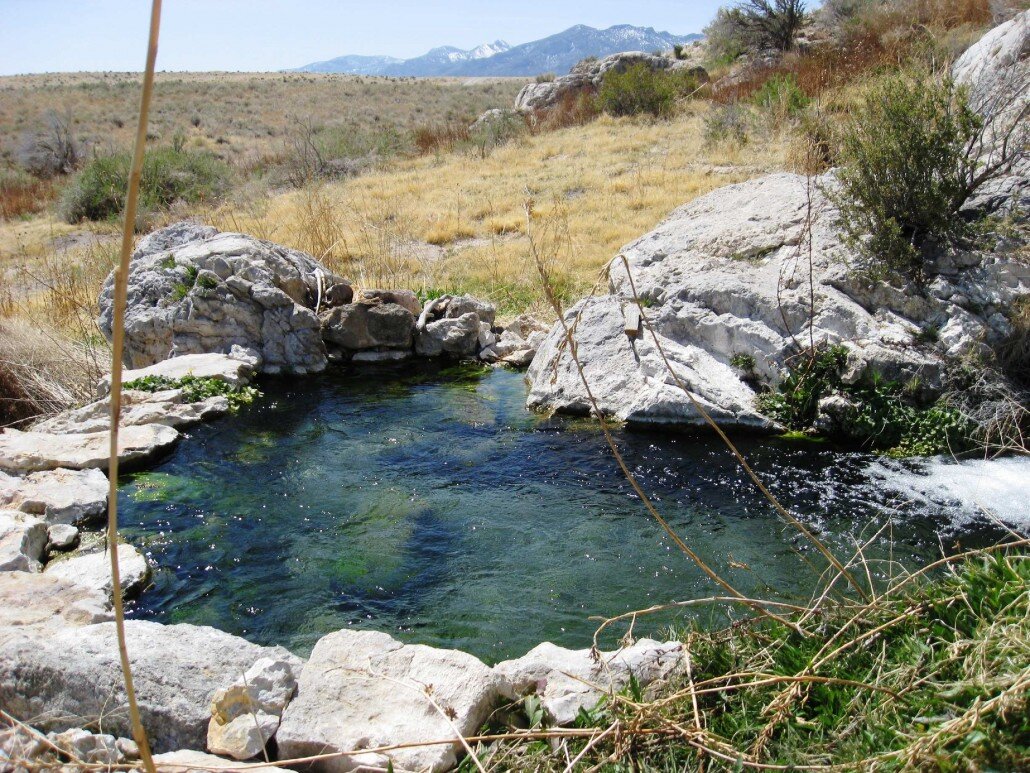 Gandy Warm Springs 
An hour outside of Great Basin National Park, just north of Highway 50 on the border of Utah and Nevada, these remote hot springs are more reminiscent of a crystal clear warm pool that you and your dog can both partake in. Featuring a small waterfall and connected cave, this is one of the "coolest" locations to soak. Be sure to bring a headlamp so you can properly explore the cave! With this dog friendly hot spring being located about 4.5 hours from Salt Lake City, you may want to make this a weekend trip. The public lands surrounding these springs provide access to free dispersed camping.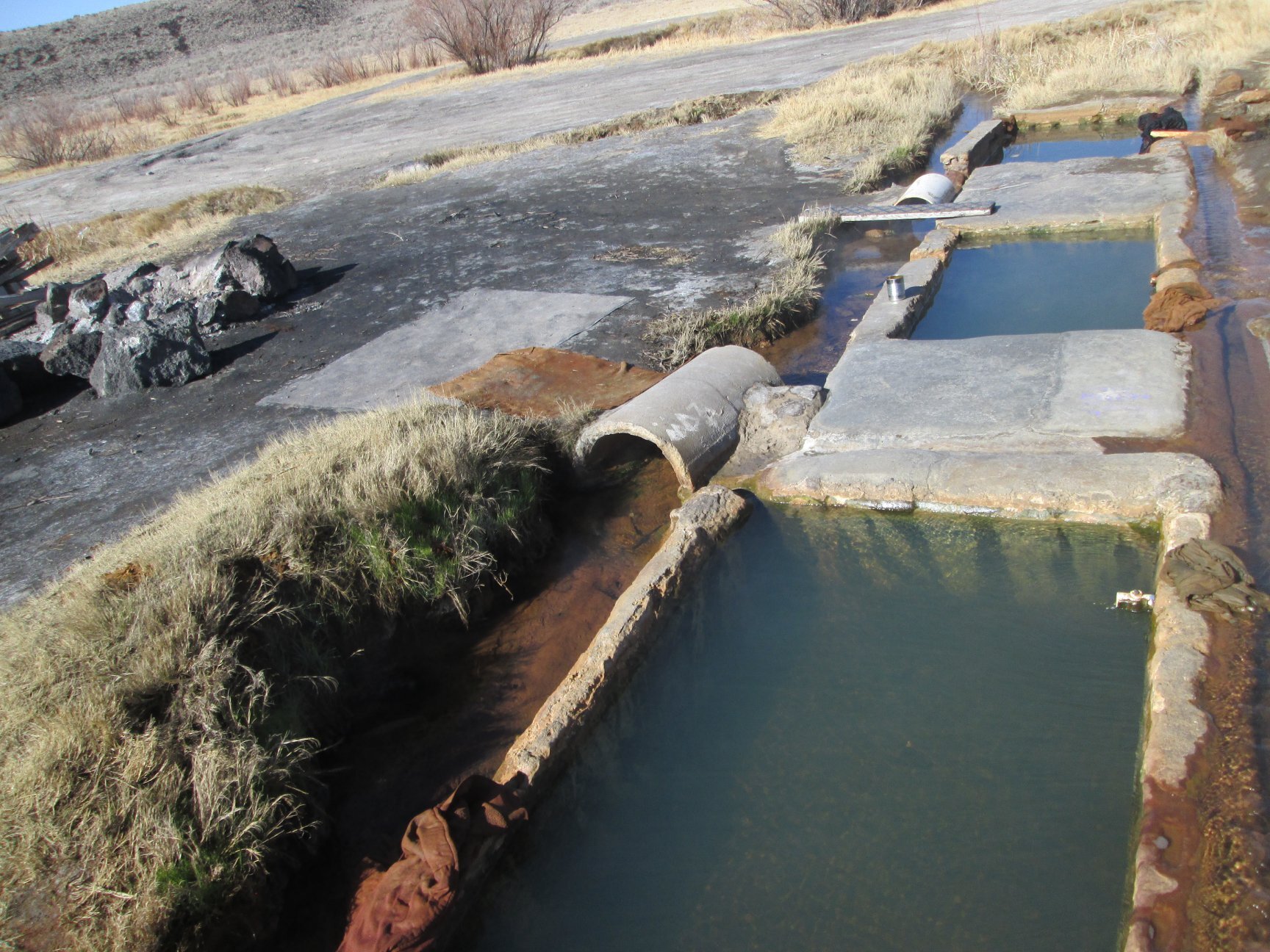 Baker Hot Springs 
Located 2.5 hours southwest of Salt Lake City, this local gem near the town of Delta is another good option for those looking for more remote hot springs. There are three large man-made concrete tubs that vary in temperature. This site is unique in that you can somewhat control the temperature of your soak as you can adjust the output from the two sources, hot and cold, that are filling the tubs. Next to the tubs is a picnic table that you can tie your dog to. 
Taking Care of Utah's Dog Friendly Hot Springs
Many of these natural hot springs are not maintained so be prepared to bring poop bags and take your bagged dog poop with you when leaving the area. For the drive home or to the nearest gas station, we like to bring a dry bag with a trash bag liner to help mask the smell of dog poop and any additional trash accumulated during your visit.
We are lucky to have access to a variety of natural hot springs within Utah and would like to see as many hot springs remain dog friendly as possible. Please be a good pet owner and steward of our land by cleaning up after your visit so that these natural wonders can be enjoyed for years to come! 
Click HERE to see our guide for more dog friendly fall adventures in the Salt Lake area!