Any dog parent knows the power of having your best friend by your side during all of life's ups and downs. If you're passionate about the power of puppy love, you should look into training your dog as a therapy dog here in Salt Lake City.
The definition of a therapy dog is important to note. A therapy dog is not a service dog or emotional support animal intended to assist one person only. Therapy dogs don't have complete public access like service dogs. Therapy dogs help provide relief for people in anxiety-provoking situations, bring comfort for people and offer affection to humans who may be in need. Some examples of places or situations therapy dogs may offer help are nursing homes, hospitals and schools.
Before we dive into the how and where of training your dog for therapy, you have to evaluate yourself and your dog to make sure the training and work is a good fit for both of you.
Questions to ask yourself before training your dog as a therapy dog
Is your dog old enough? Dogs must attain adulthood before starting the training. Most organizations won't allow dogs under one year old.
Does your dog have the right temperament? In order to succeed your dog needs to LOVE getting and giving gentle affection from people they know and don't know. They must be obedient (more on that later), naturally calm and friendly to all. It is also important to evaluate how your dog acts in new situations with different noises and smells than they are used to, they'll need the ability to always remain calm.
Do you have what it takes to be a therapy dog handler? Being a therapy dog handler can be one of the most rewarding experiences of your life but it is also time-consuming, so make sure you have plenty to spare and a flexible schedule. In order to be a successful dog/handler duo, you'll need to be fully committed to the training and upkeep, along that same line you need to have the money to invest. Most importantly you have to have a desire to help and connect with people. It's likely the people your dog is helping will also look to you for a kind word or some encouragement.
After you've evaluated those questions, you and your pup are ready to embark on your Utah therapy dog journey.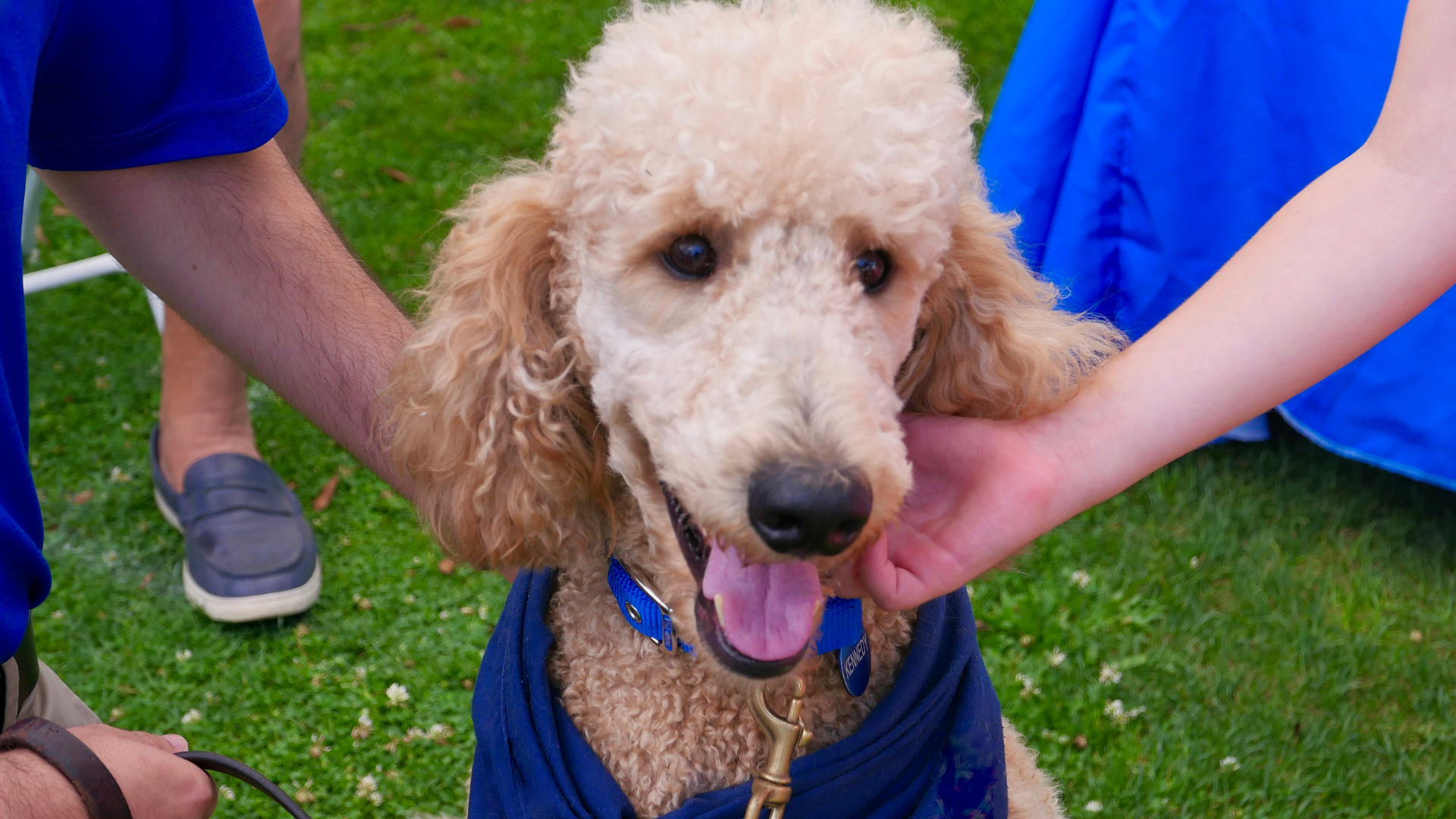 First steps to become a therapy dog in Utah
First off, nearly all organizations require completion of the AKC (American Kennel Club) CGC (Canine Good Citizen) obedience program and, in addition, many organizations will require a separate therapy dog test or evaluation. The CGC is a ten-skill program that focuses on good manners and obedience. The program also teaches the values of responsible dog ownership and strengthens the relationship between dog and owner. You can find information on where to find a local trainer and evaluator here.
The next important step is making sure you are caught up and continue to have regular checkups with your vet. You'll need to ensure your dog is healthy and up-to-date on all vaccinations and preventative medicines.
After you've checked those boxes, it's time to get your dog used to staying calm and being obedient in public places, where there is a lot of distraction. As a therapy dog, your pet will need to handle distractions without letting them disrupt their job. Some great places around Salt Lake City to practice include City Creek Center, Home Depot and Scheels. Visit our map of dog friendly places in Salt Lake City to find other alternatives!
Therapy Dog Training Options In Salt Lake City, Utah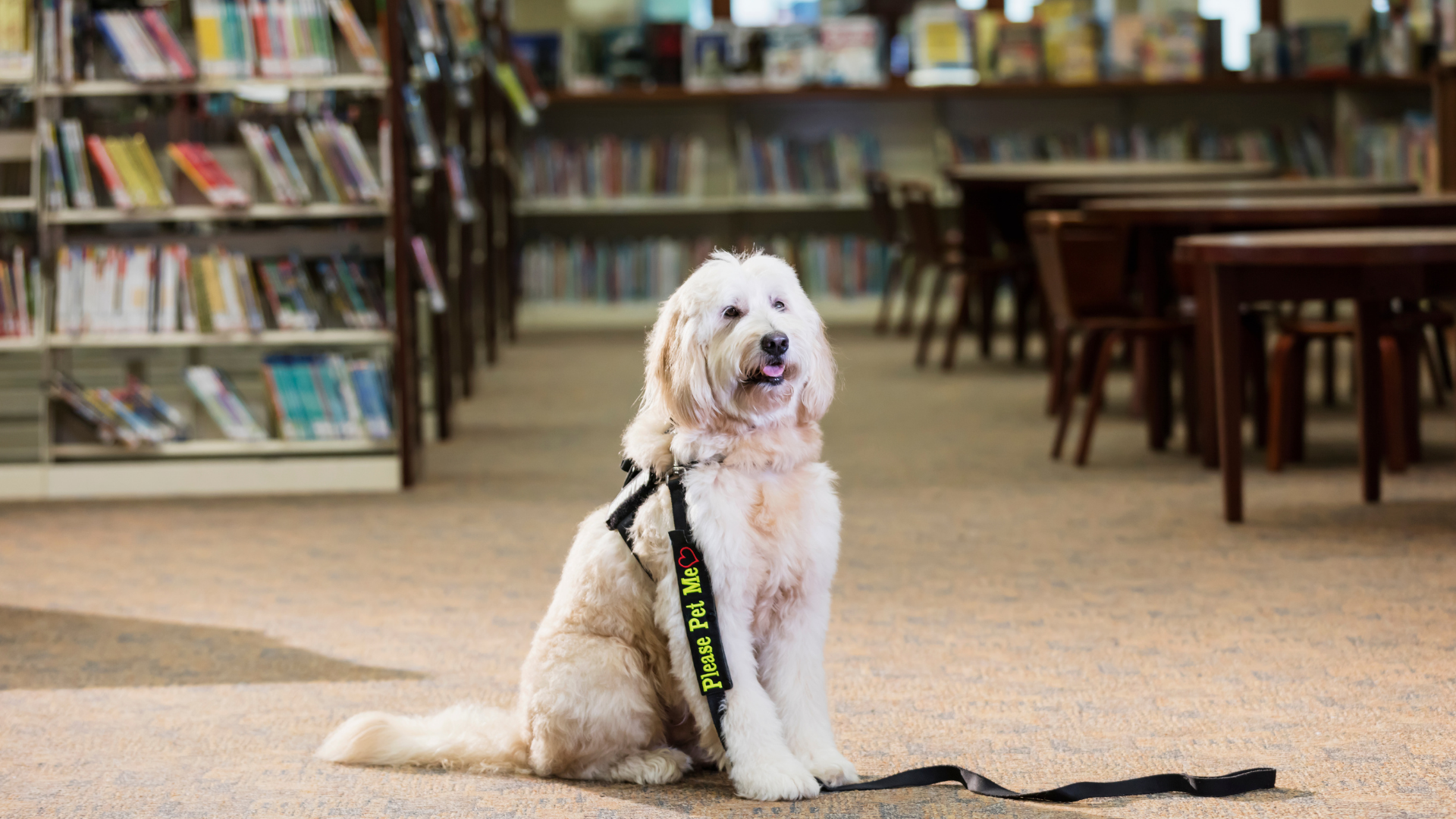 Once you've gone through the steps above your dog will need to go through a therapy dog training program. Here is a breakdown of your options here in Salt Lake City, it's highly important to note which program is accepted at the organization you hope to work with.
Dog Training Elite
Price: $2,195Location: Six locations in or near Salt Lake City (Park City, Utah County, West Salt Lake, Salt Lake City, Northern Utah, Tooele Valley)Duration: 7 one-on-one sessions, 8-month community group training
With multiple locations, Dog Training Elite offers flexibility for your dog's training program. Their therapy dog program includes obedience command training, certification/testing, ID Card, directory of therapy events and more.
Side by Side Dog Training
Price: $100Location: 2019 E 3300 S, Salt Lake CityDuration: One group class
Described as, "Preparation and/or a refresher for therapy dog evaluations and visits — for all dogs, all levels" This class from Side By Side doesn't offer any type of certification but is aimed at evaluating dogs to see if they have what it takes to be a therapy animal. It is a workshop to learn about which types of therapy would be suited for your dog with some hands-on training for you and your dog.
Dog 2 Dog
Price: $4000Location: 140 2100 S Suite 112, Salt Lake CityDuration: Twice a week for three months (25 sessions)
Dog 2 Dog can be your one-stop-shop. They offer comprehensive training and have the ability to certify you and your dog in the AKC CGC test. The classes will cover advanced situational training, AKC CGC preparedness, Emotional Support preparedness and Therapy dog preparedness making you and your dog ready to start helping those in need.
Molli Dogs Training
Price: $400 ($85 each additional session)Duration: 4 in-home sessions lasting 45-90 minutesLocation: In-home, $15 travel fee (Salt Lake City)
If in-home training is the best option for you and your pet, Molli Dog Training is a perfect solution. They will come to you to get your dog prepared to become a certified therapy dog. They also offer temperament testing and CGC testing and evaluation. If you find you and your dog need a few more sessions, they are happy to offer additional training sessions.
Skye's Dog Training
Price: $125-$250 (depending on your needs)Duration: 4-8 sessions lasting one hourLocation: 6851 Larabrook Way, West Jordan
Skye's Dog Training has lots of options for owners looking to begin working in a therapy dog team. It starts with an initial evaluation to make sure you and your dog are fit for therapy. Next, they offer a one-hour follow-up training to address any issues that may have come up. If you and your dog want more training you can enter Skye's therapy dog group training. Finally, they can provide a final evaluation and help you find places to showcase your new skills.
Working As A Therapy Dog In Utah
Now, you've finally passed the AKC CGC test, you and your dog have done the training and you're ready to start helping others with the love of a pet. Here are your last steps to beginning your therapy dog work.
You'll need to get involved with an organization that places therapy pets and handlers in volunteer opportunities. Here are some organizations to start with. Each organization will have its own certification process you and your dog will need to pass.
Utah Pet Partners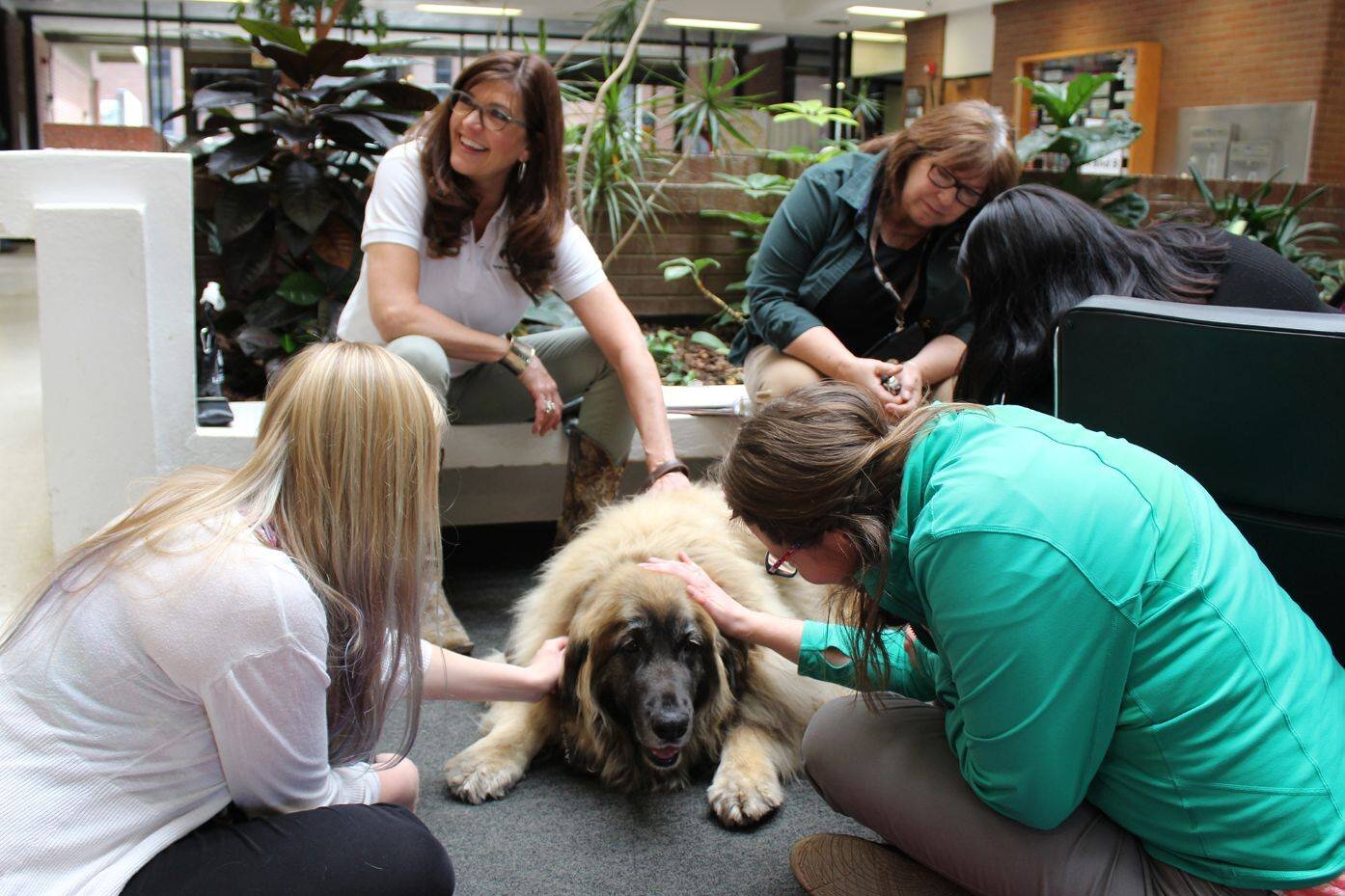 To get started with Utah Pet Partners (formally known as Therapy Animals of Utah) you'll need to take five steps.
Train the "Human-End" of the leash by taking the Pet Partners Online Handler Training Course.

Enhance your training by taking a Therapy Animals Of Utah Fur-Real Hands-On Handler Practicum

Team Screening/ Evaluation of your human-animal teams' skills and aptitude.

Health screening of your animal partner by a veterinarian.

Submit your registration application to the Pet Partners.
Pet Partners, headquartered in Provo, is a nationally recognized and first-of-its-kind leader in animal-assisted therapy. When you work with them, you'll be covered by their insurance. Pet Partners provides therapy in hospitals, rehabilitation facilities, assisted living, mental health, schools and so many more settings, ensuring you and your dog will be placed in the perfect situation for the two of you.
Intermountain Therapy Animals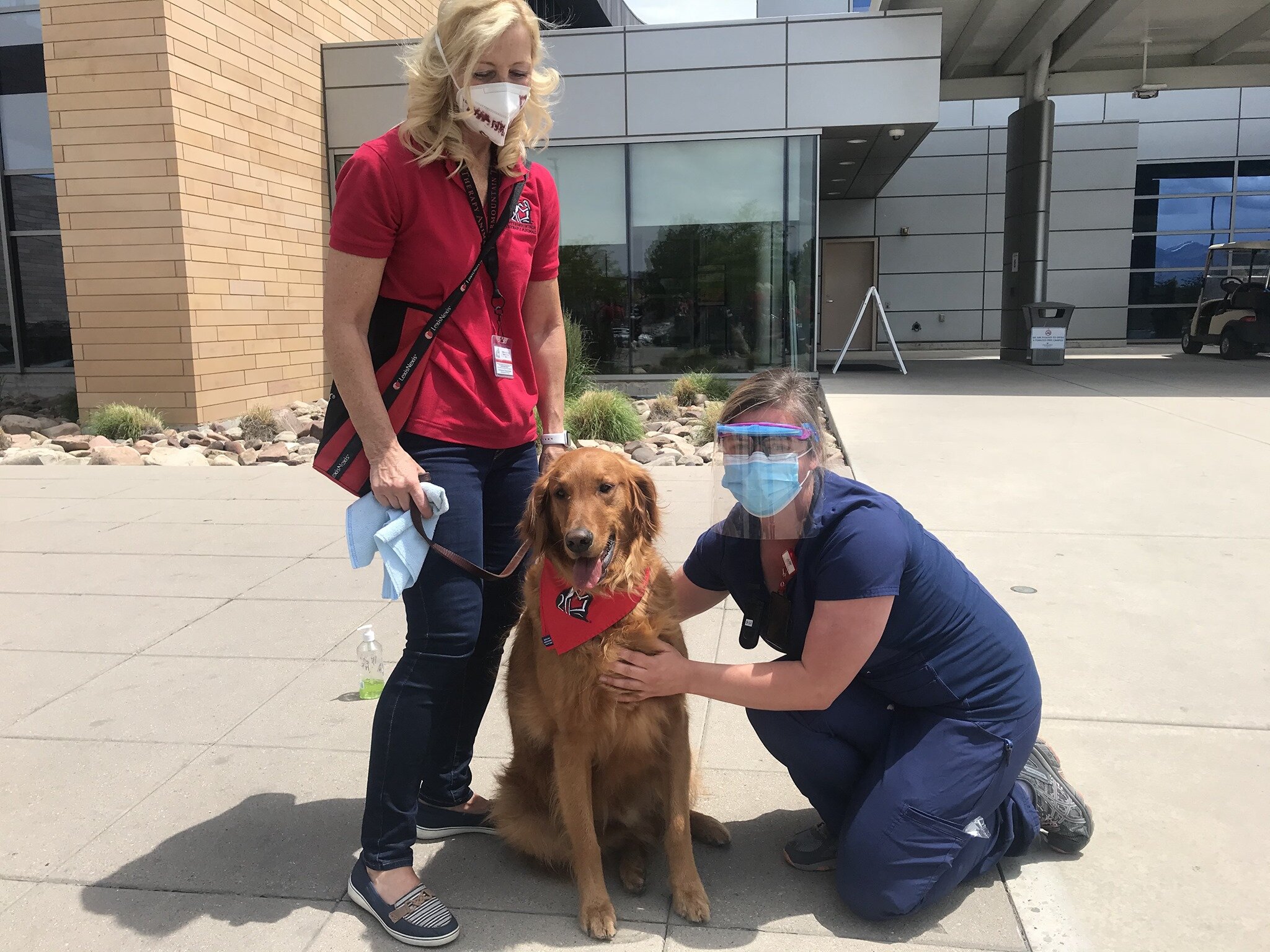 Intermountain Therapy Animals, based in Salt Lake City and founded in 1993, asks anyone interested to start by going through several steps on their website to determine if animal-assisted interactions are right for you and your dog (or other pet).
Make an interview appointment by calling 801-272-3439
During this interview, If your pet demonstrates the right temperament for therapy work, and you have the time to make the commitment (at least 2-4 visits per month) the next steps are:
Take ITA's series of 3 classes to prepare for working as a team with your animal

Take the team screening evaluation test

If you pass both the training classes and the team test, you will then get a veterinary screening on your potential partner

Take a 4-hour volunteer orientation with your animal partner to be ready for visiting
This whole process can take 2-3 months, but then you'll begin volunteering with people who are physically or developmentally disabled, emotionally or psychologically impaired, lonely or suffering from depression, in settings ranging from hospitals, counseling centers, nursing, extended care and memory care centers, detention homes, schools and libraries. ITA is also the home of Reading Education Assistance Dogs® (the R.E.A.D.® program) for those teams that will enjoy being literacy mentors for children. There's no doubt you can feel secure when volunteering with this organization- ITA provides $3 million in liability insurance for you and your animal.
Active Re-Entry PAWS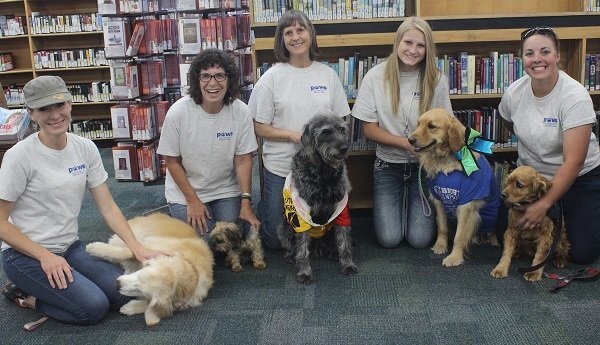 Active Re-Entry PAWS (People & Animals Working to Serve), with locations around the state, offers you and your therapy dog a chance to "facilitate positive changes in a broad spectrum of therapeutic settings", sometimes as part of a treatment regime or in visits with hospital and nursing home patients/residents.
Requirements to volunteer with PAWS are as follows:
The dog, cat or rabbit involved in the program should have reliable, dependable and predictable behavior as well as not being alarmed by loud noises, different settings and most importantly, enjoys and seeks out interactions with people.
The minimum age requirement of a handler is 18.

All animals need to have an animal health screening completed by a veterinarian. Health screening includes up-to-date vaccinations and fecal exam results. As with the Skills and Aptitude Assessment, this health screening will need to be renewed every two years.

Volunteers are expected to visit, minimally two times a month. Visits usually last 40 minutes to an hour.

Handlers need to attend a 4-hour workshop which will provide an overview of the program: basics such as "what goes in a visiting bag"; where we visit; expectations of volunteer teams; elements of the skills and aptitude test, and other pertinent requirements. Handlers must take this workshop run by the PAWS volunteer coordinator before the evaluation and volunteering. Depending on need and interest, this workshop will be offered up to two times per year. There will need to be at least four participants before a workshop will be held.

In addition, after the workshop, you and your animal will take part in a Skills and Aptitude Assessment.
All certified volunteer teams will be covered by PAWS insurance.
---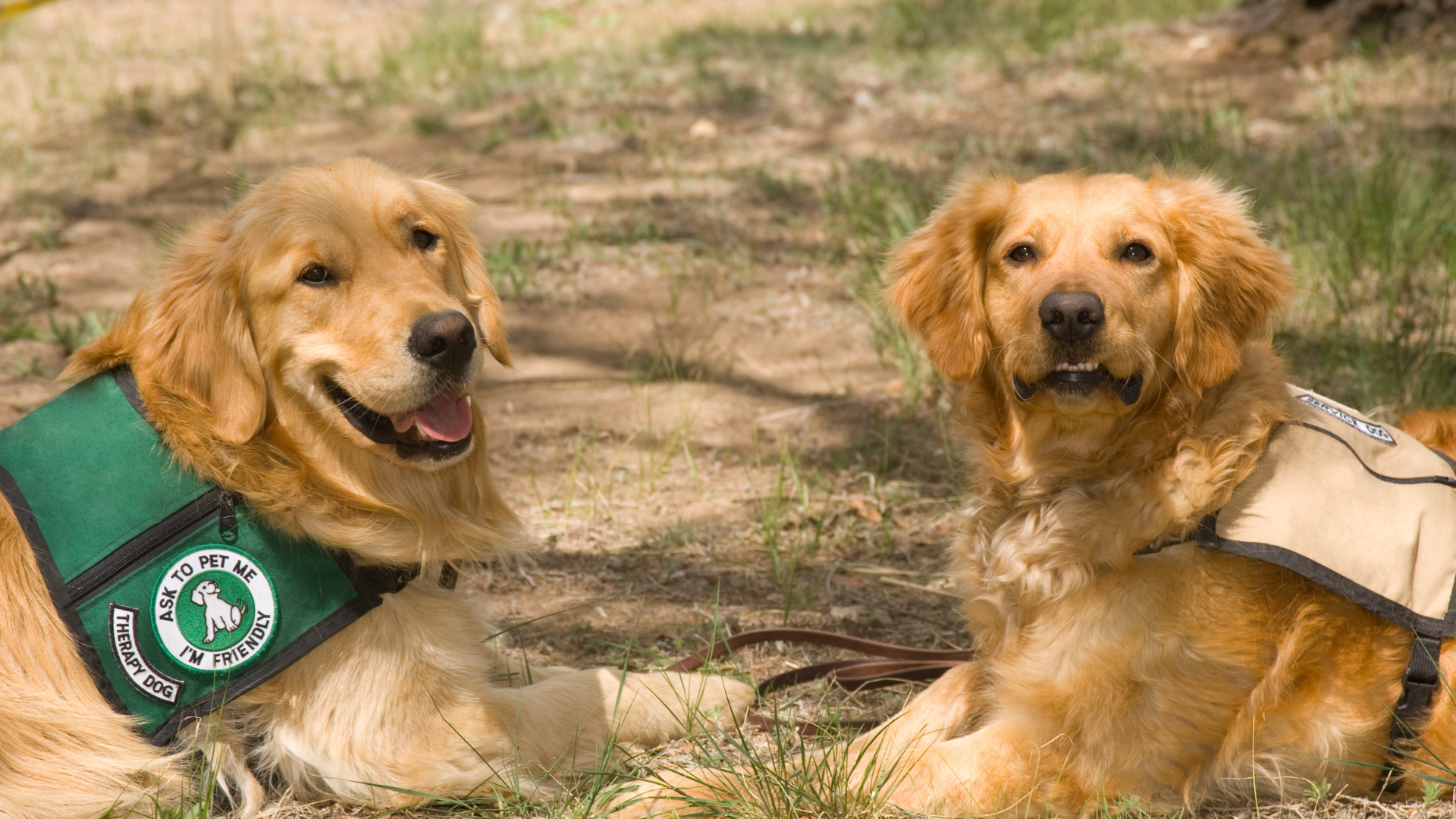 We hope you and your therapy dog find the experience just as rewarding as those you are helping. We all know the power of a pup.
We would love to see your therapy dogs in action out and about in the community. Share photos and experiences with us by tagging @dogfriendlySLC on Instagram.
Want to have other meaningful experiences with your pup? Check out other Utah dog resources here!