Looking for a festive, holiday activity to enjoy with your dog? Utah has a few great dog-friendly Christmas light displays in or around Salt Lake City.
Make sure you bring a leash, there will definitely be lots of other people and dogs around and all of the places listed require dogs to be on a leash, except for the drive-thru light show option. And don't forget waste bags, poo happens, just don't be caught off guard. We want these places to remain open to dogs for years to come.
Before we begin, keep in mind that a walk or drive around your neighborhood when it gets dark may surprise you with great light displays put up by your community! Pro-tip, The Avenues and Harvard/Yale neighborhoods in Salt Lake have great light viewing most years.
Dog Friendly Christmas Lights In Utah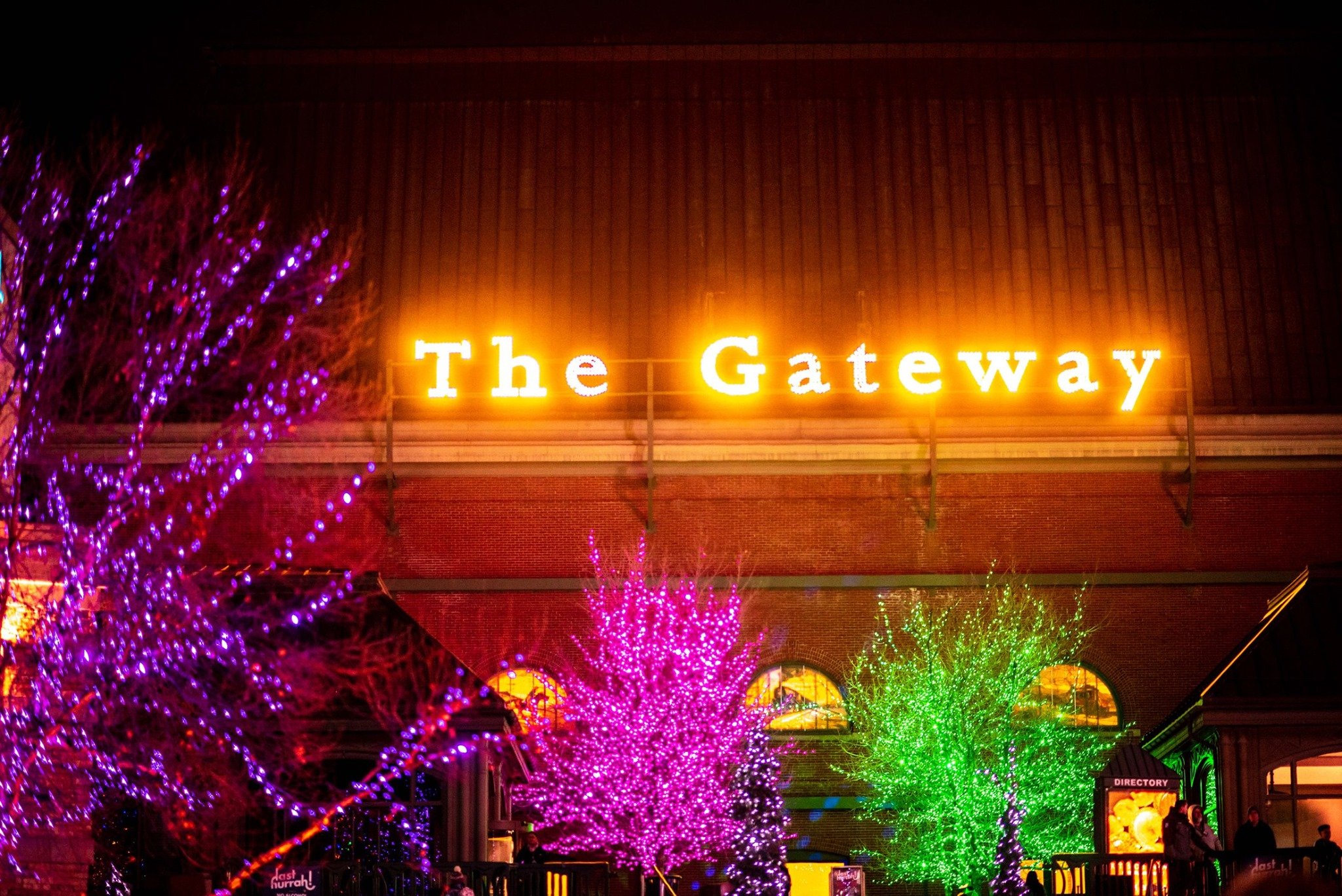 The Gateway – Downtown Salt Lake City
Price: Free
Leash Required
The Gateway in Downtown Salt Lake City lights up a little before Thanksgiving every season and the lights stay on until December 31.
Take your dog on a stroll through the Winter Wonderland, complete with oversized woodland creatures, vibrant lights and plenty of Insta-worthy photo-ops.
Make sure you tag us in your Holiday photos @dogfriendlyslc on Instagram.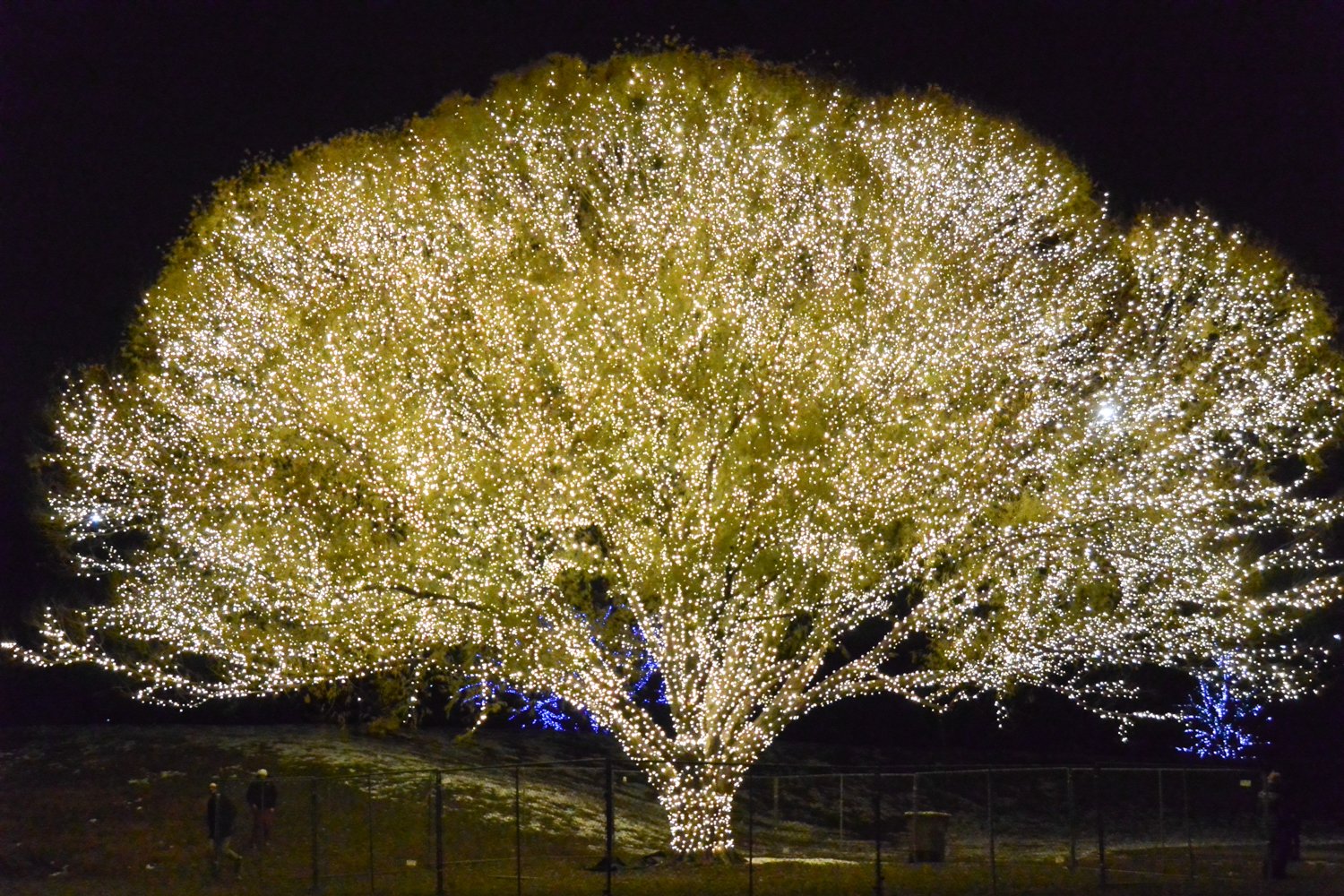 Draper City Tree – Draper, Utah
Price: Free
Leash Required
The Draper City Tree, also sometimes known as the "Tree of Life," is a massive, fully lit willow tree that is sure to get you in the Christmas spirit. It's located in Draper City Park. The tree is covered with more than 1,000 STRANDS of lights, making it extremely bright. Other areas in the park are also decorated with gorgeous lights, so you can enjoy a festive stroll through the park with your dog.
The tree lighting ceremony is typically right after Thanksgiving (check here for yearly date information). If you can't make it to the ceremony, don't worry- the tree stays lit throughout the holiday season!
If you can make it to the tree lighting ceremony, you can enjoy an appearance from Santa, hot chocolate and marshmallow roasting.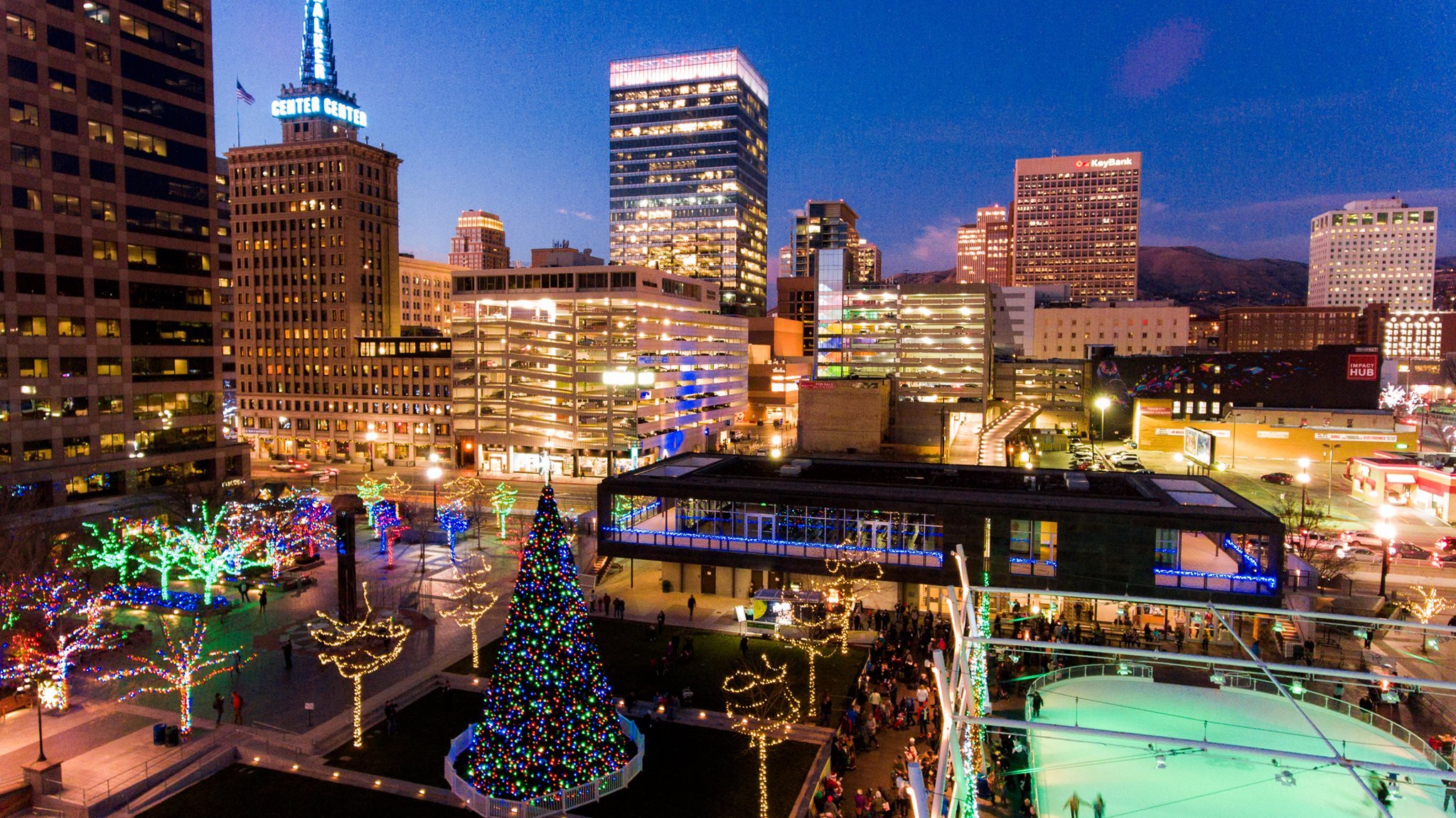 Gallivan Center – Downtown Salt Lake City
Price: Free
Leash required
The Gallivan Center truly is the heart of Downtown Salt Lake City and their yearly Christmas light display doesn't disappoint. The lighting ceremony is typically at the end of November, but the lights will remain on throughout the holiday season. If you'd like to attend the lighting ceremony, check their website for specific date information.
The Gallivan Center is home to an ice rink that kind of feels like Utah's version of Central Park, while your dog can't skate, you can watch and listen to holiday tunes while enjoying the lights. While you are downtown, you can check out some dog-friendly restaurant/bar patios. Find a list here.
Near Gallivan Center, you'll also find Salt Lake's dog friendly mall, City Creek Center. More on City Creek and other downtown SLC dog activities here.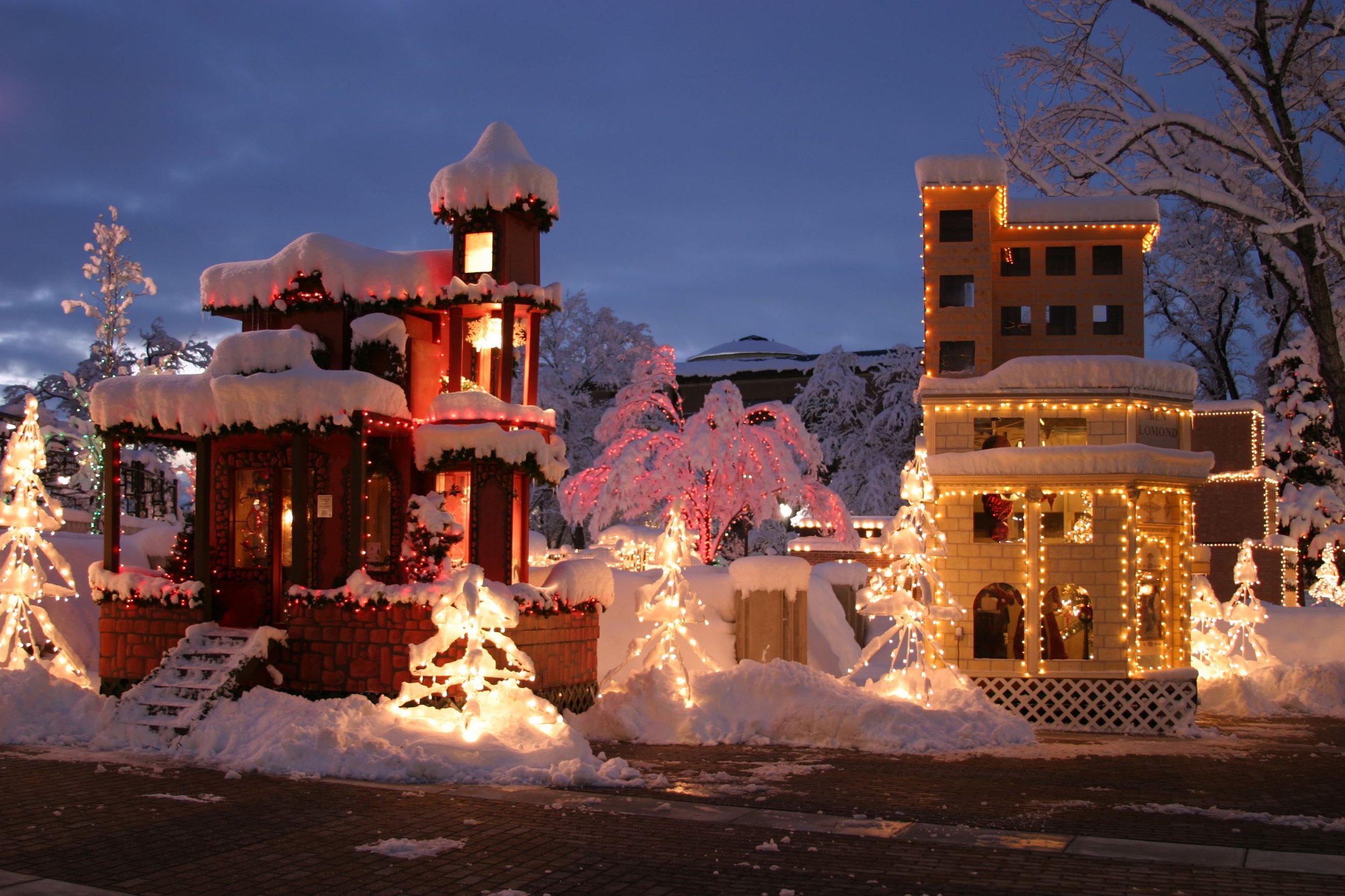 Ogden City Christmas Village – Downtown Ogden
Price: Free
Leash required
The Christmas Village in Ogden is a great spot to explore some Christmas light displays with your dog. The lights are kicked off with a Holiday Electric parade (find the date here) and remain on throughout the holiday season. The lights turn on every night at 5:00 p.m..
Since the village is located in Downtown Ogden, there are lots of options for a bite to eat or some shopping while you and your dog are out and about.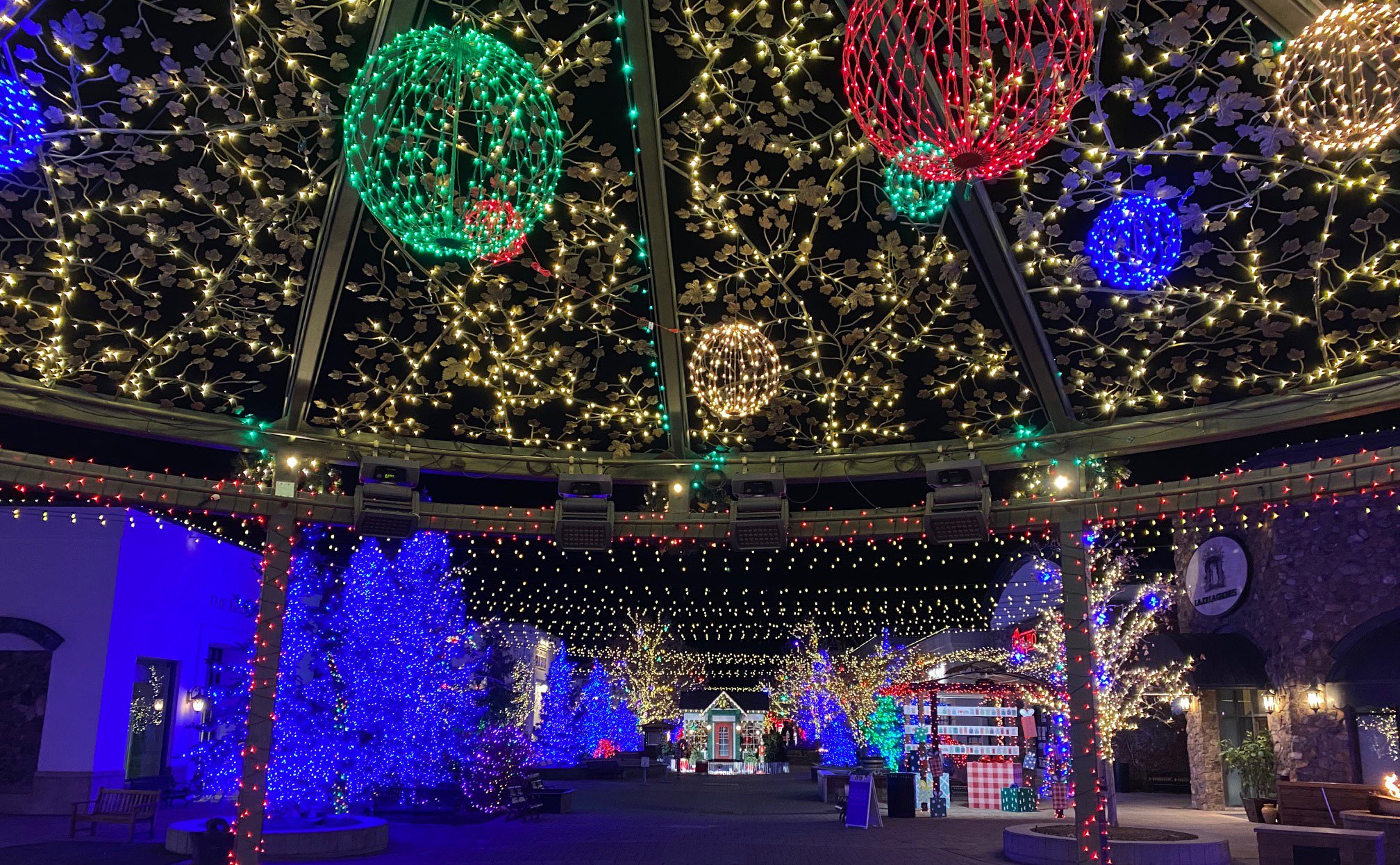 The Shops At Riverwoods – Provo
Price: Free
Leash required
The Shops At Riverwood in Provo provide another opportunity to enjoy Christmas lights with your dog and possibly get some shopping done. Inquire with each store as to their dog policy.
When the lights come on (typically early November) you can go enjoy the 1.5 million twinkle lights with your pup anytime throughout the Holiday season.
In addition to the light displays, they have ice sculptures and festive photo-ops.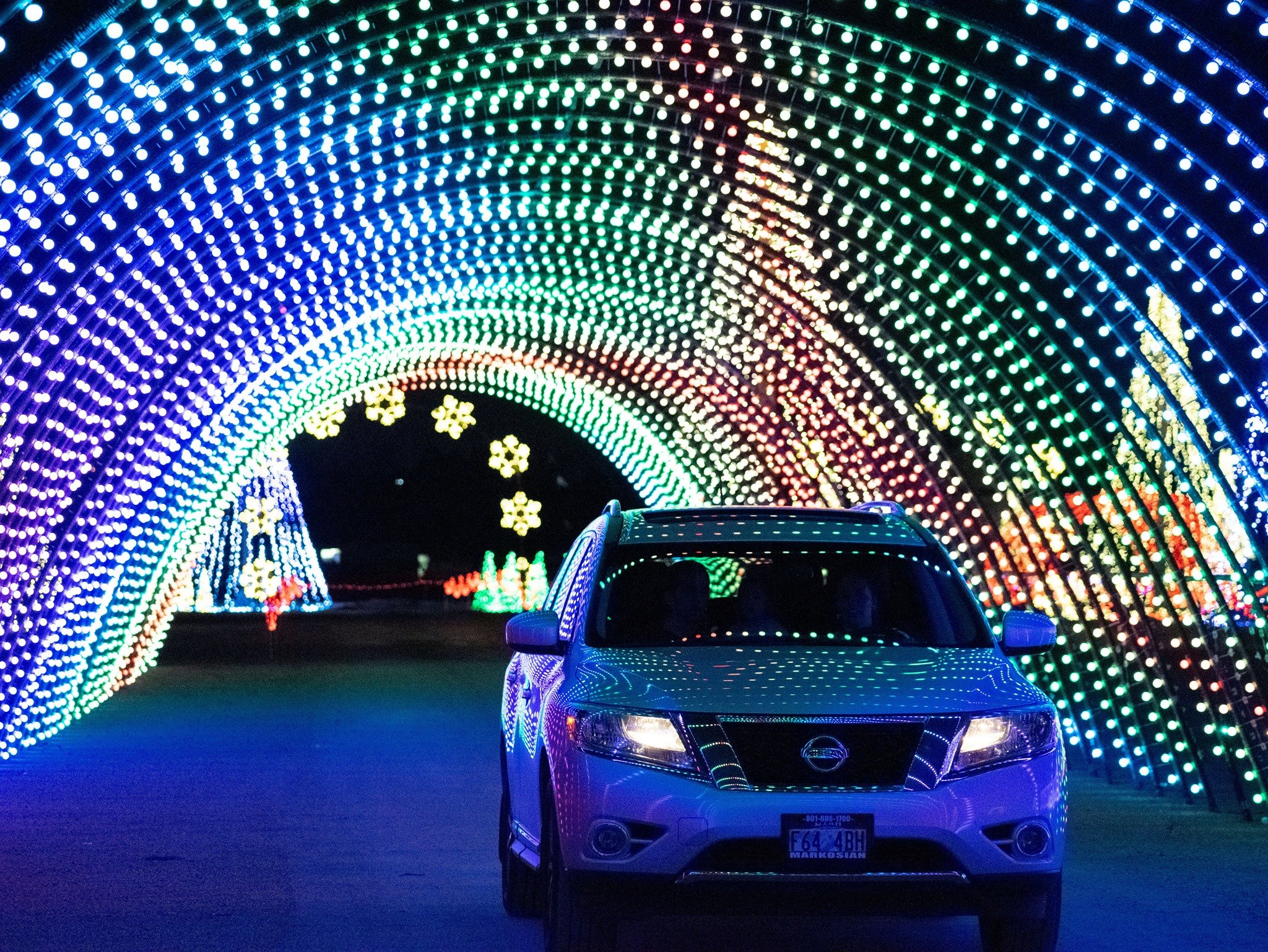 Christmas In Color – South Jordan
Price: $35
No leash required while in a vehicle
Maybe you and your dog would prefer to stay warm while enjoying some Christmas lights (honestly, totally understandable), if that's the case Christmas In Color is perfect because it's a drive-thru light show, located in South Jordan.
The show features more than a million lights and is synced to music that you play over your car radio. Make sure to reserve your spot, this one gets busy. So grab some hot cocoa and a puppaccino and hop in the car to enjoy a spectacular light display.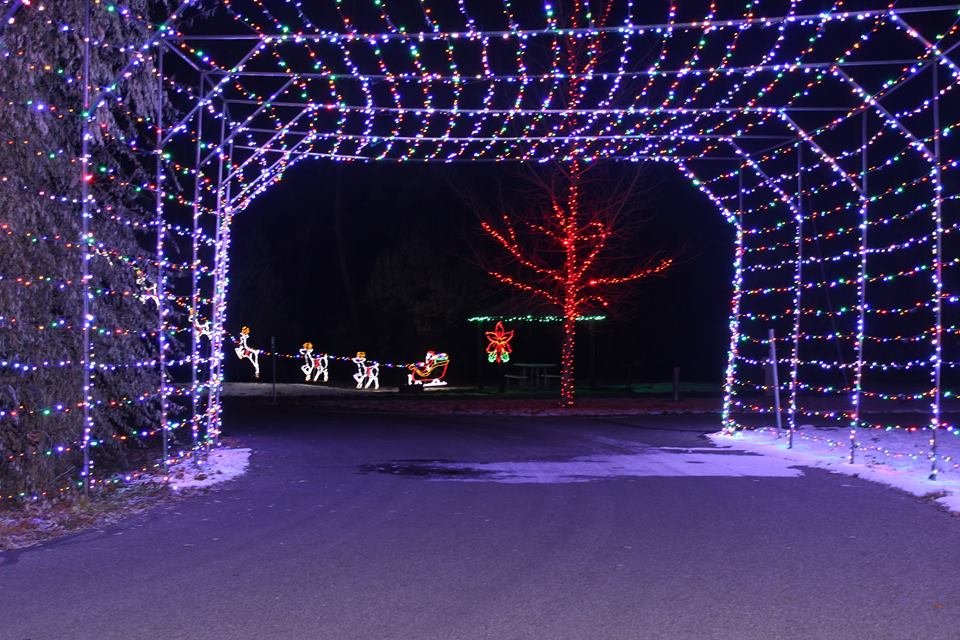 Willard Bay – Fantasy At The Bay
Price: $15-$20 per car
No leash required in vehicle
Utah's State Parks are dog friendly, meaning the annual drive-through light display at Willard Bay, Fantasy At The Bay, is also dog friendly. This is a driving only display, so you won't need to get out of the car and walk your dog anywhere.
The display is located throughout the campground at Willard Bay State Park and is typically open from the end of November to the end of December. The dates do vary from year to year, so make sure to check here for specific details.
Other Popular Utah Holiday Light Displays Dogs Cannot Attend
Are dogs allowed at Temple Square during Christmas?
Temple Square is Salt Lake City's most well-known light display, and although Temple Square WILL be having a holiday season light display, dogs are not allowed at Temple Square any time of year. Temple Square Christmas lights are no exception, unfortunately.
Are dogs allowed at Luminaria at Thanksgiving Point?
Unfortunately, Thanksgiving Point's popular Luminaria Christmas light show is not dog friendly. Ashton Gardens does typically host dogs each Wednesday in the summer and for National Dog Week in the Fall.
Check out our Events page and subscribe to our email list to stay up-to-date on this and other local dog happenings!
Have a HAPPY PAW-LIDAYS!