Love it or hate it, winter can be a hard time of year to be a dog in Utah. While there is (usually) plenty of snow to enjoy in the mountains, the cold weather can make it hard to find other winter things to do with your dog in Salt Lake City. Despite colder temperatures, many Utah dog owners are surprised to find that patio dining is not completely off the table in the winter months.
Although the majority of Utah restaurants close their patios in the winter, there are still several options for heated dog friendly patios in Salt Lake City. If you're looking to brunch, apres ski, or just catch up with friends, these 5 dog friendly restaurants should be top of your list.
Don't forget to make sure your dog has an up-to-date rabies and city license tag before dining! Salt Lake Department of Health requires all dogs to display both tags when dining on approved patios and you may be asked to provide proof. Coming to Salt Lake City from out of town? Simply provide proof of rabies along with your out-of-state driver's license.
Dog Friendly Heated Patios
Brickyard Bar
Located just south of Sugarhouse on the border of Millcreek, The Brickyard Bar gives sports bar vibes with an elevated take on pub food. From Traeger smoked meats and cauliflower wings to fried cheese curds and churros, there is something for nearly everyone on the menu. Diners can pair their food with Brickyard's extensive beer, wine, and cocktail menu. Brunch is also available on weekends from 10am to 3pm. Their dog friendly patio was recently expanded to provide nearly triple the outdoor space. We recommend trying to snag a table in the enclosed space closest to the building with ample overhead heaters.
Root'd Cafe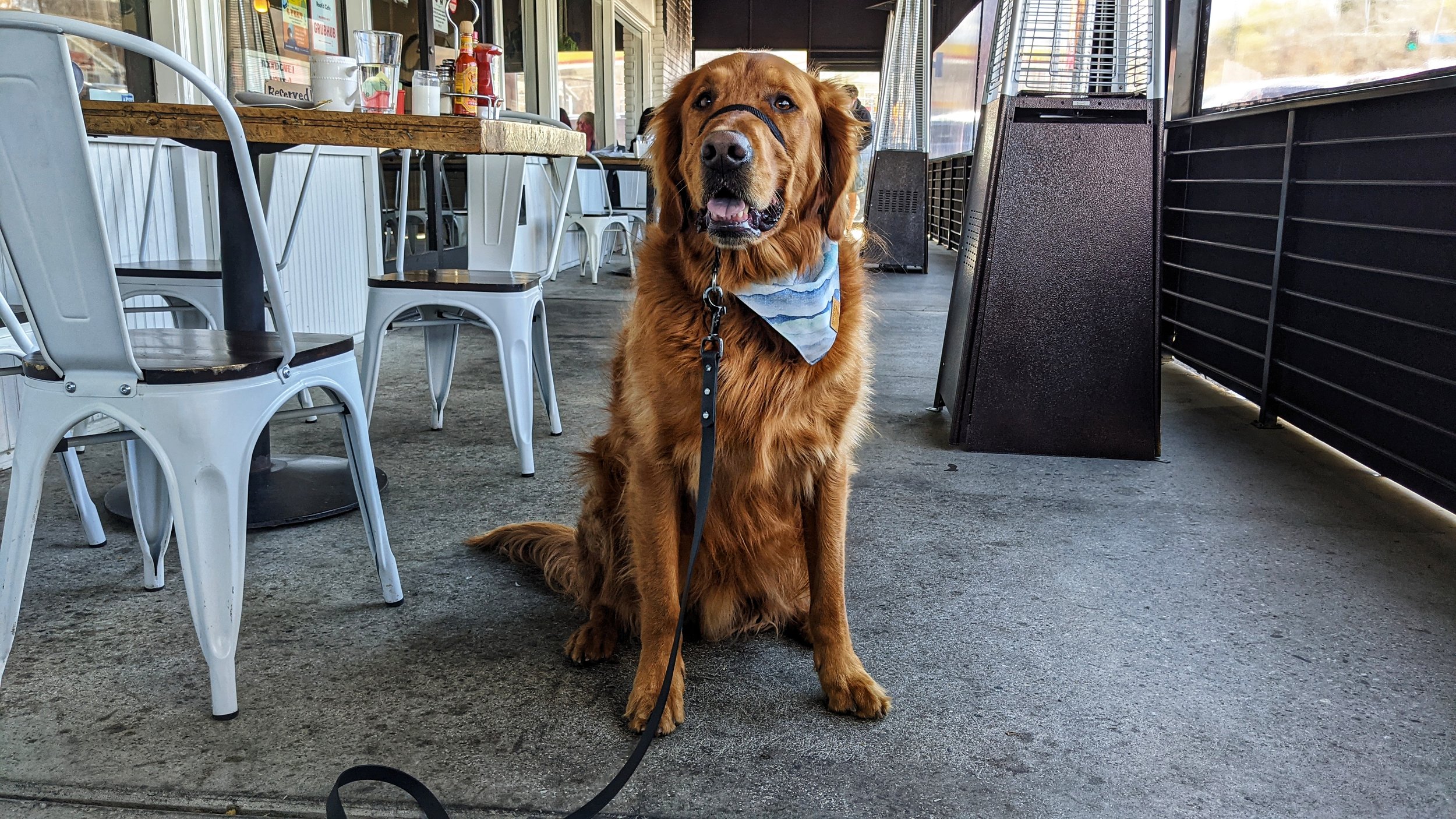 The closest thing you can get to indoor dining with your pup is definitely Root'd Cafe in Cottonwood Heights (not to be confused with the similarly named Roots Cafe in Millcreek). The dog friendly patio at Root'd sits just under the roofline to create shade year-round, but the addition of sturdy plastic vinyl coverings and heaters make this patio absolute perfection in the winter months. A focus on wellness is evident in their farm to table style menu throughout breakfast, lunch, and dinner. Root'd has a standout brunch with amazing beignets and a fun bucket o'bubbles (our personal fave), featuring a bottle of prosecco and 4 fresh pressed juices of your choice. Patio space is limited so make reservations ahead of time when possible!
Fisher Brewing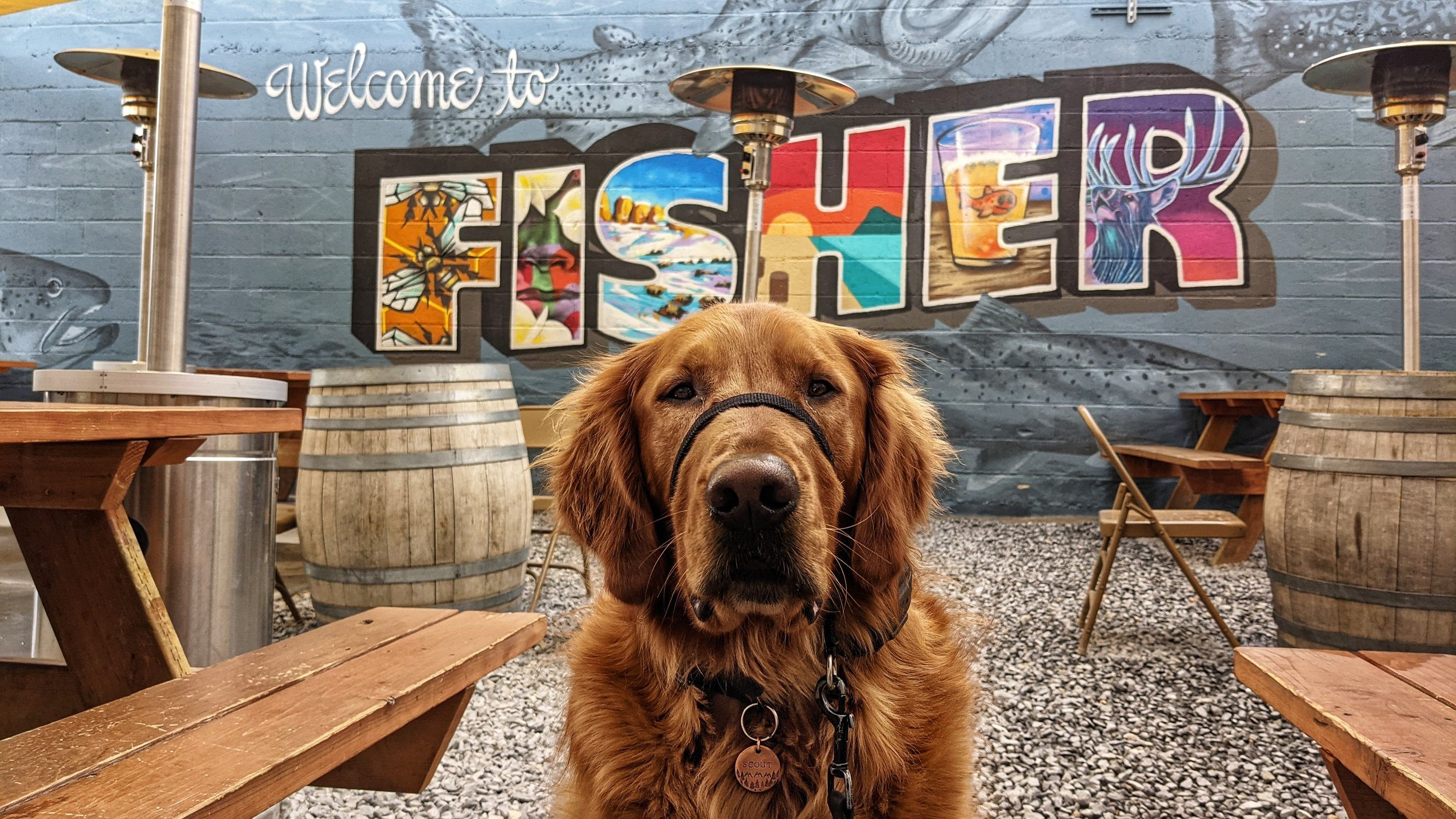 A staple on the Salt Lake brewing scene, Fisher Brewing Company has been crafting beers in Utah since 1884. Located in the Granary district, those over 21 can add this dog friendly heated patio to their winter rotation. With over 15 beers typically on tap, Fisher is the perfect place to catch up with friends with your dog(s) in tow. In winter you can expect their cozy patio to be covered by tents with extra heaters dispersed around the seating area. In our experience this keeps the outdoor space nearly just as toasty as the tap room. Although Fisher Brewing doesn't serve food themselves, a local food truck is on site nearly every day for you to nosh on.
Handle Bar
Marmalade's staple watering hole, Handle Bar, touts itself as "Salt Lake's only bicycle and mustache friendly bar," but you can add dog friendly to that list as well! Two gas fireplaces and overhead heaters keep many tables on Handle Bar's patio comfortable even when temperatures dip. Vegetarians and omnivores will both find joy in this classic American pub menu that caters to both dietary preferences. Don't skip brunch- delicious food and $2 mimosas! Handle Bar is also the only dog friendly restaurant patio that offers a dog run on site where your pup can take a quick off-leash break while you grab another drink or hit the restroom.
Ice Haus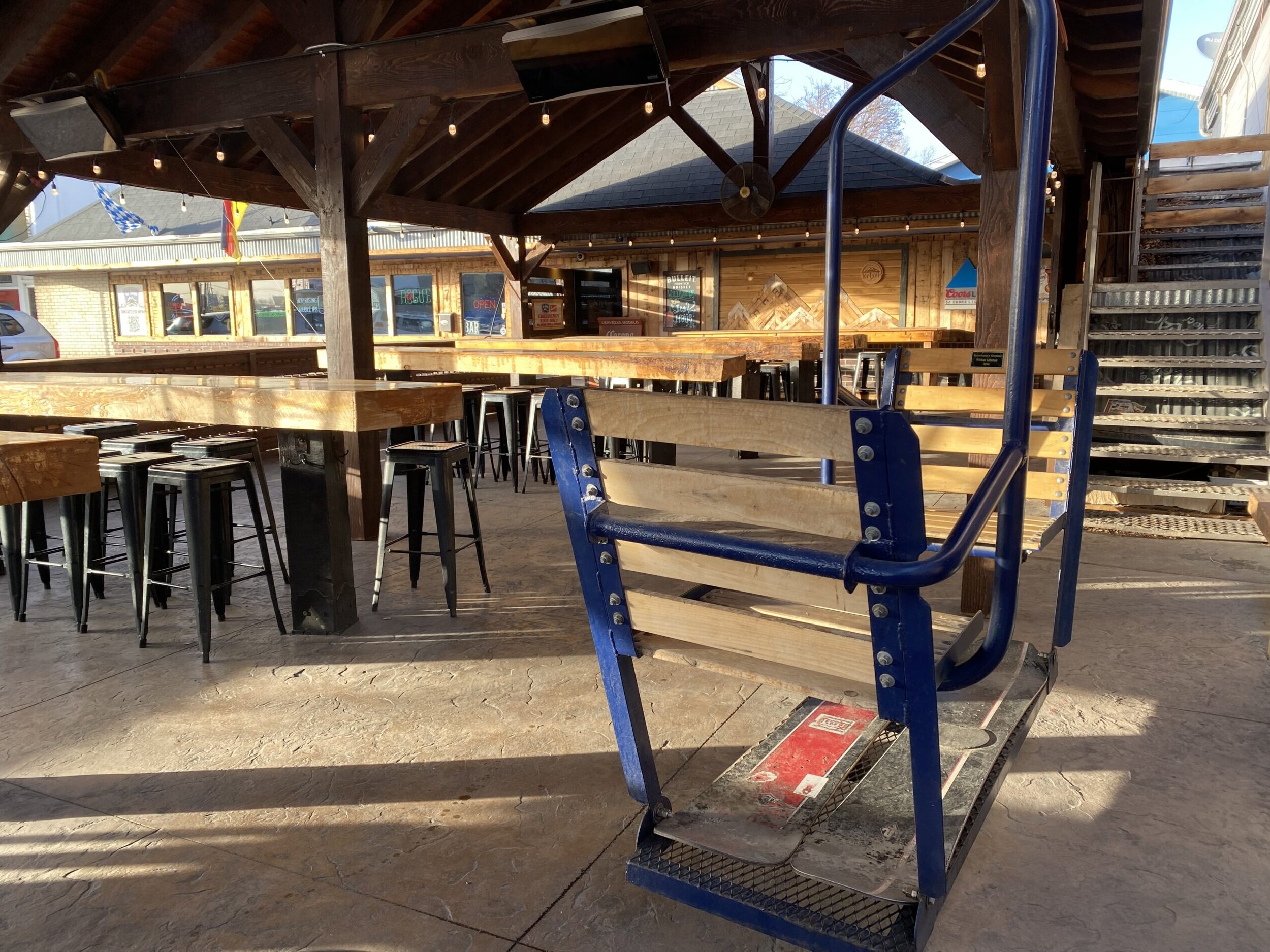 An all season, dog friendly biergarten is one of the shining features of Murray's Ice Haus. This low key neighborhood pub, as the name may imply, boasts an extensive German inspired menu that features both omni and plant based dishes. Where else can you get a vegan corndog? You'll also find 160 varieties of beer available to prime or cleanse your palette. Ice Haus' huge covered patio has overhead heaters, counter height tables, and is a great option for larger groups who need more space. The kitchen is open until midnight daily and brunch is served each Saturday and Sunday.
The Park Cafe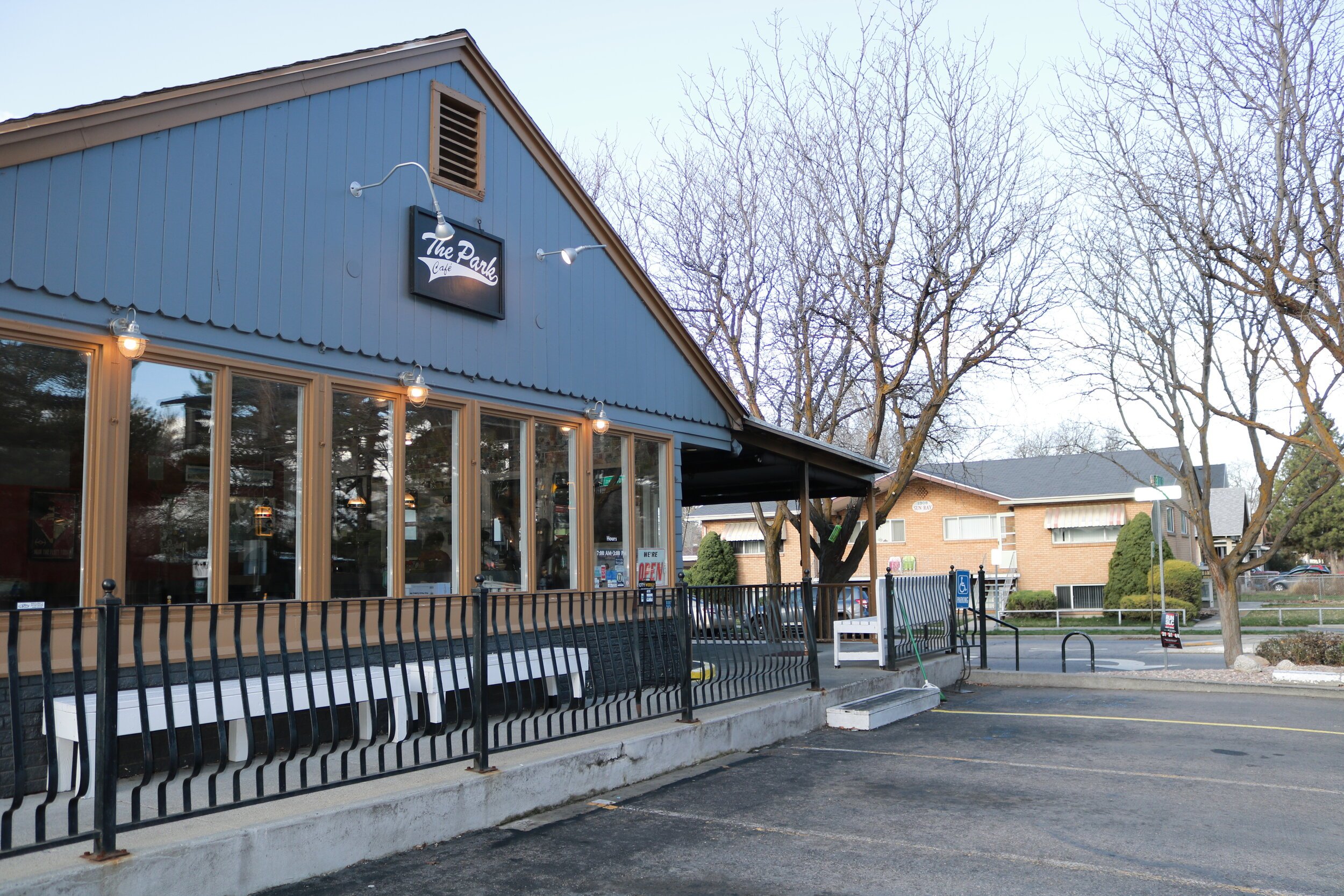 Arguably Salt Lake City's most iconic breakfast place, The Park Cafe now features an enclosed heated patio that is open year round. Featuring a fireplace and heaters, this cozy patio will keep you and your pup toasty in winter months. With tight spaces and a usually long wait list (sometimes up to 2 hours on weekends!), we'd only recommend this patio for dogs only during non peak hours and days. Paired with a walk around Liberty Park before or after your meal, The Park Cafe is a solid dog friendly option in the winter.
Level Crossing Brewing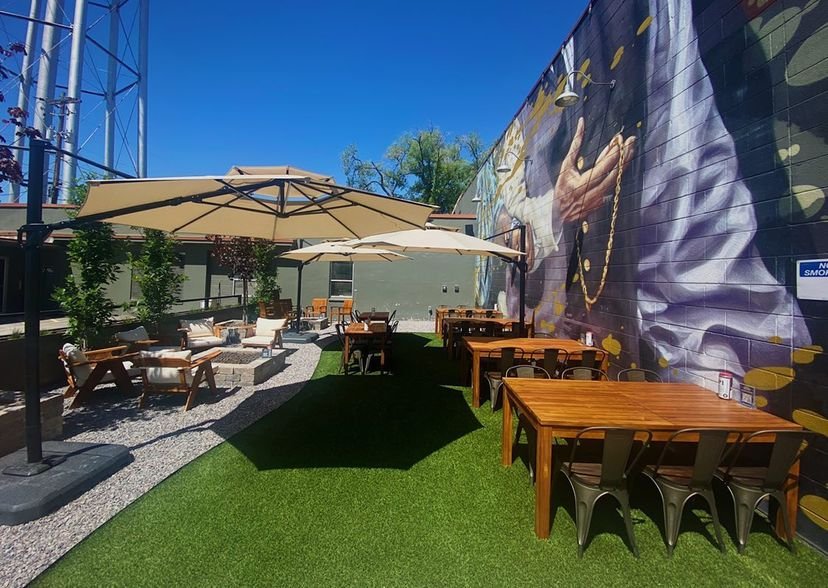 Level Crossing Brewing opened its doors in 2019 and officially began to welcome dogs on their newly expanded patio in 2022. For winter they've added a heated tent, in addition to their fireplaces, to make the patio accessible year round! Their menu features woodfired pizzas, sandwiches, and delicious appetizers to complement their own craft brews. Hospitality is a cornerstone of Level Crossing so your dog is sure to feel as welcome as you do.
Honorable Mentions
A couple patios that we'd like to mention for having some heat source available on the patio in case you'd like to venture out with your dog in the winter.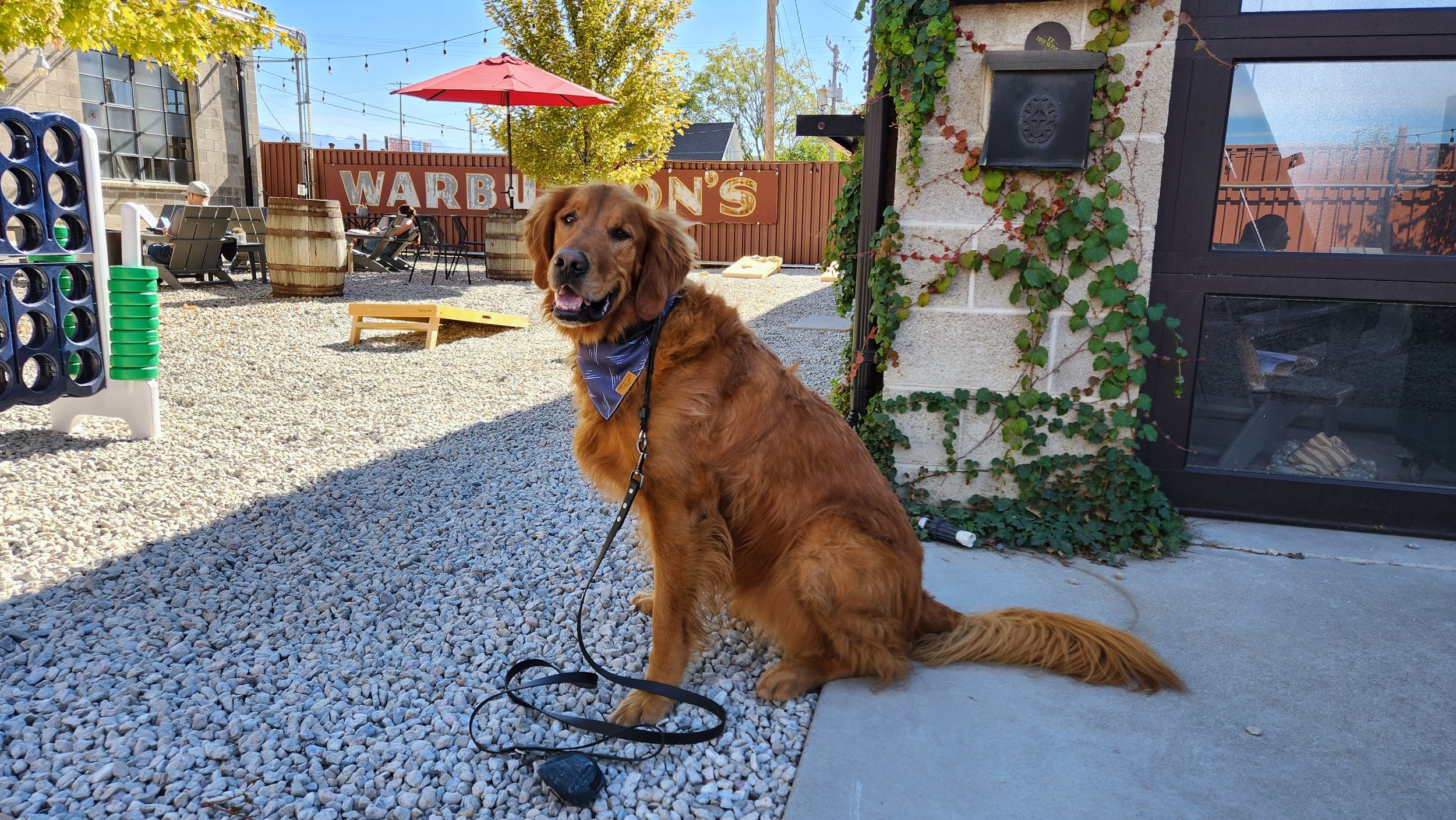 TF Brewing
Another wonderful Granary District brewery is Templin Family Brewing, more commonly known as TF Brewing. Their large, fenced patio is one of our most favorite dog friendly hang outs in the summer, but wintertime can be quite chilly unless you're able to snag one of the adirondack chairs right next to the fire pits. The fires are also not typically lit unless requested so you may have to track down an employee to assist.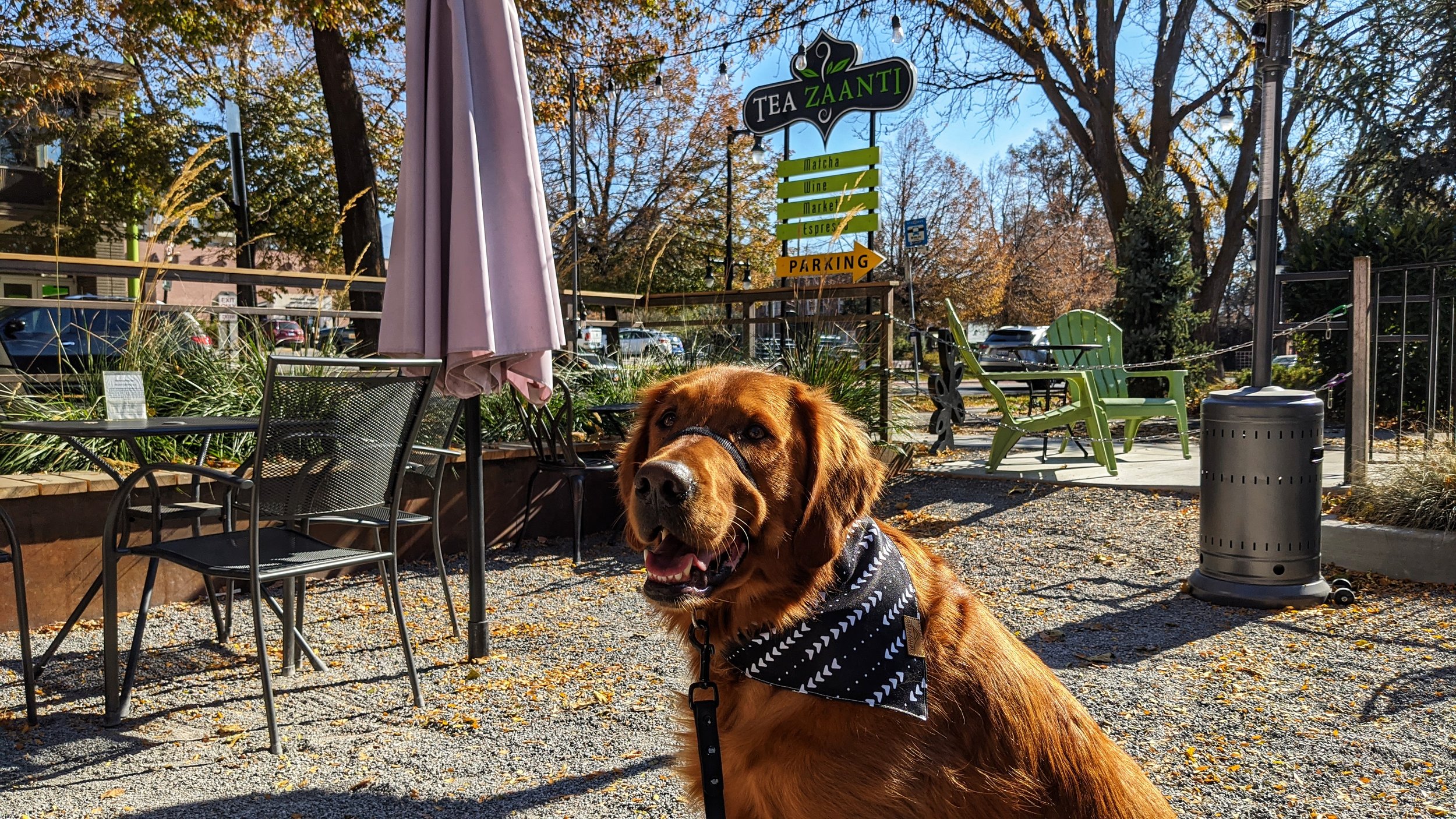 Tea Zaanti
A welcoming tea house in the heart of the Sugar House neighborhood, Tea Zaanti's patio is available year round. Minimal seating is available on the covered porch, but standing heaters dot the lovely patio for use when needed.