It's farmer's market season along the Wasatch Front and local markets are a great activity to check out with your dog. We've rounded up some of the best dog-friendly farmer's markets in Salt Lake City and the surrounding area.
Local farmers won't be in the thick of their crop until later in the summer, but most Farmer's Markets begin at the end of May with food and vendors ready to showcase their locally made goods.
There are also some local dog vendors at most of the markets like Rebel Paw (dog bandanas and treats), people selling antler chews and local artisans who make collars, baked goods and more for our dog best friends. Not to mention, supporting local vendors is a great way to give back to the local dog community.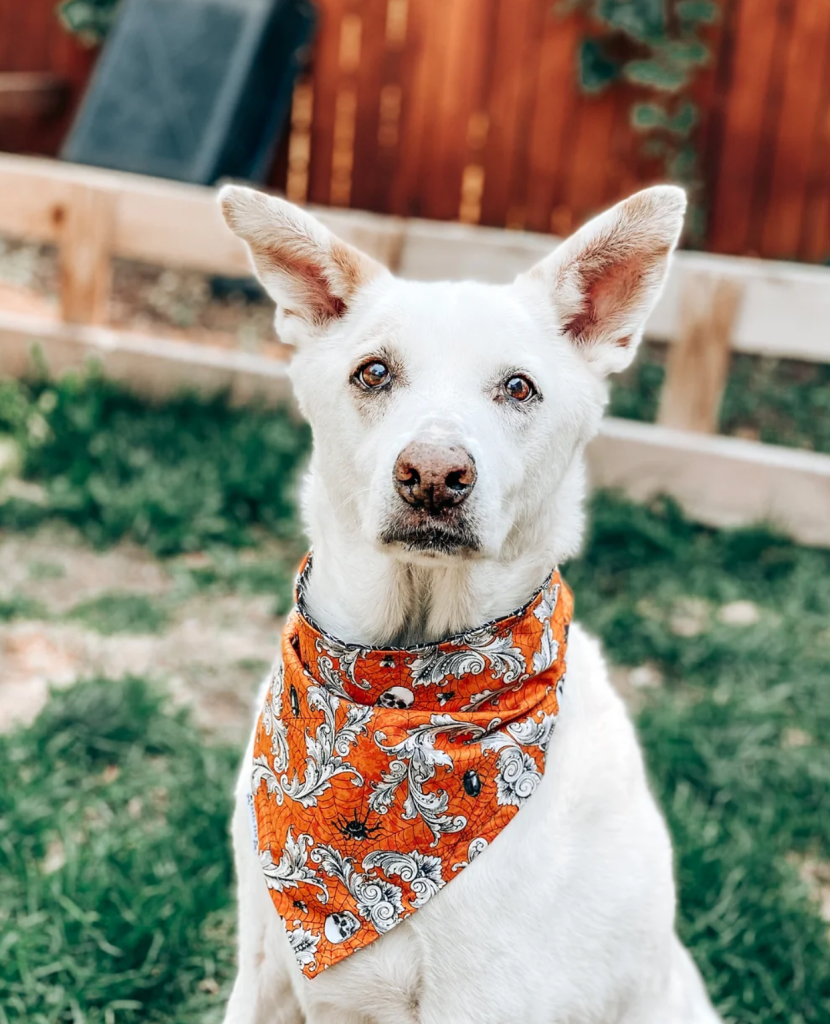 Before heading out to the Farmer's Markets on our list, make sure you have a few essentials packed. Don't forget a water bottle (it can get pretty hot out), waste bags and a leash. It's also a good idea to bring some reusable grocery bags for anything you might purchase.
At all of the markets we list below, dogs must be kept on a leash the entire time and be under the control of their owner. Farmer's markets can be extremely busy so your dog should be comfortable in large crowds with a short lead. Best practice is to keep your pup distanced from any booths selling food. Also, please make sure to clean up after your pooch and follow all the rules so we can keep these spaces open to dogs.
All of the dog friendly Farmer's Markets listed are free to enter.
Dog-Friendly Farmer's Markets In (And Around) Salt Lake City
Salt Lake City's Downtown Farmer's Market
Saturdays, from 8:00 a.m. to 2:00 p.m.
June 3-October 21
Located at Pioneer Park, the Downtown Farmer's Market is a massive market full of art, food and produce vendors. It's a perfect way to spend Saturday morning with your pup, featuring amazing coffee and food trucks for breakfast.
This market is the best if you're looking for way more than just food. About half of the market is dedicated to jewelry, art and craft vendors. You'll also find Pioneer Park's small, but fully fenced, dog park on the east side of the loop in case your dog needs a mid market break.
Pick up a parking validation ticket for The Gateway garage for easy parking.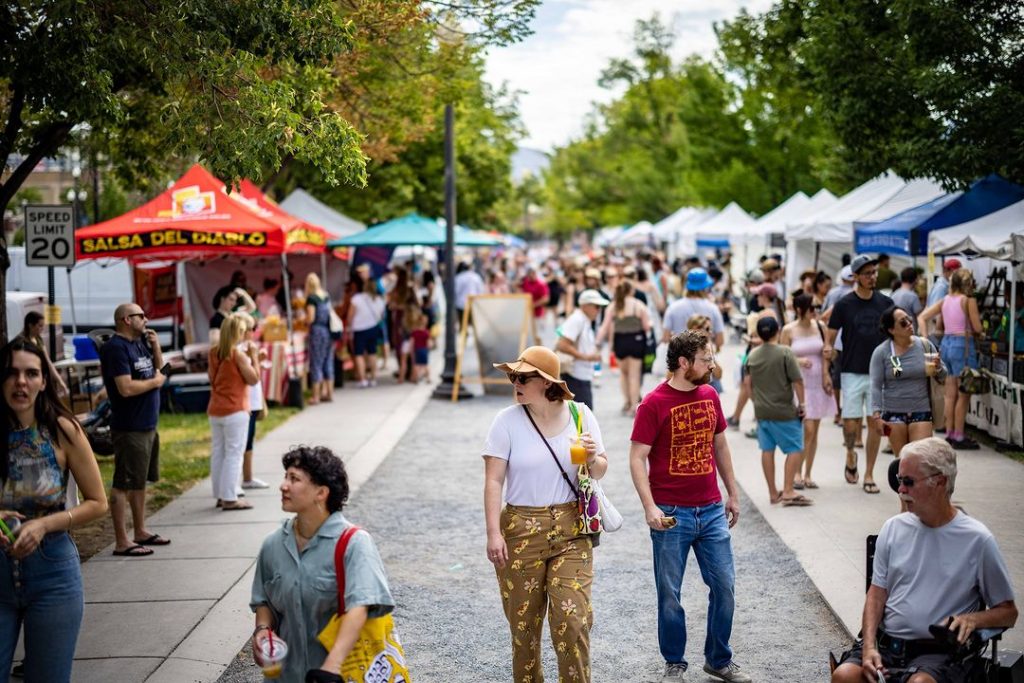 Wheeler Farm Summer Sunday Market
Sundays, from 9:00 a.m. to 1:00 p.m.
May 21-October 15
Wheeler Farm's Sunday Market is the one of earliest to open for the summer and one of the best for fresh produce and spectacular baked goods. Wheeler Farm is in Murray and in addition to the farmer's market, you can check out the actual farm with live animals and growing gardens.
If you don't think your dog would react well to the farm animals, don't worry, it's easy to avoid seeing them if you're just hanging out at the market area.
Park Silly Sunday Market
Sundays, 10:00 a.m. – 5:00 p.m.
June 4-September 24
Park City's Sunday Silly Market is the perfect spot if you're looking for a Sunday Funday. Featuring live music, a bloody mary bar and plenty of local vendors, the market runs along Park City's famous main street so local bars and restaurants get in on the fun offering deals and music. The street is closed to vehicle traffic for the market.
Please note that the market won't run July 2 and 30 or August 6, 13, 20 and 27. We recommend arriving early because it gets pretty busy and parking fills up fast.
Liberty Park Market
Thursdays, 4:00 p.m. – dusk
June 16 – September 29
If you and your dog are looking for something a little more low-key, check out the Thursday night Farmer's Market at Liberty Park. Featuring mostly produce and food vendors (with a few jewelers), it's a great spot to pick up some weekend groceries.
The Liberty Park Farmer's Market is put on by the same folks who run the Downtown Farmer's Market, so it's a great chance for you to get a taste of that without the hassle of parking downtown and the massive crowd.
Ogden Farmer's Market
Saturdays, 8:00 a.m. – 1:00 p.m.
May 27 – September 9
Voted #1 Farmer's Market in Utah, you and your dog have to check out the Ogden Farmer's Market. It runs along the famous 25th Street and features live music, fresh food and free activities for kids.
They also host a Fall Market when the summer season wraps up, so you can keep the fun going. Official times and dates for the Fall market have not been released yet.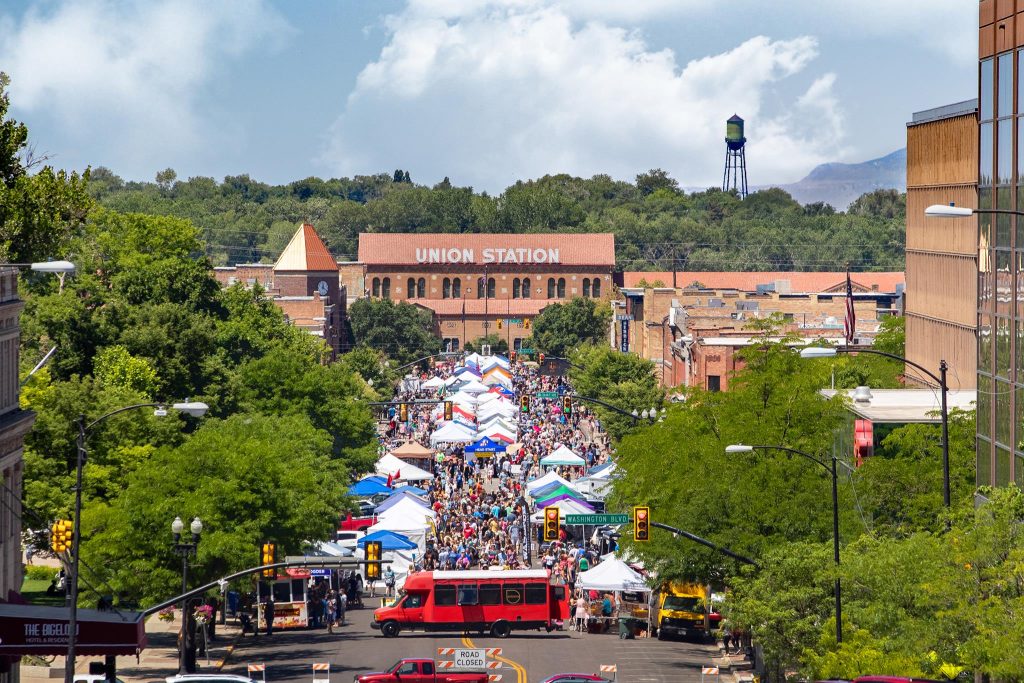 Farm Bureau Market at Murray Park
Fridays and Saturdays, 8:00 a.m. – 1:00 p.m.
July 28- October 28
With a heavy focus on agriculture and local farmers, the market at Murray Park begins a little later in the season when crops are ready for harvest. You won't find things like art, crafts and jewelry at the Murray market, only fresh produce and food.
"The purpose of these markets it to connect the consumer to the farmer, and to give out Utah farmers direct-to-consumer sales," reads the online mission statement.
If you've ever been to Murray Park, you know it's a great spot to walk your dog because it's large and there are lots of different paths to take so a stop at the market along your walk seems like a perfect morning.
Park City Farmer's Market
Wednesdays, 11:00 a.m. – 5:00 p.m.
June 7 – October 18
If the silliness of Park City's Sunday Silly Market is a little too much for you and your pooch, check out Wednesday's Farmer's Market at the Canyon's Resort.
The Park City Farmer's Market strives to offer only organic and fresh local produce and artisan foods. You may also find some craft and art booths, though that isn't the focus of Wednesday's market.
We think this is a great market to start your dog off with, it's much less busy and stays pretty cool up in the mountains.
Provo Farmers Market
Saturdays, 9:00 a.m. – 2:00 p.m.
June 3 – October 28
And for those of you a little further South, the Provo Farmer's Market is dog-friendly. Located at Pioneer Park in Provo, you'll find a selection of locally grown produce, crafts and food trucks. They even have a newsletter where they update folks about which produce is in season and which vendors to expect each week.
Do you have a favorite dog-friendly farmer's market that we missed? Send us a DM on Instagram, @dogfriendlyslc.
We hope you have fun getting out and supporting some great local businesses this Summer and Fall.