Planning a luxurious ski trip to Park City? Maybe a summer-time hiking trip on a budget is more your style? Either way, we know you want to bring your dog. Here is your one-stop guide to the perfect, dog-friendly Park City vacation.
If you're planning on a winter trip, skiing at one of the famous ski resorts will be the first thing on your list but Park City has lots of other things you can do. You could spend a day cross country skiing or snowshoeing on some of Park City's dog-friendly trails. Round Valley and the 224 Connector trail are both dog-friendly and groomed all winter.
As for the summer season, the hiking in Park City is gorgeous and the cooler mountain air offers a reprieve from the summer heat. Bar or restaurant patios and dog parks are aplenty in Park City, but more on that later.
Lodging
The first question when planning a vacation is usually, where will I stay? Park City has a wide range of dog-friendly hotels, from luxurious ski lodges to budget-friendly stays to make you and your dog happy and comfortable on your ski (or any other kind) trip.
Dog Friendly Hotels
Budget-Friendly: Peaks Hotel
Weight Limit: None
Pet Fee: $25/Day
Maximum Pets: 2
Rates: Starting at $199/Night
The Peaks Hotel on the famous Park Avenue in Park City will have you close to either side of the Park City resort (Canyons or Downtown), it's also just a quick jaunt to Deer Valley with public transportation available. You and your dog can enjoy a hike on the nearby Iron Mountain Trail or a stroll through a rotary park. The hotel boasts a modern design while ensuring guests still feel at home.
Luxury: Montage At Deer Valley
Weight Limit: None
Pet Fee: $100/stay
Maximum Pets: 2
Rates: Starting at $585/Night
Make your mountain fantasy come true at Deer Valley's Montage. You'll feel like you've stepped into a movie at this gorgeous hotel located right in the mountains. If spending the day skiing and coming home to snuggle your best furry friend sounds like the best day every, you'll love the Montage. you'll want to take some time to meet Monty and Summit, the Bernese Mountain Dog mascots of the Montage. Your dog's luxury stay includes a dog bed, bowls upon request.
For a full list of Park City's dog-friendly hotels click here.
Dog-Friendly Vacation Rentals in Park City
Family House In The Heart of Old Town
Just a short walk to Park City's famous Main Street makes this home ideal for your getaway with your dog. The charming cottage is within walking distance of all of the best shopping and dining Park City has to offer. This rental has a fenced yard, giving you peace of mind while your pet goes outside. Park City Resort's town lift is a short walk away, giving you easy access to the ski resort.
This house has two bedrooms, 2.5 bathrooms and sleeps up to six.
Fabulous Private Luxury With Views (& Hot Tub)
Did somebody say hot tub? What a perfect way to relax after a long day of skiing at a resort or snowshoeing with your dog. This pet-friendly classic Park City luxury home is just off Main Street, providing easy access to shopping, dining and skiing. The house has multiple balconies and a view you'll never tire of.
The property has four bedrooms, three bathrooms and sleeps up to ten. Owners will need to provide references for the pets they wish to bring.
For a complete guide to Park City's best dog-friendly vacation rentals, click here.
Dog Services
Park City Dog Walking, Sitting, and Boarding
If you're planning on spending some days on the ski hill, your dog probably can't join you. Not to worry, there are plenty of options for boarding or walking in Park City. And your dog will feel like it's their own special vacation activity.
Just look at the name of this place, your dog will be having a luxurious vacation just like you. The Park City Pet Resort sits on 7.5 acres in the Silver Creek neighborhood, giving your dog plenty of room to play in the mountains. They offer daycare and boarding, boasting pools, heated floors, covered outdoor areas and unlimited tennis balls! Sounds like dog heaven.
Located on Old Ranch Road (near the Canyons side of the Park City resort), Snoot Dog Country club is a 4.4-acre ranch for dogs to stay and play while their parents ski. They offer boarding, daycare, house sitting, walking, pet limo and concierge services.
Park City Pet Supplies
Forgot to pack something? Need a little something extra for your dog? Not to worry, Park City has some pet supply stores and a few grocery stores.
Located in the Pinebrook area, Healthy Pets Summit County has anything your pets may need from high-quality food and special treats to toys and chews. They also offer grooming services if your dogs needs their own spa day.
You could also save yourself the hassle of packing or finding food when you arrive by ordering food from Chewy to be delivered wherever you will be staying.
Dining
Park City's Best Dog-Friendly Patios
One of your next questions is likely to be about dining after those long ski days. You're in luck, Park City has plenty of dog-friendly bars and restaurants. These are a few of our favorite dining options that capture the essence of Park City, while providing great space for your dog.
Hearth & Hill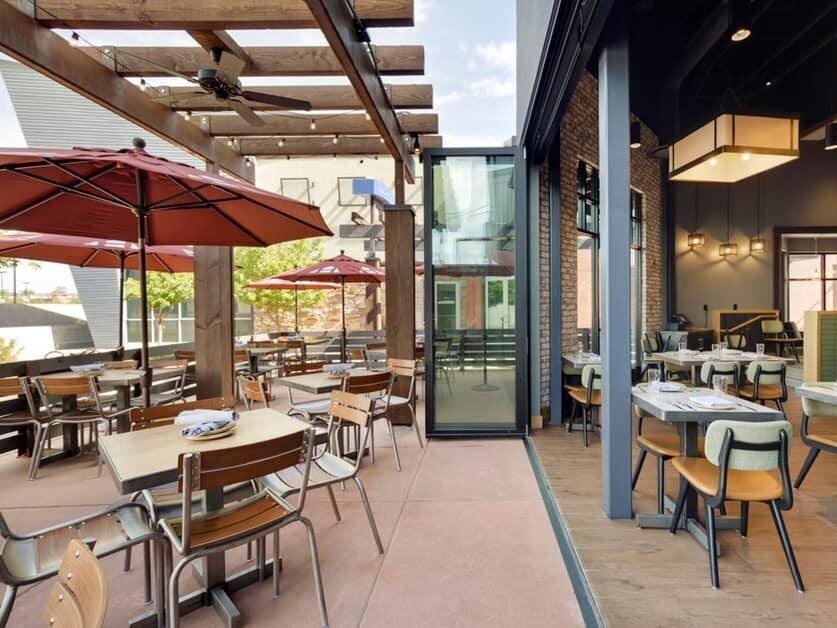 If you're looking for something off Main Street and maybe a little quieter, Hearth and Hill is a great option. The food is described as "contemporary American cuisine with a local focus." Hearth and Hill serves brunch, lunch and dinner, so no matter when your belly rumbles, they'll be there. Reservation information and menus can be found on their website.
High West Saloon
High West Saloon can be the perfect complement to your mountain fantasy. Located on Park Avenue, just one street removed from Main Street, High West will have you in the middle of the best parts of Park City with outdoor fireplaces and mountain views. The saloon is famous for their distillery, but they offer a good selection of "Western Cuisine." Menus can be found on their website. Just note, High West Saloon can get really busy and obviously you'll need patio seating for you and your pup. Go early or during off peak times for the best chance at securing an outdoor spot!
Hugo Coffee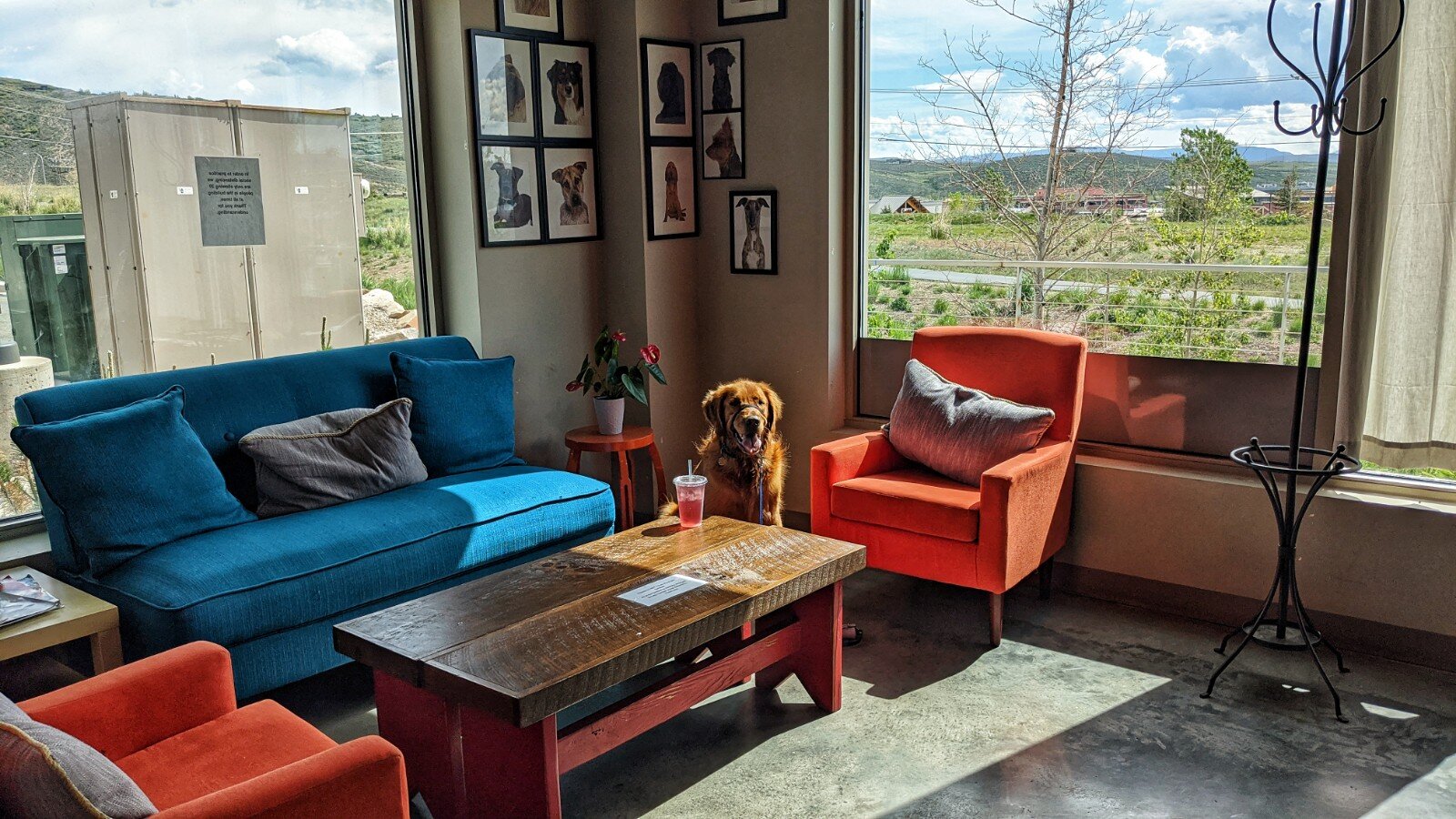 Looking for a quick stop before your day in the mountains, look no further than this adorable dog-friendly coffee shop. Hugo Coffee is located right off Interstate 80 at the Kimball Junction exit, making it easy to get to. Hugo is the best place to take your dog, they are passionate about giving back to dogs in need, a portion of their proceeds help shelter dogs by donating vet care, vaccines, beds and meals. As an added bonus, your pup can join you inside! You can feel good about this cup of delicious coffee and they will also have a treat for your pooch.
For a full list of Park City's dog-friendly patios (bars, restaurants and coffee shops) click here.
Dog Parks
Park City's Best Dog Parks
After you have your fun on the ski hill and it's your dog's turn to run around and make friends, Park City has some great dog parks for your friend to enjoy.
Run A Muk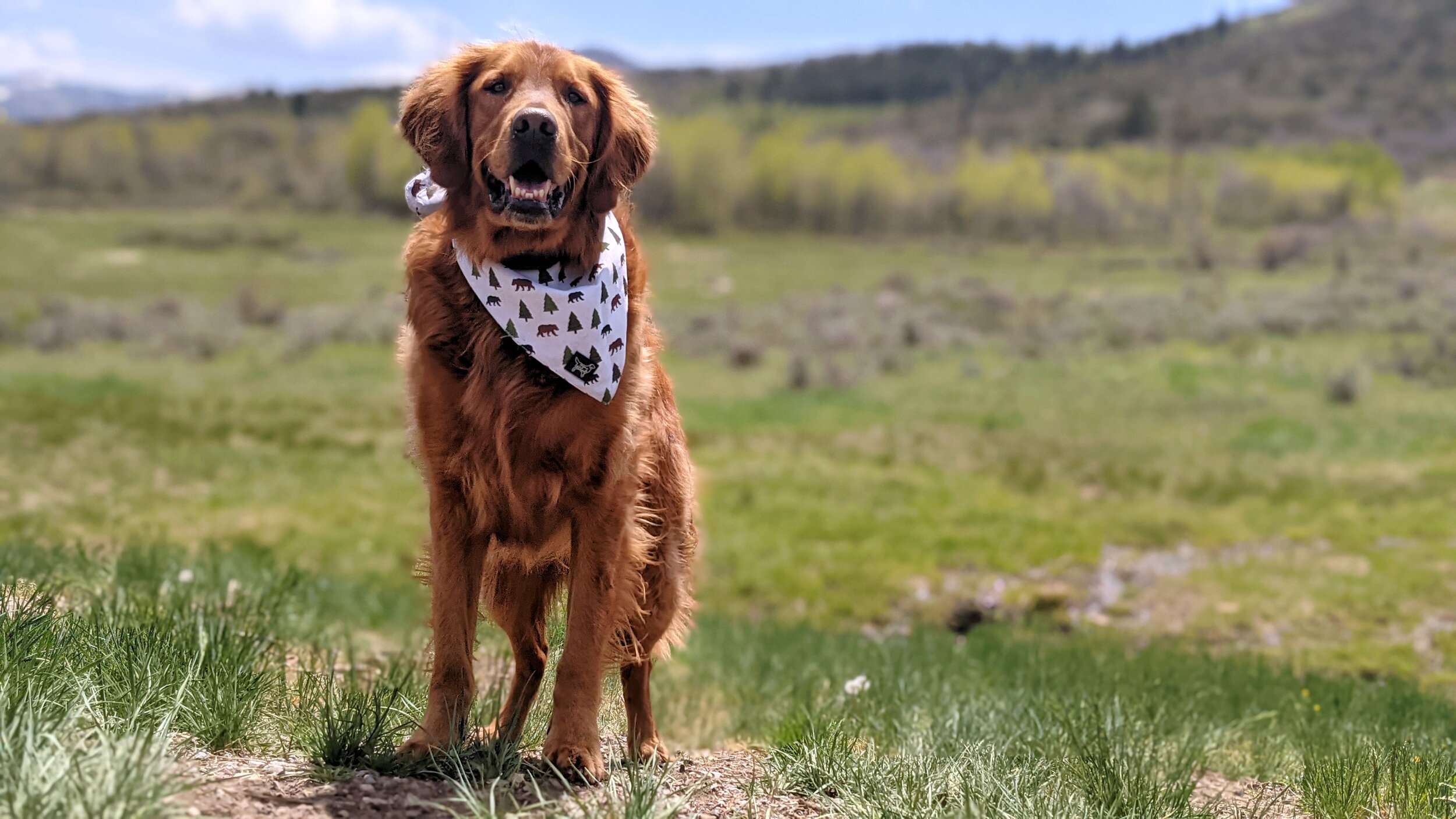 Run A Muk is HUGE, which makes this fenced dog park feel…well…not fenced. With 43 acres and a two-mile trail, you and your dog can enjoy a nice walk around together. Run A Muk is near Park City's Olympic Park near Kimball Junction. The large space does mean you'll need to be extra vigilant in watching your dog and potential waste.
Willow Creek Dog Park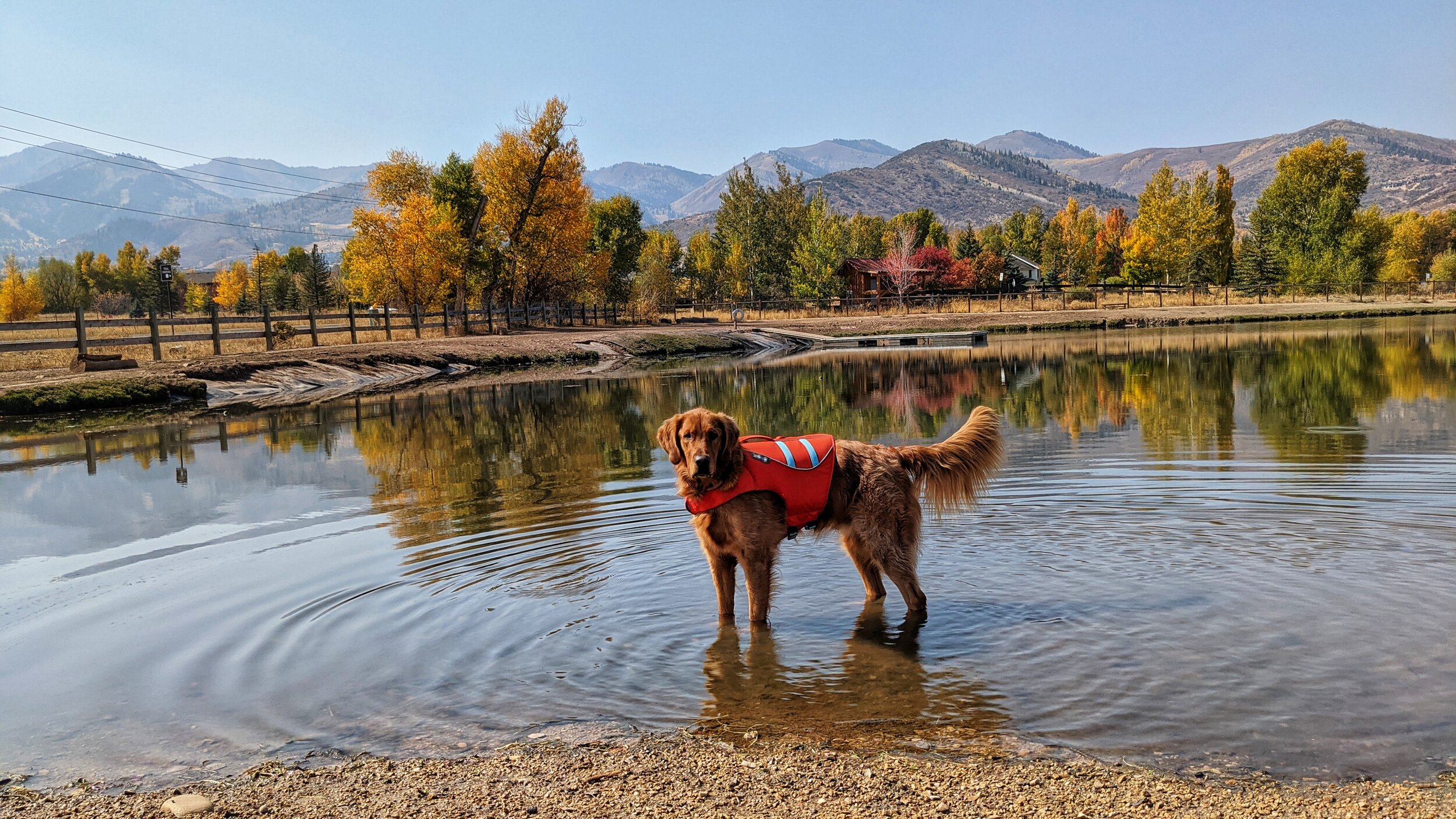 The Willow Creek Dog Park will make your dog feel extra special like they are also on a luxurious vacation. If you visit in the summer, there's a large pond for swimming that is totally fenced in. There's a dock on the pond and also a separately fenced, dry play area for dogs who don't love swimming. An added bonus is that Willow Creek has a gorgeous view of the mountains, as it faces the Canyons side of the Park City resort.
For a complete list of Park City's expansive dog parks, click here.