This article is written in partnership with Mountain West Veterinary Specialists. 
Utah is a great state for exploring with your dog, but it is also home to abundant wildlife like deer, moose, bears, mountain lions, snakes and more. It's important to know which animals you might see and how to deal with a potential encounter while you are out and about with your dog.
Don't worry, we will cover all of the bases with the help of Mountain West Veterinary Specialists.
One more note before we get started, it's possible to have a wildlife encounter in urban areas as well, so always stay alert.
Depending on which part of Utah you are in, the types of animals you will see may vary a little. Here's a quick rundown:
Wasatch Mountains (including Salt Lake City foothills): Snakes (including rattlesnakes), rabbits, deer, squirrels, mountain lions, moose etc.

High Uinta Mountains: Moose, deer, squirrels, porcupines, mountain goats, coyotes, pine martens, mountain lions and more.

Southern Utah: Snakes, lizards, rabbits, large spiders, scorpions, foxes and some wild cats.
This list isn't exhaustive, so it is important to always be on the lookout for animals when you are exploring.
Keep in mind, it is illegal to let your dog chase or harass wildlife anywhere in the state of Utah. That full law can be found here.
Preparing For Hiking With Your Dog In Utah
In preparation for an adventure with your dog(s), there's a few things you can do to keep yourself safe and stress free.
Solidify your dog's recall
 Practice is the best way to improve your dog's recall skills. It's important that your dog comes when called if you happen to encounter a wild animal. In Park City, Run-A-Muk dog park is a great place to practice. It's 43 acres and completely fenced. But beware, there have been moose spotted at the park, especially on the upper trail in winter.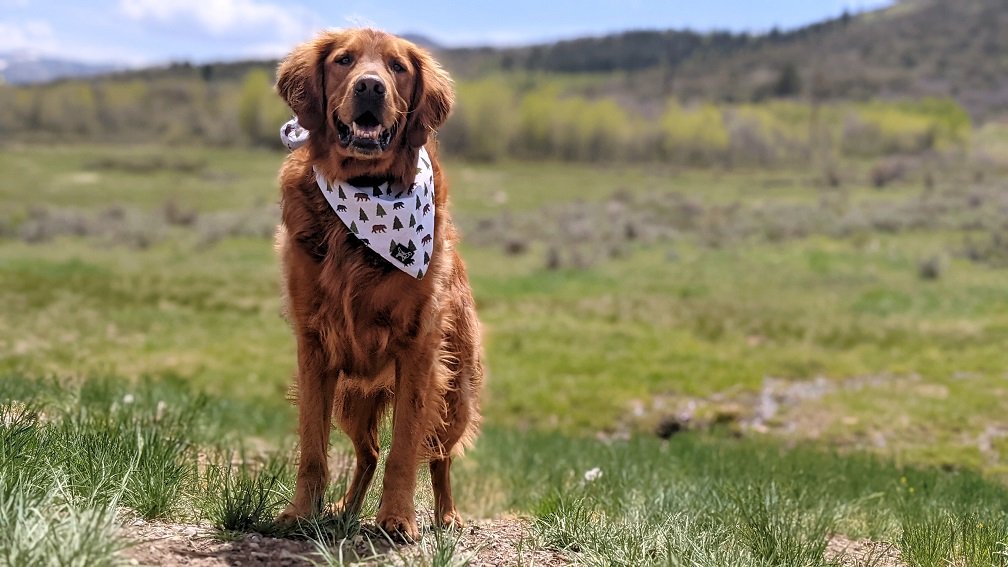 Make sure your pet is up-to-date on vaccines –  Rabies is an especially important vaccine for your pet to be updated on, especially in the case of a potential wildlife encounter. Mountain West Veterinary Specialists recommends all pets keep up-to-date on vaccines as directed by your primary care veterinarian.
Always carry a leash (even in off-leash areas) – It's the law and also important in case you run into any wildlife and need to make sure your dog stays close to you.
Bring plenty of water – Bring enough for both you and your dog and some extra just in case you get lost. Extra water can also wash out wounds if the need arises. We love this pet water bottle for easy drinking.
lesotc Pet Water Bottle for Dogs, Dog Water Bottle Foldable, Dog Travel Water Bottle, Dog Water Dispenser, Lightweight & Convenient for Travel BPA Free (18oz, Blue)
Invest in a pet first-aid kit – It's important to have tweezers, bandages and other wound care items, to give you peace of mind. Utah-based My Medic offers a great pet first-aid kit.
Consider an emergency harness – If your dog is too big for you to carry, an emergency harness can help make sure you and your dog get out of the woods or off a mountain safely in case they are too injured to walk. Fido Pro Airlift is a well-reviewed option.
Familiarize yourself with local pet emergency rooms – This will save you the time of researching them if you are in an emergent situation with your pet. Advanced Veterinary Care, MedVet, and Blue Pearl are options in Salt Lake Valley.
Mountain West Veterinary Specialists also has an emergency room in Layton, Utah.
What To Do When You And Your Dog Encounter Utah Wildlife
You should always be aware that just because you don't see wild animals, doesn't mean they are not there. Always pay attention to your surroundings and prepared for anything that might happen.
You should always be looking for signs of wildlife, like droppings, tracks or carcasses. It's possible your dog will smell the animal before either of you see it. Pay attention to your dog's body language, it can be an important clue if there's wildlife around.
Dawn and dusk are the most likely times you'll see wild animals out and about, if you are exploring at these times, be extra vigilant.
Tips For Wildlife Encounters From Utah Wild Aware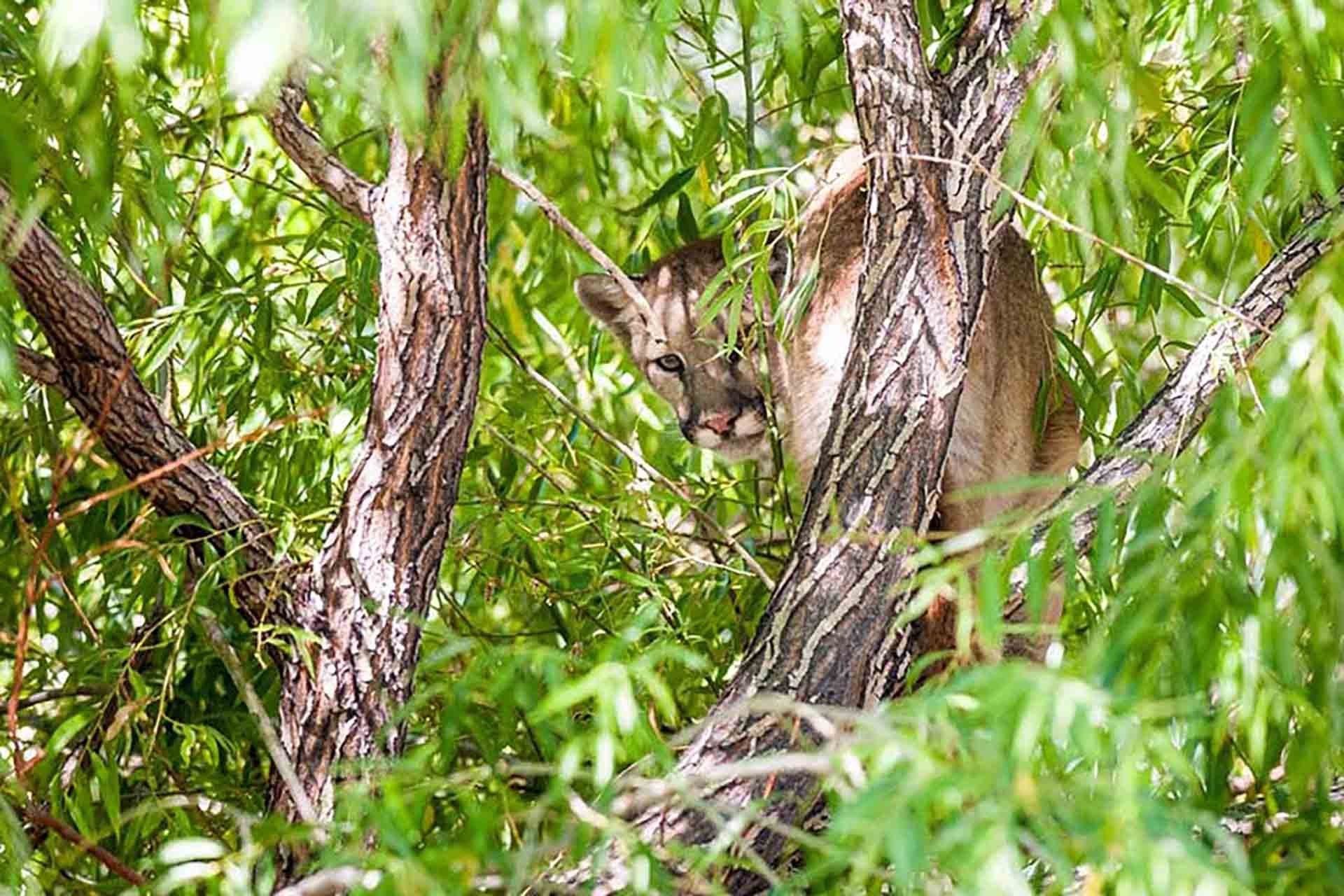 Dogs and Moose
It is very common to see moose in the upper canyons of the Wasatch Front and especially in Park City and the High Uintas. Moose may be more aggressive than other animals, especially if it's Spring and they have babies. They could charge, stomp or kick you and your pet.
It's best to leash your dog and hide behind a tree if you encounter a moose.
If your dog is kicked by a moose, seek emergency care as quickly as possible. The injuries could be internal.
Dogs and Porcupines
It may be surprising to hear, but porcupines are found in most parts of Utah. In fact, several porcupines are known to reside on the Deer Ridge Off Leash Trail atop Traverse Mountain in Draper.
Porcupines will often hide under brush and trees, so you may not know your dog has encountered one until it is too late. To avoid a chance encounter, make sure your dog stays on designated trails.
If your dog gets stuck with a quill or quills, DO NOT attempt to remove them. Head to the emergency vet as soon as possible.
Dogs and Rattlesnakes
Rattlesnakes are very common during summer in Utah, especially in the foothill trail areas and on rocky slopes at high elevations. It's likely you'll see a rattlesnake at some point if you are exploring Utah often, so it's best to be prepared.
If your dog is struck by a rattlesnake, try not to panic and don't attempt to capture or kill the snake. You need to quickly seek treatment at an emergency vet center while trying to limit your dog's activity as much as possible.
"Treatment by your veterinarian with antivenin is needed as soon as possible to reduce the risk of potentially deadly effects from the venom. If you suspect that your pet was bitten, reduce activity as much as possible and seek veterinary care as soon as possible. Over the counter pain medication such as ibuprofen and aspirin are not recommended, " says Dr. Mark Langheinrich, DVM with Mountain West Veterinary Specialists.
To give yourself peace of mind, you could consider Rattlesnake Aversion Training. More on that here. You can also discuss the "rattlesnake vaccine" with your vet, some vets recommend it, others don't, so it's best to consult your personal veterinarian.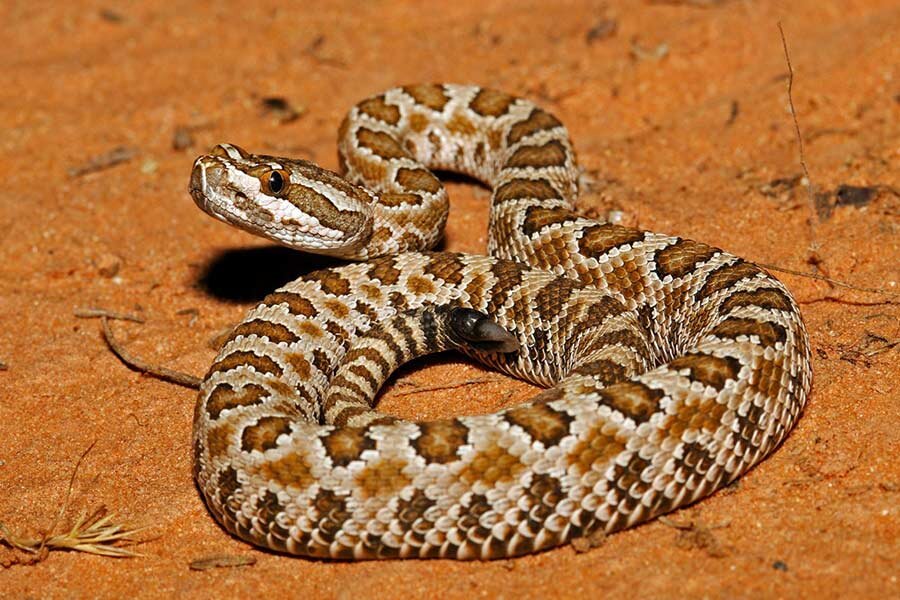 Other Tips For Hiking In Utah With Dogs
First off, reading this article is already setting you up for success because the best plan of action is to be prepared and learn what to do in case of a wildlife encounter, or any other pet emergency.
A few other tips so you can have a fun and stress free outing:
Make sure your dog's tags are up to date in case they get spooked or chase something.

Get your dog microchipped. Dogs in Salt Lake County can get a free microchip from Animal Services.

Consider a GPS collar but do your research, some are not reliable in areas of limited service
Always remember, the mountains, desert and forest are HOME to wildlife.
Happy adventuring!

---
This post may contain affiliate links which result in Dog Friendly SLC making a small commission. By shopping products we recommend, you ensure that we can keep finding dog friendly places in Salt Lake City and Utah. We appreciate your support!