Summertime is naturally a time to want to get away to enjoy some rest and relaxation. Located about 2 hours away from Salt Lake City, Bear Lake is a popular vacation and recreation area for Utahns. Since dogs are also important to many Utahns, it's only natural to want to bring their dogs along!
Bear Lake is a 110 square mile lake that lies half in Utah and half in Idaho. It is well known for its aqua "Caribbean blue" color that seems out of place in our mountainous terrain. Many people utilize the lake for recreational purposes like boating and swimming.
Is Bear Lake dog friendly?
Bear Lake is absolutely dog friendly and can be a great Utah vacation location for you and your dog. The crystal clear water is a picturesque place to swim with your dog and many area restaurants welcome dogs on their patios.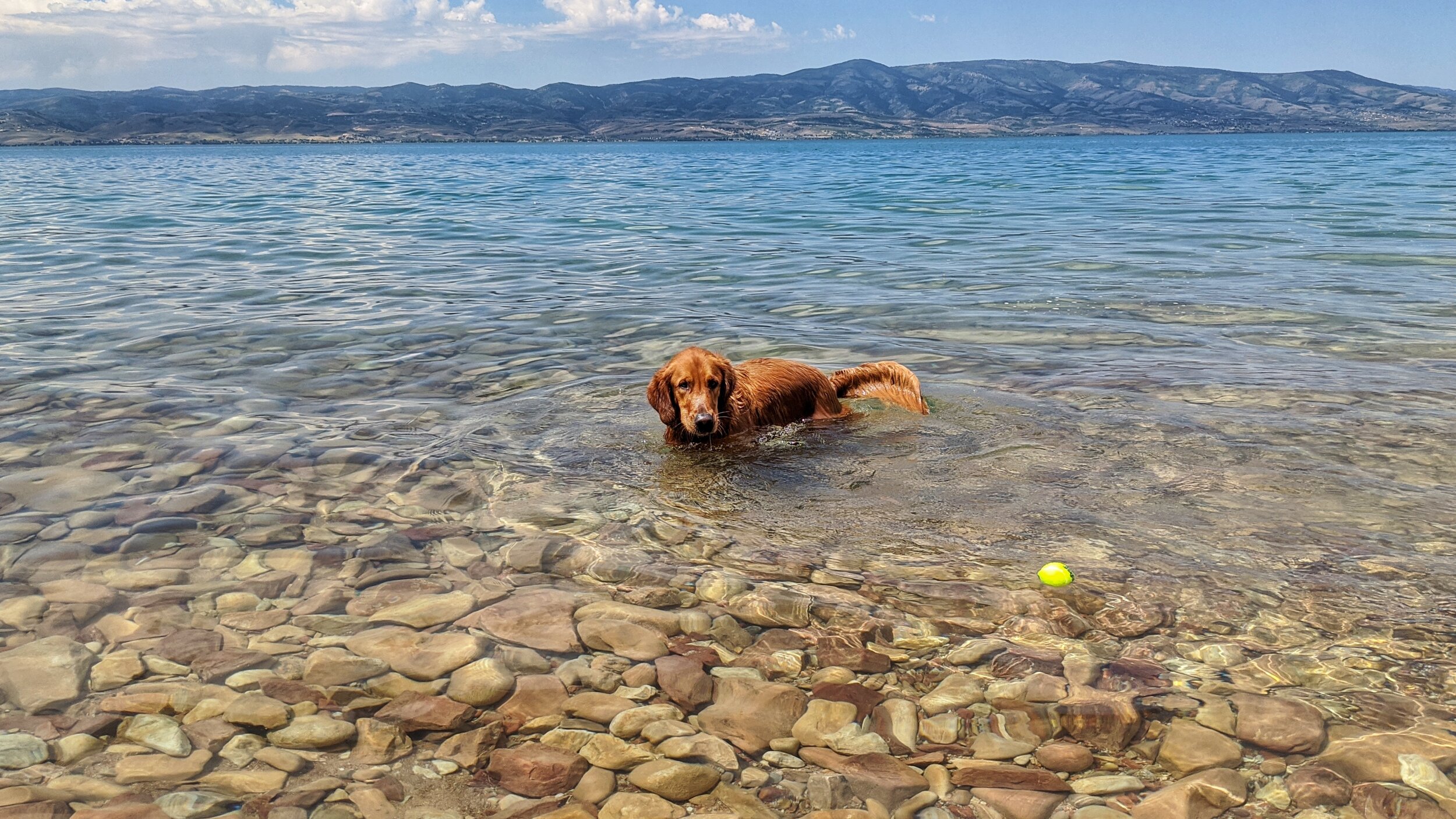 Swimming
Which beaches at Bear Lake are dog friendly?
The easy answer is anywhere that isn't an established beach. Unfortunately neither Utah nor Idaho allow dogs to utilize established beaches unless explicitly marked. One thing that Bear Lake is great at is signage- each is labeled with appropriate signage that addresses dogs. You can find this signage near the entrance to every beach and designated recreation area. Your best best is the Utah side of the lake, particularly on the east side along North Cisco Road. Keep an eye for a pull out to park in where you can walk down to the water. You may have some luck along Highway 30 as you drive toward Laketown but those areas are often crowded with people.
Are dogs allowed at Rendezvous Beach?
Dogs are NOT allowed at the popular Rendezvous and North Beaches.
Restaurants
There are a few dog friendly restaurant options near Bear Lake if you need to dine out with your pup. Garden City, Utah has several restaurants with outdoor spaces that will allow dogs.
Crepes and Coffee
In addition to the obvious coffee and crepes, you can indulge in things like gelato, paninis, and salads. They often have live music in the evenings. MENU
Cody's Castro Garage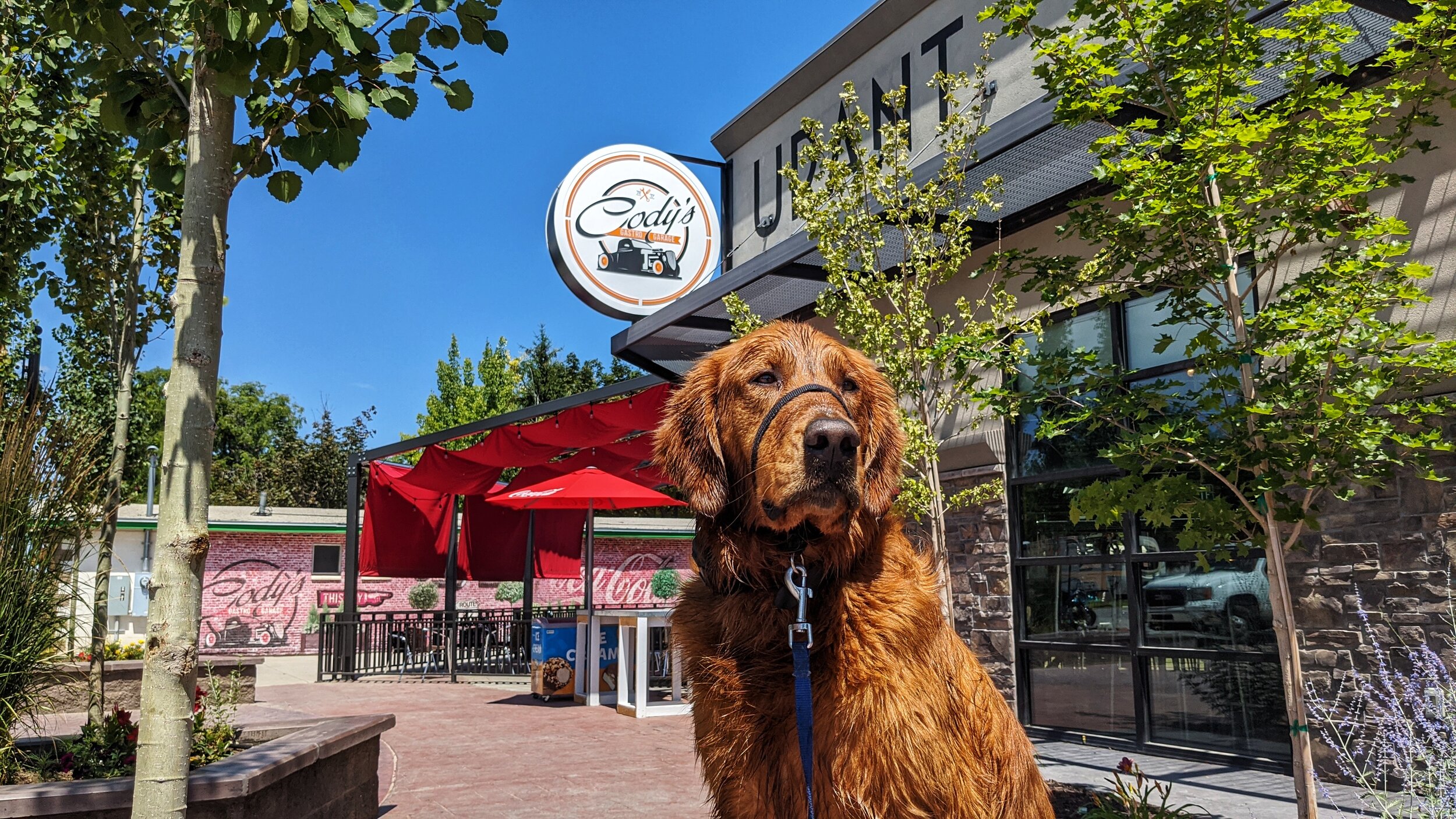 Located right on the main drag of Garden City, Cody's offers classic American fare for breakfast, lunch, and dinner. This is the best option if you want sit down meal service. MENU
Ephraim's Restaurant
This open air restaurant right on the corner of Highway 89 and Bear Lake Rd focuses on traditional American food like hamburgers and fries. MENU
Ruca's
Though they offer a variety of waffles, sandwiches, and salads, Ruca's is most known for their Æbelskivers- a fluffy Danish pancake ball. Their lawn patio is perfect for dogs. MENU
Vacation Rentals
Dog friendly cabin in the heart of it all
3 bedroom | 1.5 bath | Sleeps 14
This dog friendly cabin sits just across from State Marina and is a great option for you and your pup if you want to be in the heart of Garden City. Up to two dogs are allowed to stay at this property and with a lush lawn on site you won't have to go far for bathroom breaks and playtime. Nightly pet fee of $20 per dog applies. Click HERE to see or book this property.
Family Friendly House with Pool
5 bedroom | 4.5 bath | Sleeps 30
This centrally located, spacious family home is a great option for those who value amenities for both humans and pups. With a sizeable backyard, firepit, and indoor pool, everyone is sure to have a great time during this stay. Up to four dogs can stay at this property and a $20 per dog nightly fee applies. Click HERE to see or book this property!
Hillside home with a view
2 bedroom | 1 bath | Sleeps 8
Enjoy sweeping view of Bear Lake in this dog friendly cabin with large decks and private hot tub with pergola. The large yard is the perfect place for your pup to run and take bathroom breaks. There is a $100 per stay non-refundable pet fee. Click HERE to see or book this property.
Two level townhome
3 bedroom | 3.5 bath | Sleeps 9
Located just off of Highway 89 with easy access to State Marina is this bright, dog friendly two level town home. Featuring a cozy fireplace and access to community amenities like a hot tub, pool, and tennis courts, the humans will love this place just as much as the dogs. The lower level french doors lead to a quaint patio and grass where your dog can easily use the restroom. A maximum of two pets are allowed at this property and a nightly pet fee applies. Click HERE to view or book this property.
Luxury yurt
2 bedroom | 1.5 bath | Sleeps 12
Sitting on a 10 acre plot of land with sweeping views of Bear Lake, this luxury yurt complex is heaven for both humans and dogs alike. These brand new yurts will buck every stereotype you've had of staying in a yurt. With large full kitchens, an outdoor fire pit, and free two hour paddleboard rental, the amenities at the OsoBlu complex go above and beyond. A one time pet fee is required. Click HERE to view or book this property.
Quaint House With Walkable Location
2 bedroom | 1 bath | Sleeps 10
If access is important to you, this cute house in the heart of Garden City is within walking distance to most restaurants and the beach. Two separate patio spaces and private yard provides a great place to hang outdoors with your dog. A maximum of one dog can join with a nightly pet fee. Click HERE to view or book this property.
Camping
Camping at Bear Lake with your dog is a great budget friendly way to take advantage of everything the area has to offer. With the lake spanning the border of Utah and Idaho, you and your dog can choose either state to stay and play in.
Bear Lake KOA
If family friendliness is important to you, there is no better place to camp than the Bear Lake KOA. Located in the heart of Garden City, the campground features an impressive amount of amenities including mini golf, shuffle board, bike rentals, and more. Your dog will be thrilled to know the KOA has a small, fenced dog park to play in. Bear Lake KOA is nearly all dog friendly and offers tent camping spaces, RV spots, and cabins (not all cabins are dog friendly- check details before booking). Click HERE to check out the sites and see pricing.
Bear Lake State Park- Utah
Nearly all of Bear Lake State Park's 150+ camp sites are dog friendly. Spanning the southern half of the lake, you'll find a variety of options including tent camping, primitive camping, and RV spots. Though some camp sites are adjacent to beaches, dog are still not allowed on developed beaches and must be kept on a 6 foot leash in the campground. Click HERE to view campgrounds and make a reservation.
Bear Lake State Park- Idaho
Although they have fewer options than their identically named counterpart down south, Bear Lake State Park in Idaho also allows dogs at their campgrounds. Similar to Utah, dogs must be leashed in the campground and are not allowed on established beaches. This campground has a variety of sites including tent spaces and RV spots. Click HERE to view campgrounds and make a reservation.
Boat Rentals
Epic Recreation
It's pretty likely that if you're at Bear Lake for a weekend that you may want to include some time out on the water. Epic Recreation rents out a variety of speed boats and pontoon boats in 4, 6, and 8 hour increments. Dogs are allowed on their rental boats, however they must be kept on the floor of the watercraft- no dogs on the seats of the boat!
We strongly advise that your dog wears a life jacket while on open water. The Ruffwear Float Coat is our favorite for its bright visibility, durable construction, and easy grab handle. Click HERE to shop.
Happy recreating!
This post contains affiliate links which result in Dog Friendly SLC making a small commission. By shopping products we recommend, you ensure that we can keep finding dog friendly places in Salt Lake City and northern Utah. We appreciate your support!