There's something about beers and dogs that just seems to go well together. Fortunately Salt Lake City's growing craft brewing scene agrees and several breweries have dog friendly patios! Pair it with the Salt Lake City Brewery Mobile Pass to save some money while enjoying a pint with your pup.
Breweries have a reputation for being a place to chill out with friends, so ensure your dog is ready for that type of environment by practicing down/stay commands in busy places. Several local breweries have pads for your pup to lay on, but consider bringing a familiar spot to place on if your dog has trouble getting settled.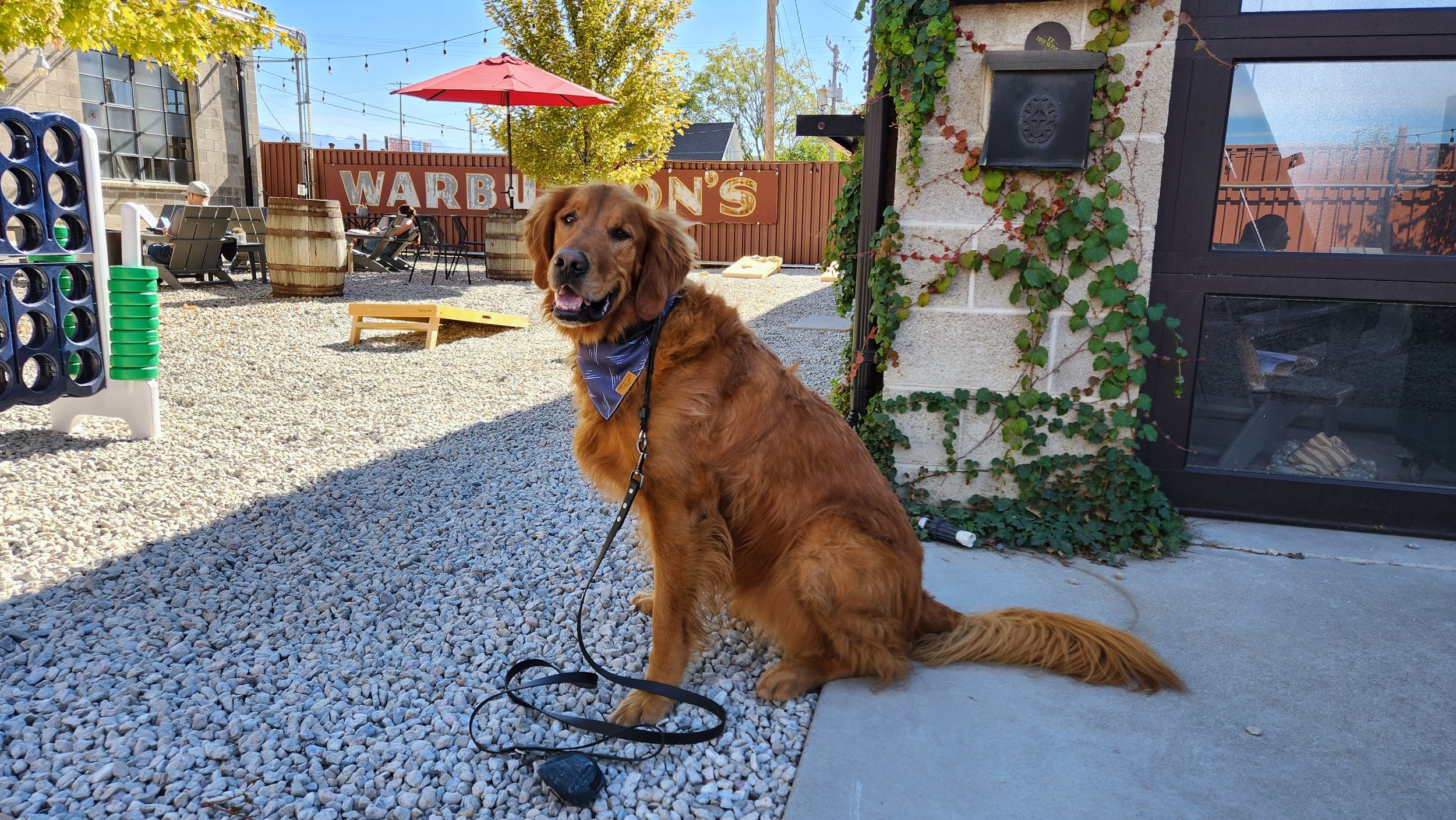 TF Brewing | 936 S 300 W, Salt Lake City, UT | Website
Templin Family Brewing, more commonly known as TF Brewing or just "TF" to the locals, is one of Salt Lake's newest breweries. Established in 2018, TF Brewing is known for their wildly popular German style beers and upon opening immediately began welcoming dogs on their large, enclosed patio. Their outdoor space features stylish bench tables, adirondack chairs, corn hole, and four fire pits for chillier days. While TF does not serve food on its own accord, you can count on there almost always being a food truck on site! Dogs must have current rabies tag for entry.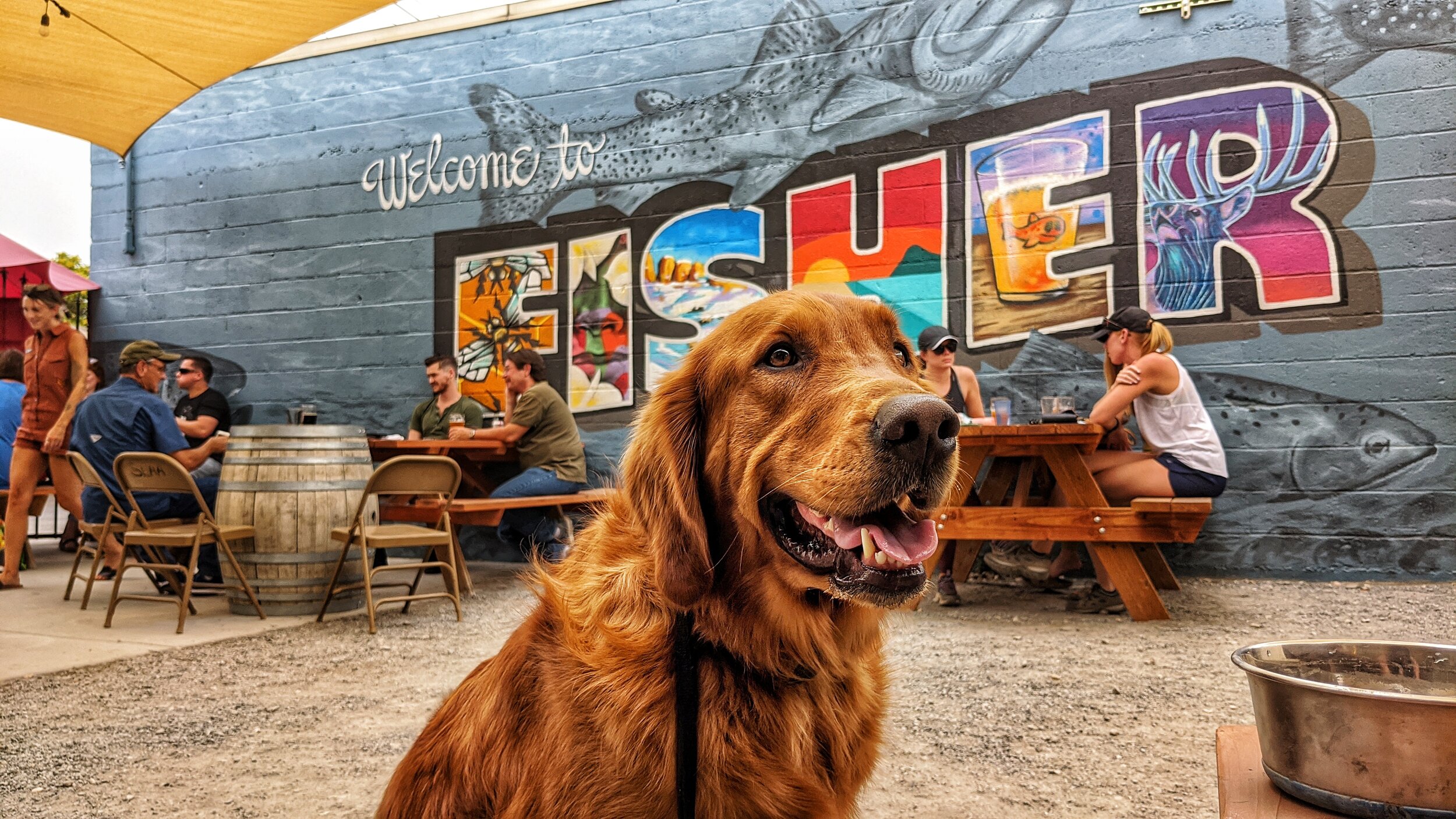 Fisher Brewing | 320 W 800 S, Salt Lake City, UT | Website
Perhaps the most well-known brewery in the Granary District, Fisher Brewing has developed a loyal following in Salt Lake. Known for their consistently rotating taps, fun merchandise, and community focused approach, Fisher is also friendly to the pups. While their patio is not exceedingly large, it is dog friendly and offers shade in the summer and heat in the winter. With the majority of seating being picnic tables it is likely you will share with another party so be sure your dog is equipped to handle that. Stick your head inside the front door to let them know you have your pup with you and they will come let you in the side gate!
Uinta Brewing | 1722 S Fremont Dr, Salt Lake City, UT | Website
As the largest brewer in Utah, it's only right that Uinta Brewing loves dogs. They've long been supporters of many dog initiatives and the Humane Society of Utah. Located just west of Salt Lake City, their Brewhouse Pub has a moderately sized, fenced patio that is dog friendly. Uinta not only offers their amazing beer selection, but also a full menu of delicious food provided by Nomad Eatery. If sustainability is your thing, you can also feel good knowing this brewery is 100% earth powered.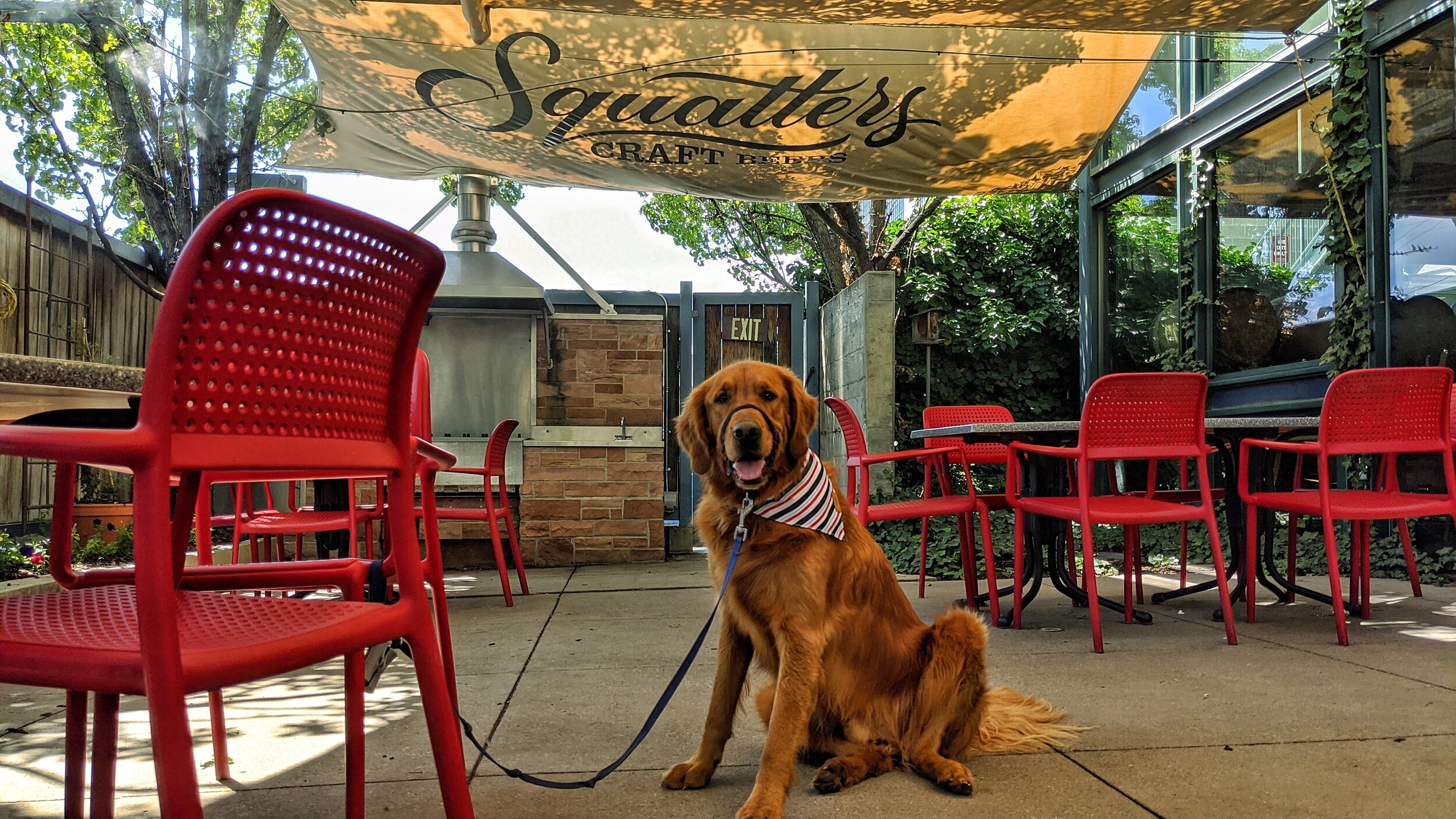 Squatters | Downtown, 147 Broadway, Salt Lake City, UT | Website
Squatters is one brewery that is certainly synonymous with Salt Lake City. Their downtown location opened in 1989 and has been brewing some of Utah's most popular beers since then! They are part of the Salt Lake Brewing Company, which operates five different brewpubs across the area. Their full service restaurant ensures you will eat well in addition to drinking well. A long supporter of the dog community, Squatters Chasing Tail Golden Ale pairs with their annual Chasing Tail run downtown!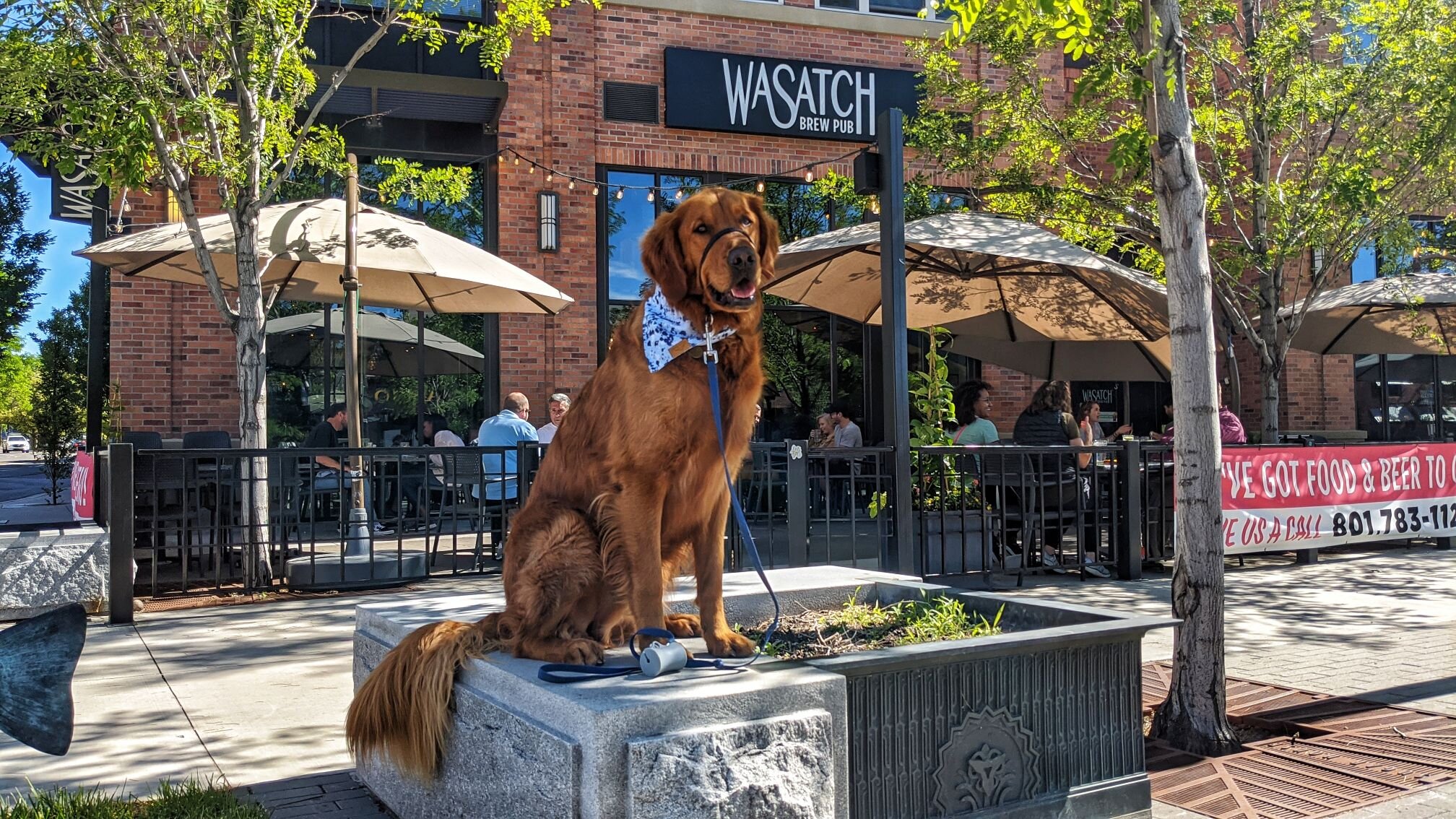 Wasatch Brewing | 2110 Highland Dr, Salt Lake City, UT | Website
Wasatch is another arm of the Salt Lake Brewing Company. Established in 1986, Wasatch touts themselves as the first brewery in Utah. They operate both a Salt Lake City and Park City brew pub- each with a dog friendly patio! With a full service menu, Wasatch's shaded patios are a great option for brews and food with your pup. Plus, being in the heart of Sugarhouse and on Park City Main Street, there are plenty of great nearby activities!
Roosters Brewing | 2325 B Ave, Ogden, UT | Website
Roosters Brewing holds the title for first dog friendly brewery in the northern Salt Lake metro area. Although Roosters has multiple locations, only the B Street patio is dog friendly. These guys have long been dog advocates and led the charge with the Weber County Health Department to add a dog variance to their ordinances. Their fenced patio features picnic tables with umbrellas for shade. Note that this location is registered as a bar and is thus only for patrons who are 21+.
Grid City Beer Works | 333 W 2100 S, Salt Lake City, UT | Website
Grid City Beer Works has made a splash as a newcomer on the Salt Lake City beer scene. Their cream, pale, and brown ales can all be ordered 3 ways- nitro, CO2, or cask. Grid City also boasts the first dog friendly rooftop patio in the area with plenty of shade, small dog friendly touches like water and leash hooks, and stunning views of the Wasatch front. The menu features elevated pub classics and a significant number of vegetarian and vegan options. Be sure to check their Instagram stories for the latest updates, but the rooftop is typically only open Friday through Sunday until peak summer when it opens 7 days per week.
Mountain West Cider (TEMPORARILY CLOSED) | 425 N 400 W, Salt Lake City, UT | Website
We're totally counting Mountain West Cider's amazing local cidery as part of this list! Their hard ciders feature only ingredients from the mountain west region, making this a true local brew. Their large patio known as The Garten welcomes pups 7 days per week. You can also find near daily specials and live music! This patio is expected to be closed throughout the 2023 season as they undergo a significant renovation.
Ogden Beer Company | 358 Park Blvd, Ogden, UT | Website
Fairly new to the scene, Ogden Beer Company focuses on producing sustainable brews while also offering a full bar and food menu 7 days a week. There is something for everyone, with menu items ranging from nachos to filet mignon. Their large riverside patio has great ambiance and is family friendly, in addition to being dog friendly! Located along the Ogden River and the 17 mile Ogden River Parkway, finish your visit with a walk and quick dip of the paws in the river.
Shades Brewing | 154 West Utopia Ave, South Salt Lake, UT | Website
Not to be confused with their Shades on State location, the dog friendly Shades Brewing Tap Room sits in the heart of South Salt Lake. Shades Brewing self describes as "unorthodox." Expect unique ingredients in their IPA and Belgian style beers. They even have a line of hard seltzers if that's more your thing! Their fully enclosed, shaded patio with faux turf is perfect to enjoy a pint with your pup. No food is served on site, but feel free to bring something with you to enjoy.
Red Rock Brewing | 6227 State Street #10, Murray, UT | Website
A Utah staple, Red Rock Brewing has been producing creative local beers for 25 years now. In addition to beer, they offer a slightly upscale take on traditional pub food. With salads, pizza, pasta, and a variety of entrees, there's sure to be something that appeals to just about everyone in your party. While Red Rock Brewing has several established locations around the area, only the Murray and Park City locations welcome dogs on the patio.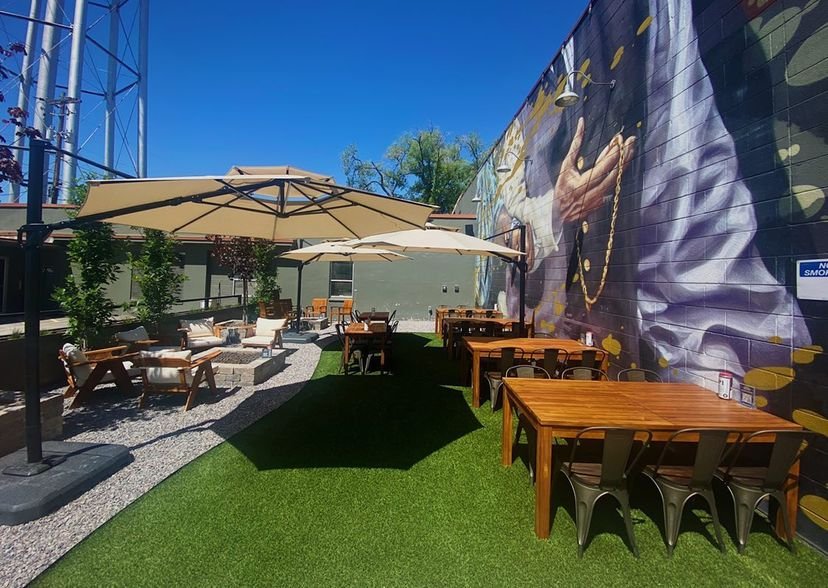 Level Crossing Brewing | 2496 S. West Temple, South Salt Lake City, UT | Website
Level Crossing Brewing prides themselves on being a place for community connections to form over locally brewed pints. Whether you prefer a more traditional table or patio seating around the firepit, there is a space for you. The well appointed patio features gravel and faux turf to ensure your pup's comfort. Large umbrellas provide shade as needed. Their woodfired pizzas pair perfectly with their flavorful craft beers. Level Crossing's dog friendly patio is open year-round with a heated tent in place in colder months.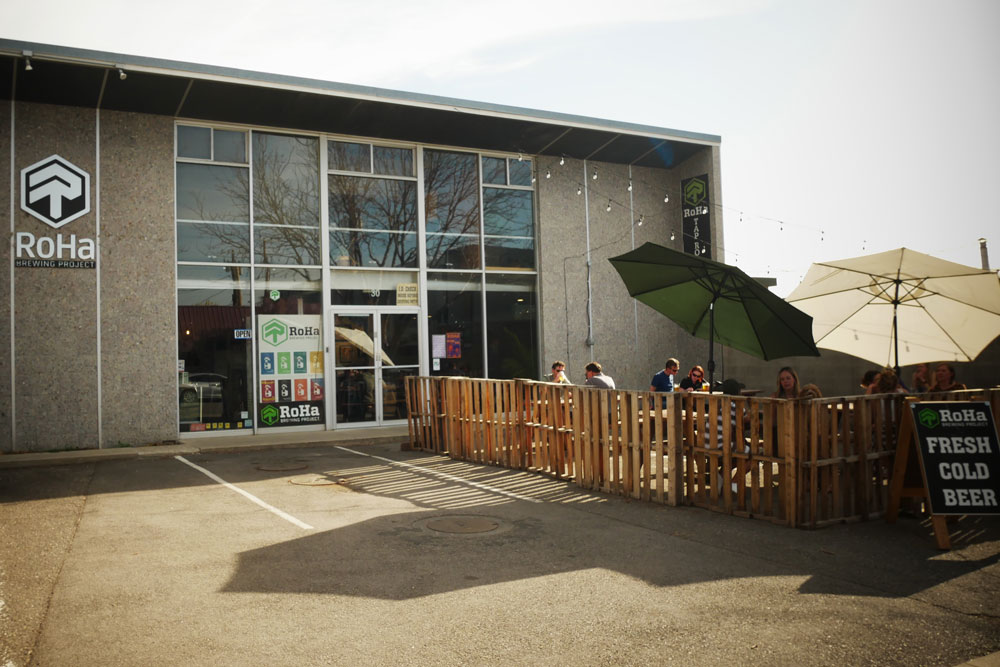 RoHa Brewing Project| 30 Kensington Ave, Salt Lake City, UT | Website
Established in 2017, RoHa Brewing is passionate about their beers. They offer 10 consistent staples complimented by a wide variety of seasonal brews, small batches, and cocktails. Casual is the name of the game and can be seen in their cheeky menu- consisting of Totino's Pizza, grilled cheese, and a soft pretzel. Snag the $5 grilled cheese from 12pm-4pm on Tuesdays and you'll get a second one for free!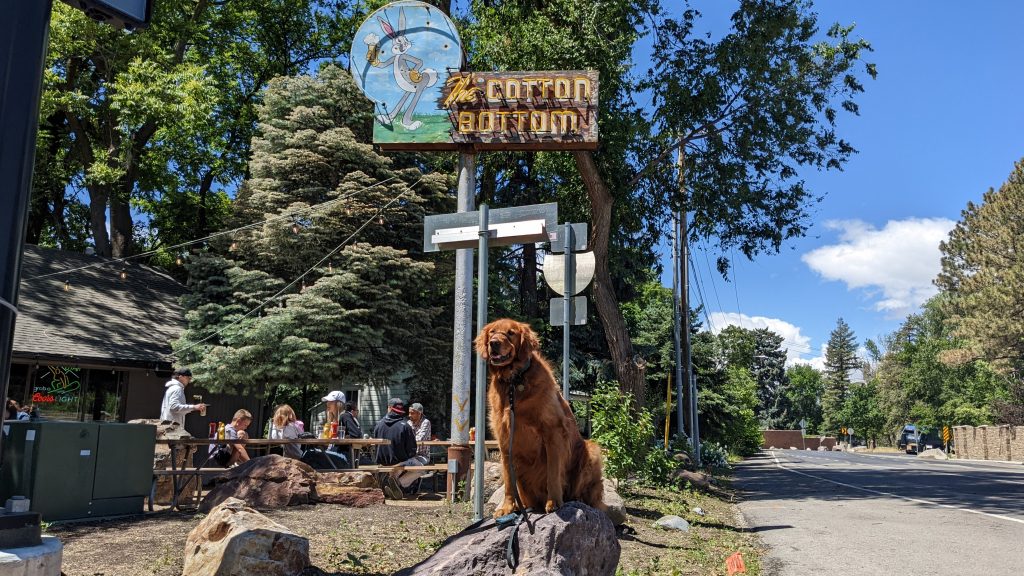 Salt Lake City's Dog Friendly Bars
If you're just looking for a dog friendly bar patio in the Salt Lake area, check out these options: