When you think about getting your dog's energy out, running him or her on a treadmill probably isn't the first thing that comes to mind. Even in the midst of Utah's outdoor paradise, there are reasons to consider indoor exercise on a dog treadmill. When the weather is less than ideal or you simply need something close by, Salt Lake City's dog gyms can still help tire your pup out.
How Dog Treadmills Work
There are several different types of dog treadmills on the market these days. While electric treadmills do exist, Salt Lake City's dog gyms choose a self-propelled treadmill that is called a slat mill. Slat mills feature a rubberized conveyor belt that is 100% powered by your dog, as well as guard rails along the side of the machine and safety bar on top.
Your dog will wear a harness (bring yours if you have one) that clips to both the upper safety bar and to the front of the slat mill. A trainer will then help you guide your dog onto the machine while the brakes are applied. Once your dog feels comfortable standing on the slat mill, the trainer will gently let off the breaks while you coax your dog to walk. Be prepared that it could take multiple sessions for your dog to really get the hang of walking on the treadmill, though some are comfortable in as quickly as 10 minutes.
As always, check with your personal veterinarian to see if exercises like this are appropriate for your dog.
What To Bring To Your Dog Slat Mill Session
There are several things you should have on hand before your dog gets ready to run, stroll, or walk on a dog treadmill. Your dog should arrive already on a leash. If you have a harness that your dog is comfortable wearing, bring it with you. Harnesses with two attachment points, one between the shoulders and one on the chest, work best.
Since the slat mills are self-propelled, some dogs will need a motivator to get them moving forward. Consider bringing high value treats that your pup will work for or a favorite toy that can't be resisted. Having familiar items on hand can help coax a hesitant pup forward on the treadmill.
Lastly, be sure to have fresh water on hand for your dog. Although the trainers will probably have water available, your dog will be tired both during and after the workout session. A portable dog water bottle is our recommendation.
Dog Treadmills Around Salt Lake City, Utah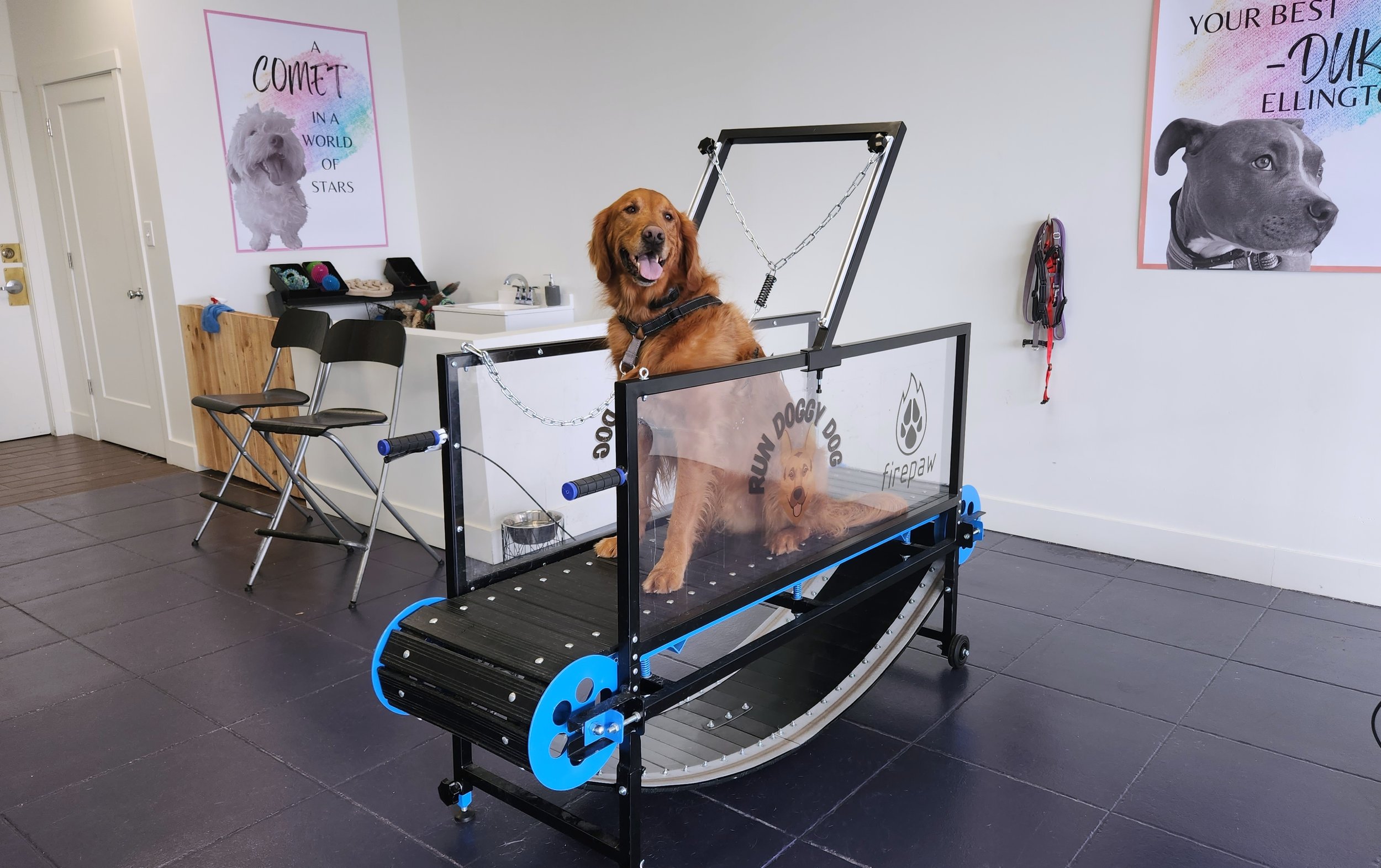 Run Doggy Dog
Located in Riverton, Run Doggy Dog is currently the only dedicated facility for dog slatmills in Salt Lake County. With 5 slatmills available in their facility, you can easily exercise multiple dogs or with a friend. First timers will need to book the Hello session for $20 where your pup can get familiar with the equipment with guidance from a trainer. After your dog is a pro, Run Doggy Dog offers several packages for either single sessions, once a week sessions, or unlimited monthly sessions. It is recommended you bring a harness although they also have harnesses available to borrow. Appointments are required and are available Tuesday through Saturday. Click here to book a session.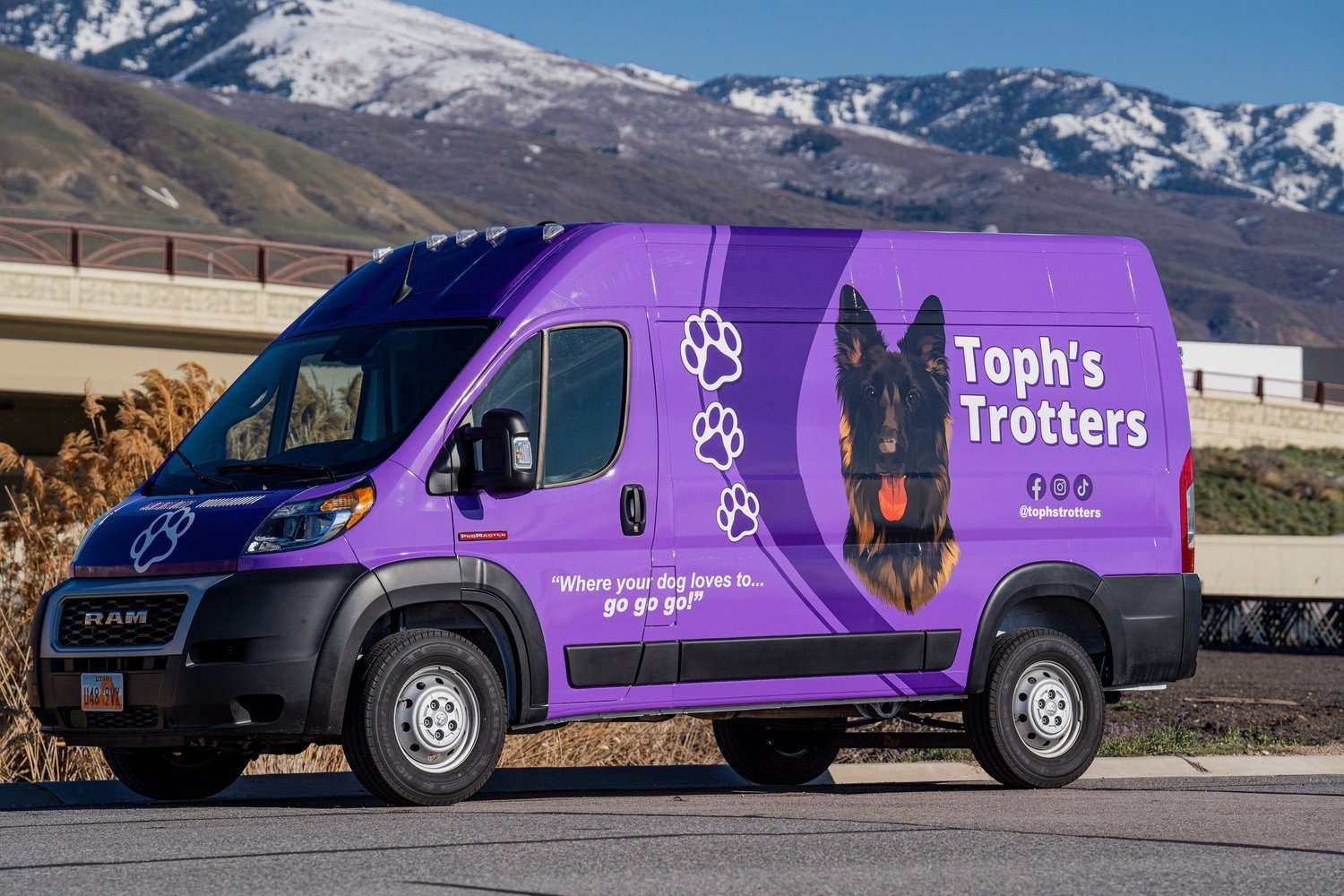 Toph's Trotters
Toph's Trotters is a mobile dog gym that brings their self-propelled slat mills to you. Currently serving Salt Lake, Davis, and Weber Counties, their climate controlled van can accommodate up to two dogs at the same time. Pricing starts at $45 for a single dog run, but Toph's Trotters also offers dual dog runs and runs for 3+ dogs. While it is required that you attend your dog's first session, the insured trainers can stop by to exercise your pup while you are away after that. Bulk pricing is available for those looking to have their dog run regularly. Appointments can be made Monday through Saturday. Click here to book a session.
Buying Your Own Dog Treadmill
If after trying a local dog gym you find that your dog is a natural at running, walking, or trotting, you can consider purchasing a dog treadmill for your own home. Talk with your veterinarian to determine if a self-propelled or electric treadmill would be a better fit for your dog.
---
This post may contain affiliate links which result in Dog Friendly SLC making a small commission. By shopping products we recommend, you ensure that we can keep finding dog friendly places in Salt Lake City and Utah. We appreciate your support!