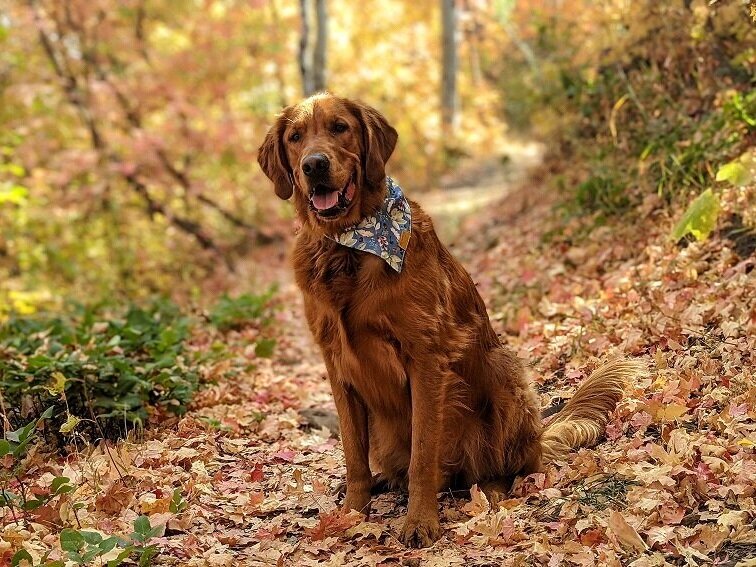 There is no doubt that fall is one of the best seasons to enjoy with your dog in Salt Lake City. A welcome break from the sweltering heat of August, fall is a great time to get back outside into some much more reasonable temperature. It's also jam packed with great events for you and your dog to enjoy. Here are some of our favorite fall things to do with your dog around Salt Lake City!
Visit A Pumpkin Patch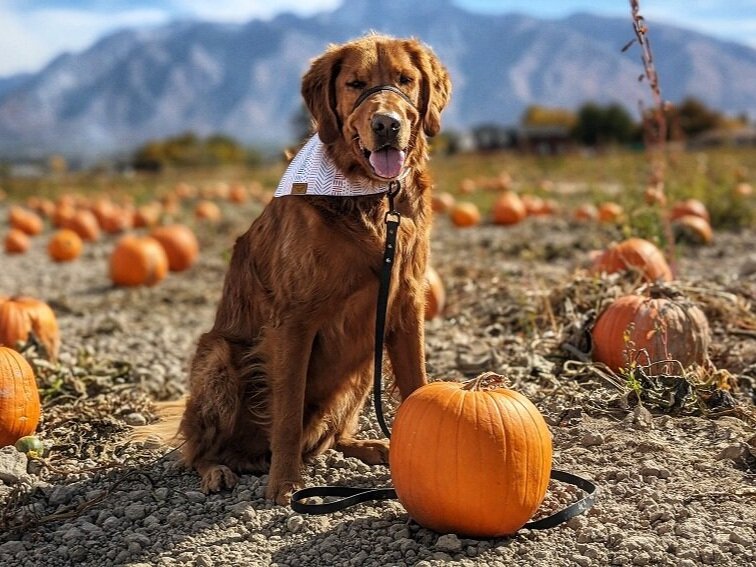 Nothing could say fall more than picking out a pumpkin with your little pup-kin. Take advantage of this unique way to get in your daily walk and take your dog through the pumpkin field as you search for the perfect gourd. Thankfully Salt Lake City and the surrounding areas have several pumpkin patches that will allow your dog to join you. Whether you're there finding the perfect jack-o-lantern or just for the fall photo opp, you and your dog are sure to have a great time. Check out our full list of dog friendly pumpkin patches HERE!
Dog Days in the Maze at Wheeler Farm
Wheeler Historic Farm, a farm turned public park, throws an annual dog friendly fall festival called Dog Days in the Maze! Wheeler Farm is always a great location for photos but it is especially lovely during the fall. The event typically falls in late October and sells out every single year. Dogs are able to find their way through the straw bale maze, trick or treat with the vendors, and enjoy a wagon ride around the park. While there is no official costume contest, dogs and their humans are encouraged to show their Halloween spirit by dressing up. Due to popularity, pre-registration is a must for this event and can be expected to happen around a month prior to the event. Visit our Events page for information on this and other upcoming dog friendly events!
Drive or Hike the Alpine Loop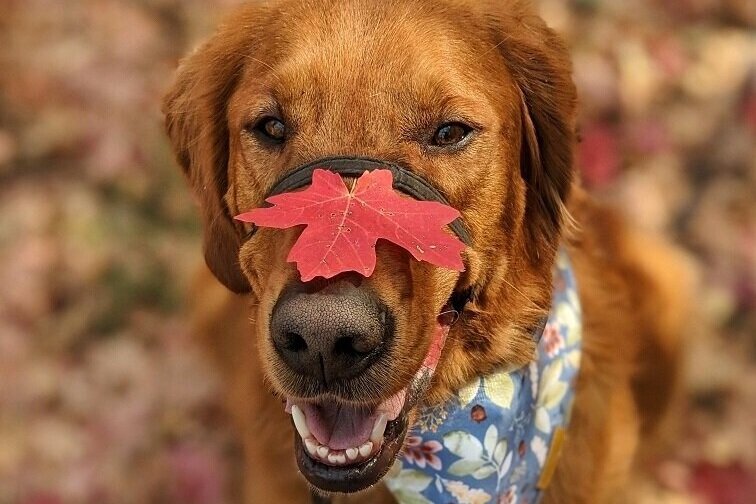 There are undoubtedly many places in Utah's majestic mountains to see great fall colors, but the Alpine Loop Scenic Byway trumps them all in our opinion. The Alpine Loop follows Utah State Route 92, primarily through American Fork Canyon and some of Provo Canyon, and is usually open through late October. Filled to the brim with gorgeous aspens and an amazing view of Mount Timpanogos, you will find an abundance of fall colors here. You can drive the 20 mile scenic byway for free if you let the fee station know you are just driving through. If you are planning to hike, expect to pay a $6 use fee or use your America the Beautiful national parks pass. You can also consider stopping at Sundance Mountain Resort, where you can take in the beautiful dog friendly scenery, or at Tibble Fork Reservoir for a quick dog friendly swim. Some popular dog friendly hikes along the Alpine Loop include Stewart Falls, Scout Falls, and Silver Lake. Be sure to keep an eye out for moose!
Enjoy the Corn Maze at Cross E Ranch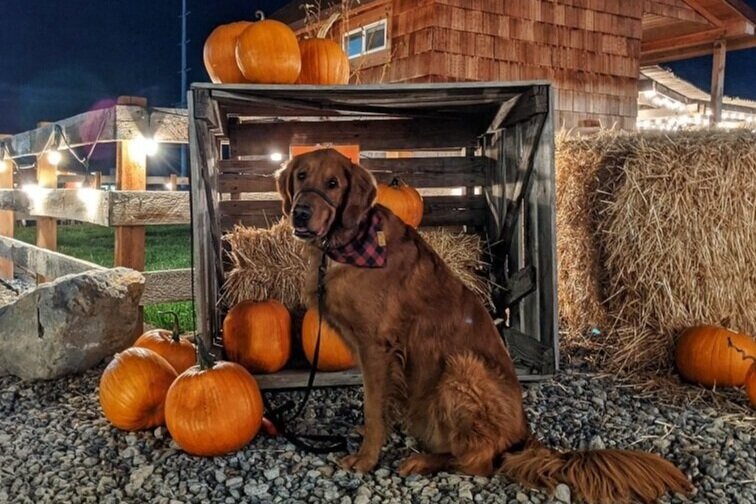 Your dog is probably the only one who hopes it takes forever to get out of Cross E Ranch's corn maze! Corn mazes are a fall staple but Cross E Ranch's Fall Festival offers way more than just a maze- hang out with the farm animals, eat delicious food, take a hayride (yes, with your pup), and more! This year's Fall Festival runs from September 23rd to October 29th. Tickets will set you back $16-19, depending on the date and time, and must be reserved in advance online. Because this is a working farm, Cross E Ranch recommends close toed shoes, bug spray, and wagons in lieu of strollers. Although you can bring your own picnic inside, Cross E Ranch offers delicious food including hand dipped corn dogs, apple cider donuts, and caramel apples (to name a few).
Beers by the Fire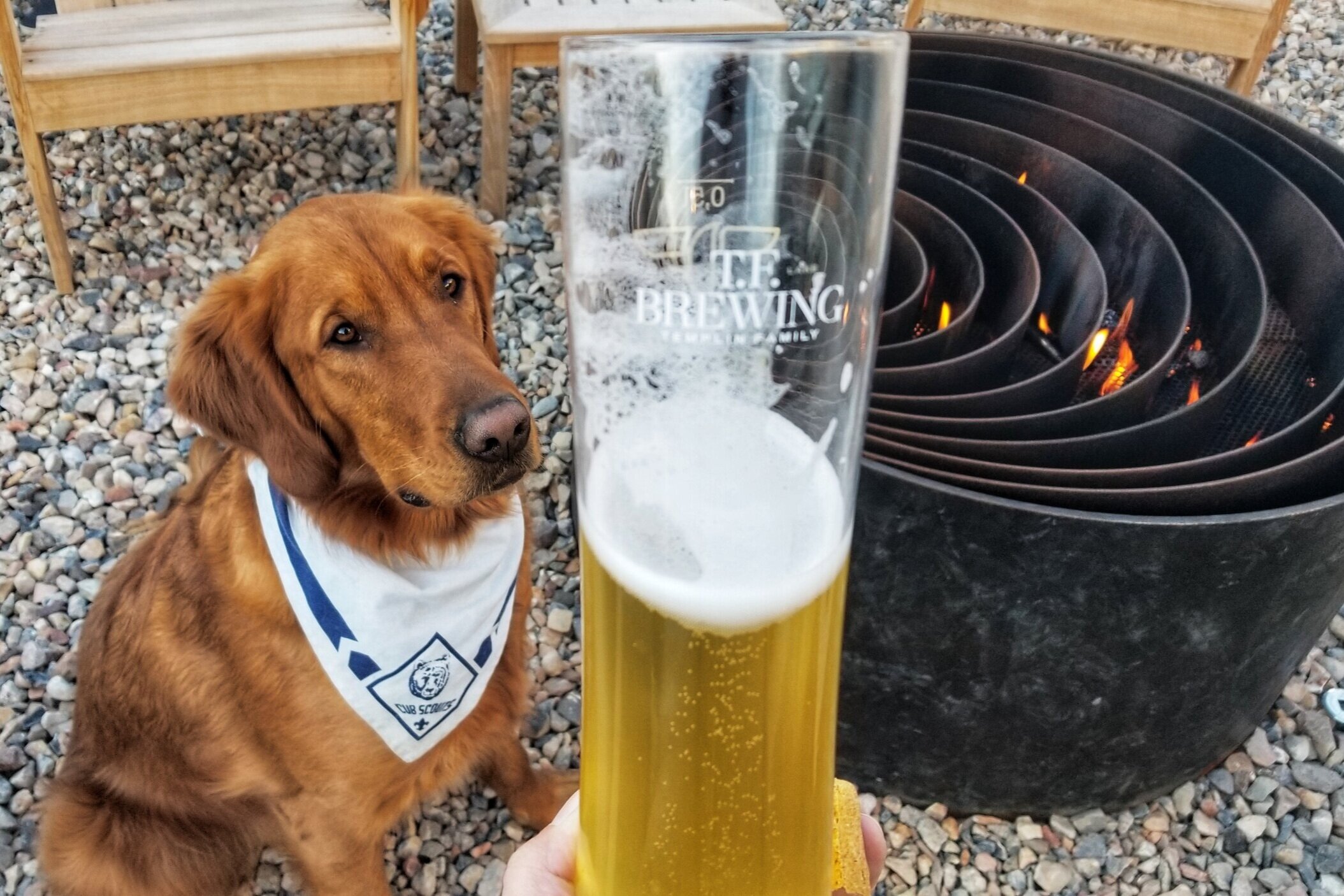 While patio season will be winding down, there is still a great opportunity to enjoy some pints with your pup during the cooler weather. TF Brewing, Handlebar SLC, and Campfire Lounge all offer dog friendly patios with fire pits. Huddle around the fire, eat some snacks, and enjoy a beer with your dog regardless of the temperature. Be sure to have your rabies and city license tag on your dog's collar. Don't forget to check out our entire list of dog friendly restaurants and breweries!
Strut Your Mutt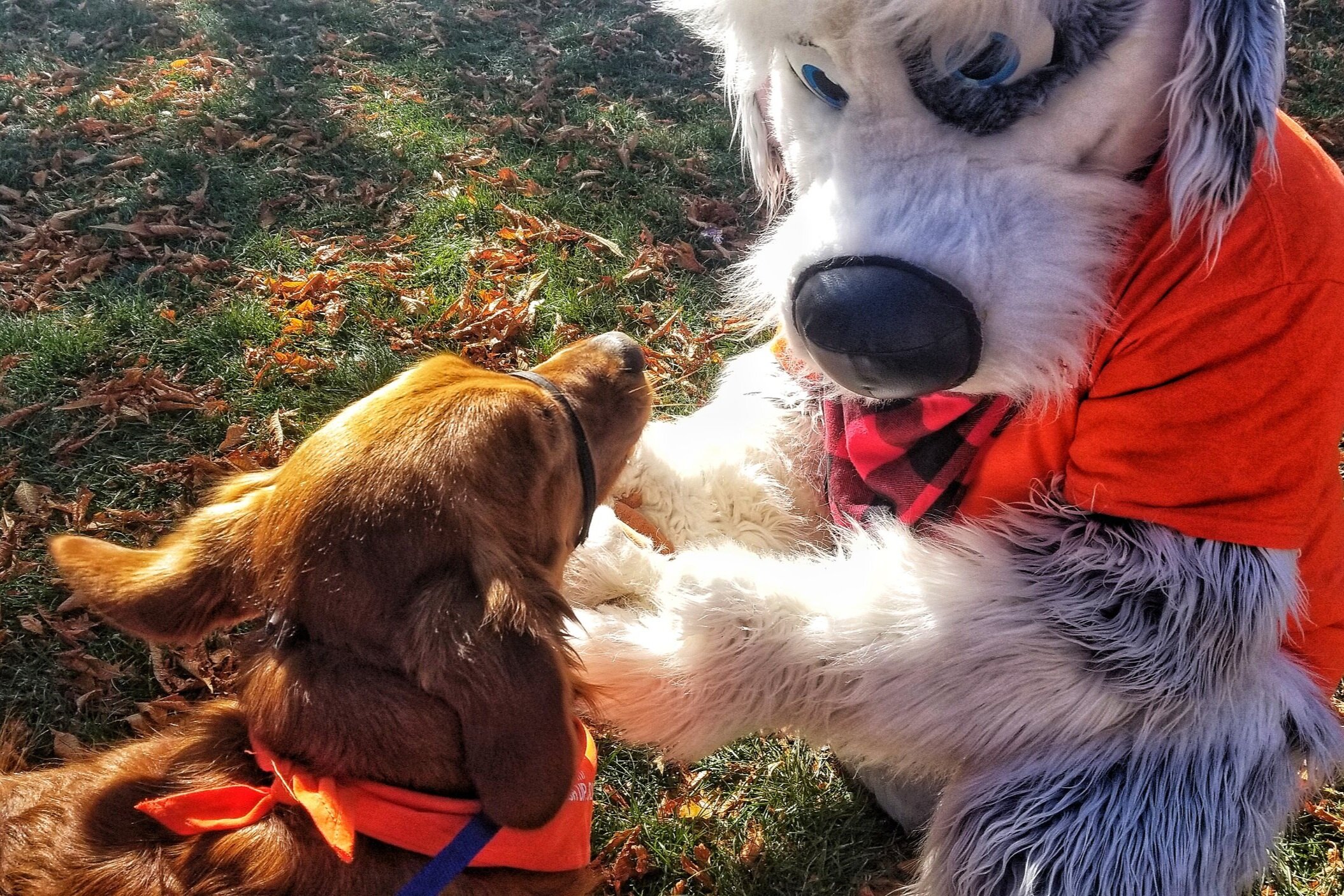 An annual event that benefits Utah-based Best Friends Animal Society, Strut Your Mutt is a one and a half mile fundraising walk around Liberty Park. Typically held every mid-October, Strut Your Mutt is an afternoon filled with with fun with many vendors, food trucks, photo booths, and dog friendly activities. It is probably the largest dog event held in Salt Lake City each year and benefits a great cause! This year's event is October 15th from 9am to Noon. Join a team or create your own online!
Soak in Hot Springs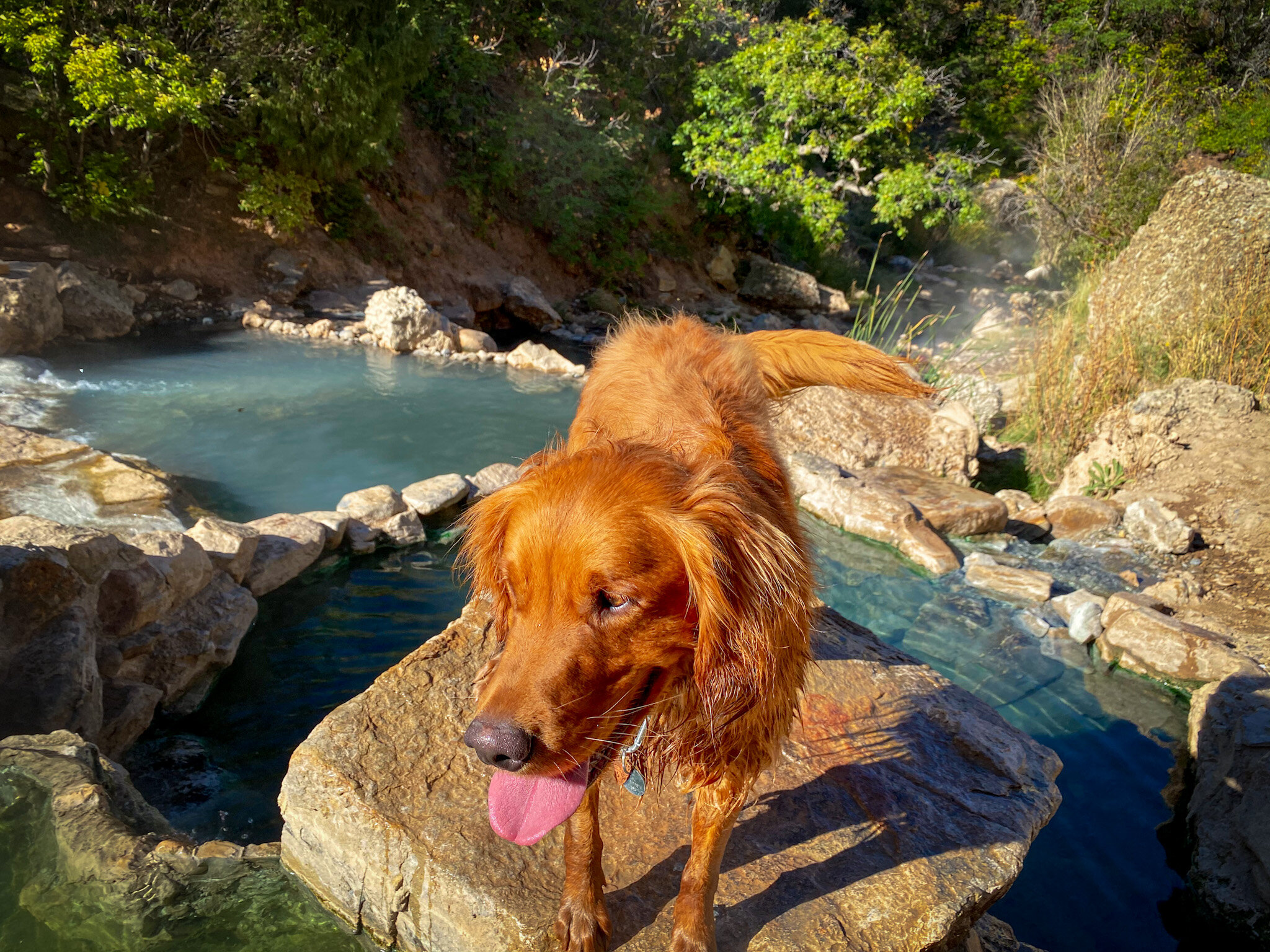 Fall in the perfect time to soak in one of Utah's many hot springs! The crisp fall air makes the soak feel great without the likelihood of having to trek through mountain snow. While your pup should probably not get in a hot spring, to avoid burns and hypothermia once out, it's still a great adventure opportunity for you both. Several hot springs around Utah will let your dog chill out on the side of the spring. One of the most notable is Fifth Water Hot Springs (also known as Diamond Fork Hot Springs), a 4.5 mile out and back trail located about an hour from Salt Lake City. Check out our list of 5 dog friendly hot springs for this fall and winter!
Be sure to keep an eye on our Events page for any upcoming fall events!