If you've spent any time around Utah or Salt Lake City, you know that watersheds are a huge thing that can limit where your dog can swim. In addition to finding dog friendly places to swim, many Utahns are also on the hunt for places they can safely canoe, kayak, paddle board, etc. with their dog. These are our picks for the top dog friendly lakes, reservoirs, and other bodies of water near Salt Lake City, Utah.
Dog Lake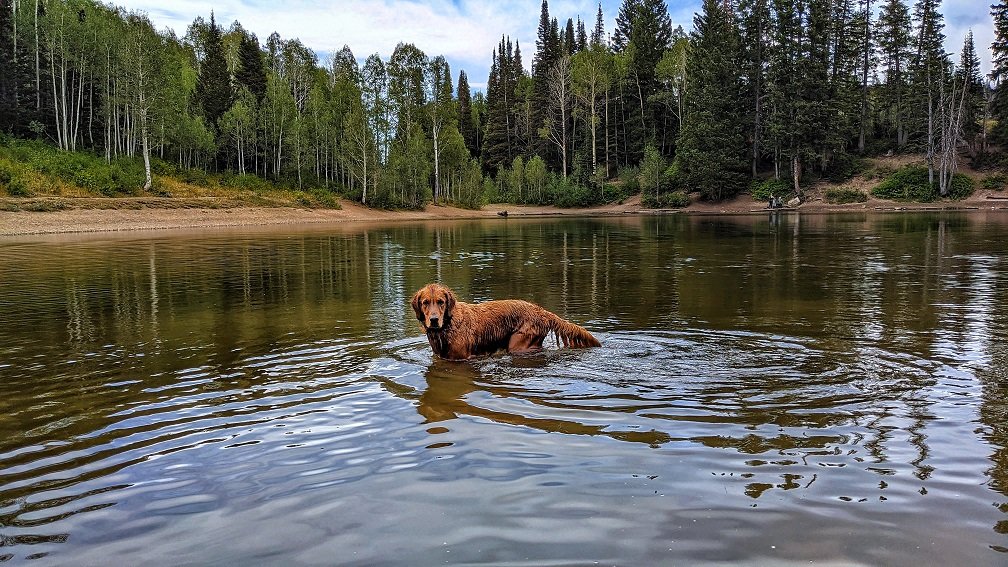 As the name indicates, Dog Lake is one of the most popular local lakes for dogs. Located at the top of Millcreek Canyon, dogs are able to access this lake via Big Water (5.2 miles) or Little Water (3.5 miles) Trails any day but are allowed to be off leash on odd days of the month. Most people only access this lake between July and October due to snow levels. Because of the hike in, you are unlikely to see anyone using this lake for recreation but it's a great place to take a break and let the dogs swim.
Causey Reservoir
Located due east of Ogden, Causey Reservoir is a dog friendly reservoir in Weber County. Spanning approximately 142 acres, this alpine lake is ideal for kayaking or stand up paddle boarding with your dog since no motorized boats are allowed. Driving distance from Salt Lake is about one hour, making it the perfect day escape for you and your pup.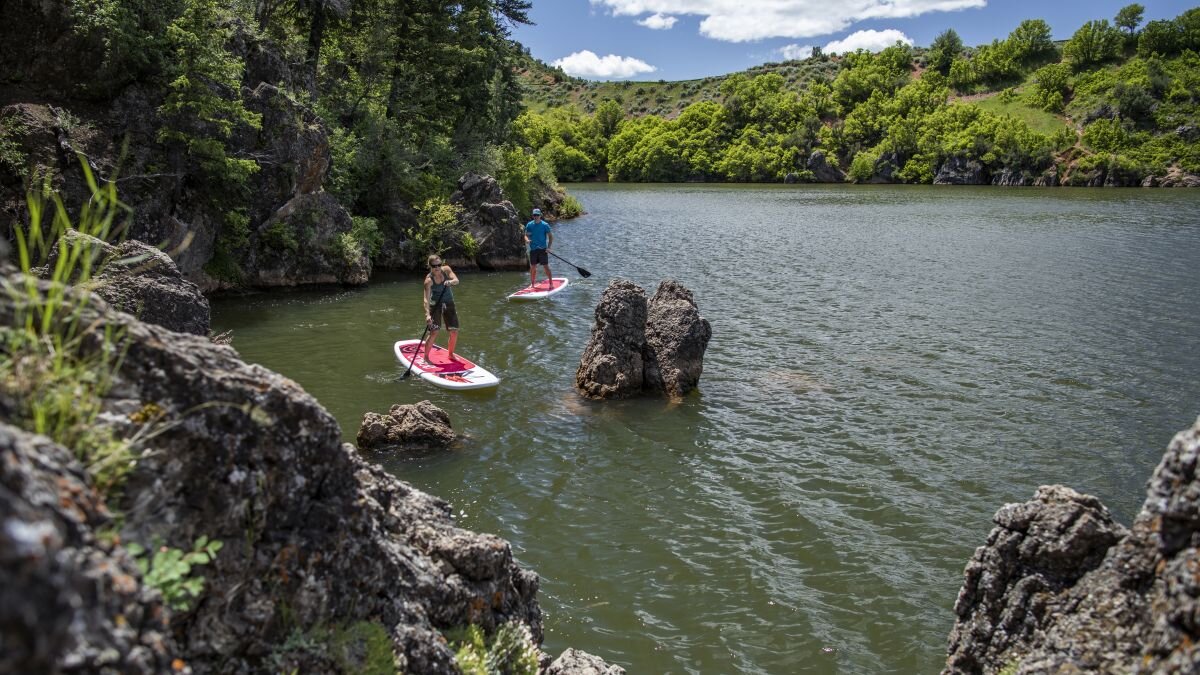 Pineview Reservoir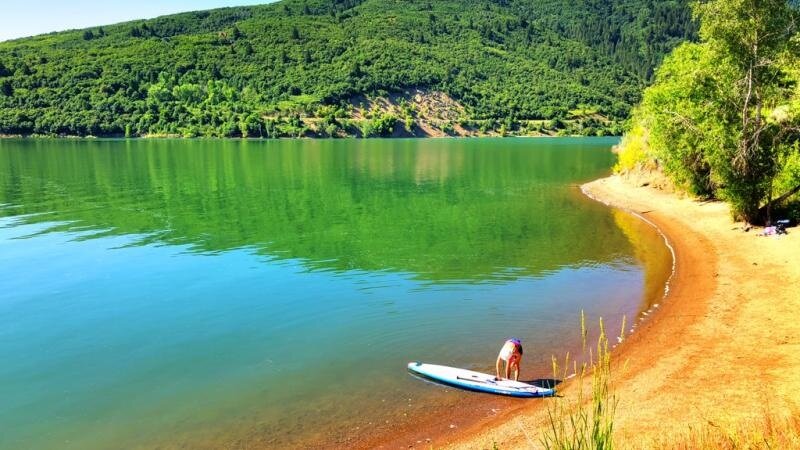 Sitting on the opposite side of the Wasatch front from Ogden, not far from Causey, is Pineview Reservoir. As one of the busiest reservoirs in Utah, you may find this isn't the most ideal location for your dog to swim. Dogs are welcome anywhere along the shoreline except the beaches at Cemetery Point, Middle Inlet, or Anderson Cove, which are considered "improved fee areas". Dogs are allowed at Spring Creek, Windsurfer Beach, North Arm, and any other publicly accessible area.
Mirror Lake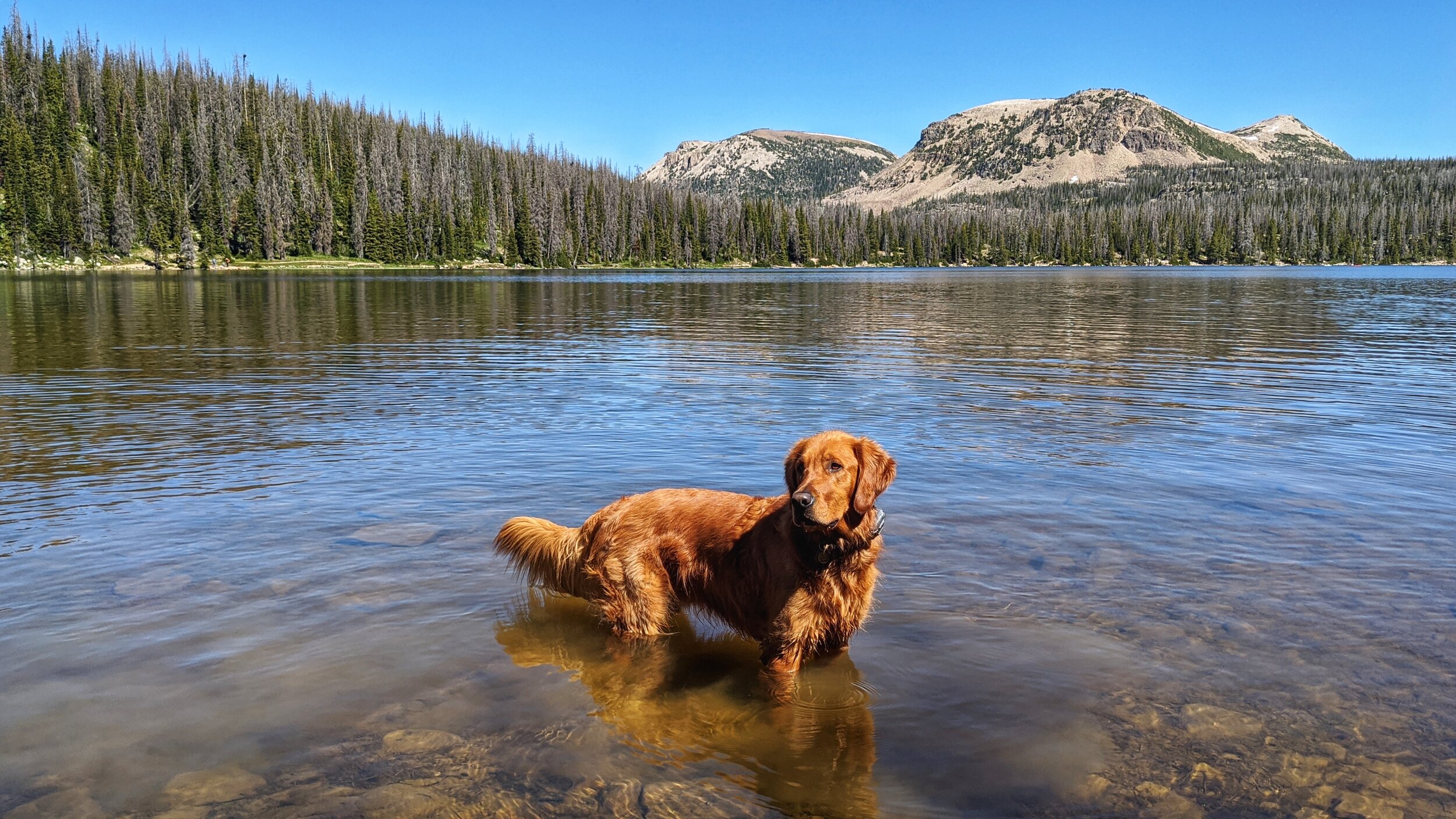 Mirror Lake is a popular recreation lake in the Uinta Mountains. Dogs are welcome to swim in the lake but you may have to compete for shoreline access with day users, campers, and fishers. At just over 10,000 feet elevation, this lake is typically only accessible from approximately July to September, depending on snow levels. The 1.5 mile lakeside trail is a great walk to find the best swimming spot. Go early in the day to ensure you can find parking.
Bear Lake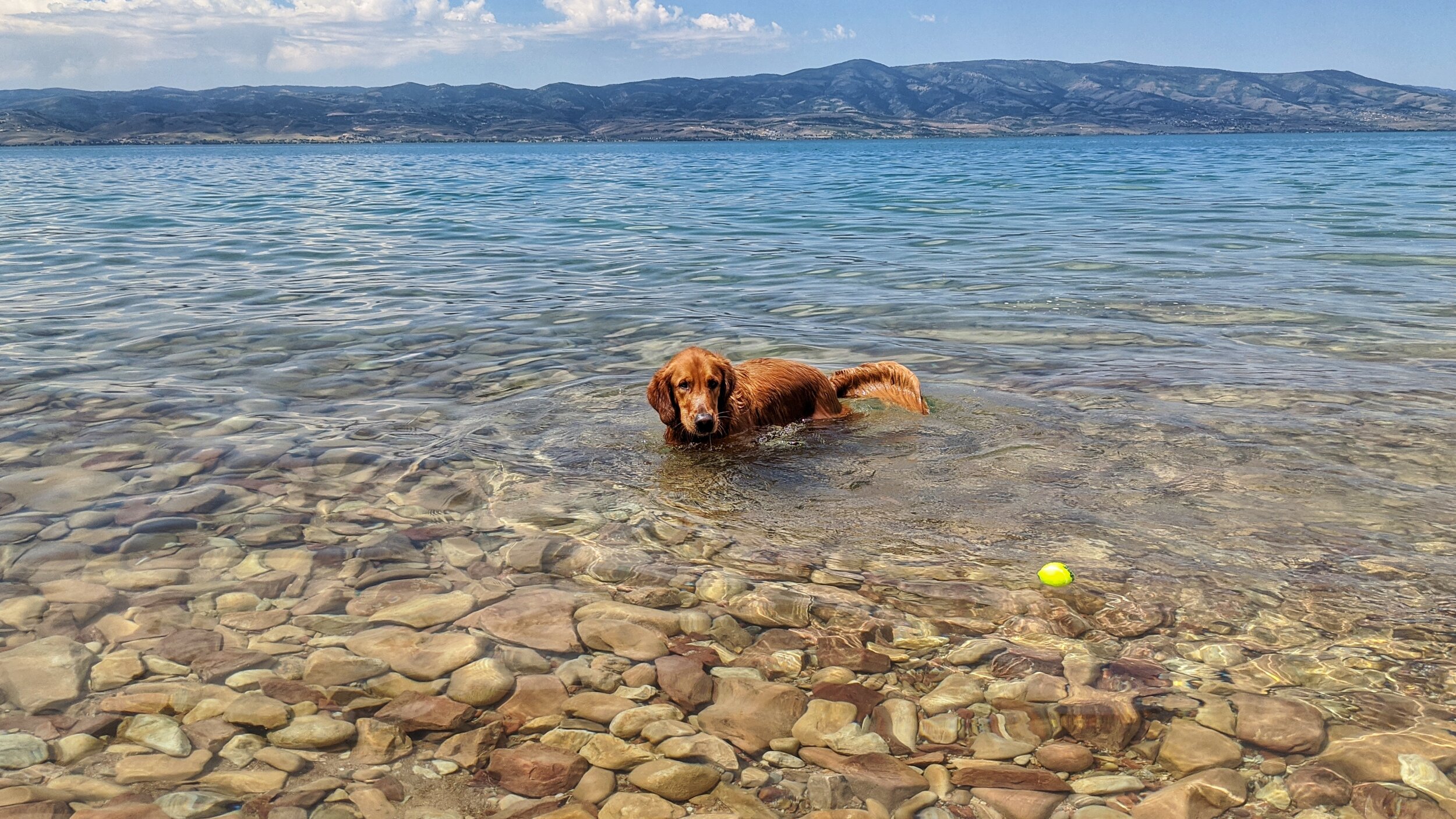 Also known as the Caribbean of the Rockies, Bear Lake spans the Utah/Idaho border and is a popular vacation spot with Utahns. Dogs are able to swim in the clear waters of Bear Lake anywhere except developed beaches. Easiest place to find access for your dog is along the eastern side of the Utah half of Bear Lake. There are many pullouts where you can walk down to the shore to let your dog swim!
Click HERE for our full guide to dog friendly Bear Lake!
Tibble Fork Reservoir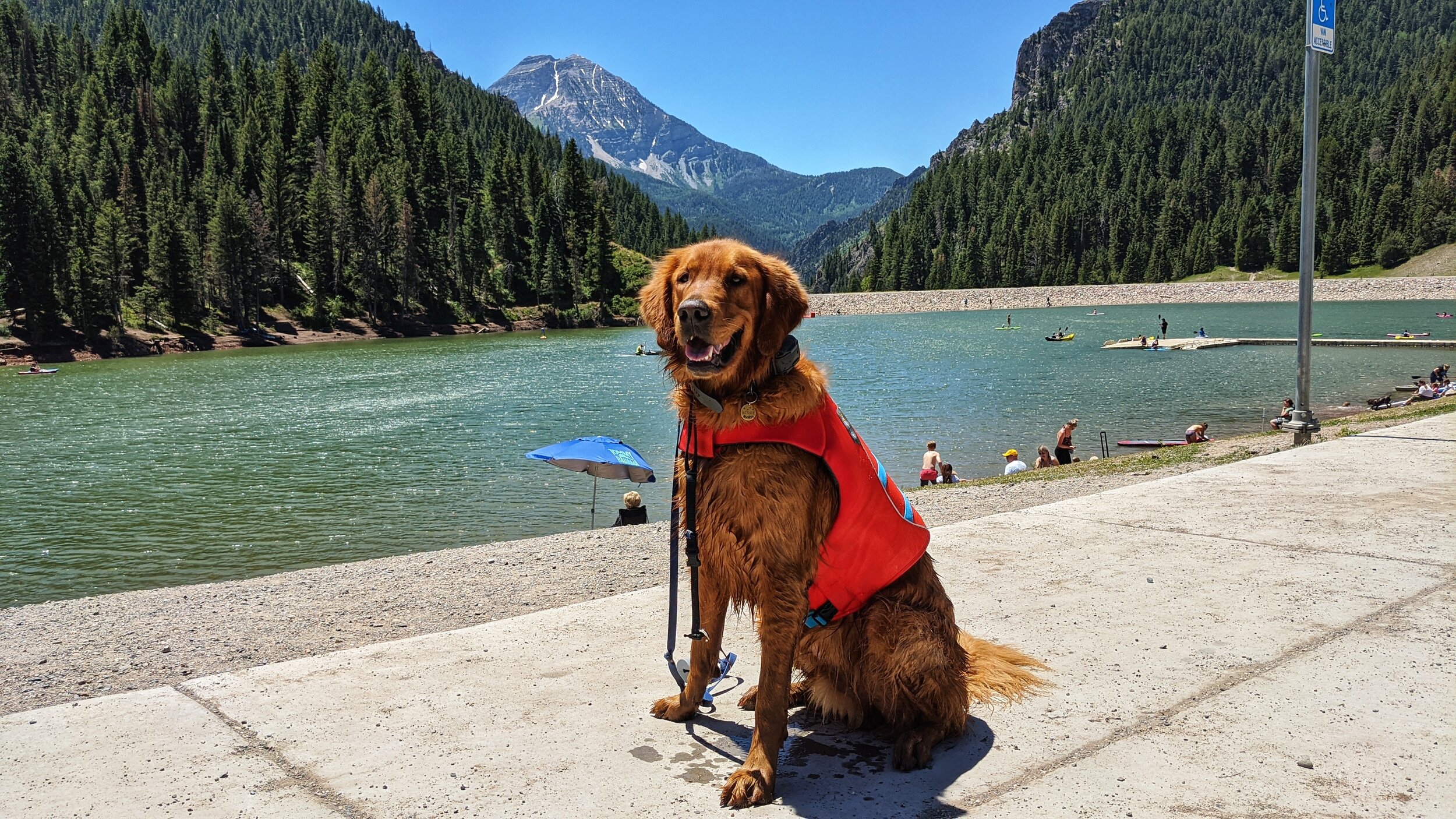 Tibble Fork Reservoir up in American Fork Canyon allows dogs to enjoy the beautiful blue mountain lake with their humans. This is a popular swimming area for families and the beach area fills quickly. Dogs are allowed on the beach but as a courtesy to others should remain leashed when not actively swimming. For more freedom away from other beach goers, consider taking your dog to the west end of the lake near the dam.
Uinta Mountain Lakes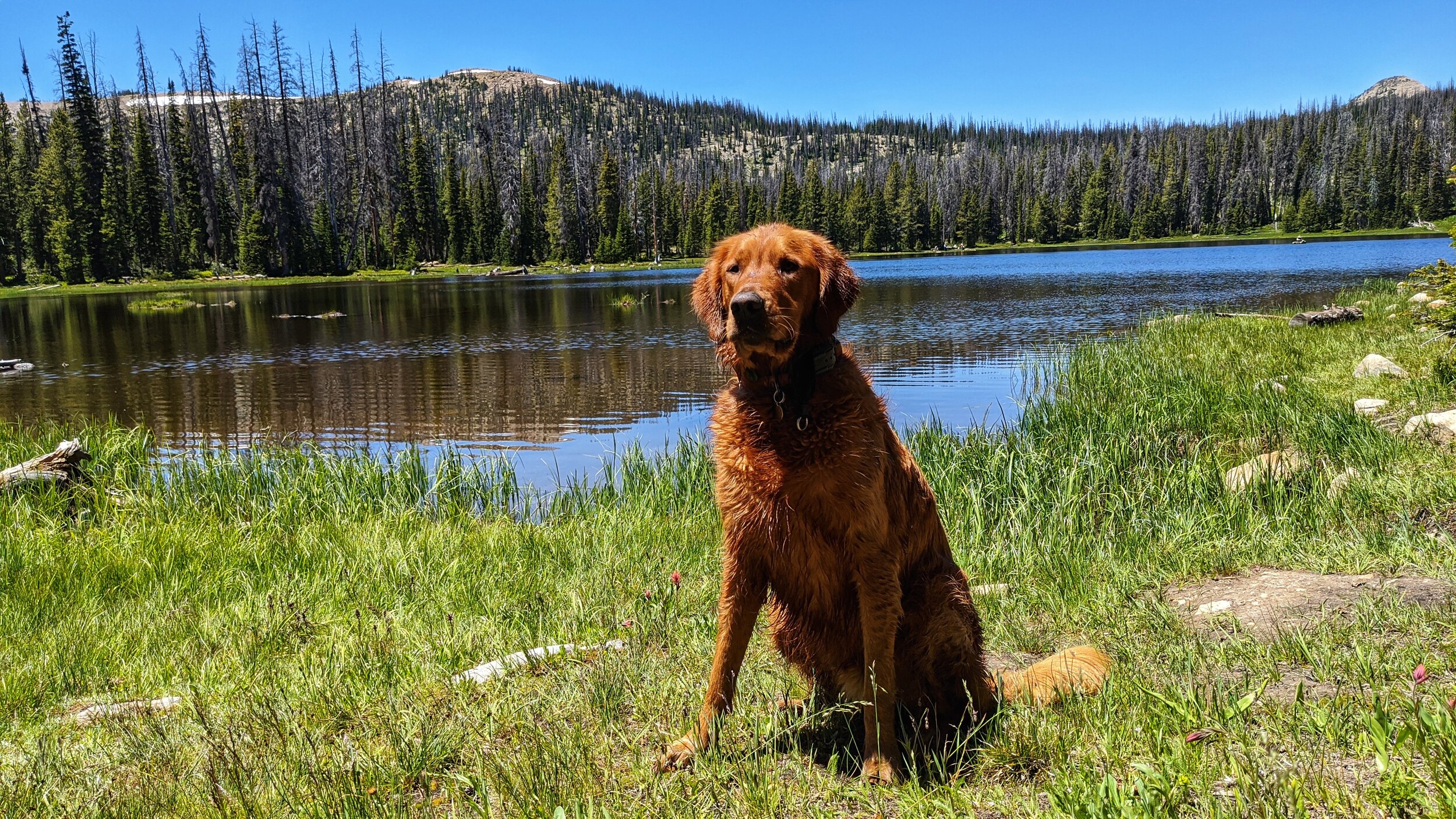 The Uinta Mountains (commonly referred to the "high Uintas") is a dog friendly paradise. While dogs must be on leash in parking lots, trailheads, and campgrounds, they can run off leash as soon as you leave those areas. As you drive the Mirror Lake Scenic Byway from Kamas, Utah, you will be astounded by the amount of dog friendly lake choices. Popular lakes include Lost Lake, Lilly Lake, Trial Lake, Crystal lake and many more. The world is your oyster here!
Enjoy that lake life!