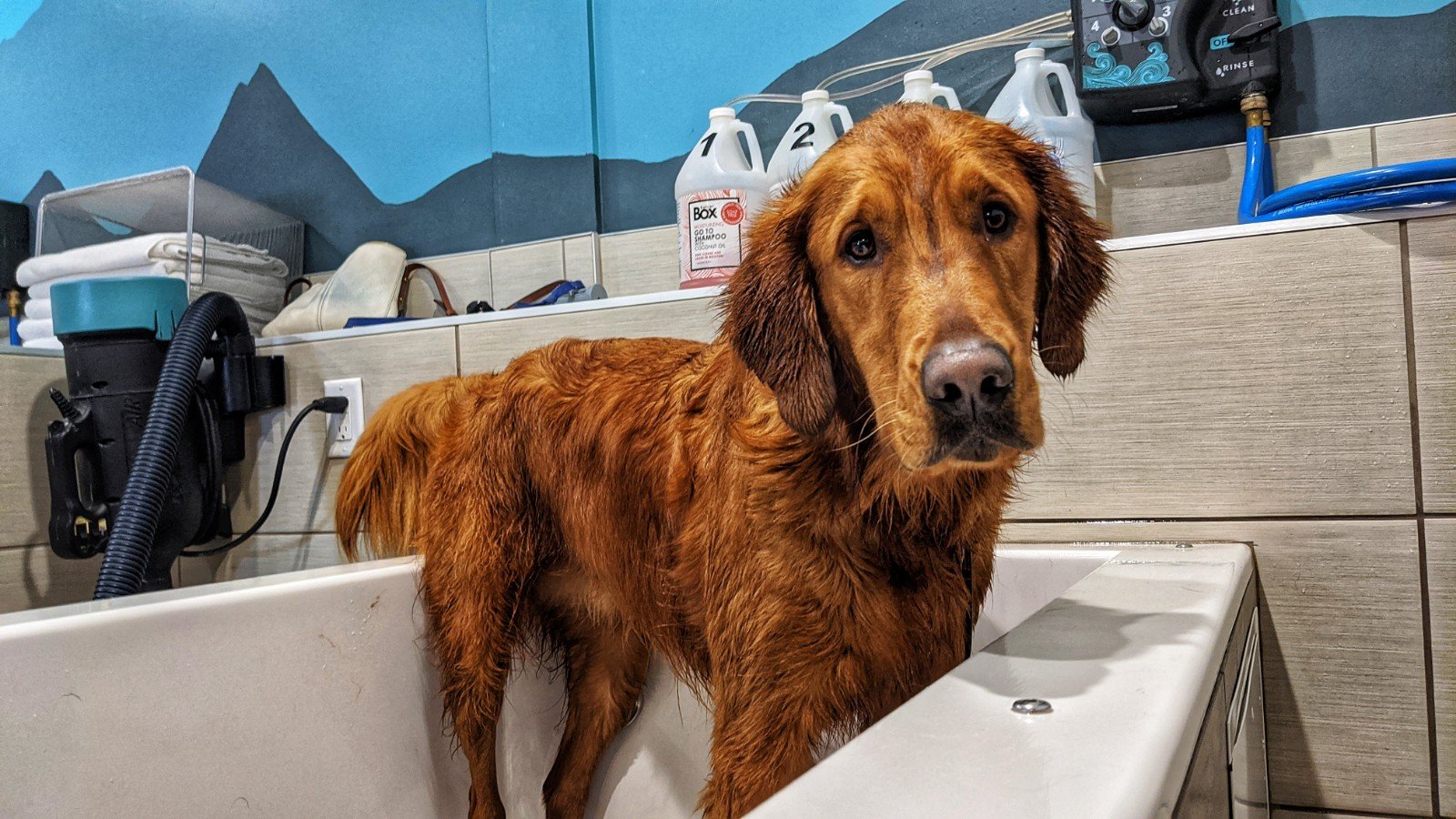 Living in Salt Lake City might have you thinking that it's impossible to maintain a clean pup who smells nice and always has soft fur. With these wet springs, dry summers, and cold, muddy falls and winters, it can be hard to keep up with your dog's hygiene — especially if you have a pup joining you on every adventure the Utah mountains and parks might take you on. 
The Salt Lake Valley won't leave you disappointed with the options it has to offer when it comes to keeping your pup nice and clean. If you're looking for DIY dog washing options between haircuts and proper grooming appointments, this list is just for you! 
The next time your dog needs a bath and you don't want to destroy your own bathroom giving him a bath, take a trip to your local self dog wash station. Most offer elevated tubs, multiple shampoo offerings, and other special treatments. The best part? The mess stays behind.
If this sounds like it's up your alley, we've put together a comprehensive list of all the local dog wash stations in Salt Lake City and the surrounding areas. Bath time has never been easier!
Salt Lake City's DIY Dog Washes
---
Paw Paw's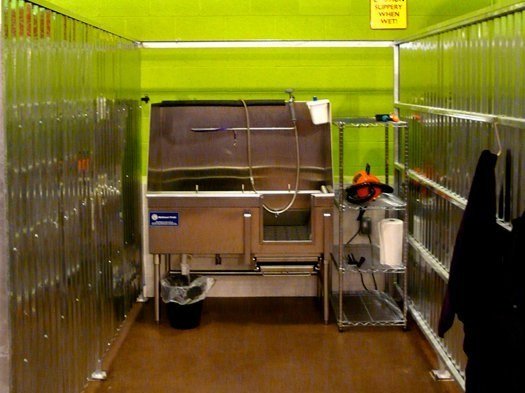 624 S 300 W Salt Lake City, UT 84101Hours: Mon-Fri 10 AM – 6:30 PM, Sat-Sun 10 AM – 5 PM
Paw Paw's Self-Serve Dog Wash and Boutique is one of Salt Lake City's favorites when it comes to top pet stores in the area. The fact they also offer a dog wash makes it that much better.
Paw Paw's offers grooming-grade, stainless steel tubs for you to clip your pup to during their bath. They have anything you could think of for bath time — shampoos for every skin and coat, brushes, towels, aprons, and even professional hair dryers for you to get your pup nice and dry every time. They have a variety of tub sizes too so you'll never have to worry about whether your dog will fit in the tub! 
Pricing
Small dog: $10 | Medium dog: $13 | Large dog: $15 | XL dog: $17
Dog Wash Includes
Stainless Steel Tubs

Choice of all natural, biodegradable shampoos for every type of skin and coat
Professional Hair Dryers

Brushes

Towels

Wash Aprons
Dog Wash Extras
Conditioner

Ear Cleaner 

Toothbrush 

Furminator Treatment – A treatment proven to decrease at-home shedding by up to 90% 
At Paw Paw's you won't just find a bath station, you'll also find a store filled with anything you could need for your pup. From food and toys to training tools, Paw Paw's has a lot. They even have a case of delicious gourmet dog biscuits that they fill each season with newly decorated treats. Be sure to grab some whenever you stop by. 
Dog Mode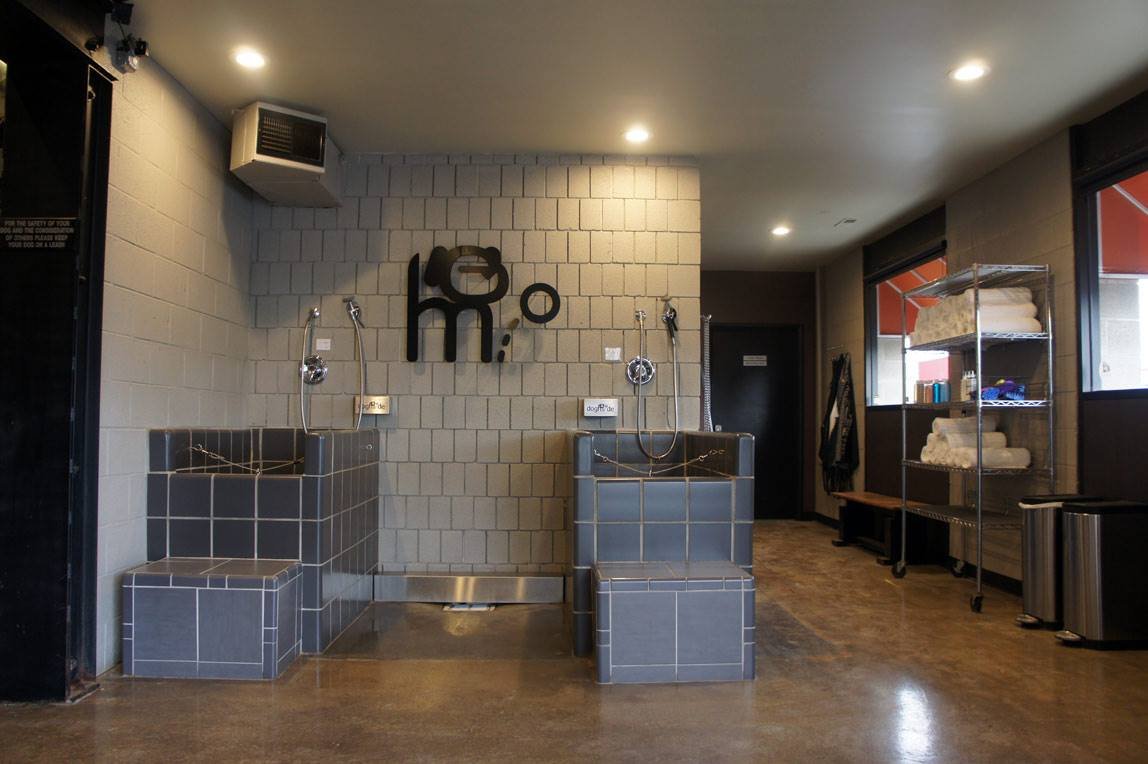 4030 Howick St, Millcreek, UT 84107Hours: Mon-Sun 7 AM to 7 PM 
We love Dog Mode for their huge, multi-purpose salt water pool that provides a beautiful and safe space for our pups to go nuts in. Whether you're looking for a place to exercise your dog, get them training for dock diving, or want them to learn how to swim, Dog Mode is a great place to try out.  
But did you know they also offer a self-serve dog wash along with a variety of grooming services?
Dog Mode isn't just a dog pool, they're a boarding and daycare facility that offers add-on grooming or supervised swimming to their visitors. If you're utilizing their daycare or boarding then consider getting your dog groomed while they're at Dog Mode or give them a bath yourself the next time you're close by. 
If you're a DIY-er looking to just make the bathing process a little easier, then you'll love Dog Mode's elevated dog wash shower stations. They offer natural shampoos including Paul Mitchell's Pet Cleanse Oatmeal Shampoo, so you know you'll end up with the best smelling dog of the day. 
Pricing
Do-it-yourself $18

They wash: 

$25 Under 30 lbs.

$30 Over 30 lbs.

$50 Over 100 lbs.
Dog Wash Extras
Nail Trim & Grind $15

Nail Trim $10

Gland Expression $10

Sanitary Trim $7

Teeth Brushing $9

Bows or Bandana $3

Brush Out $5 per every 10 minutes
If you're interested in taking your pup to their dog wash, call them at 801-261-2665 before stopping by! 
Utah Dog Park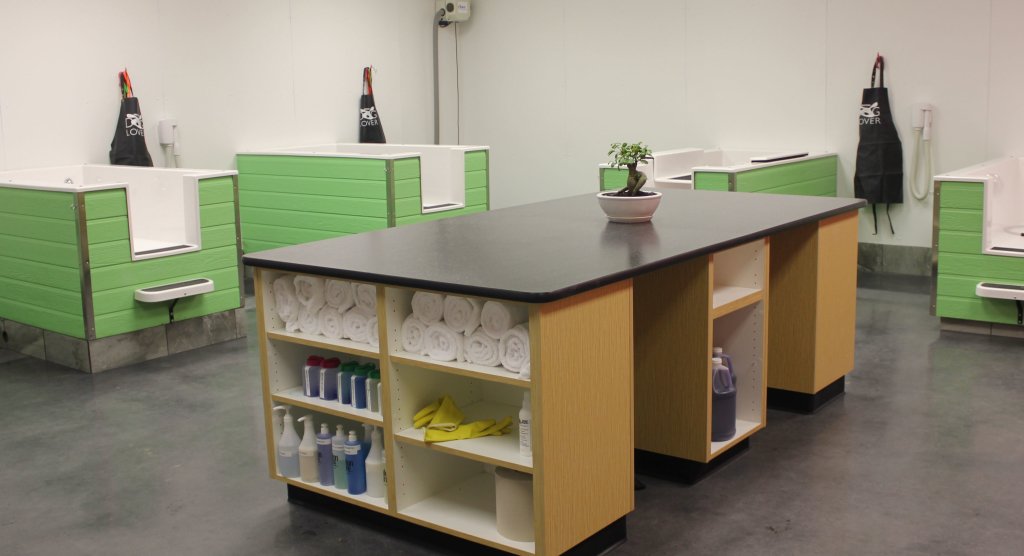 1977 W North Temple Salt Lake City, UT 84116Hours: Mon-Fri 7 AM to 7 PM, Sat 9 AM to 6 PM, Sun 10 AM to 6 PM 
The Utah Dog Park is a fantastic state-of-the-art 25,000 square ft. facility that provides boarding and daycare services, as well as a self-serve dog wash. 
They're conveniently located next to Diamond Shuttle Parking Services, making them the best place to board your dog if you're planning on traveling and need a place for your pup to be loved on for a few days. You can even arrange drop off around your flight time and conveniently drop off your pup and then get shuttled to the airport. A dream! 
When it comes to keeping your pup clean, Utah Dog Park has a great dog wash station you can use. And if you're not wanting to do it yourself, you can pay for grooming services on top of a boarding stay.
If you're wanting to DIY your dog's bath, Utah Dog Park's deluxe, self-serve dog wash is available during normal business hours and you don't need an appointment to visit. Utah Dog Park will supply the aprons, towels, brushes, shampoos, conditioners, and dryers – you supply the dirty dog! 
Pricing
U-Wash, Dogs Any Size

We-Wash, Dogs 1-99 lbs (Bath & Towel Dry)
Pet Spawt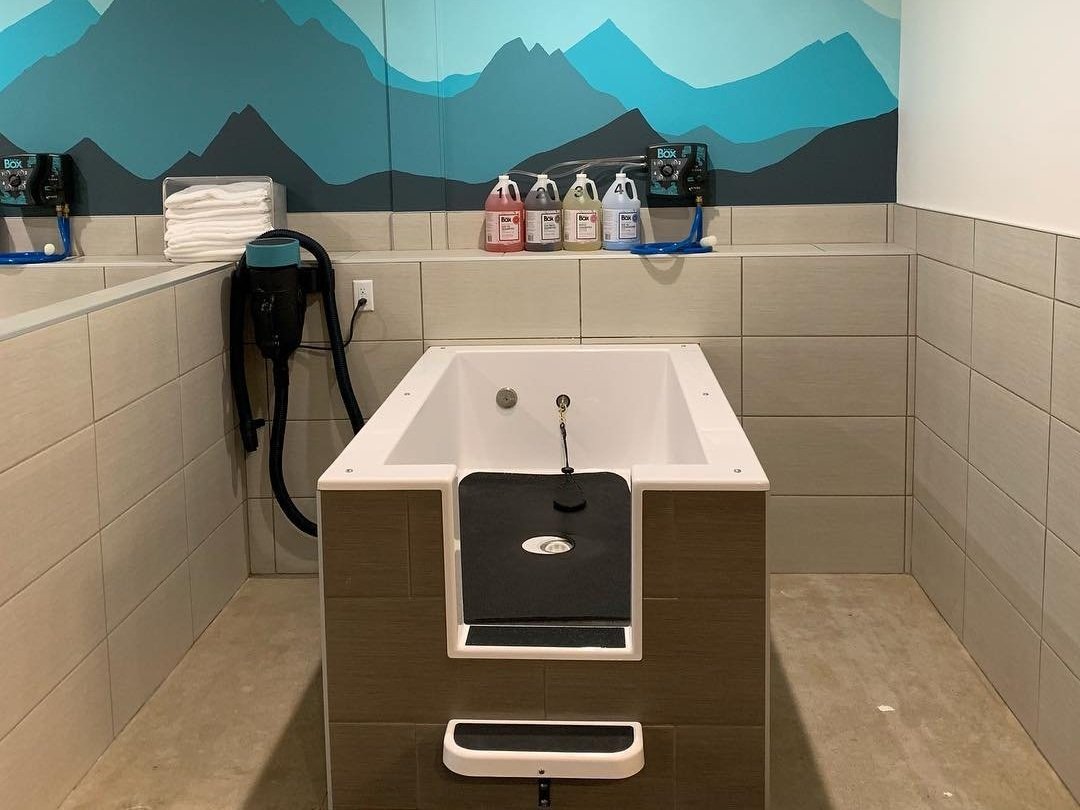 4898 S Highland Dr., Holladay, UT 84117Hours: Tues-Sat 10 AM – 7 PM, Sunday 11 AM – 5PM, Monday Closed
Pet Spawt, located in Holladay, is one of our favorite locally owned pet stores in the area. They focus on healthy nutrition for dogs and cats and can give you tips on pet nutrition if you ever have questions. You'll find everything you need for your furry friend here, from food and treats to dog beds and adventure gear. 
On top of a dehydrated treat bar and a myriad of Ruffwear products, their store offers you and your dirty pup a self-serve dog wash for when you're in between grooms or after a muddy dog park day. 
You will absolutely love Pet Spawt's spacious, elevated bathtubs and their grooming-grade air dryers. You won't miss anything from bath time while you're at Pet Spawt either. They supply towels, aprons, and three high-quality shampoos and a conditioner. 
Pet Spawt does not require appointments Tuesday through Friday but does require them on Saturday and Sunday. Be sure to book your time slot on their website if you're thinking about stopping by on a weekend.
Pricing
<25 lbs $14

25-80 lbs $16

80+ lbs $18
Bath Includes
Large, Elevated Tubs

High-quality Shampoos & Conditioner

Shampoo / Water Mixer

Brushes, Scrubbers & Furminator

Clean, Fluffy Towels

Grooming-grade Air Dryers
After your first visit you'll get a punch card from Pet Spawt which makes it so every 10th wash is free! Or get a free dog wash every time you spend $80 in store. Be sure to tag them on Instagram if you do stop by to get your pup clean! 
Ma and Paws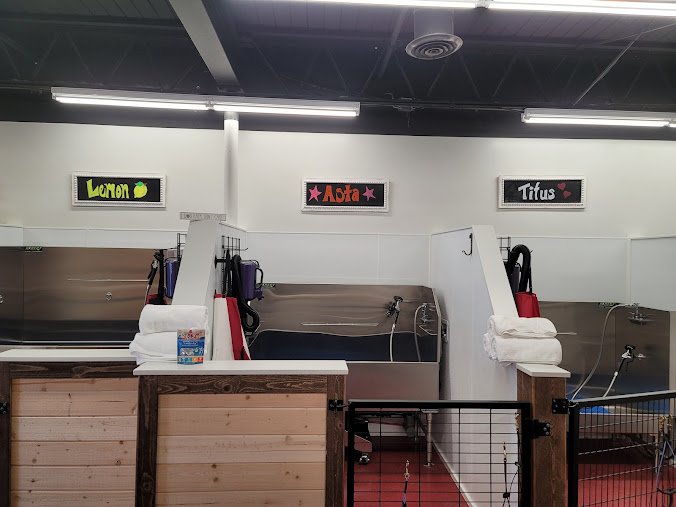 920 E. State Street Suite, American Fork, UT Hours: Mon – Fri 10 AM – 6 PM, Sat 10 AM – 5 PM, Sunday Closed
Ma and Paw's, located in Salt Lake City and American Fork, has been around for the past 23 years keeping local pet residents happy and healthy. They pride themselves in providing high-quality products and great customer service. 
Like many other pet shops in the area, Ma and Paw's offers your typical pet fare along with great dog wash stations at their American Fork location that you can use to get your pup clean. 
If you're not stopping in for a bath, be sure to peruse their large treat case which is filled with freshly-made treats brought in daily. You'll find treats for birthdays, special occasions, changing seasons, holidays, and more. In fact, they probably have the largest treat selection available around, offering around 20 different flavors of biscuits! 
When you're ready for a dog wash head to American Fork and use Ma and Paw's elevated grooming-grade tubs that make it incredibly easy to get your best friend nice and clean. Their location has 3 tubs so you can almost always get your dog's bath in at any hour. 
Pricing
< 30 lbs $13

> 30 lbs $16
Bath Includes
No time limit

New grooming-grade stainless steel  tubs

House shampoo/conditioner –  Skout's honor with Probiotics

Towels

Smocks 

Forced Air Blowers
The only thing Ma and Paws asks is that if you're bathing your dog close to closing that you finish at least 15 minutes before closing so the team can disinfect the tubs. Happy bathing! 
Dirty Johnsons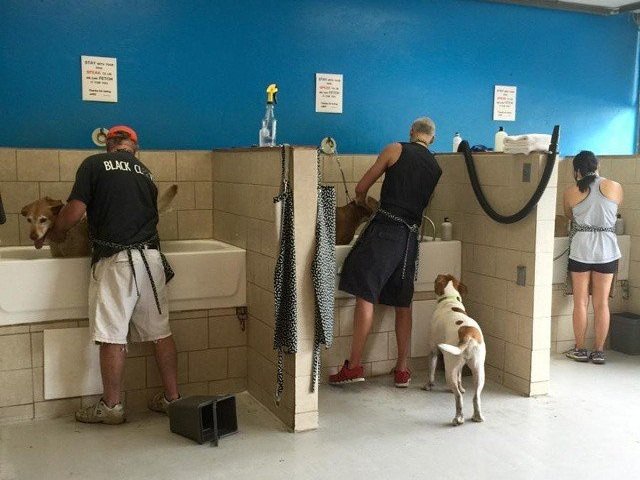 2823 S 2300 E, Salt Lake City, UT 84109Hours: Mon-Fri 11 AM – 6 PM, Sat 9 AM – 6 PM, Sunday Closed 
Open Monday through Saturday until 6 PM, Dirty Johnsons is a premier dog wash, grooming, and pet sitting company in Salt Lake City. Established in 2005, they've prided themselves on having a clean and friendly environment and using the highest quality products. 
Their self-service dog wash packages include: shampoo, face wash, unlimited towels, blow dryer, ear cleaning solution, use of brushes, combs and scissors. 
At Dirty Johnsons they offer elevated tubs for your pup to jump into for a quick or long rinse. You won't even get dirty or wet yourself since they have aprons for you to put on before you bathe your dog. 
Pricing
Small Package

Medium Package

Large Package

Huge Package

Service Animals
Add-Ons
Conditioner

Tooth Brush

Furminator De-Shed Treatment

Nail Trim
Bath Includes
Waist high tubs to save your back

Sanitized baths after every use 

Warm, temperature controlled water for your dog's comfort

10 different shampoos and 5 conditioners

Tearless face wash for sensitive eyes

Unlimited fresh clean towels

Professional blow dryers

Ear cleaning solution and pads

De-shedding brushes, combs, scissors and scrubbers
Dirty Johnson's only uses dog-friendly, natural, organic dog shampoo & dog conditioner including FURminator shed-less, de-shedding treatment, and their on-site pet wash pros will show you how everything works if you have any questions. 
Dog's Meow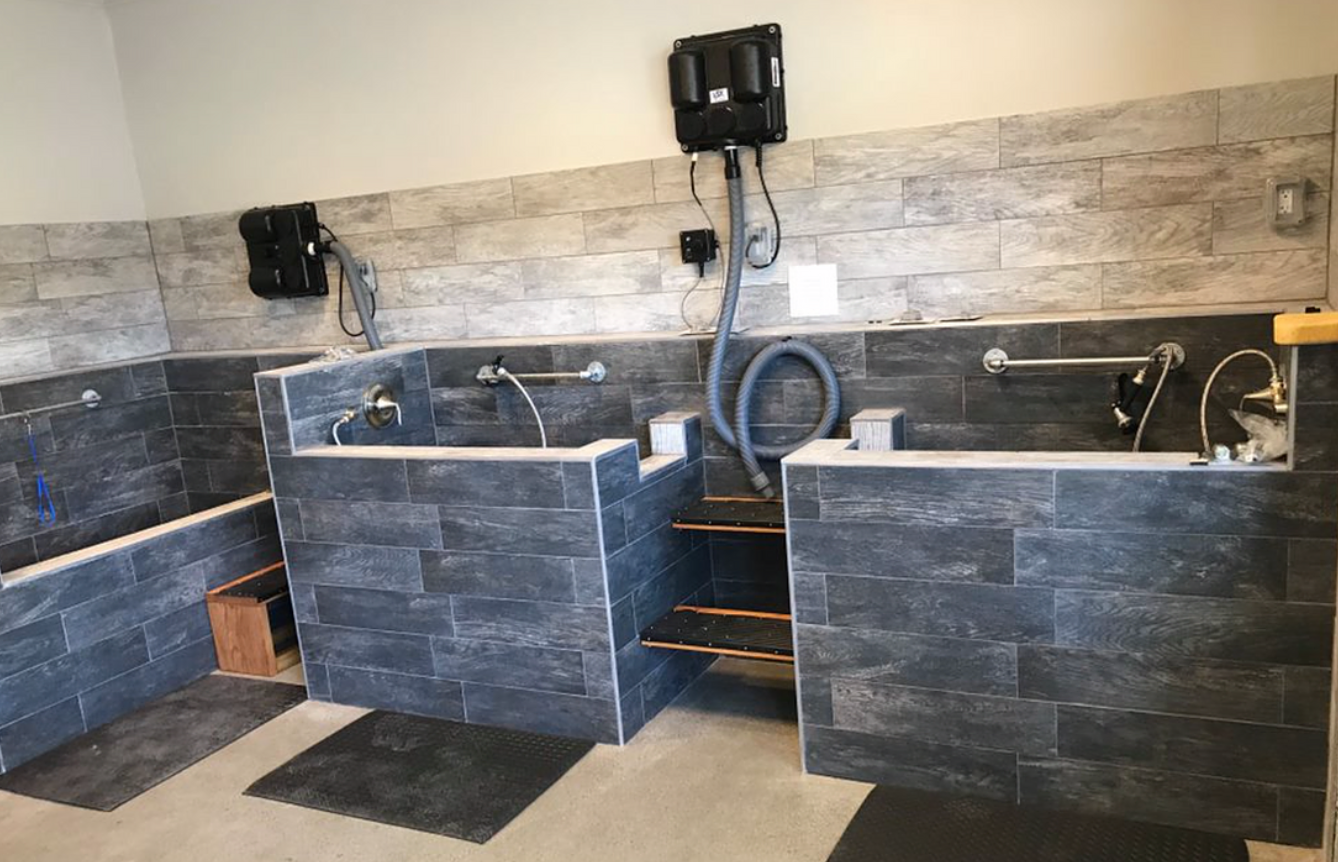 866 E 12300 S. Draper, Utah 84020Hours: Mon-Sat 10 AM – 5 PM
Since opening in 1996, The Dog's Meow has worked to provide and support holistic care for pets in the community. Their shops offer high-quality treats and toys for your dogs and cats and you can even stop by to use their self-serve dog wash in Draper whenever you need to refresh your pup. They also have a location in Millcreek but that one is solely a pet supply store. 
The Dog's Meow in Draper provides 3 different tubs for you to choose from depending on the size of your dog. Of the 3 tubs, 1 is for large dogs and the other 2 are for small and medium dogs. Choose from a variety of shampoos and conditioners including Buddy Wash 2-in-1 lavender shampoo, Coat Handler Clarifying Shampoo, Coat Handler All-Purpose Conditioner Almond, Coat Handler Hypo-Allergenic, and Earth Animal Oatmeal Shampoo.  
Complete with their no-bending-down tubs, quiet dryers, fresh towels, shampoo & conditioner, ear cleaner, and more, Hound and Cat's DIY dog wash is the perfect place to clean your dirty pup! 
Pricing
Bring Your Own Stuff (BYOS)

Under 50 pounds $13

Over 50 pounds $15
Deluxe Wash

Under 50 pounds $15

Over 50 pounds $17
While you're at The Dog's Meow, be sure to follow their House Rules: 
Never leave your dog unattended.

Keep your dog tethered to the tub during their wash.

Their dog wash cannot accommodate blowing out double-coated dogs. 

Their dog wash cannot accommodate skunked dogs or dogs with fleas.

Be mindful of time; other customers may be waiting. 
Be pawsitive and you'll have the best experience with your pup! 
Hound and Cat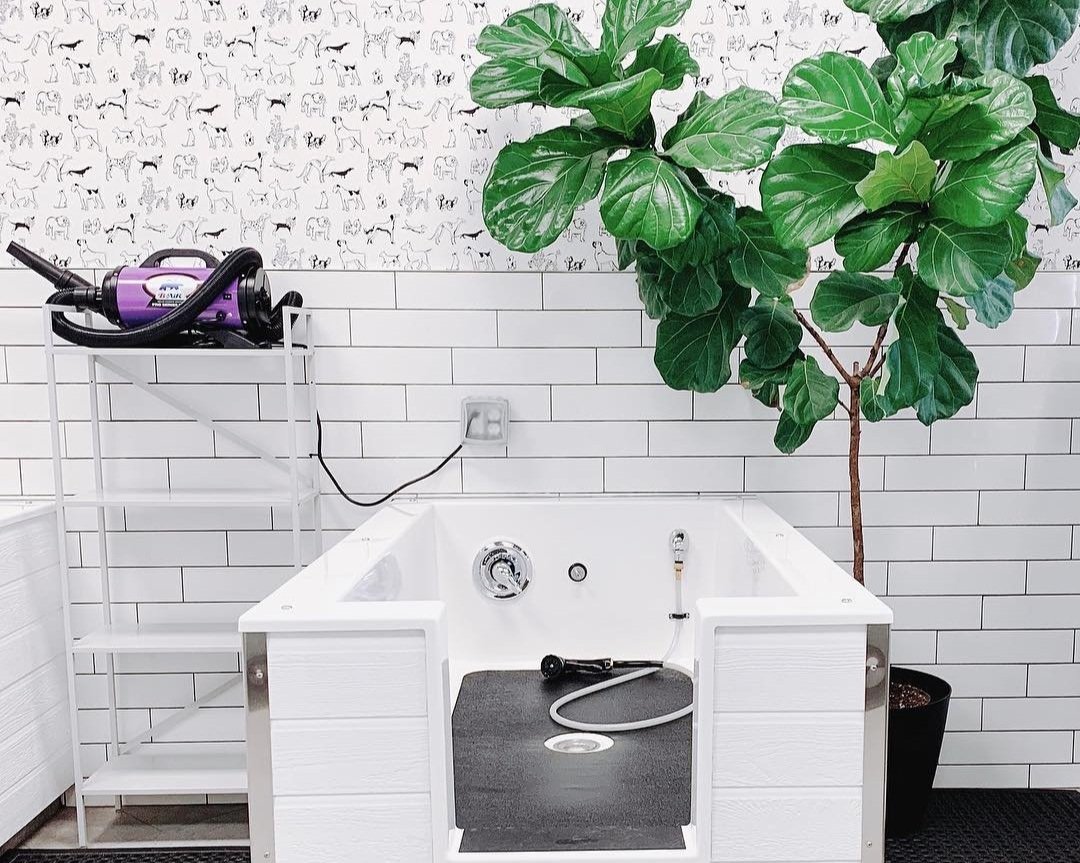 129 E. 13800 S., B4, Draper, UT 84020Hours: Mon-Fri 11 AM – 7 PM, Sat 10 AM – 5 PM, Sunday Closed
Also located in Draper, Hound and Cat is a pet store and dog wash duo that you will definitely want to visit. Stop by the store to shop premium pet foods, locally-made treats and toys, and use their self-service dog wash after you've spent hours running through the dog parks or hiking trails nearby. 
Hound and Cat offers 6 bath stations for your pups and can accommodate most dog sizes. They provide Earthbath shampoos and conditioners so you have a variety of scents to choose from, giving you options for most coat types. 
Pricing
Bath Includes
Tubs: Sanitized tubs with warm water

Towels: Unlimited, clean folded towels

Shampoos: Formulated Earthbath® shampoos

Brushes: Kong brushes for thorough washing

Blow Dryers: Warm & quiet doggy coat blowers
If you're hoping to visit Hound and Cat, be sure to schedule an appointment online and don't forget to ask them for a punch card so that your 6th dog wash is free! 
Tractor Supply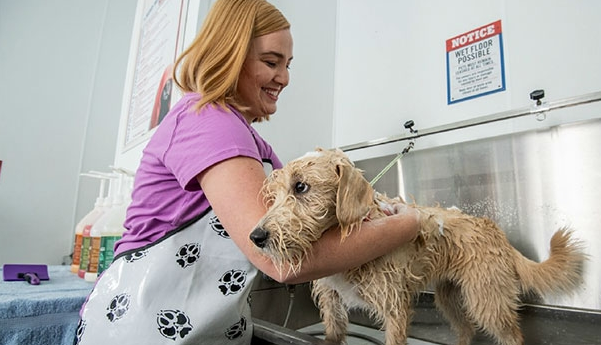 1533 South 1800 West, Woods Cross, UT  84087Hours: Mon-Sat 8 AM – 9 PM, Sun 9 AM – 7 PM
One of the original dog wash stations has always been at Tractor Supply. Tractor Supply makes bath time super easy with their professional grade grooming equipment & high-quality grooming products. 
You'll be able to find any farming, handy, or dog supply you need, as well as being able to give you dog a good bath. 
Pricing
Bath Includes
Elevated Wash Bays

Grooming Tables

Specialty Shampoos

Brushes, Combs, & Towels

Waterproof Apron

Professional Dryers
It seems not every Tractor Supply location is equipped with a dog wash, so be sure to give your local store a call before heading in.
Paw by Paw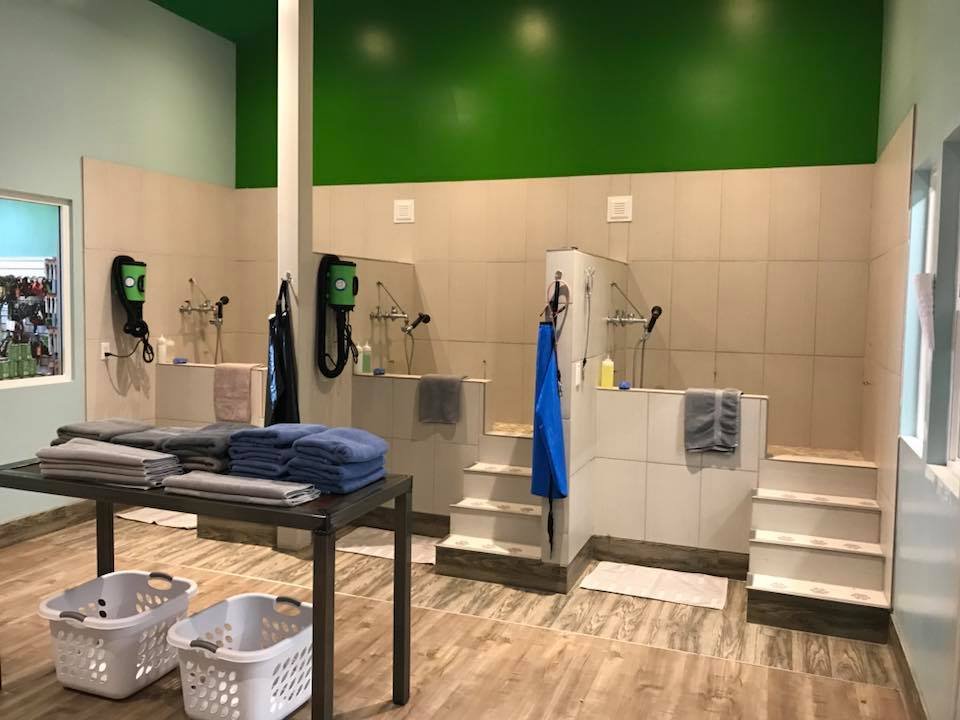 5398 W Daybreak Pkwy b3, South Jordan, UT 84009Hours: Mon-Sat 9 AM – 6 PM, Sun 10 AM – 6 PM
609 E 2100 S, Salt Lake City, UT 84106Hours: Mon – Sun 10 AM – 6 PM
Rounding out our list of DIY dog wash stations in and around Salt Lake City is Paw by Paw. Paw by Paw has two locations in Utah, so you have options depending on where you live. You can find them in the heart of Sugarhouse and in the Daybreak neighborhood.
They do a lot of work in the community and even have a charity program called the Paw It Forward program where each bath customers give their dogs provides a first bath for a rescue dog for all the rescue foundations in Salt Lake City. So each time you give your dog a bath here, know you're paying it forward! 
At Paw by Paw you'll find just about anything you might need for your dog, along with a wonderful DIY dog wash you can use when you're between grooms or have an especially dirty dog. They provide everything you need for a bath, just bring your stinky pup! 
Pricing
Little Paws $15  (<25 lbs)

Big Paws $20  (>25 lbs)
Upgrades
Oatmeal-Baking Soda + Aloe $7

Hypo Remedy (sensitive skin) $7

Bright Whitening $7

Furminator DeShedding $7 (includes deshedding tool use)
Be sure to stop in to Paw by Paw even if you don't have a dog who needs a bath, you might find a new toy or treat for your furry friend! 
---
Let Dirty Dogs Lie
There you go, a list of DIY dog wash stations in and around Salt Lake City! 
If you have further questions about bath sizes, shampoo or conditioner options, or availability, be sure to call your local dog wash a call before heading over. Some places may require you to book an appointment so you'll want to be sure before going. 
Giving your dog a bath is a great bonding experience for the two of you, so be sure to make the most of those moments by going to one of these great dog washes in the Salt Lake area.
Looking for other great things you need to know about? Check out our Resources page!
---
This post contains affiliate links which result in Dog Friendly SLC making a small commission. By shopping products we recommend, you ensure that we can keep finding dog friendly places in Salt Lake City and Utah. We appreciate your support!